By

Todd Bernhard
Mon, 05/18/2020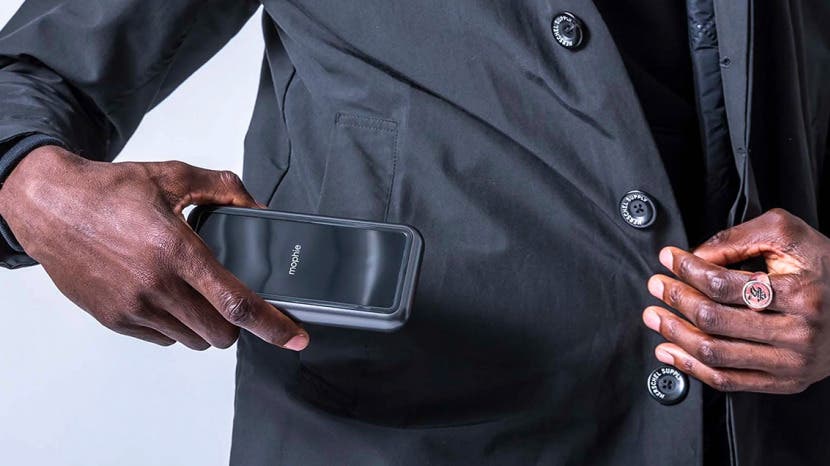 I travel a lot and am always looking for the ideal battery pack, and the Mophie Powerstation Plus XL Wireless ($99.95) comes close. The company sent me a review unit to try. There are a few features that set this charging battery apart from the rest. First, it charges via Lightning. This means iPhone owners can carry one less cable. In fact, the second differentiator is that it has a Lightning cable built-in, so you can charge your iPad (not Pro) or iPhone. But you would still need a separate standalone Lightning cable and wall plug to recharge the Powerstation.
The other feature it has is a Qi-based wireless charging surface. You have to press the button on the side to enable it, but I've found that to be the case with most Wireless charging packs. Otherwise, they would always be transmitting power when not in use, and the battery would run down quickly. The battery pack is physically appealing, with rounded edges and a glossy charging surface, plus the Lightning cable folds under a flap and hides away nicely. 
The battery has 8,000 mAh of power, which is plenty for a single iPhone, but if you are trying to charge three devices, keep in mind that you'll get less than one full charge for each device. I also liked that Mophie sells it in pink and navy blue in addition to gray and black, so each family member can have their own and find it easily!
Pros
8,000 mAh of power, recharges via Lightning
18 watt charging via Lightning
Sold in pink, blue, black, or gray
Charge simultaneously via Qi, USB-A, and Lightning
Integrated Lightning cable tucks away cleanly
Cons
Need to press a button to enable Qi charging
8,000 mAh split three ways means less power for each device
Final Verdict
The Powerstation Plus XL Wireless from Mophie can charge multiple devices, multiple ways.