By

Tamlin Day
Mon, 07/03/2017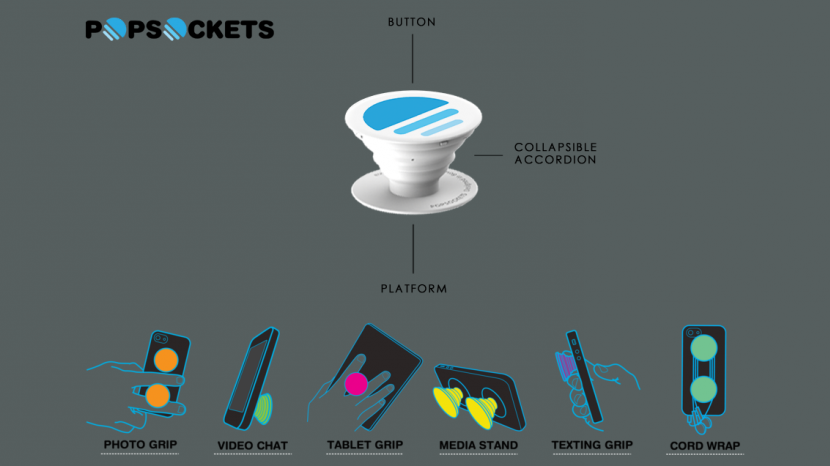 Most people don't understand Popsockets (starting at $10) until they try one. You'll find one or two on the back of almost every iPhone, iPod, and iPad around the iPhone Life office. We use them when we're snapping selfies, winding our earbud cords, Skyping in for meetings, or navigating the Iowa backroads. These 1.5-inch circles of plastic are simple, a bit silly looking, and incredibly useful. Continue reading to find out if the Popsocket and Popclip are practical iPhone accessories or goofy distractions.
Related: Best iPhone 7 & 7 Plus Accessories You Need in Your Life
Popsockets look ridiculous. Use one to grip your phone and it looks like you've got a giant plastic ring on your finger. Glance at the back of your iPhone and it looks like a puff sticker. The good news is that in addition to being functional, you can customize the image on the disc-shaped button to fit your personal tastes. So what exactly is a Popsocket?

Discover your iPhone's hidden features
Get one daily tip each day (with screenshots and clear instructions) so you can master your iPhone in just one minute a day.
The Anatomy of the Popsocket
A Popsocket is a plastic button that's attached to a platform by a flexible accordion. The platform is backed by a reusable sticky coating so that you can reposition your Popsocket directly on your iPhone or iPad, or on a protective case. You can pick any base color you like, and choose the button's image from the website's collection or add your own.
I opted for customization. I wanted something that looked more like a logo and less decorative. It's the same price, and felt more personal. I went the vanity route and pasted my face onto the button.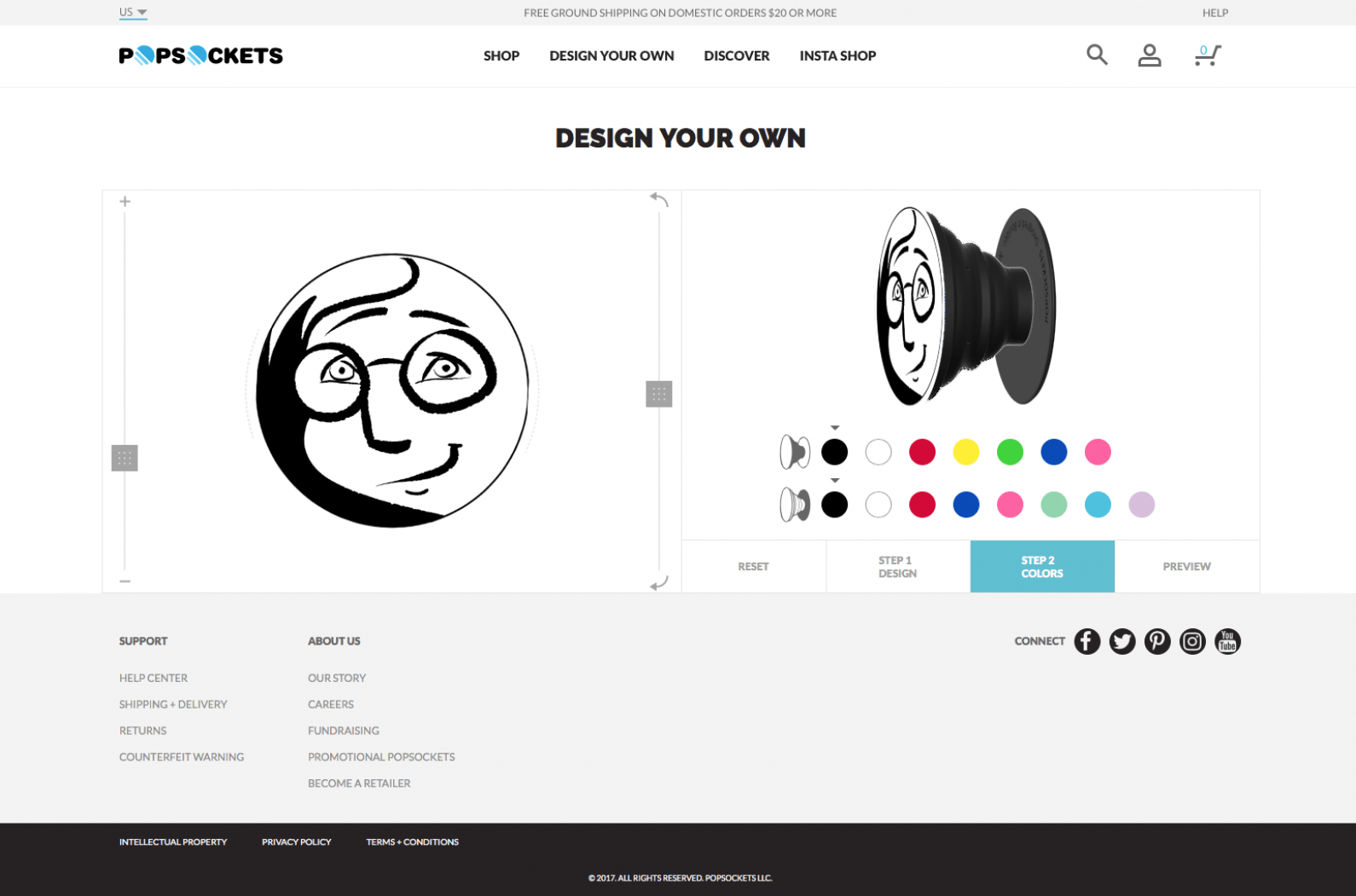 How Does it Work?
Flexibility and durability are the keys to the Popsocket's design. The accordion turns a full 360 degrees and has two different telescopic levels to adjust the tilt of your screen. The sticky backing on the platform is reusable; you can remove and reposition the Popsocket as often as you like without losing adhesion. That's all the Popsocket does, but there's versatility in the simplicity of the design.
The first telescopic level pulls the button away from your phone far enough for you to slip your fingers in for a better grip on your iPhone. I've noticed in the past that scrolling too much on my screen hurts my thumb after a while. The Popsocket lets me hold the iPhone from behind like a book instead of having to grip the width of the screen. That change in grip has made scrolling much more comfortable. Gripping your phone and hitting the capture button while taking a selfie is also much easier with the Popsocket.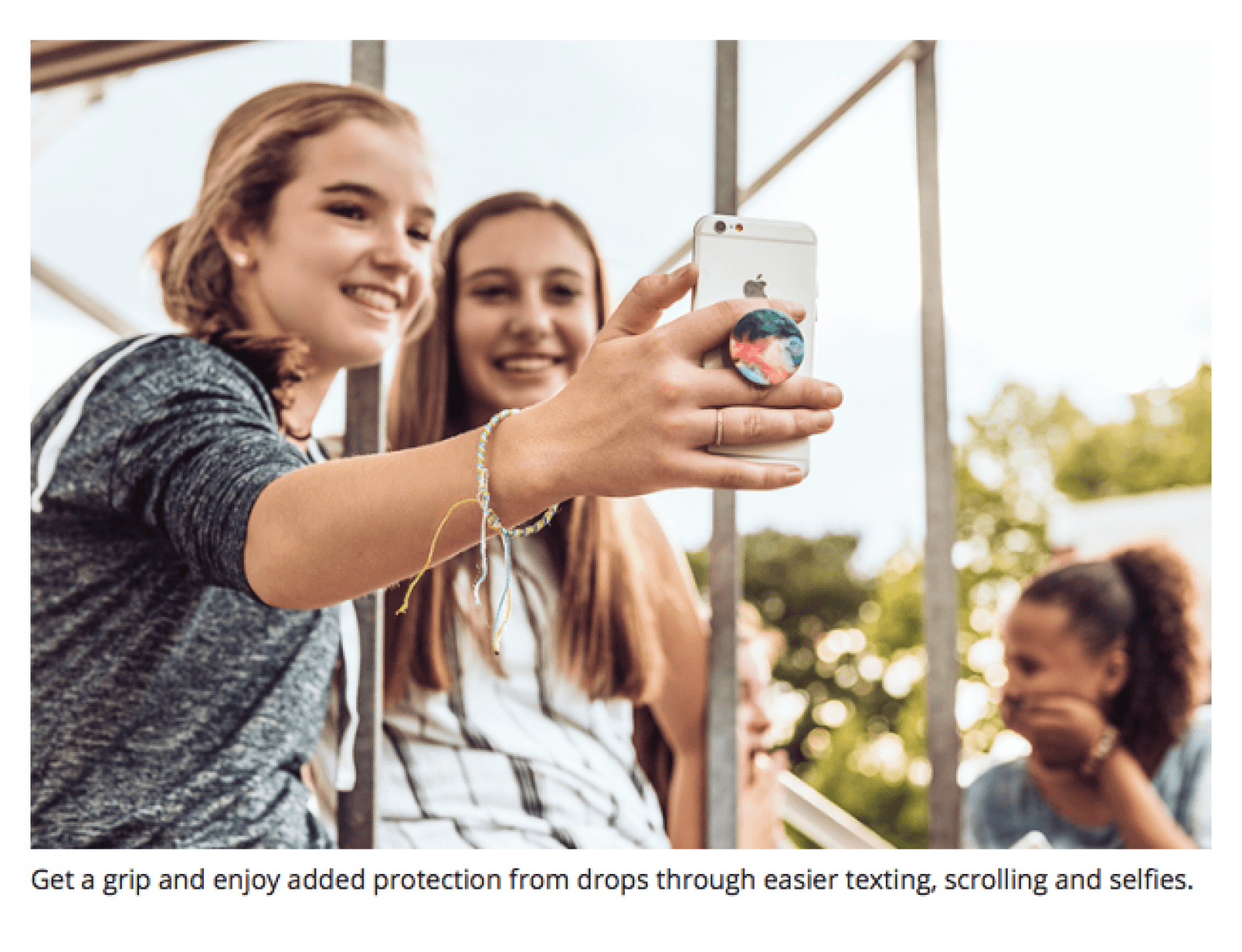 PopClips ($10) are an accessory to the Popsocket. Mount your PopClip to any surface; your dashboard, kitchen cabinets, and office wall are all great places to have an easily accessible touchscreen. Unlike PopSockets, the adhesive backing to PopClips are not reusable. Once you place your PopClip, that's where it will stay. Fortunately, this means the PopClip is durable and will hold your phone for the long haul.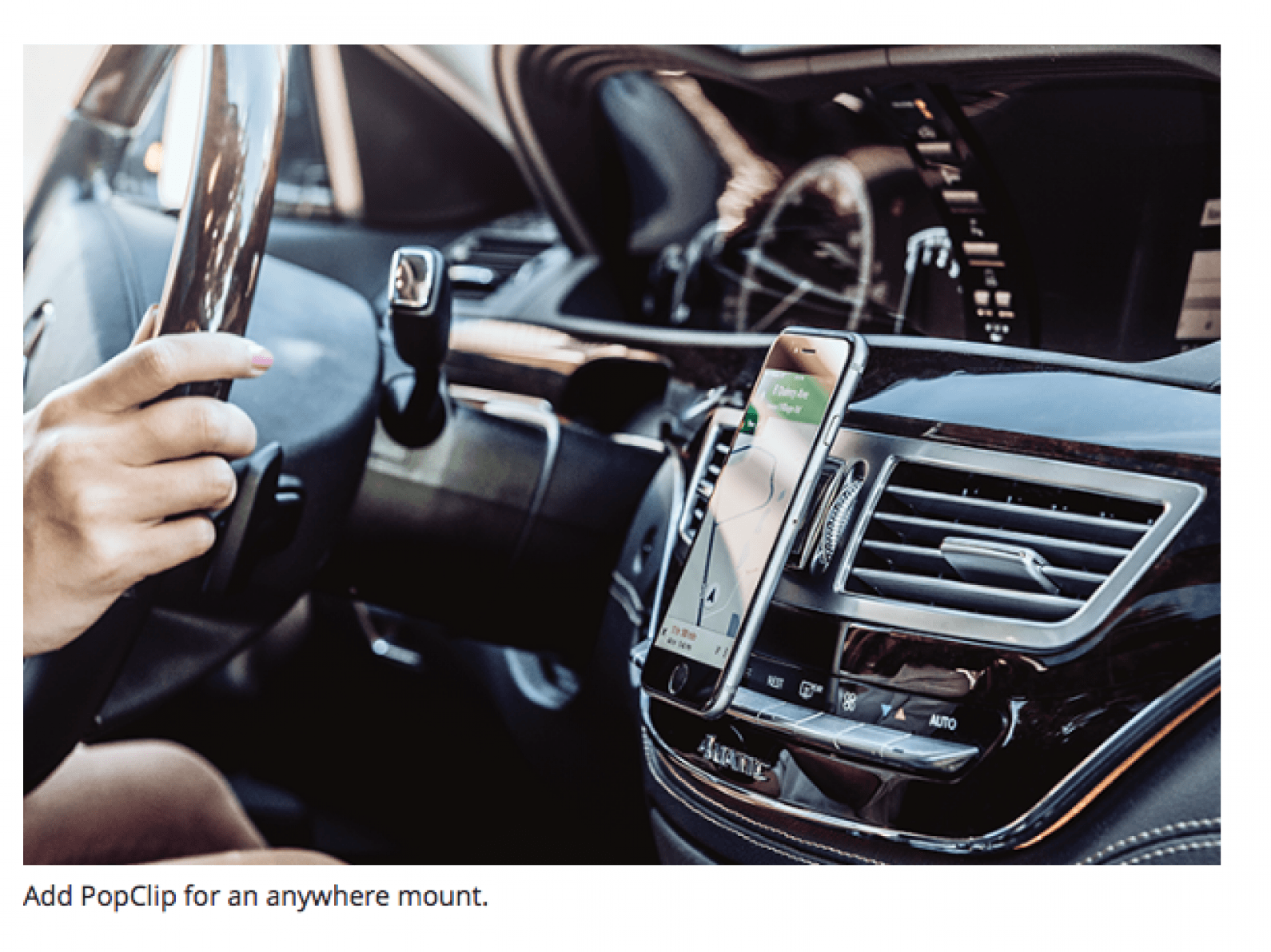 For those of us on earlier model iPhones, tangled earbud cords continue to be an issue. You can stick a second Popsocket on the back of your iPhone to wind your cord. Since Popsockets are reusable, you can pull the second one off when you don't need it for cord storage. Obviously, the more Popsockets you put on your phone, the sillier the whole thing looks. Personally, I've never put more than one Popsocket on the back of my iPhone. The iPad, however, is a different matter.
The dual Popsocket set up works well for iPads. An extra Popsocket makes hanging the iPad from Popclips in either landscape or portrait mode easy and stable. This can come in handy for cooking, watching videos in the backseat of the car, or hands-free viewing of how-to videos such as makeup tutorials.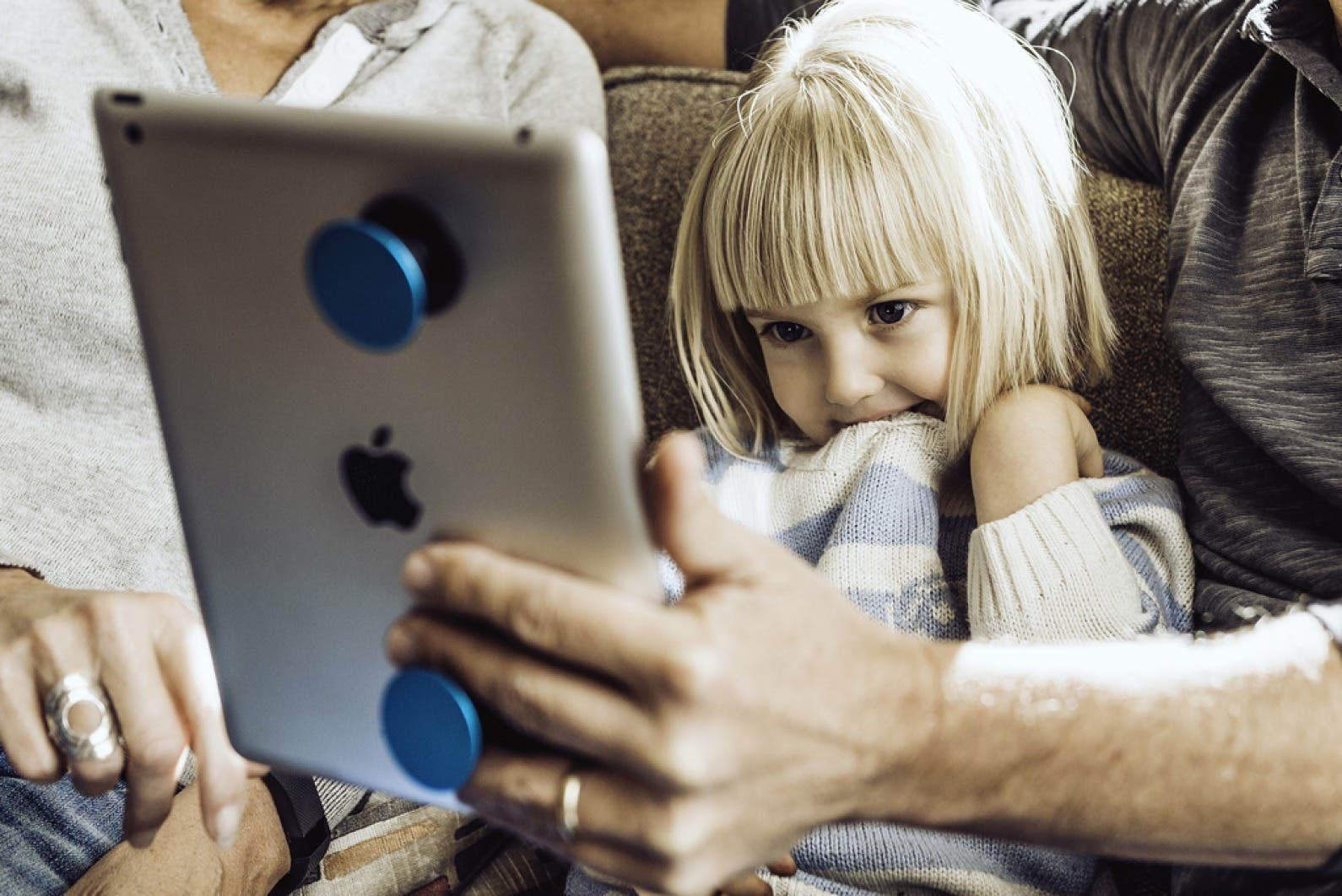 If you're still reading, what are you doing? Go get a Popsocket. I'm not joking. This is a product that has to be used for its value to truly be understood.
Pros
Versatility, durability, reusability, and customizability.
Cons
The design is strange looking. Finding the right positioning and angle to use the Popsocket as a stand is a matter of trial and error. While Popsockets are reasonably priced, each Popclip will cost you $10 to $15. I'd prefer a package deal combining Popsockets and Popclips.
Final Verdict
Popsockets are worth the price. Popclips are bit expensive, but add to the functionality of Popsockets. While they might look a bit goofy, Popsockets are useful, versatile, and make a great accessory. You'll wonder how you'd gotten by without one.