By

Jivan Hall
Updated 01/09/2023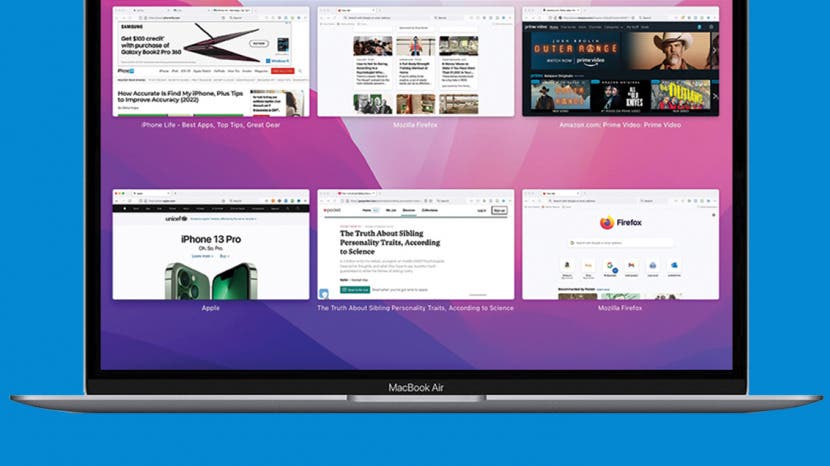 Have you ever opened more than one browser window at a time? Or maybe you've had to work on multiple Word documents simultaneously? If so, you can use these easy keyboard shortcuts to quickly switch between open windows of the same app. Let's look at how to switch between windows of the same application on your Mac.
Jump To:
How to Toggle between Windows of the Same App on Mac
There are a couple of caveats to using this keyboard shortcut: it will only work for open windows in the same desktop space. Also, this command does not work while you're in full-screen mode. In the market for a new M1 MacBook? Check out our review on the MacBook Pro M1 Max to help make your decision. For more nifty Mac tips, sign up for our free Tip of the Day Newsletter. Now, here's how to toggle between windows:
Press the Command key and tap the ` (tilde) key. This will move you forward between windows of the same app.


To move backwards between windows of the same app, press Command + Shift and tap the `(tilde) key.


Each time you press the tilde key, you will rotate forward or backward through the open windows. Release the keys when you reach the window you are looking for.

Discover your iPhone's hidden features
Get one daily tip each day (with screenshots and clear instructions) so you can master your iPhone in just one minute a day.
Related: Back Up Mac to iCloud 101
How to View Open Windows of the Same App
Similar to the shortcut above, you must first exit full-screen mode to use this keyboard shortcut. Follow the steps below to learn how to switch windows on your Mac:
Press the Control + Down Arrow keys. 


You will now see a bird's eye view. This is like pressing Mission Control (F3), but instead of zooming out to see all open apps, this will only show you the open windows of the specific app you are currently using.



Press the right or left arrows to rotate through the displayed windows.


Stop on the window you wish to bring to the front. Click on the window with your mouse, or just hit the return key to select it.


Now you'll be able to easily shift between open windows of the same application! Learning simple keyboard shortcuts like these will help you be more efficient and navigate your Mac like a pro.