By

Olena Kagui
Updated 03/16/2021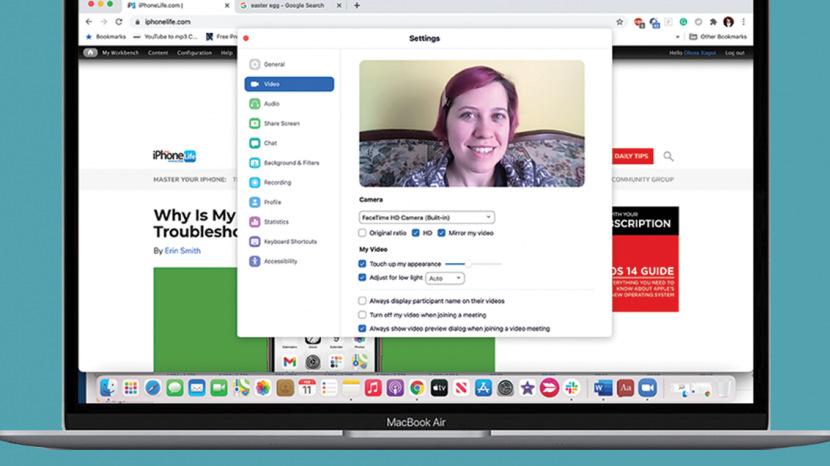 While it is a myth that the camera adds 10 pounds, awkward angles and bad lighting can be harmful to our self-esteem. Many of us have wondered how to look better on video calls. There are several factors to consider before a Zoom meeting to make sure you are presenting your best self. It helps to consider the best lighting for video calls, the best camera angles, and explore appearance settings as well as filters.
Related: How to Group FaceTime on an iPhone – iOS 13 & Later
We've already gone over how to change your how to use the Zoom app on your iPhone and iPad, how to add and change Zoom backgrounds, and how to troubleshoot video and audio Zoom issues. For more Zoom tutorials, check out our free Tip of the Day.

Discover your iPhone's hidden features
Get a daily tip (with screenshots and clear instructions) so you can master your iPhone in just one minute a day.
Jump to:
The first thing to consider if you are wondering how to look better on Zoom and other forms of video calls is lighting. This is true for being on camera in any scenario. Bright, natural lighting can have the most desirable effect. Your face looks best under direct light with no shadows. Unfortunately, it isn't always possible to schedule all your video conferences during peak sunshine hours. To learn more video call tips, sign up for our free Tip of the Day newsletter.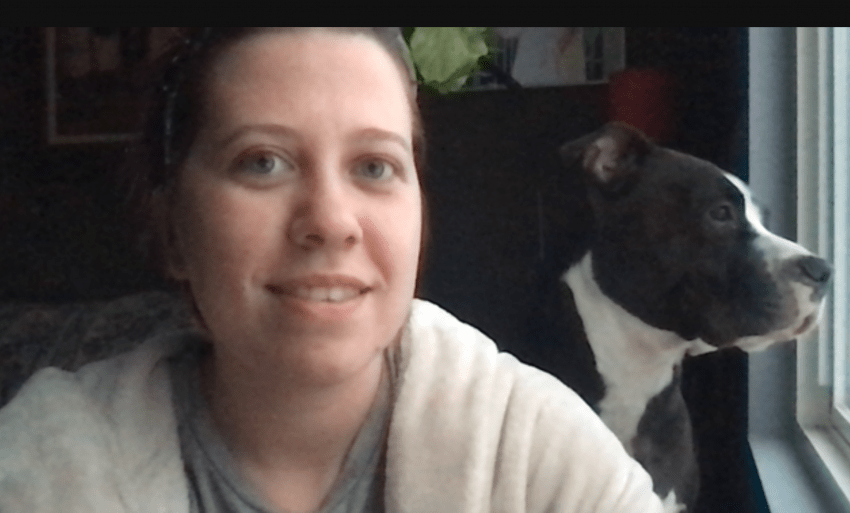 The best lamp for a video call should have an LED bulb that will illuminate your face. Either a well-placed overhead light or an adjustable desk lamp can do the trick. Position the lamp so that you can get even, direct light on your face. If it is angled upwards, you'll look like you're telling horror stories at a campfire. If the light is angled downwards, it can make you look tired and your forehead shiny.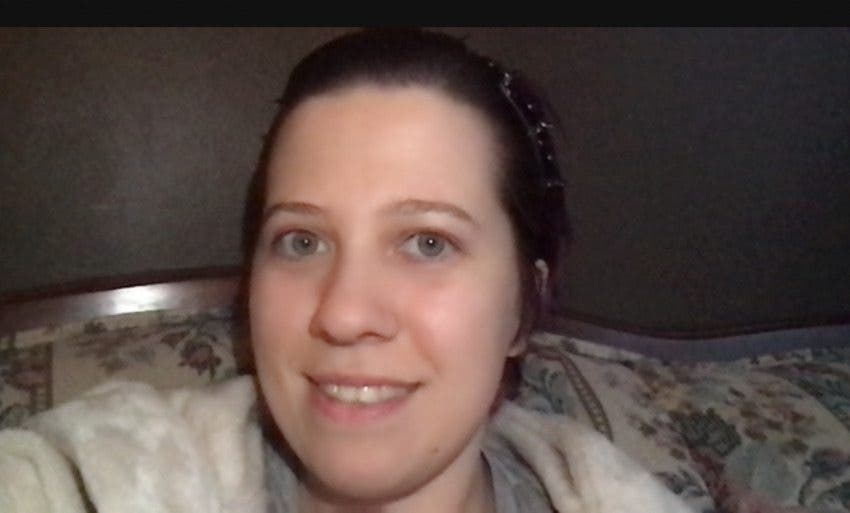 The color of your light bulb or lamp can also make a difference:
Blue light highlights all things red so it makes blemishes and dark under-eye circles pop. At the same time, it may turn your orange-toned makeup into a dull brown.
Orange light can have a dramatic effect that can mimic candlelight or have a similar look to sunset light. It can help disguise small blemishes and an uneven skin tone. However, it also highlights redness in the skin.
Yellow light can make your skin look warmer and more even, without being too dramatic. It can even camouflage blemishes. However, it does diminish blue tones in your makeup.
White light is the most similar to natural sunlight. It doesn't alter any colors when it comes to makeup or clothes. However, it also doesn't soften your skin or help conceal any imperfections.
If you wish to experiment with different tones, consider buying an LED mirror with various light colors. These can be inexpensive and are sold with selfies, film work, and makeup application in mind.
When positioning your phone, tablet, laptop, or webcam for a video call, make sure it is at a downward angle. We have all accidentally taken that accidental up-the-nose, triple-chin selfie that haunts our photo library. Our faces are always more attractive from a straight-on or downward camera angle. A downward angle draws the focus to your eyes and makes your features look more angular and defined.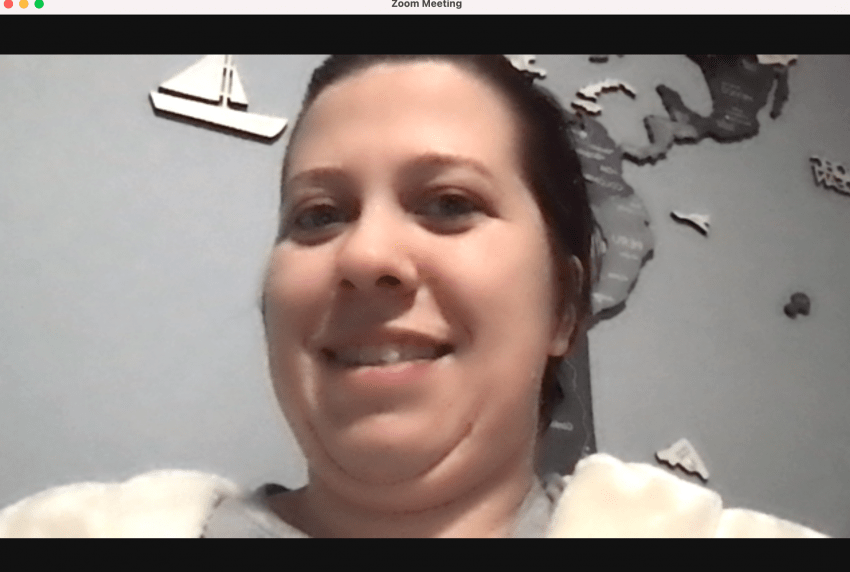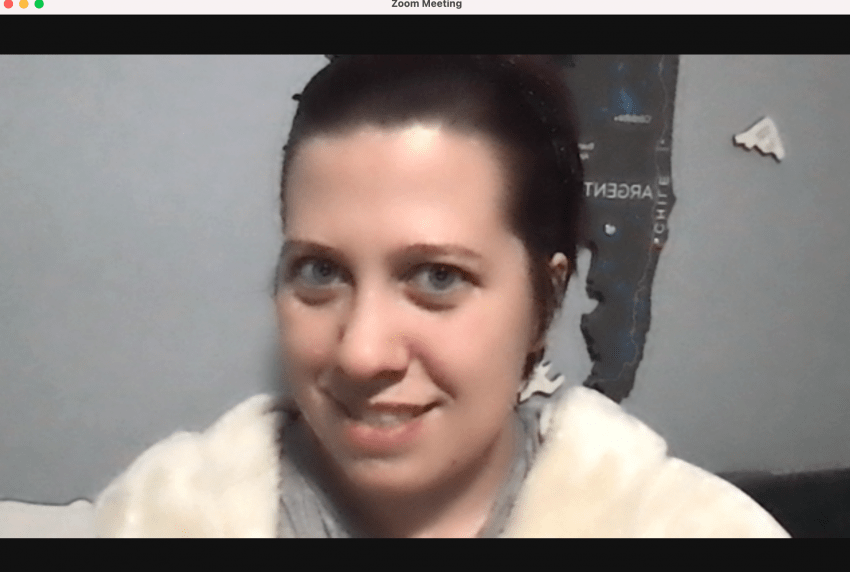 Depending on the device you are using for the video call, there are different ways to get the correct angle. Consider putting your laptop on some books or even investing in a stand for your phone or camera. If you have an adjustable stand it can be easier to manage the setup that makes you look your best.
Depending on your preferred video call app, you may be able to take advantage of special beautification features. Zoom has something called Touch Up My Appearance that functions as an automatic video airbrush. It acts as a built-in filter that makes your skin look smoother and can be adjusted based on your preferred intensity.
Open Zoom.


 
Select your initials or profile photo in the top right corner.


 

Go to Settings.


 
Select Video.


 

Under My Video, check the box for Touch up my appearance. Use the slider to control the intensity of the airbrush.


 
If you want something a little fancier or even funnier, consider downloading a program that will give you various filter options. There are several out there, but Snap Camera is free and works across various video call apps including Zoom, Skype, and Hangouts. In fact, most apps that can use your webcam will work with Snap Camera.
Download Snap Camera.


 
Open Zoom. If it was already open, quit the program and open it again once Snap Camera is installed.


 

Select your initials or profile photo in the top right corner.


Go to Settings.


 

Select Video.


 
Under Camera, use the drop-down menu to switch from your built-in camera or webcam to Snap Camera.


You will be able to change filters using Snap Camera in real-time. If you are in a meeting, beware that most filters are silly and may be inappropriate for a work environment. Some even have accompanying sounds that can be disruptive. It can take a while to find a filter that works for you. Cartier is an example of a simpler filter that has a more subtle airbrush effect compared to other Snap Camera filters.
We can all be a little self-conscious during video calls and wonder how to look good on Zoom. Following just a few simple rules can help you present yourself more confidently. If you can't have natural lighting, find the best lamp that sufficiently illuminates your face. Next, create a setup for your device that gives you the best camera angle. Finally, check for video airbrush settings or install a program that allows you to use beauty filters.