Use your Zoom settings to rename yourself for different meetings and groups.
By

Elisabeth Garry
Wed, 03/02/2022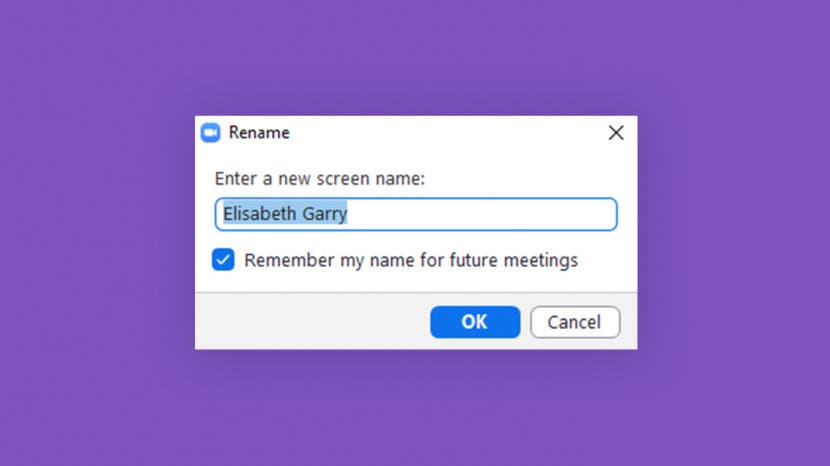 Do you know how to change your Zoom name? You might want to do this to give yourself a fun nickname in a themed Zoom party or even add your graduation date to a virtual alumni event (that's what I did, recently, anyway). For whatever reason you need to learn how to change your name on Zoom, we've got you covered.
Related: How to Use the Zoom App on an iPhone & iPad
Jump To:
How to Change Your Name on Zoom
You'll need to have a Zoom call open before you can change your name using this method. To change your name outside of a call, skip to the next section.
You can change your name to anything you want at any point during any Zoom call (is anyone else feeling the stirrings of an April Fool's Day prank in this?). To learn more about customizing your Zoom experience, check out our Tip of the Day newsletter.
Launch Zoom.
Click Participants in the bottom menu.


 
A menu will pop up to the side of your Zoom window. Click More.


 
Click Rename.


 
Enter your new name and click OK. You can also choose whether this name will become your default Zoom name for future Zoom meetings.


Now your display name will be updated for everyone to see!
How to Change Your Name on Zoom Profile
If you don't want to wait until you're already on a Zoom call to change your display name, you can do so from your Zoom account's profile settings at any time.
Go to Zoom.us.
Log into your account.


 
If you're not already there, click Profile in the left-hand menu bar.


 
Click Edit.


 
Review and change your profile name and/or display name. You can also scroll down to see other options to customize.


 
Click Save.


Now you know how to change your name on Zoom!