By

Leanne Hays
Updated 03/09/2020
* This post is part of iPhone Life's Tip of the Day newsletter. Sign Up. *
Some people ask, "Does the iPhone have a QR scanner?" Yes! It's so easy to use your iPhone as a QR reader. In fact, you can add a QR code reader to the Control Center on your iPhone for the fastest possible access. Learning how to use your iPhone's QR reader will make it easier to install new gear or register products online. If you frequently use QR codes and would like to add this feature to your iPhone or iPad's Control Center and learn how to use your device as a QR scanner once you've installed the QR reader feature, read on. 
Related: How to Add Accessibility Features to iPhone & iPad Control Center
How to Add a QR Scanner to the Control Center
Open the Settings app.
Scroll down and tap Control Center.


 
Tap Customize Controls.
Look under More Controls, and you should see an option for Scan QR Code.
Tap the white plus sign in the green circle to the left. Now you'll see Scan QR Code under Include. 


How to Use Your iPhone's QR Scanner
Now all you need to do to use your iPhone's QR scanner is to open the Control Center. 
Swipe down from the upper-right corner of your screen if you have an iPhone with no Home Button. For Models with Home buttons, Swipe up from the bottom of the display.
Tap the QR code icon; your iPhone's Camera app will open. Hold your iPhone over the QR code you want to read, and follow the directions on screen. In my case, my iPhone indicated I needed to move my device closer to the QR code.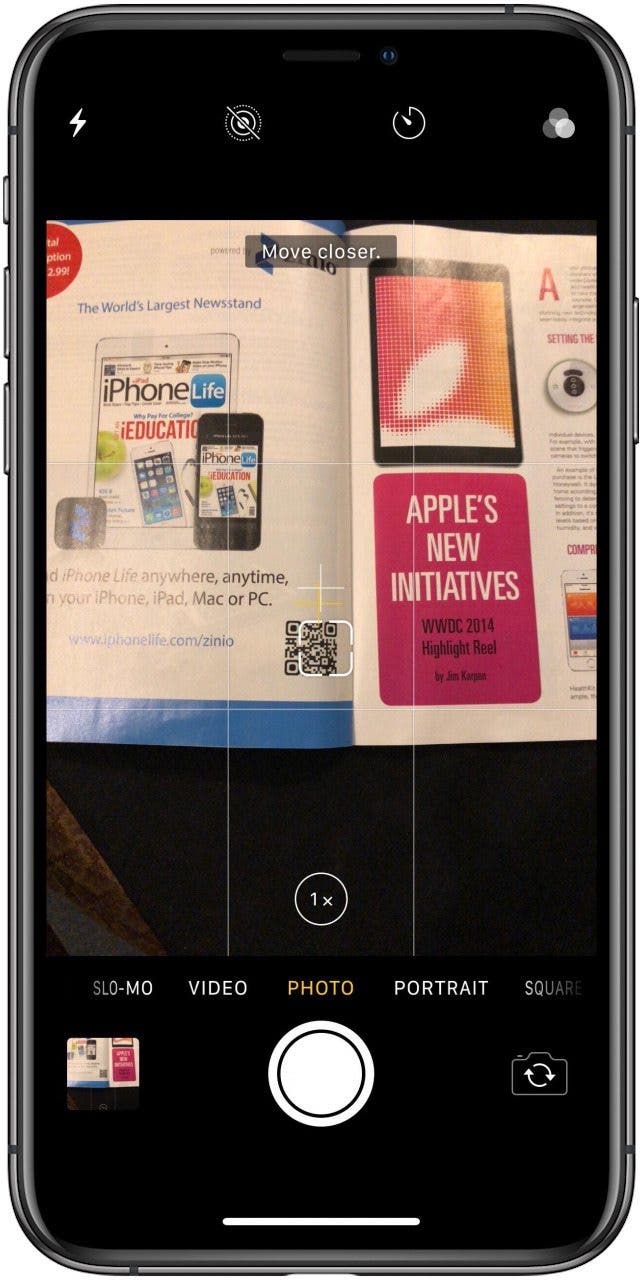 When you're in range of the QR code, your iPhone will offer the option to follow the link in the code, as in the photo below.
Tap the link and your iPhone will navigate to the web page.


With this trick, you can quickly access your QR Code whenever you need it. There are lots of other ways to customize for accessibility in the Control Center, but this is one of the less well-known tricks. Whether your scanning a product to search for discounts at the store or to register your new coffee pot, using your iPhone's QR scanner is a smart life-hack. Happy scanning!