In celebration of Black History month, Apple is offering curated content from Black creators. Here are all the offerings.
By

Amy Spitzfaden–Both
Tue, 02/09/2021
February is Black History Month, so Apple is celebrating by offering curated content featuring Black creators across all their platforms. From Music, to News, to even a Black Unity Apple Watch band collection, here are all the different features Apple is promising.
Jump to:
Games & Discussions in the App Store
The first thing Apple is highlighting, of course, is what's going on in the App Store. According to Apple's Newsroom, we should be able to find a Black History Hub in the App Store, where we can entertainment, gaming, and social justice apps by Black developers. You'll also be able to find stories by and conversations with Black developers, including creators from prominent game design companies such as Zynga. Unfortunately, the hub is hard to find, tucked away in the Apps tab, only found after a significant amount of scrolling. Still, there's a lot of good content in there so it's worth the exploration.


Playlists, Videos, & More in Apple Music
The Apple Music app is rich with content by and honoring Black artists. You can find playlists, videos, essays, and more, featuring Black artists, directors, authors, influencers, and musicians all month long. Apple Music Radio and Apple Music TV are in on the project, offering an in-depth experience, with many options to enjoy the content. These collections are right at the top of my Apple Music Browse screen, making it much easier to find and engage with than what the App Store is offering. Featured music genres include jazz, soul, blues, R&B, pop, hip hop, and more.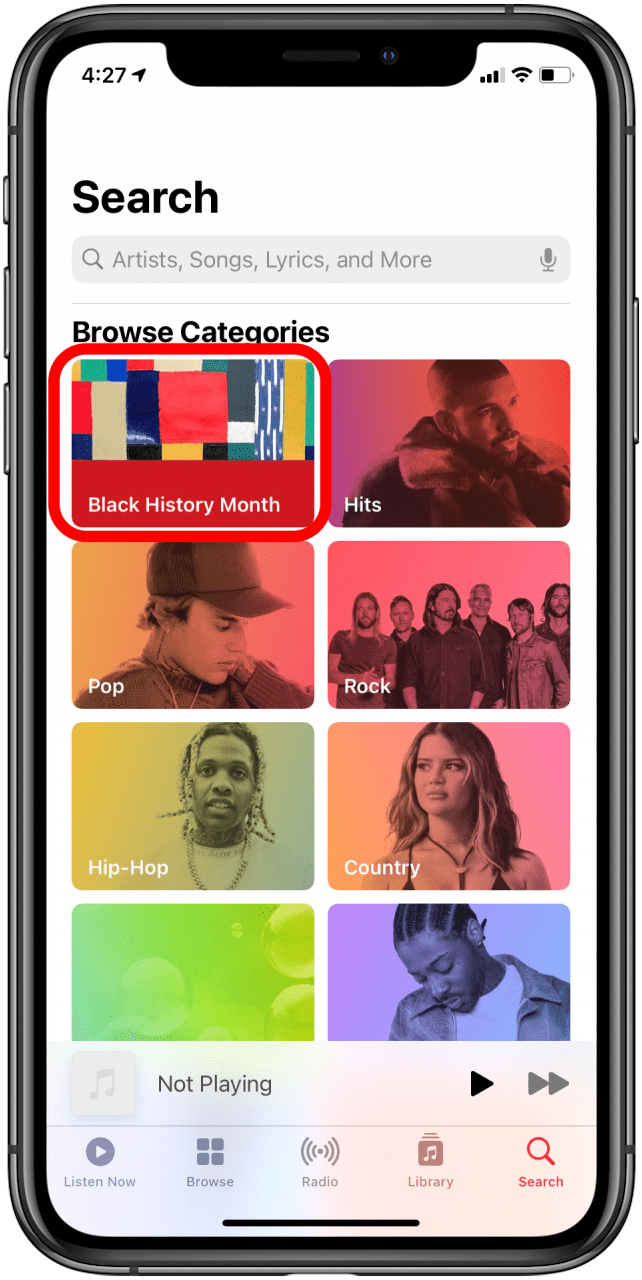 New Guides in Apple Maps
Partnering with Black-owned business directory app EatOkra, Apple Maps now offers curated guides to select cities, directing you to Black-owned restaurants in that area. If you want more options than just what the Apple Guides have to offer in terms of location (it is currently pretty limited), download the EatOkra app and enjoy a directory of Black-owned restaurants in many different communities.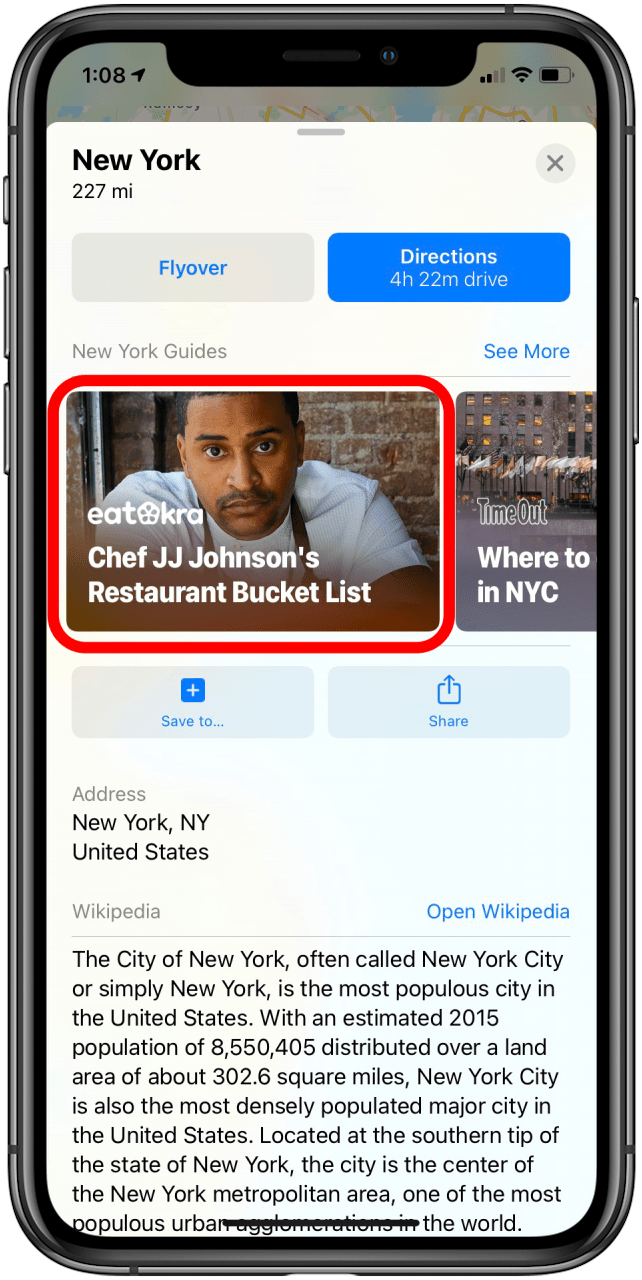 Essential Stories in Apple TV
The Essential Stories on the Apple TV app this month will take a look at all the different dimensions of the Black family and how they are represented in movies and on TV. The collections will highlight diverse Black families, from classic TV icons to LGBTQ+ chosen families. The stories explore all the different aspects of family and community, and the feature also includes original art by Jon Key. This is right at the top of your app when you open it, making these stories an easy choice.


Curated Topics in Apple News
Apple news is highlighting some of the best journalism around race in America. With a mixture of educational and opinion pieces, there's a lot to dive into even just in the basic version, but News+ is offering additional audio articles celebrating the Black experience. You can also explore the Racial Justice Spotlight, offering anti-racist education, mental health resources, and more. You'll have to find these in the Following tab, as the Today view will still focus on today's news stories, but the Black History Month topic is easy to find.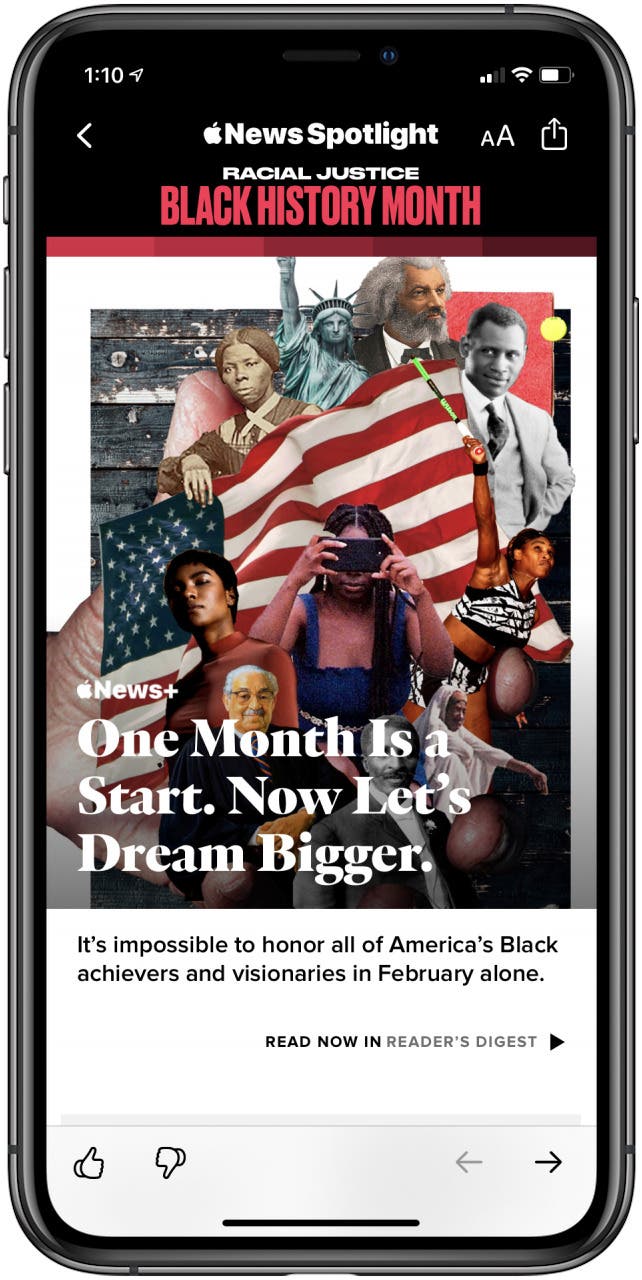 Reads by Black Authors in Apple Books
You can explore books by Black authors and audiobooks narrated by Black authors in Apple Books this month. In the Book Store tab, across the top you will find different collections, celebrating culture, history, and new authors. You can find features of authors discussing their work, read author profiles, see spotlighted titles, and read many different types of books and genres, all by Black authors.


Shows in Apple Podcasts
Podcast listeners can rejoice in the rich variety of Black History Month podcasts Apple Podcasts has to offer. With powerful Black voices including Michelle Obama herself, shows cover history, celebrations and interpretations of Black families, as well as modern day pursuits of social justice. As of today, at least, the Black History Month collection is right on top of the Browse tab, and all the featured shows seem to be part of it as well. It's easy to find, and easy to browse.


Black Unity Collection for Apple Watch
Of course, Apple couldn't let this opportunity slide without a chance to sell more products. Still, Apple's offerings this month seem thoughtful and sport beautiful designs by Black artists and allies. They've introduced the new Apple Watch Black Unity Collection, including a limited-edition Apple Watch Series 6 (starting at $399), a Sport Band ($49) in the Black Unity design, and a Unity watch face, all inspired by the colors of the Pan-Africa flag. According to Apple, "As part of this effort, Apple is supporting six global organizations to help advance their missions in promoting and achieving equality and civil rights in the US and around the world: Black Lives Matter Support Fund via the Tides Foundation; European Network Against Racism; International Institute on Race, Equality and Human Rights; Leadership Conference Education Fund; NAACP Legal Defense and Educational Fund, Inc.; and Souls Grown Deep."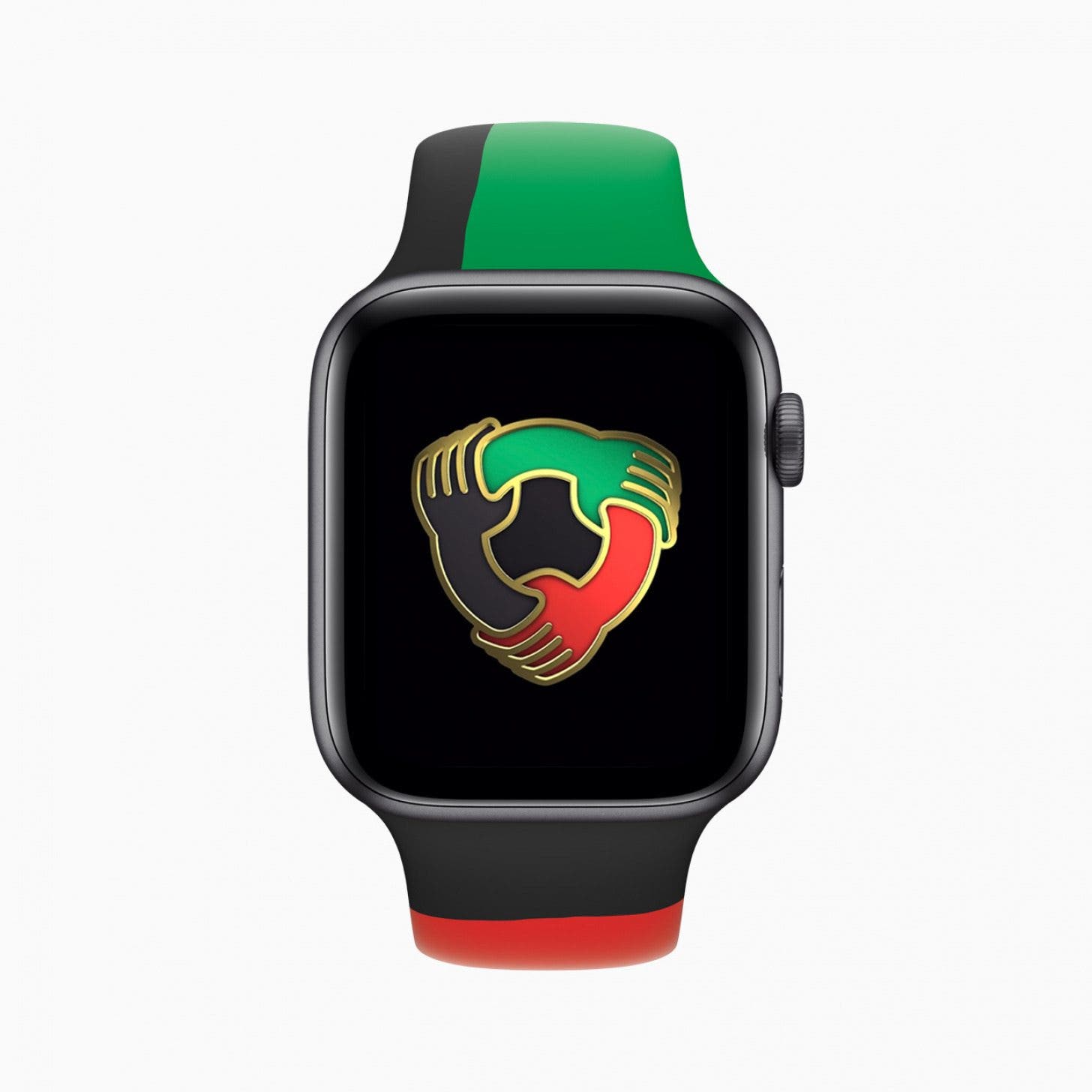 Themed Workouts in Apple Fitness+
Apple Fitness+ curated a collection of Black History Month themed workouts led by Black instructors, featuring music from Black artists in workout playlists. The first Time to Walk workout in February will feature reflections on resiliency and social justice by author Ibram X. These too are easy to find, featured right at the top of the screen. Don't have Fitness+ yet? Here's how to sign up for Apple Fitness+.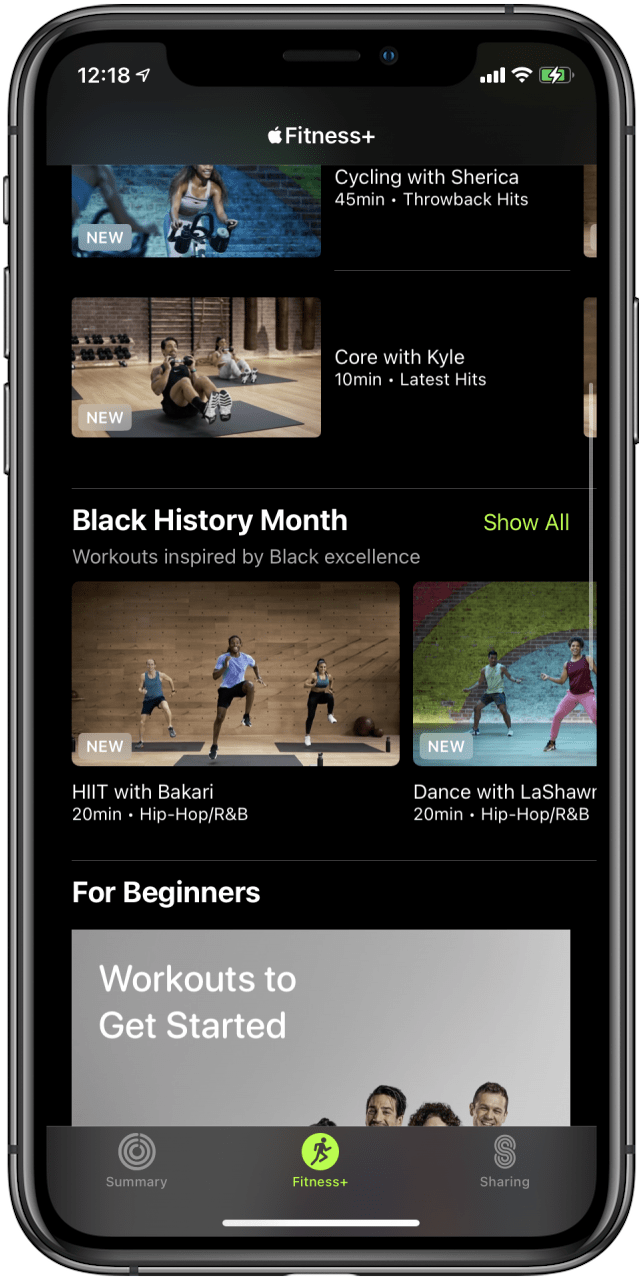 Today at Apple: New World Program
Today at Apple partnered with It's Nice That to bring virtual learning sessions and tutorials "focused on exploring the power of creativity to bring about change." The program is called New World and will includes sessions where Black creators discuss their process and inspiration, and hold demonstrations of certain aspects of their technique. Curator and writer Kimberly Drew will moderate these sessions which will include director, photographer, and filmmaker Joshua Kissi, typographer Tré Seals, and educator and artist Shan Wallace. It's open for everyone to join and you can join the New World Program here.


Hometown Campaign Shot on iPhone
For the month of February, Apple's Shot on iPhone Campaign "Hometown" will feature 30 Black photographers, capturing images of their hometown through their own vision. The hometowns span both coasts, with cities including New York and L.A. and many other cities and towns.