Professional power in a pint-sized package.
By

Cullen Thomas
Updated 04/28/2022

Apple's new Mac Studio may be what you need to upgrade your home office into a professional digital creator space. Sporting the powerful M1 Max or the new M1 Ultra processing cores and 64 or 128 gigabytes of unified memory, these are systems designed for power-hungry users with demanding workloads.
Related: Apple's All-New Mac Studio Display is Priced Just Right
With a price tag starting at $1,999, the Mac Studio is not out of reach of the independent contractor, but probably too expensive for casual computer use. Unlike the iMac or a MacBook Pro 14 inch or 16 inch, the Mac Studio is a mini-PC desktop that will require an external display, keyboard, and mouse. To decide if the Mac Studio is right for your office, we'll take a look at its brand new processor core, the M1 Ultra. You can also see our summary of all new devices announced during the Spring 2022 event. Now, let's get started!
The M1 Ultra: Power with a Price
Apple has long dominated the content creator space, with computers whose design aesthetic and performance hit the sweet spot for every kind of digital artist, from musicians needing to master their latest track, to photographers needing to fine-tune the perfect look, to high-end special effects pros rendering digital worlds. The Mac Studio finally brings the impressive Apple-made M1 series processors to this market in a desktop format, and with a real splash: the new M1 Ultra. You don't have to buy the M1 Ultra with your Mac Studio: you can go with last year's M1 Max, and that is likely quite enough power for most, but for the truly demanding, the M1 Ultra is in a new league.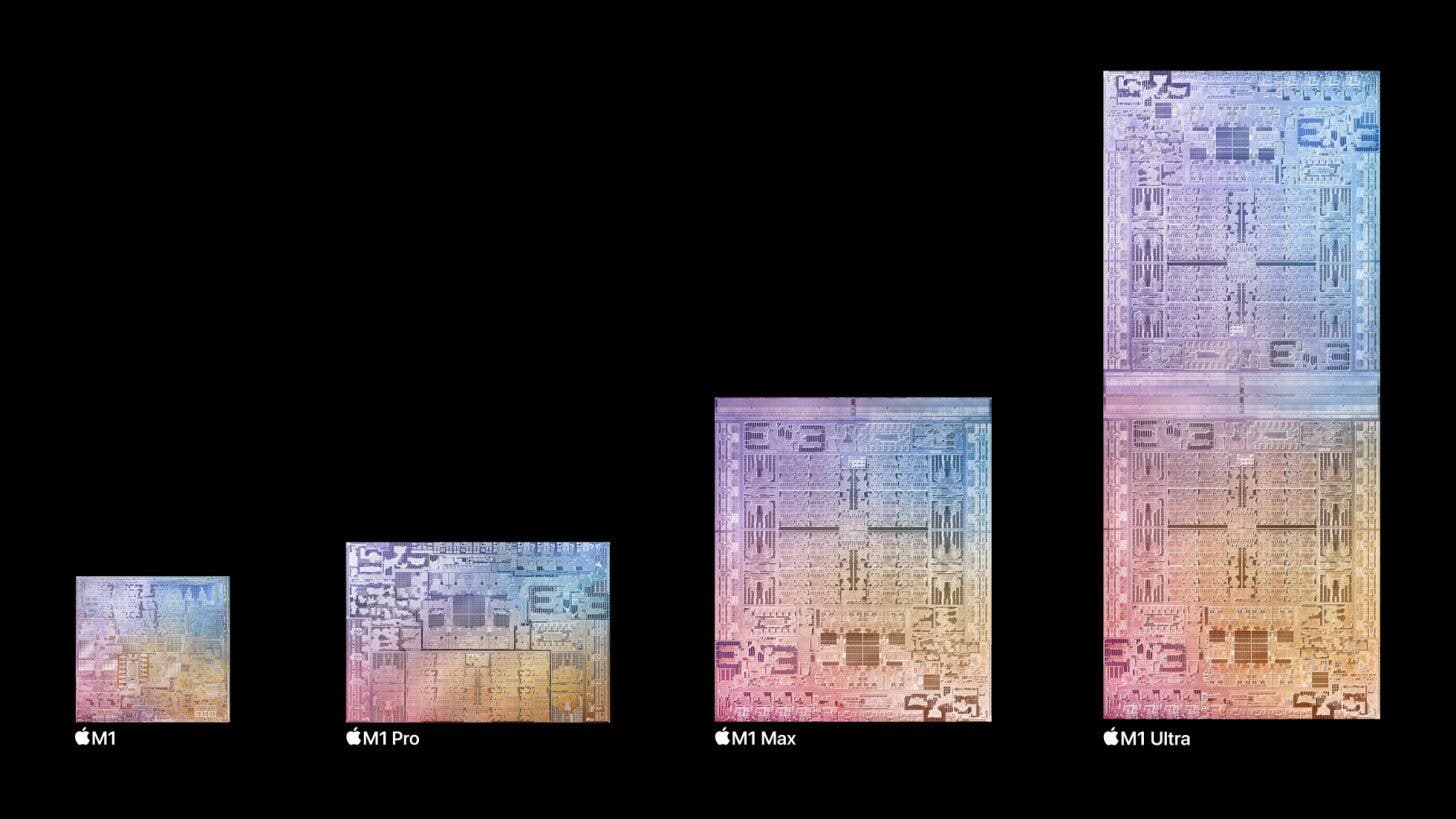 Image courtesy of Apple
The M1 Ultra is two M1 Max chips married together on the same die, using a new architecture so they act as a single system-on-chip. That means it's got up to 20 central processing unit (CPU) cores (16 high-powered, 4 performance), 64 graphics processing unit (GPU) cores, and 32 Neural Engine cores all on the same die. That is a bit above average, to put it mildly. Reliable benchmarks aren't out yet, but while the M1 Ultra may not quite outpace the very top end of professional workstation processors, it should be far better than competitors in the home-office desktop space and have more than enough power for even heavy professional use.
It's priced for serious professionals too. So far the M1 Ultra is only available in the Mac Studio (no iMacs, no MacBooks, and no Mac Pro), and systems featuring the M1 Ultra start at $3,999.
The Mac Studio: Apple's Only Silicon Professional Desktop
If you've been waiting for a professional desktop from Apple, you'll welcome the Mac Studio. It's a 7.7-inch square of extruded aluminum that's 3.7 inches tall, has some holes in the bottom, a couple of fans, and basically serves as a kickstand for the M1 Max or M1 Ultra system-on-chip. There are three processor configurations available for the Mac Studio: the "low end" is the M1 Max with 10-core CPU (8 high-speed cores and 2 efficiency cores), 24-core GPU, and 16-Core Neural Engine. This is the entry-level configuration of the Mac Studio, starting at $1,999. If you want the M1 Ultra, you've got two choices: Both offer the 20-core CPU and 32-core Neural Engine, but one has 48 GPU cores, and the other upgrades to 64 GPU cores. These are going to cost you $3,999 or $4,999, not including any further memory or storage upgrades.
Practically the entire functional body of the Mac Studio is its processor, a system-on-chip combining central and graphics processing with RAM all in one place. But when you're talking about functionality for power users and professionals, the form factor, design, ports, and connectivity matter a great deal. Running out of USB ports is a perennial annoyance for pros trying to make do with a laptop, so if you're looking for a desktop you're probably hoping for more ports.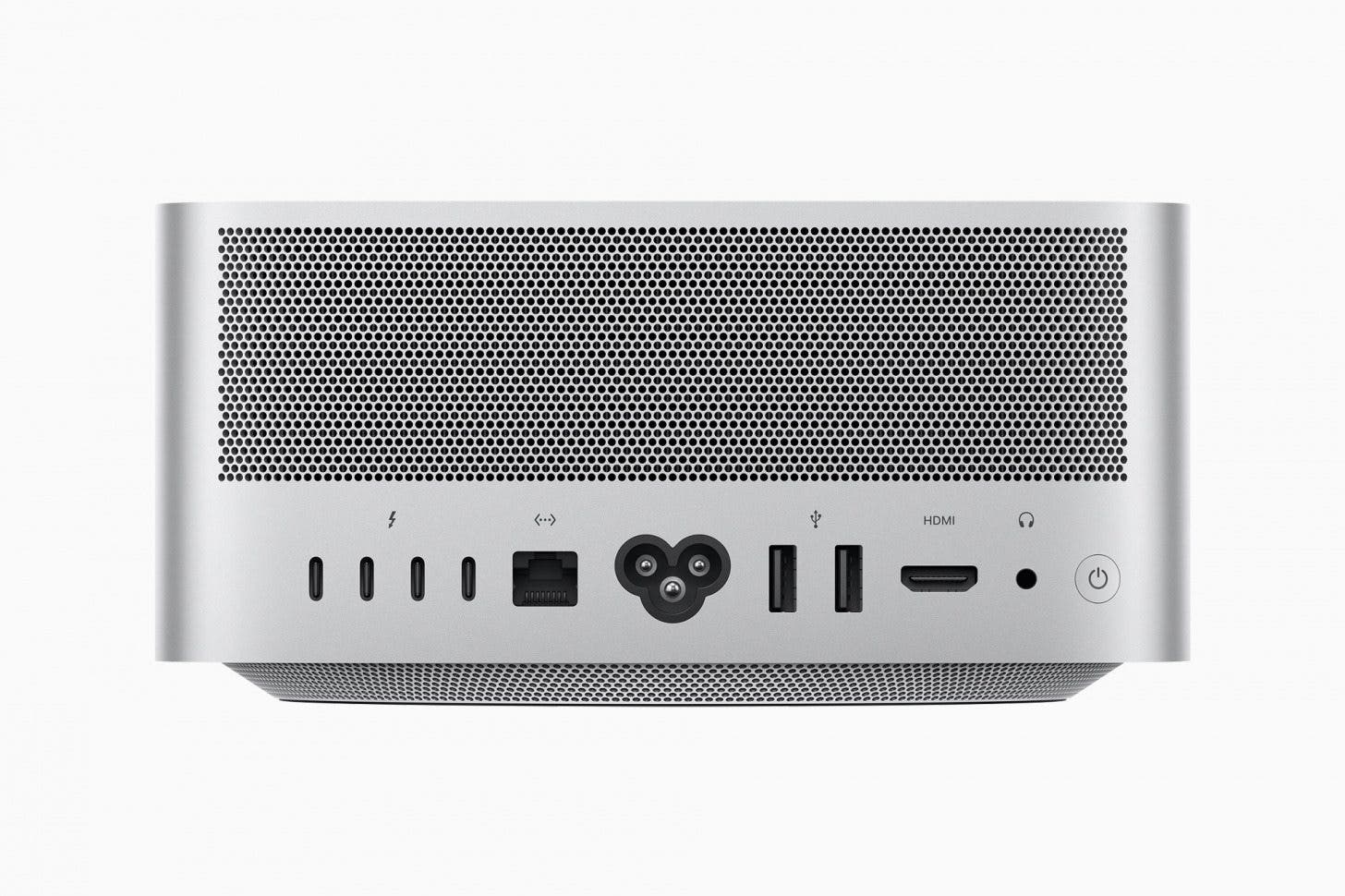 Image courtesy of Apple
The Mac Studio offers four Thunderbolt 4 ports, two USB-A ports, Ethernet, and HDMI on the back, with two more USB-C ports on the front alongside an SDXC card reader and a headphones jack. The upgraded Mac Studio with the M1 Ultra chip also upgrades the two front ports from 10 gigabits a second (Gb/s) USB-C to Thunderbolt 4 at 40 Gb/s. For networking and peripherals, 10 Gb Ethernet, WiFi 6, and Bluetooth 5 should come as no surprise and indeed that's what you get.
Is that enough ports? No, there are never enough ports. But four Thunderbolt 4 ports is an acceptable number, considering you can use a good USB hub to turn one of those blazing-fast Thunderbolt ports into basically however many of the slower USB-A ports you need.
As for memory and storage, the Mac Studio offers configurations of either 64 gigabytes (GB) of unified memory or 128, and you can get internal storage ranging from a 512 GB SSD all the way up to 8 terabytes. 
Should You Buy a Mac Studio?
You can probably see the appeal if you're looking for a chunky workstation computer that can crank through the calculations of large photo-editing, 4k video production, or just run 64 gigs worth of Safari tabs all at once. There are only two downsides to the Mac Studio. First, entry at $1,999 is a high bar. Second, the integrated system-on-chip means you can't upgrade the computer later. If any part of the system fails, then the whole system fails. This lack of repairability isn't likely to be a problem over a five-year use life. It might be a concern if your replacement cycle is longer, but at this time Apple doesn't offer you any models catering to that need.
So is this the machine of your dreams? If you're a casual user, you'll be better off with an M1 iMac or Mac mini. If you're an enthusiast or professional who spends all day on your computer with 200+ Safari tabs open, you might consider the Mac Studio. If you're a working professional stuck with a lagging iMac Pro, the Mac Studio might be your sweet-spot upgrade, but watch out for the extra price tag of adding a good monitor to your setup (to fill that need, Apple released the Studio Display, but is it worth the cost?). Finally, if you're used to the awesome power of a full-sized Mac Pro, then you'll probably want to wait a few short months until Apple releases a silicon processor for that platform, teased for later this summer (hopefully!).