By

Cullen Thomas
Mon, 07/18/2022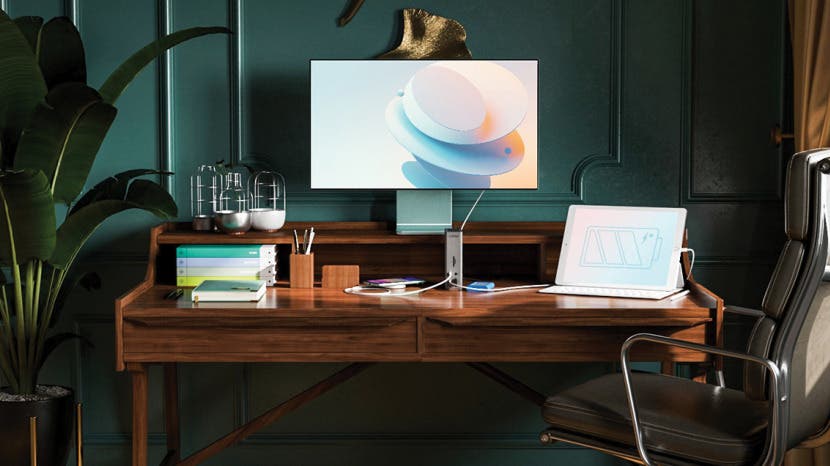 This year, be sure to upgrade your MacBook and iPad accessory game with these awesome gadgets and tech. Docks, risers, and stands can improve your laptop experience by a long shot, and it may be worth it to you to invest in some of these products now to avoid a pain in the neck later!
Related: Best Camera Accessories for iPhone 13
Thunderbolt 4 Docks
The latest generation of Macs offers Thunderbolt 4 ports with blazing fast 40 gigabits per second transfer speeds, faster than many hard drives can read or write! These ports are perfect for hubs and docks. With a good dock, you can place your laptop on your desk, then hook up your monitor, keyboard, mouse, speakers, printer, and whatever else you want, all with a single cable plug. Banish all the cable clutter and make disconnecting from your desk a breeze!

Discover your iPhone's hidden features
Get a daily tip (with screenshots and clear instructions) so you can master your iPhone in just one minute a day.
If you want the best Thunderbolt 4 dock on the market, this is it. Construction is robust, electronics are silent and effective, and it offers the most ports of any hub we tested. On top of its two Thunderbolt 4, three USB-C, five USB-A (all at 10 Gb/s), a Display port, SD, and Micro-SD card readers, it's alone in offering a 2.5 GbE Ethernet port. Truly, this is the dock to unleash the power of your Thunderbolt 4 port.
This is the cheapest Thunderbolt 4 hub we tested, but it's still a solidly built little device that looks great as it moves all the ugly peripheral cables out of sight. If you don't need an Ethernet port but still want to take advantage of the Thunderbolt 4's awesome speeds, then this is your best choice.
Also Tested:
USB Hubs and Docks
If you'd like to spend less, then consider using a USB-C dock instead of Thunderbolt. These won't break the bank, will work with more computers, and come with a wider range of options.
This sturdy little device expands a single USB-C port into an Ethernet port, HDMI monitor port, SD and Micro-SD card-readers, and three USB-A ports at 5 Gb/s, all in a form-factor that will work just as well on your desk as at a hotel. With a slightly longer cable, you can still use it to move your cable clutter off your desk, but it's also lightweight and doesn't need its own power supply, making it a great fit for your carry-on.
You can find a hundred similar items on Amazon but this is the one to get. The build quality is  impressive, the lights aren't too bright, the internal electronics actually hold up to robust use, and the 10Gb/s transfer speeds work as advertised
If you own both a laptop and a desktop, then it can be frustrating to get into what we call a "swivel-chair" workflow, where you're constantly rotating between your two keyboards. To fix this, try the Aten 2-Port Switch, which plugs your mouse, keyboard, printer, etc. (but not monitor) into both computers at the same time, and then with the press of a button, you can swap from one computer to the other.
If you're looking to spend the minimum but don't want to sacrifice build quality, this little hub is easy to use, cheap, and built to last. It may not support the speeds of the (much) more expensive options listed above, and its cable may be too short to move the clutter out of sight, but it will net your laptop two more USB-A ports, power-passthrough, and Ethernet.
Laptop Risers
Lifting your laptop up off the desk is more important than it may sound at first. Looking down at your screen all the time can be a literal pain in the neck! A good riser also lines the laptop screen up with a second monitor for an aesthetically pleasing and efficient workspace.
The real wood surface and aluminum base of this riser wins our award for most beautiful of the laptop risers. It looks great on your desk even when the laptop is absent and could easily serve as a book holder or magazine stand. Why buy an awkwardly shaped piece of aluminum when you could have a lovely little lectern for your laptop?
If you're looking for maximum height, this is the riser for you. The obVus Minder offers sturdy support with plenty of flexibility to customize exactly the position you want, with easily the highest heights of any riser we tested.
Of the dozens of laptop risers I tested, this is the one I actually use. Its minimal design looks great, it folds up to fit in a satchel or purse, and its limited surface area allows the laptop to cool effectively
iPad Stands
If you're building the perfect home desk setup for your new MacBook, you should consider a dock or stand for your iPad too! You can use your iPad as a second monitor with Sidecar, or you can take control of your iPad with your Mac's keyboard and mouse using Universal Control.
The Kensington Studio Dock is way more than a stand: it securely holds and charges your iPad (while wirelessly charging your phone and AirPods) and expands the ports on your iPad for Ethernet, USB, and an SD card reader! Truly this is the Bentley of iPad stands.
The HoverBar Duo has won many awards as an iPad stand, and it's easy to see why. Your iPad clips in and out easily and can be repositioned into any position you need. It even comes with a clamp to mount the stand to a rail or the edge of your desk