By

Becca Ludlum
Wed, 05/10/2017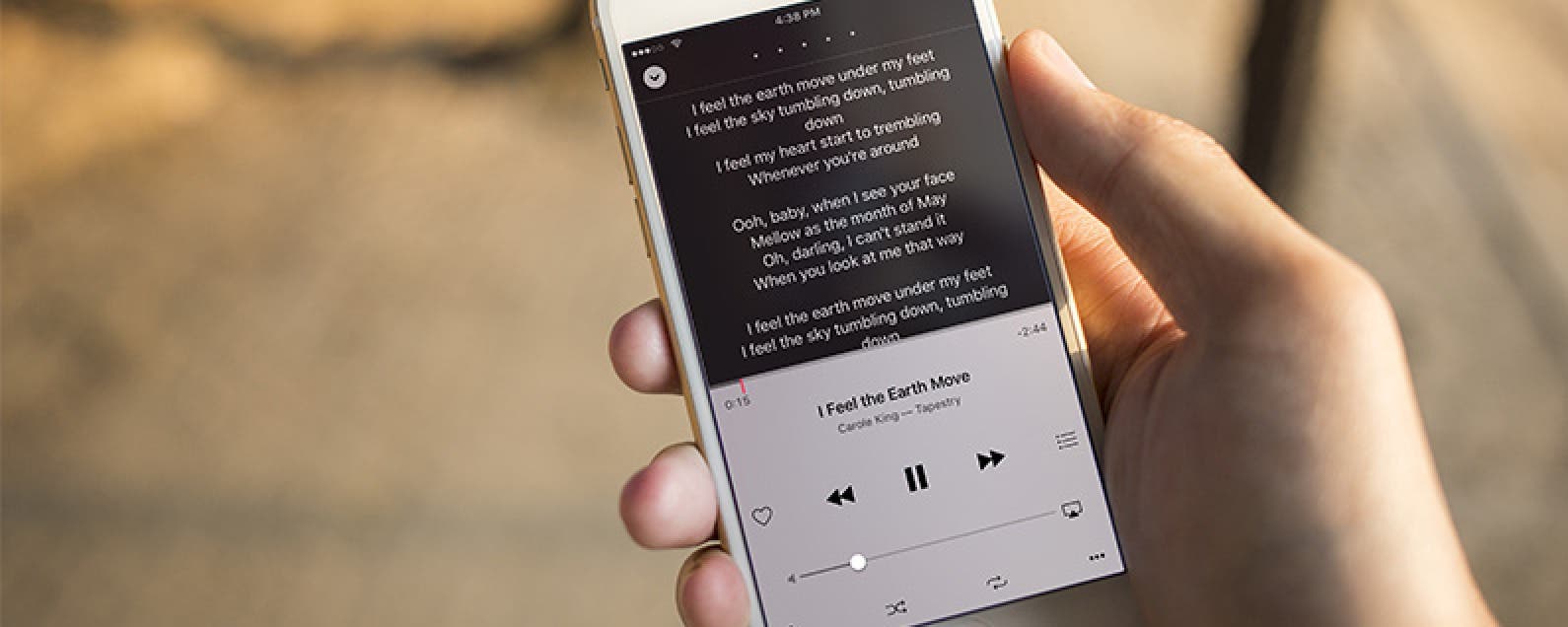 * This post is part of iPhone Life's Tip of the Day newsletter. Sign Up. *
How you view lyrics on iPhone will vary depending on what music streaming service you use and how you decide to display lyrics. Apple Music in iOS 10 adds lyrics to songs but usually only popular songs, which means you may still want to use an app to add or view lyrics that can't be displayed by Apple. Don't worry though, we'll go over lots of ways in which you can see lyrics on iPhone while playing your music, from Apple Music to Spotify and more. We'll also cover our favorite websites and the best app for adding and viewing lyrics. Here's how to see get lyrics on iPhone while listening to your music.
Related: How to Change Your Apple ID Credit Card Used for iTunes on iPhone

Discover your iPhone's hidden features
Get a daily tip (with screenshots and clear instructions) so you can master your iPhone in just one minute a day.
Table of Contents:
How to View Lyrics in Apple Music (iOS 10 or later)
How to Find & Show Lyrics in SoundHound
Best App for Adding & Viewing Lyrics: MusixMatch
Best Websites for Looking Up Lyrics
With iOS 10, Apple added lyrics to Apple Music. But not all songs display lyrics, which means you'll probably want to check out our recommendation of the best app for adding music lyrics after this. For the songs that Apple Music does display lyrics for, it's an amazing feature that I'm glad Apple is finally including. There are two ways to view lyrics in Apple Music:
Open the Music app and play the song you want to get lyrics for.
Make the music player full screen by tapping on the song display box at the bottom of the screen.
(1) Swipe up anywhere on the screen to show the list of music that is Up Next. This is also where the Shuffle and Repeat icons are now located.
If a song has lyrics to display, you'll see the word Lyrics above Up Next. Tap Show to view the song with the lyrics.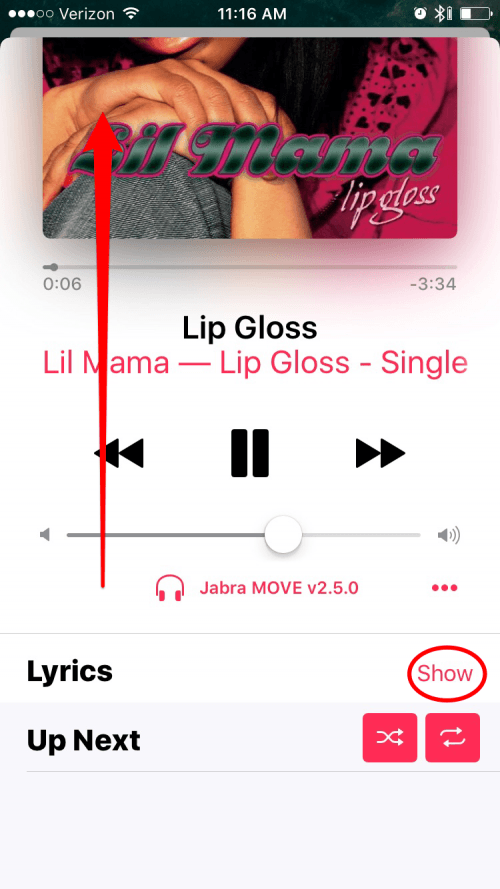 The second way to view lyrics in Apple Music: from the full screen music player, tap the three horizontal dots that brings up actions.
On that list, you will see Lyrics if they're available.
Tap Lyrics to display the music lyrics fullscreen.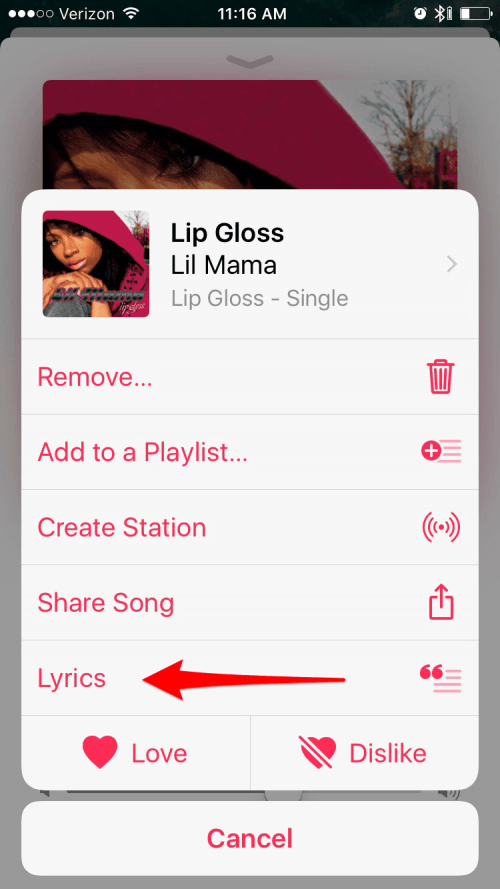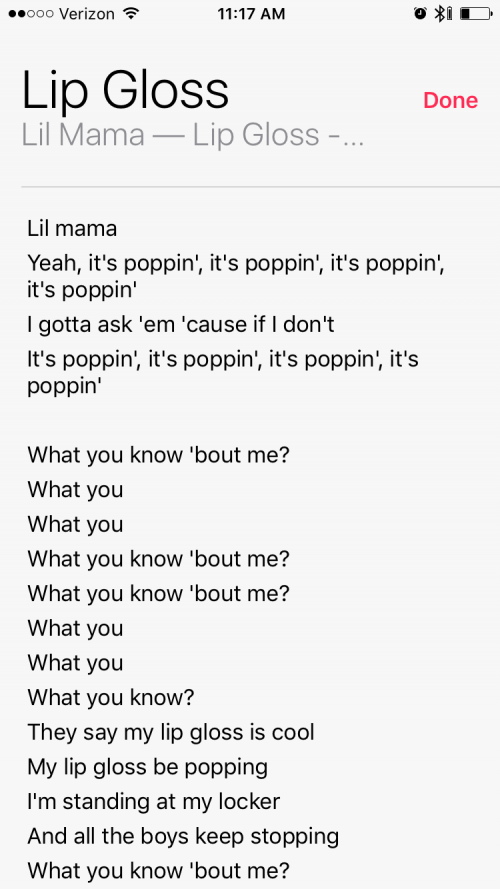 As stated, most of my music doesn't have lyrics in Apple Music. I imagine this will improve the older the feature becomes. But if you find that a lot of your songs simply aren't displaying lyrics, check out the best music lyrics apps below.
Spotify has a feature called Genius. Unfortunately, Genius doesn't show you the entire list of song lyrics and it only works on certain popular songs. Genius focuses on giving you a look behind the song by decoding certain lyrics or providing interesting facts. Again, you'll likely want to check out the best apps for adding or viewing lyrics below if you'd like to see a much broader array of full song lyrics when listening to music. To view Genius and see some lyrics in Spotify:
Play a song you want to see lyrics of. Make the music player full screen.
If Genius is an option for that song, you will see Behind the Lyrics near the top.
Swipe down, pulling from Behind the Lyrics.
Genius will open displaying some lyrics along with interesting facts about the lyrics or song.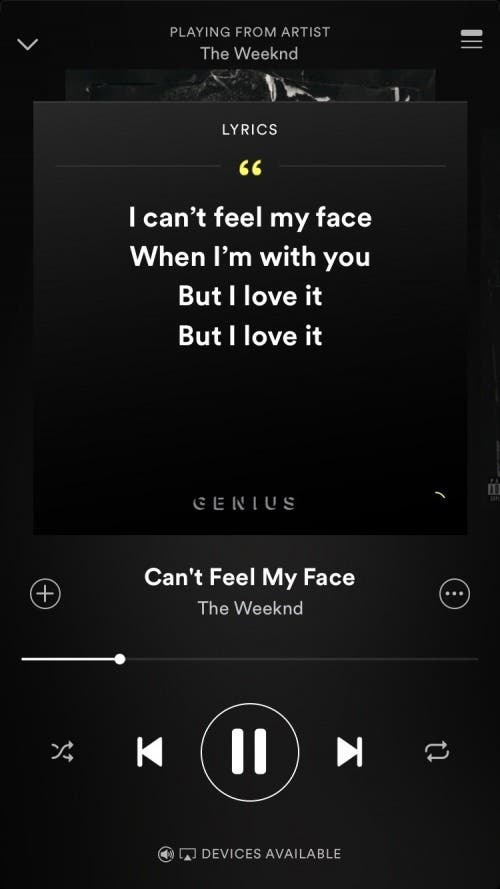 SoundHound is a free app that can detect a song you're playing, singing, or humming. This app is particularly helpful if you're trying to find a song by the lyrics or figure out what song you're listening to. However, you can also play a song over the speakers of your iPhone while using the app, which means if you're already listening to a song and you want to know the lyrics, simply open the app and follow the directions below. You can also connect SoundHound to your Apple Music or Spotify membership, which allows you to play your music within the SoundHound app. Here's how to see lyrics on iPhone using SoundHound.
Once you've downloaded SoundHound from the App Store, open the app.
Upon opening the app, you'll see an orange circle.
Tap the circle. The app will listen for the song— either make sure the song is playing or sing/hum the song you're trying to identify.
Once SoundHound has identified the song, it will pop up. You can also tap the orange circle again when done if it doesn't automatically figure it out.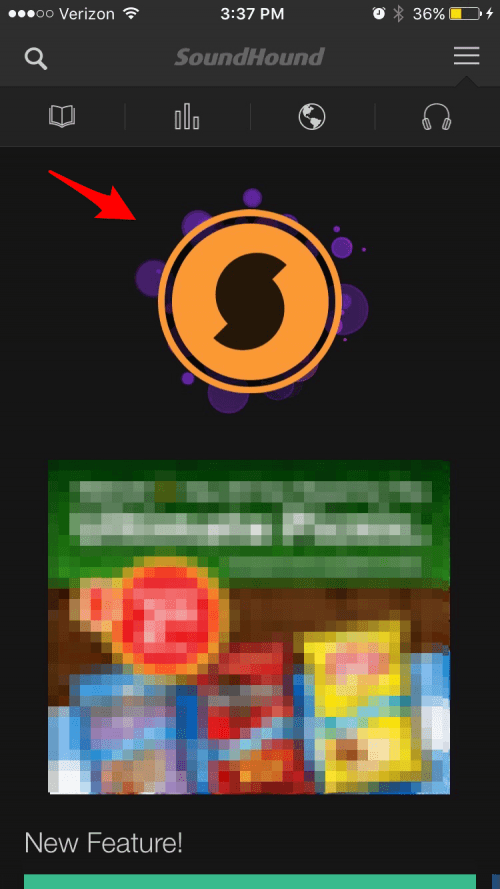 Below the play button, you'll see a small lyrics section. Tap that section to see the lyrics fullscreen.
SoundHound is cool because sometimes the song lyrics will play with the music. That way instead of having to scroll through the music lyrics, it will automatically scroll through them in line with the song. If this feature is working, the lyrics box will be orange and labeled LiveLyrics. If not, it will simply say Lyrics.
Originally we planned to feature the top three apps for viewing lyrics while listening to music, but it turns out there's a clear standout winner. So instead, we'll focus on how to install and use the popular app Musixmatch.
Musixmatch is the top app for lyrics for a good reason. When you download the app, all you have to do is add the Musixmatch widget to your Notifications Center. Here's how to use Musixmatch to see lyrics while you're listening to music.
Download Musixmatch from the App Store.
Open the app. Log in using Facebook, Google +, or create an account.
When prompted, allow it to connect with your Apple Music or Spotify account.
From the launch screen, you'll see the option to Enable the Widget for…
Tap Try it Now.
Swipe down from the top of the screen to open your Notifications Center.
Swipe to the Today view or Widgets page (if on iOS 10).
Scroll down to the bottom of the page and tap Edit.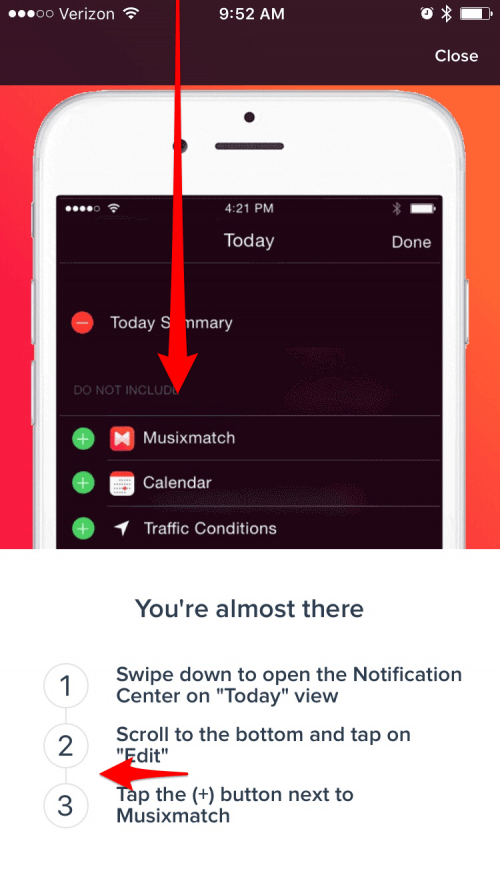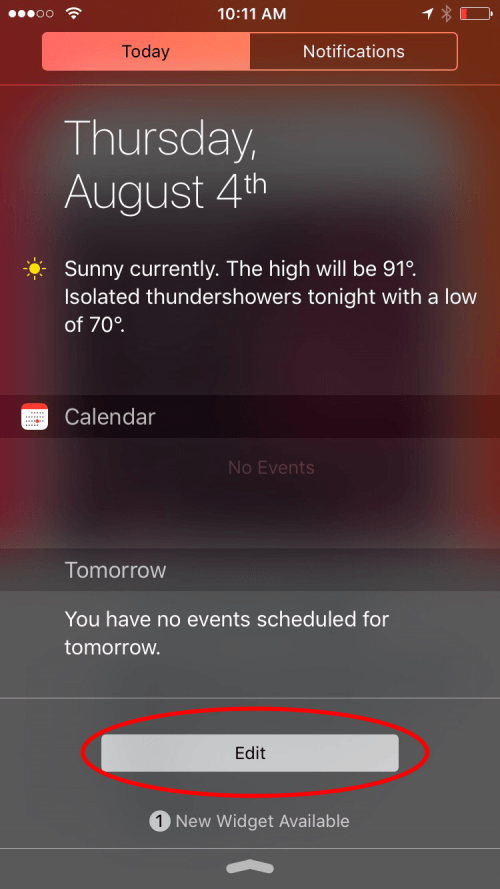 Tap the + button next to Musixmatch.
When listening to music, simply swipe down from the top of the screen to open your Notifications Center and locate the Musixmatch widget. You'll see lyrics live as the song plays. Tap the widget to open the app and see the song's lyrics full screen.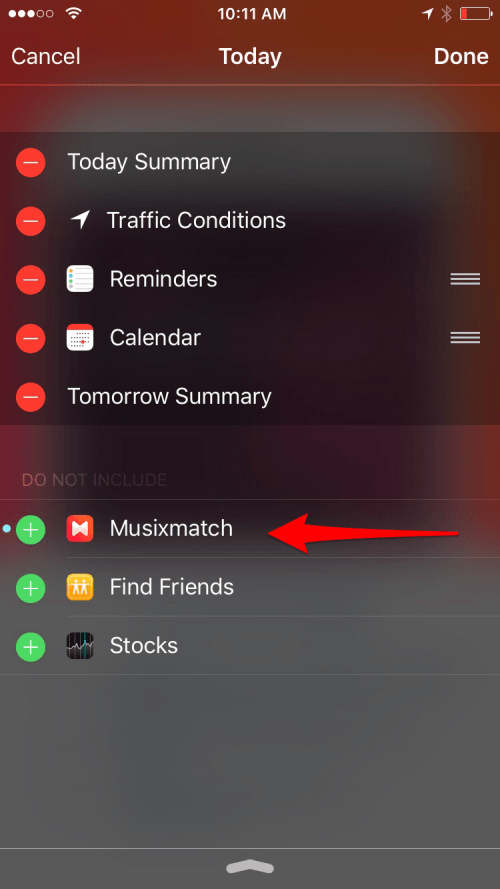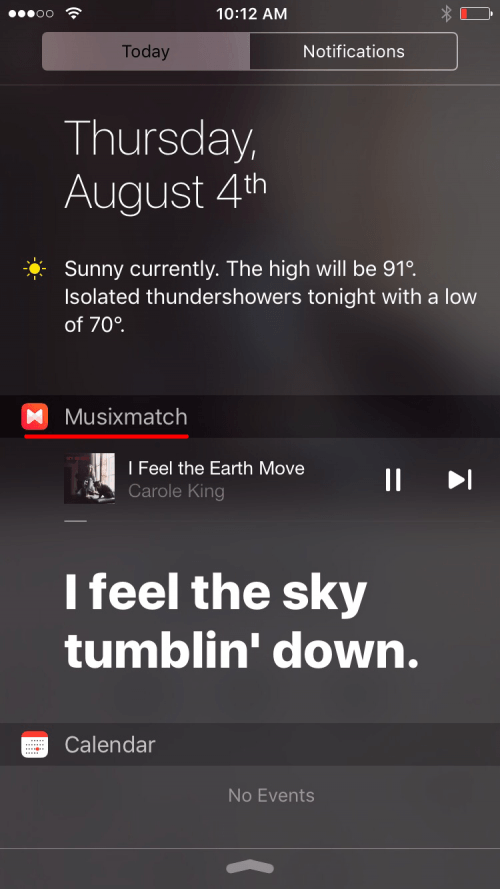 You can also use Musixmatch to identify a song and its lyrics. The app added a recent feature that shows you the translation of songs you listen to in foreign languages as well. It's a pretty awesome app that doesn't get in the way of listening to music or take much effort to set up.
Generally, if I know some lyrics of a song but not the song itself, I'll just Google the lyrics of the song I do know and see if I can find it. That's always a great option. But if you like to have a go-to website for all the lyrics, here's our top three to bookmark.
Part of CBS, MetroLyrics has just about every song you could want to find. It also features a Top 100 in case you want to find some new music and the lyrics to go with it.
I like SongLyrics because the search bar is the main focus at the top. Visit the site, search for a song, and you're good to go. It also impressed me by knowing of some very small-time bands that appear in the iTunes store. It didn't have the lyrics for them, but it did give me the option to submit the lyrics of the songs.
AZLyrics is powered by Musixmatch, the app featured above. It also allows you to search by the letter of an artist's name, as well as allowing you to request lyrics and submit lyrics. Of the three, this site tends to focus most heavily on the lyrics. There are few ads and nothing about the website distracts from its purpose.

Top image credit: 10 FACE / Shutterstock.com