By

Daniel Rasmus
Thu, 10/23/2014
Just outside of Redmond, WA, center of the Microsoft universe, lies a little city we like to call Seattle. Seattle is the home to OmniGroup, a company dedicated to writing some of the best, and more enduring, Macintosh software around, along with complementary iOS apps to facilitate the increasingly mobile lifestyles of their customers.
OmniGroup focuses on productivity, and for many organizations, using their suite of products can provide a comprehensive complement to standards like word processors, spreadsheets and presentation programs.
OmniFocus ($29.99 iPad, $19.99 iPhone)
I still employ OmniFocus as my primary task management tool, and I do this for three reasons:
It runs on the Macintosh and in iOS

It synchronizes via OmniGroup's free WebDav "cloud" service

It understands context
The last one, context, may requite a bit of expansion. Context is a place one finds oneself. So rather than looking at the world through the lens of project categories (like: write a post for iPhone Life) I can view the world through contexts (like: what's next up for me to do when I'm sitting at my desk). This is a powerful feature that helps people look at the world, and what they do in it, from a different perspective. The feature, as well as the basic task management capabilities, are implemented cleanly, reflects Apple's latest design standards. 
It is possible to manage your life from just one platform or the other, but the iPad and the iPhone, combined with travel, create a context. Who wants to go back to their desktop to check off a task accomplished when out of the office, when they can easily check off the task on a mobile device. You can even designate location-based contexts that remind you to do something when you are in the vicinity (context: Near Seahawks Team Store — Buy stuff on this list).
OmniOutliner ($29.99 on iPad)
If you own Microsoft Word, you already own an adequate outliner. Or so you think, but only if you actually buy into your 10th grade English teacher's linear view of story telling. Outliners can do a lot more than organize topics for a term paper. They can help you organize and manage information. If you have the right outliner.
If I didn't lose you, then you probably get it, and are looking for a product like OmniOutliner which lets you outline, then add columns of information to a headline. Think of all those lists you make in Excel. Microsoft didn't write Excel to manage lists. Those lists all work even better in OmniOutliner with check marks, formatting, styles, sorting, and row linking. Columns can calculate sums and basic statistics, as well as include user interface elements like pop-up lists and check marks. Check marks are great when an item needs a number of elements to be completed before it is actually completed (think set table as a task with columns for various types of silverware. Once you put down the shrimp fork, you can make a final check of that implement and then check off the entire task).
OmniOutline is my go-to app when developing a list of things I repeat but vary, like a strategic planning project. All of these steps are there, but I can modify them to meet the engagement. I can also export parts o the outline to OmniPlan, and then apply dates to create a schedule. The only think better would be a section of my outline synchronized with OmniPlan so that I can have one source of information, with a section set apart for tasks. Opening the synchronized document reveals just the tasks in OmniPlan, offering a schedule without all of the other notes. Export and import is easy enough, but this kind of feature would be cool. Next time, perhaps, Omni-devs?
OmniPlan ($49.99)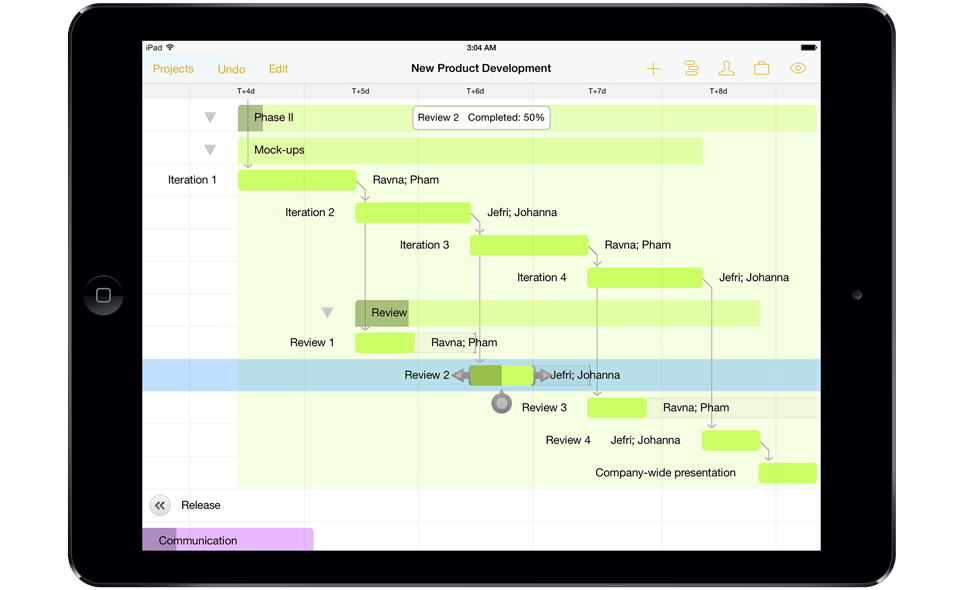 Project planning is hard. OmniPlan helps by making the tools very accessible, and if you live in Omni-land, consistent with your experiences across the product lines. People who don't create projects for a living don't realize, as they are asked from time-to-time to create them, that the process is iterative. Tasks get left out and sequences get rearranged all of the time. OmniPlan, with its outline-like front end, makes that easy.
Unlike some programs that just draw project diagrams, OmniPlan supports dependencies of all types, so that adjustments made along the way are recalculated throughout the project. The display on the iPad offers clear visuals the reflect what needs to be done next while the Mac version includes sophisticated filtering to simplify projects into more manageable chunks.  
OmniPlan also tracks changes automatically so that when teams are working on the same plan, updates applied can be quickly retrieved  and renegotiated if necessary. The OmniGroup free Omni Sync Server makes this even easier by treating the plan as data rather than a file, eliminating read/write conflicts inherent with shared files.
OmniGraffle ($49.99)
Frankly, OmniGraffle doesn't have the best name. It has a great reputation among Mac enthusiasts with a need for precise diagramming, but if you don't already know that, unlike other Omni products, Graffle sounds more like a Doctor Seuss character than a productivity app.
If the princesses in Frozen where engineers, they might sing: "Do you want to design a snowman?" And they would probably reach for OmniGraffle to do that.
OmniGraffle is not the easiest environment to master, and I am far from being an expert. But I do use it for network diagrams, vision maps and several others kinds of drawings then end up in documentation or as grist for the brainstorming mill. 
The number of features make this a major competitor to tools like Microsoft's Visio (PC only) and Adobe's Illustrator. If you take the time to explore OmniGraffle you will probably find a way to translate just about anything in your head to something on your iOS device or Mac.
Being in the Omni
OmniGroup has a very old-school view of the Macintosh, one likely shared by many of its users and those who developed OS X. Although the apps work very well for business users, there is no mistaking their programmer heritage. As a developer, OmniGroup needed tools to help OmniGroup stay on task, draw user interface prototypes, organize thinking and plan new releases. So years ago they created the tools they needed, and then generalized them to the market. They now enjoy a fervent following of business users who appreciate their simple to use, yet powerful apps that can easily become basic components of any Apple productivity-oriented computing environment.
OmniGroup product files can be stored in OmniPresence and edited on any device, and those that have moved to data models, like OmniFocus and OmniPlan, can be synchronized.
Unlike Apple's own products, the OmniGroup take advantage of platform unique features like AppleScript to integrate their products with each other, and with other tools like Evernote and Twitter.
OmniGroup does Apple cross-platform compatibility and integration better than almost any company. Their iPad apps work seamlessly with their iPhone and iPad versions. At the heart of their technology is a belief that mobile clients empower people by letting them work with complex ideas remotely. The desktop is always available with its important attributes like a big screen and more detailed features, but in the heat of the moment, OmniGroup doesn't care if your executing on an iPad or a MacBook Air, both will capture your data, check off your achievements and tell you what you need to do next.
In a market that increasingly thinks "mobile first" it is refreshing to see a software company that still understands the need for full clients that can do the heavy lifting of creation and management. 
As Apple has evolved their user interface, OmniGroup has converged on an iOS 8/Yosemite treatments for most of their apps, but user interface consistency between apps and between devices continues to evolve. The latest iteration of OmniFocus demonstrate where the other apps may be heading in the future.
What's New with Omni Apps on the iPad
With the advent iOS 8 on the iPad/iPhone and Yosemite on the Mac, OmniGroup has completely updated the user interface on their signature apps, OmniFocus and OmniGraffle.
OmniFocus 2 for iPad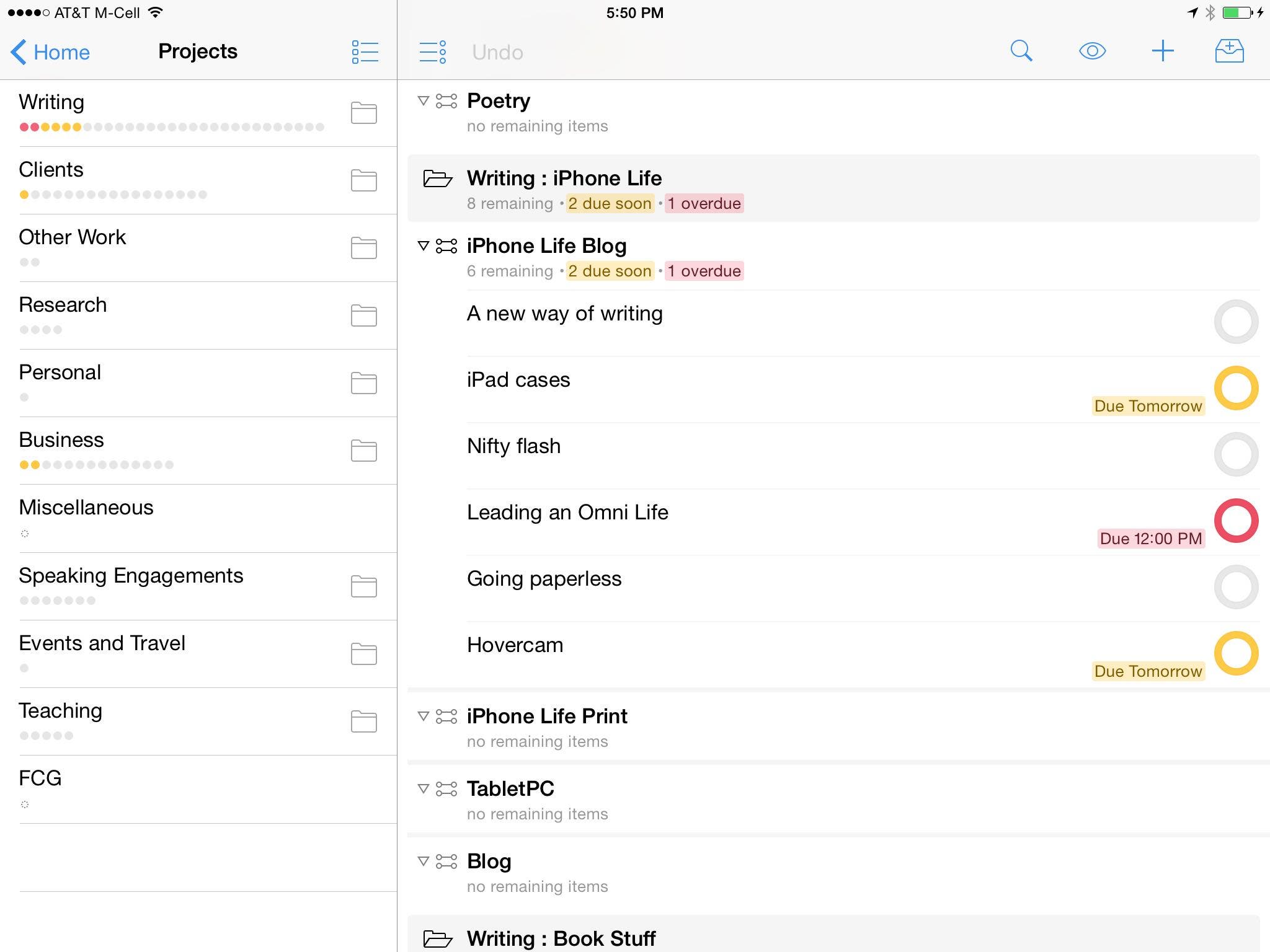 Omni Group has added a number of new features to OmniFocus 2.0, in addition to the revamped user interface. A few of these, like duration and perspectives make the app even more useful, while compiling for 64-bit compatibility make it fast and responsive. Other new features include:
Customizable sidebar: Show just want you want, in the order you want it.
Today Extension: See OmniFocus items due today in Notification Center.
Sharing Extension: The new Sharing Extension makes it easy to add new items from other apps.
Interactive Notifications: Alerts for nearby and due items let you mark complete (or snooze) without even opening the app.
Improved Search: See results from the current view or your entire OmniFocus database.
Background Sync:  OmniFocus syncs in the background so changes you make on other devices are always up-to-date.
OmniGraffle 2 for iPad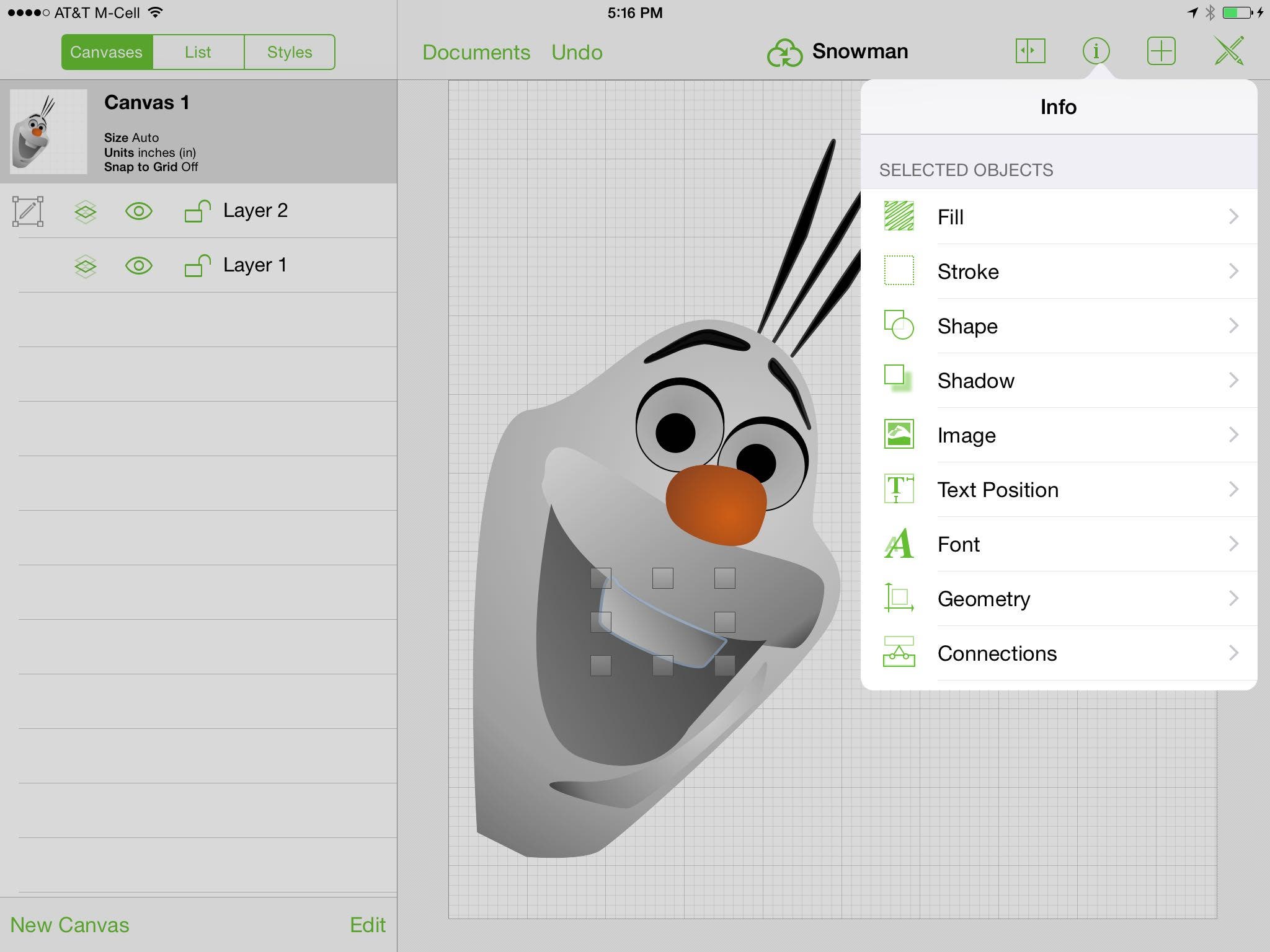 Like OmniFocus, OmniGraffle 2 offers users a more OS 8-like experience, but the heart of OmniGraffle 2 is deep in the features, which include:
Several Professional features such as Visio support, shape combinations, tables, and more are now available as an In-App Purchase (available for free to customers who upgrade from v1).
Pro features (see upgrades below,) include:

Combining two or more objects on the canvas to create a custom shape. 

Import and export support for Visio file formats.

Other features include: 

Search Stenciltown for user-submitted stencils.

A new Style system makes it easier to set and apply Favorite visual styles as well as picking from available styles that exist on the canvas.

Import and export support for OmniOutliner files.

New fill, stroke, and shadow styles.

AirDrop support between iOS 8 and Mac OS X 10.10 apps.

Freehand sketch directly onto a canvas 

Manipulate vertex points on shapes with the Freehand Tool, and convert them to Bézier points.

Use built-in stencils or draw customizable shapes

Touch and drag to connect shapes together

Touch "lay out now" to automatically arrange a diagram

Smart guides to help align, rotate, and size objects

Create multiple page ("canvas") documents

Share items between canvases with shared layers

Wrap text to fit within a shape

View what styles make up a shape

Select a whole class of objects at once to make changes

Choose colors from built-in themes

Create custom colors with support for HSB, RGB, and grayscale

Create linear and radial fills, blending up to three colors with customizable centers and angles

Set stroke/line thickness, color, and customize line styles

Create transparent shape shadows which fall on objects or layers that are behind it

Define shadow blur/sharpness, transparency, color, and position

Pinch to zoom in and out

Combine any two shapes into a table

Share native OmniGraffle documents via email, or email as a scalable PDF

Save documents as a graphic in the Photos library
Managing Upgrades
Apple doesn't make it easy for developers to make money on upgrades. Upgrading an app for free is easy, but launching a new version as a separate app and giving a break to loyal customers is more challenging. OmniGroup has come up with a unique approach: they sell the "2" versions of their apps at a relatively low price low so that new and existing users can justify the upgrade. All users who want "pro" features can upgrade with in in-app purchase. Existing users, however, with a previously installed version (keep old versions installed until you process an upgrade), can upgrade to the pro version for free by either pointing to it on the Mac, or leaving it installed on the iPad/iPhone after installing the new version. This is not automatic. Users who want to claim the upgrade need to go through the regular upgrade process in the app, but if they meet the requirements (the 1.0 version is installed), they will see a zero cost for the upgrade.
Now I can check this review off of my OmniFocus list of iPhone Life project activities that I need to do while in my office at my computer (a context).