How do you uninstall Safari extensions from you iPhone, iPad or Mac? It's actually very easy.
By

Amy Spitzfaden–Both
Mon, 11/01/2021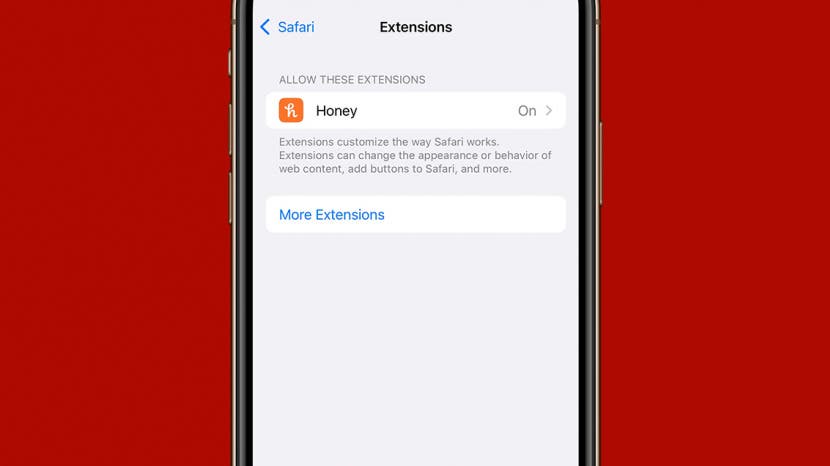 How do you uninstall Safari extensions? If you downloaded a Safari extension and found it to be cumbersome or annoying, you'll want to know how to delete extensions from Safari. Luckily, it's easy to do and doesn't involve mucking about in the App Store at all. Here's how to delete an extension on Safari.
Jump To:
How to Remove Safari Extensions
Did you add a Safari extension that you don't want anymore? Remove it! There are two ways to do this, depending on if you're using a Mac or an iPhone or iPad.
How to Remove Safari Extensions on iPhone or iPad
There are two options to remove Safari extensions on your iPhone or iPad. You can either turn it off, or delete it entirely.
Open Settings and tap Safari.


Tap Extensions.


Tap on the extension you wish to disable.


Turn the toggle next to the name off.


You can also search for it in your App Library and delete it like an app.


How to Delete Extensions on a Mac
Related: The Evolution of the iPhone: Every Model from 2007–2021
Open Safari and click Safari in the menu bar.


Click Preferences.


Click the Extensions tab at the top.


Click on the extension you'd like to remove.


Click Uninstall.