How to add Safari extensions on iPhone & iPad. iOS 15 brings us this fun and useful new feature that upgrades your browsing experience.
By

Amy Spitzfaden–Both
Updated 08/18/2021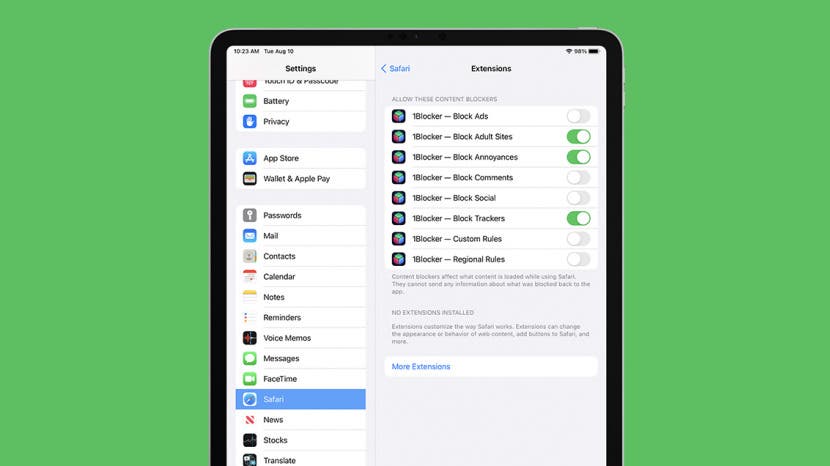 Safari extensions in iOS and iPadOS have come our way! Until now, Safari extensions weren't available on iPhone or iPad, limiting the ability to use these handy third-party tools in our daily browsing. But with iOS 15, we will now be able to enjoy Safari browser extensions on these devices. Here is how to add extensions on the iPhone and iPad, where to find Safari extensions, and a brief overview of what these extensions are, and what they're good for.
Jump To:
What Are Safari Extensions?
Safari browser extensions are tools that allow you to use a function of a website even when you are outside of that website. For example, some sites like Amazon let you add items from other sites to your wishlist on that site, allowing you to keep everything in one place. Other examples are timers and other tools that can appear at the top of your browser window, instead of you needing the site with the timer open. One of my personal favorites is a browser extension called TreeClicks that partners with websites to plant trees for free every time you buy something from a partner site.
Until now, Safari extension abilities on iOS and iPadOS have been limited to non-existent, but now support will be widespread, so let's learn how to use these bad boys!
How to Add Safari Extensions iPad & iPhone
To add Safari browser extensions on your iPhone or iPad, you'll need to have iOS 15 beta or iPadOS 15 beta or the shipping version once that's available. Once you do:
Open Settings and tap Safari.


Tap Extensions.


Tap More Extensions.


Choose from the promoted apps in the App Store page that launches or type "Safari Extensions" into the search bar, and download the extension as you would an app.


Return to Safari > Extensions in Settings and toggle on anything your extension requires and customize their offerings as you choose.


Where to Find Safari Extensions
Once you have the Safari extensions installed you can find them by tapping the three dots at the right of your address bar. From there, you can scroll down until you see the extension, and engage with any interactions it offers.