Learn how to apply and remove filters to and from pictures and videos in the Photos app on your Mac.
By

Leanne Hays
Updated 02/14/2022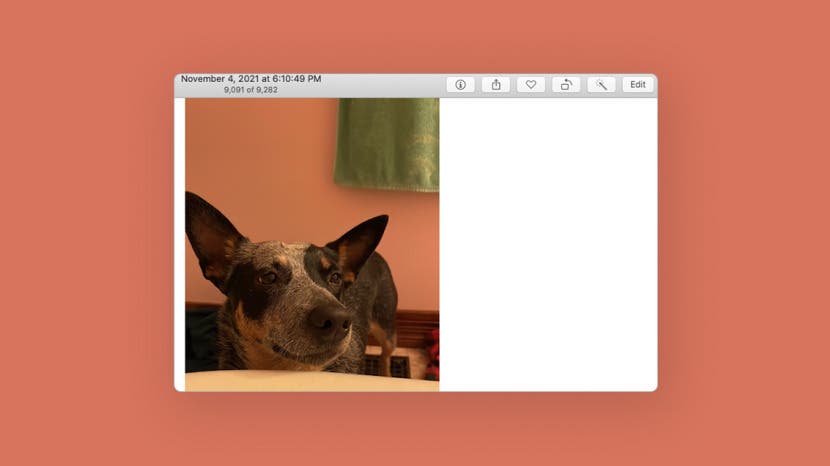 If you've been wondering, "How do I add a filter to a photo on a Mac?" it's actually quite easy. Let's go over how to apply filters to pictures on your Mac, and how to remove the filter or revert back to the original photo or video.
Related: How to Compare Edited Photos & Videos to the Original on Mac
Why You'll Love This Tip
Use filters to enhance light, color, and more in your photos and videos
Undo filter additions you don't like, or remove all filter effects and start over
How to Put a Filter on a Photo or Video on Mac
I really enjoy editing photos on my Mac instead of my iPhone because there's so much more room to work in! Here's how to add a filter to a photo or video in the Photos app on your Mac, how to remove that filter, and how to restore your picture or video to its original state. 
Open up your Photos app and double-click the photo you'd like to modify. 
Click Edit in the top-right corner of the screen. 


 
Click Filters in the toolbar or press F while editing. 


 
Click the Auto Enhance icon, and the Photos app will automatically filter your photo. 


 
Click a filter.


 
Click Edit in the top toolbar, then Undo to undo your last edit. 


 
Click Revert to Original to remove all edits. 


You may also want to learn how to duplicate a photo or video on a Mac, so you can edit only the copy.