By

Olena Kagui
Updated 11/22/2022
* This post is part of iPhone Life's Tip of the Day newsletter. Sign Up. *
There are many reasons why you may wish to mark a message as unread. I like to do it when I read it but don't have time to answer right away. If I leave it marked as read, chances are I'll forget to answer later. Let me show you how to mark an iMessage as unread on your iPhone!
Why You'll Love This Tip
Don't worry about forgetting to respond; marking a message as unread reminds you to respond.
Avoid uncomfortable situations caused by forgetting to respond to an important text.
View all unread messages together in the Unread Messages inbox.
How to Mark a Text as Unread
iOS 16 makes it possible to mark texts as unread just like you would in the Mail app so that you remember to respond at a more appropriate time. Before you can do this, make sure you have updated to iOS 16. This will not work with any older operating systems. To learn more valuable iPhone tips, sign up for our free Tip of the Day newsletter! To mark an iMessage as unread:
Open the Messages app.



Tap the Messages icon with a notification badge.


The message will now be marked with a blue dot.



You will also see the notification badge over your Messages app (unless you have a Focus mode on and you have toggled on Hide Notification Badges).


If you want to mark a pinned text thread in the Message app, tap and hold (long-press) the circle with the contact's name(s) then tap Mark as Unread.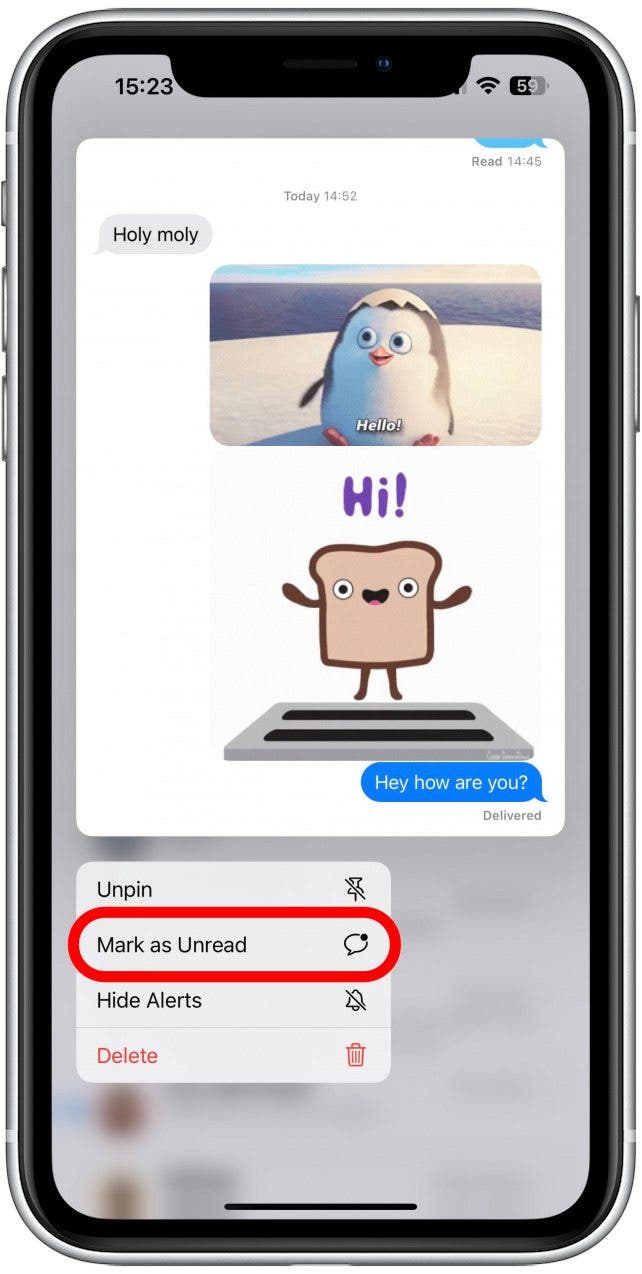 Pro Tip: A faster way to mark a message as unread is to quickly swipe from left to right in step 2. You have to do it really quickly and it may take a few tries to get the hang of the right speed and motion. Don't worry, if you swipe the wrong way, you won't accidentally delete or archive the message.
Now you can also view these messages in the
Unread Messages inbox in the Messages app
. The recipient will still see the message as read on their end. Even though it is now possible to mark text threads as unread on your end, as long as the message is open, it will show as 'read' to the sender unless you have your
Send Read Receipts toggled off
.