By

Conner Carey
Updated 01/18/2023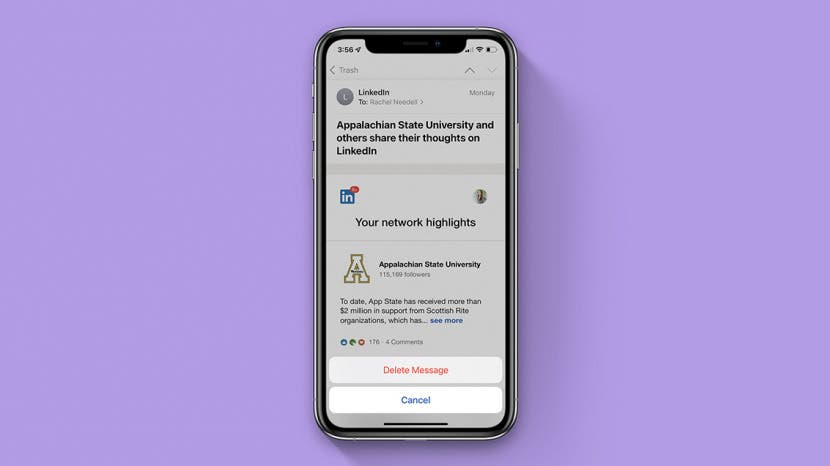 * This post is part of iPhone Life's Tip of the Day newsletter. Sign Up. *
Are you someone who finds themselves poring back through their deleted emails, searching for that 20% off promo code you thought you weren't going to use? If you think you might want an extra step of precaution before emails are permanently deleted from your trash folder, consider turning on the Mail app's Ask Before Deleting feature.
Related: Mail App Disappeared from iPhone? How to Find & Restore It (2022)
Why You'll Love This Tip
Avoid accidentally permanently deleting an important email.
Ensure that you are slowly and deliberately deleting emails from your trash folder to avoid careless mistakes.
To Turn On Ask Before Deleting in Mail App
You can turn this feature on in Settings on the iPhone. For more tips about using your iPhone, be sure to sign up for our Tip of the Day newsletter! Here's how to avoid accidentally deleting mail in Apple's native Mail app.
Open Settings.


Tap Mail.



Under Messages, toggle on Ask Before Deleting. It will be green when enabled.


Now, after you've moved an email into the trash folder in the Mail app, open the Mail app's Trash folder.



Open a message you'd like to delete.


Tap the Trash icon.



Then, click Delete Message to confirm and delete your email.


And that's all there is to it! This extra precautionary step has allowed me to avoid permanently erasing emails when I was quickly trying to empty my trash folder. I don't like the idea that with just one click of a button, something might be permanently gone. This soothes my anxiety, and maybe it will make you feel more comfortable about clearing out all the pesky junk mail in your inbox too!
If you have the opposite problem, and you want to get rid of all your junk messages quickly, you can set up your trashcan to clear automatically within your Mail settings on your iPhone.