By

Sarah Kingsbury
Tue, 09/15/2020
Today's Apple event was as notable for what it didn't announce (no new iPhones) as much as for what it did (two new Apple Watches and two new iPads along with two new subscription services). At times the brief, virtual announcement seemed to drag on endlessly as if Tim Cook and team were trying to fill time with videos recapping what they had just announced and an overview of the company's environmental initiatives. However, even with a shorter, iPhone-free event, there was plenty to get excited about. Here's a roundup of everything Apple unveiled, including the Apple Watch Series 6, Apple Watch SE, iPad (8th generation), iPad Air, and the Fitness+ and Apple One subscriptions.
Related: Which iPhones Are Compatible with iOS 14? Can Your iPad & Apple Watch Run iPadOS 14 & watchOS 7?
Apple Skips Over the iPhone
Let's start with what Apple didn't announce. The 2020 September special event did not include any new iPhones, and instead focused on the new Apple Watch and iPad models. While Apple Watch and iPad release times vary year by year, this is the first time since 2011 and only the second time ever that the new iPhones did not make their debut during the September event. The first time was in 2011 when Apple announced the 4S on October 4 and released it ten days later. 

Discover your iPhone's hidden features
Get one daily tip each day (with screenshots and clear instructions) so you can master your iPhone in just one minute a day.
The highly unusual format of this year's announcements is due to COVID, so even our best guesses for event and release dates may be less accurate than previous years. There was no indication of when the new 2020 iPhones would be announced, but rumors indicate an October announcement and a subsequent staggered release. We've seen staggered releases in 2017 and 2018, with the later-released phones arriving as late as October and November, but both times Apple announced the phones in September. If this year follows the same pattern as the 2011 announcement and release, we'll likely see at least the basic models around mid-October, but the rumored Pro and Pro Max may not reach us until November.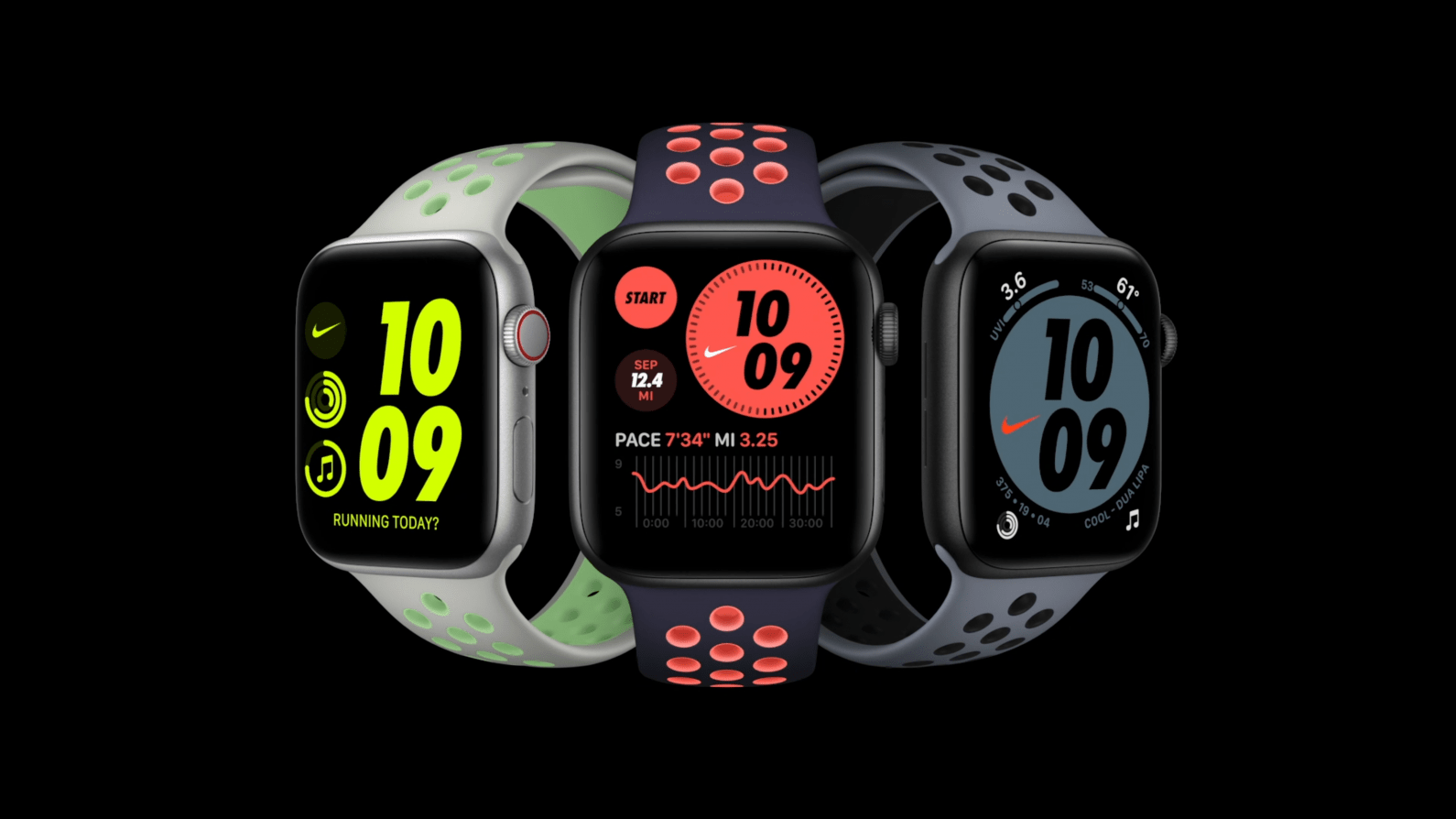 Apple Watch Series 6 
Availability:
Pre-order September 15
Available in stores September 18.
Price:
Apple Watch Series 6 (GPS) starts at $399
Apple Watch Series 6 (GPS + Cellular) starts at $499
Apple has officially announced the Apple Watch Series 6 and it looks pretty cool. Each new series of the Apple Watch has brought incremental improvements, and with the Series 6 (which starts at $399 and starts shipping on Friday), they're adding a new Blood Oxygen Level sensor. Wearers can receive alerts if their blood oxygen levels drop, a timely addition considering the COVID-19 pandemic requires many people to monitor their blood oxygen level at home. The Series 6 will be up to 20 percent faster than the Series 5, the screen will be 2.5 times brighter in daylight, and it also introduces an always-on altimeter for more accurate stairs counting and up-hill/down-hill workouts. The Apple Watch Series 6 introduces new cases including Blue Aluminum, Classic Gold, Grey-Black called Graphite, and Red. It will also offer new watch bands, including a single-strip of stretchy silicone called the Solo Loop, a braided loop without a clasp called the Braided Loop, and new leather options including a somewhat mysterious clasp-free leather band and a double tour (goes around your wrist twice) leather band, among others. Of all of that, the biggest feature is the blood oxygen level sensor, which substantially expands the already impressive health monitoring capacities of the Apple Watch. Read our full article for more details about the new Apple Watch.
Apple Watch SE 
Availability:
Pre-order September 15
Available in stores September 18.
Price:
Apple Watch SE (GPS) starts at $279 
Apple Watch SE (GPS + Cellular) starts at $329.
For those who don't need blood oxygen monitoring, the new Apple Watch SE delivers quite a bang for not as many bucks as its more advanced counterpart, the Apple Watch Series 6. The affordable Apple Watch SE provides the style, innovative technology, faster performance, and a larger screen to give plenty of room for easy-to-read apps and messages. Speaker and microphone enhancements mean that calls and voice commands will be better quality with fewer errors, and Bluetooth 5.0 makes connectivity more reliable. Emergency calls for help and fall detection allow safety to be a top priority for all wearers. Wondering which Apple Watch model to buy? Our article on the Apple Watch SE can help you decide.
Fitness +
Availability:
Price:
Apple also announced its new fitness offering: Fitness+. Combining the fitness tracking capabilities of the Apple Watch with the iPhone, iPad, and Apple TV, Apple says Fitness+ will offer comprehensive, personalized workouts including music, metrics, and instructors for all lifestyles and fitness levels. Your selected workout will appear on the screen on your iPhone, iPad, or Apple TV while your Apple Watch tracks and records your activity, filling in your Activity rings as you go. Playlists help set the mood and keep you motivated, and recommendations help you fill out your routine in areas that may be lacking. No release date has been announced, but Apple says it is coming in late 2020. To learn more about what this new service includes, read our full article on Fitness+.
Apple One
Availability:
While no official date was announced, a late fall release date is likely
Prices:
The Individual Plan costs $14.95 and includes Apple Music, Apple TV+, Apple Arcade, and 50 GB of iCloud storage.
Family Plan costs $19.95 and includes Apple Music, Apple TV+, Apple Arcade, and 200 GB of iCloud storage for multiple users.
The Premier Plan costs $29.95 per month and includes Apple Music, Apple TV+, Apple Arcade, Apple News+, Apple Fitness+, 2 TB of iCloud storage.
With Apple Fitness + service joining Apple's suite of services including iCloud storage, Apple Music, Apple TV +, Apple Arcade, and Apple News +, it only made sense for Apple to bundle them into one monthly service bundle. There are three subscription packages, Individual, Family, and Premier. Read our full article on Apple One for more details.
iPad (8th generation)
Availability:
Pre-order September 15
Available in stores September 18.
Price:
8th-generation iPad (Wi-Fi) starts at $329
8th-generation iPad (Wi-Fi + Cellular) starts at $459
Educational pricing begins at $299
The eighth-generation iPad is here, featuring the A12 Bionic Chip. This upgrade makes the new iPad faster and more powerful than ever before, yet Apple is offering it for sale at the same affordable price we saw last year. The new iPad comes in silver, space gray, and gold with a choice between 32 GB and 128 GB configurations. Check out the full article for all the details about the iPad (8th gen).
iPad Air
Availability:
Price:
iPad Air (Wi-Fi) starts at $599
iPad Air (Wi-Fi + Cellular) starts at $729
Includes a free year of Apple TV+ 
Apple announced the latest iPad Air today, and it features an A14 Bionic Chip, Apple's fastest and most powerful to date. In addition to the massive boost in speed and processing power afforded by the A14, the latest iPad Air features, for the first time an edge-to-edge display, next-generation Touch ID, 12 MP wide camera, compatibility with the second-generation Apple Pencil, Magic Keyboard Folio, and a USB-C connector instead of the Lightning connector. The new iPad Air comes in space gray, silver, rose gold, green, and sky blue, with a choice between 64 GB and 256 GB configurations. Check out our article on the iPad Air announcement for a full rundown of what makes the fourth-generation iPad Air stand out.