By

Mike Riley
Wed, 07/22/2020
It was inevitable. Eve Systems, a company that has reimagined itself from an Apple Mac accessory company to a HomeKit automation powerhouse, has created a sprawling line of diverse products. These range from automated power strips that monitor your electrical use and temperature sensors that report indoor air quality. They further extend to a smart outdoor water controller that tracks water usage and even an indoor water detector that can be used to set off a cascade of automation events such as notifying you of a leak and, in turn, communicating with an Eve smart plug to deactivate the electrical pumping source of the water. And yet with all that HomeKit goodness, Eve didn't jump on the home video monitoring camera bandwagon, until now. Did Eve's drop dead simple HomeKit integration and stable quality make it into its first home security product?  Read on to find out.
The Eve Cam ($149.95) is an Apple accessory through and through. Unlike other home security camera solutions that use proprietary, and often shoddy afterthough,t security back ends with a dull or poorly designed front-end UI, Eve Cam integrates directly into both the elegantly designed and highly polished Eve app and Apple's Home app. Joining the camera to your network is as easy as any connecting any other HomeKit-enabled device. Simply point your iPhone at the QR code sticker affixed to the bottom of the camera, and within less than a minute, the camera will appear in the apps, ready for monitoring. Assuming you also have configured a iPad or Apple TV as your HomeKit hub, you'll be able to review up to 200 GB on a secure, encrypted iCloud storage plan for up to 10 days past of infrared-triggered motion captured video events. You can also choose which recordings you want to store permanently.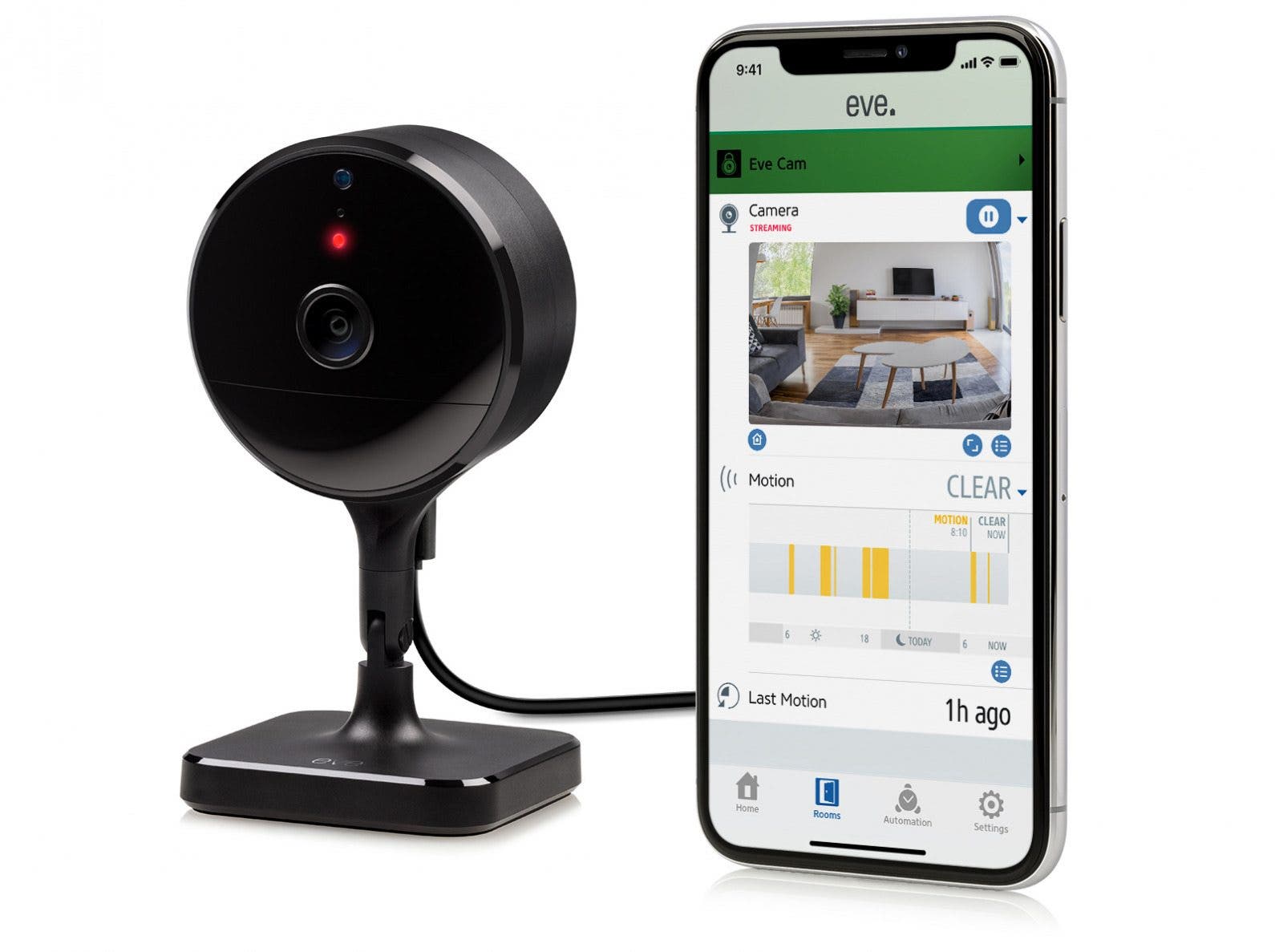 The camera can be set up on its magnetic pedestal (great for affixing to metal surfaces like appliances, cabinets and frames) or secured to a wall via the included mounting kit. Unfortunately unlike other cameras (notably Netgear's Arlo line), Eve Cam is not battery powered, so an ugly black microUSB cable will need to run across the wall or floor to a power outlet. The pedestal is also manually fixed into whatever angle or position you want the camera to statically point at instead of motorized for 360-degree room scanning. Nevertheless, the fish-eye 150-degree field of view makes it easy to see most of the room the camera is positioned to monitor.
The camera also has a built-in speaker and microphone to allow two-way communication between the viewer and the viewee. This could come in handy when tracking children, pets or guests that might need a bit of remote instruction. The camera also has built-in night vision and full HD video capability. And because the camera is integrated as part of your HomeKit environment, it can be used as a scene initiator whenever motion is detected. For example, if you're arriving home at night, the camera could see you in the dark, turn on the lights and start heating up dinner for you.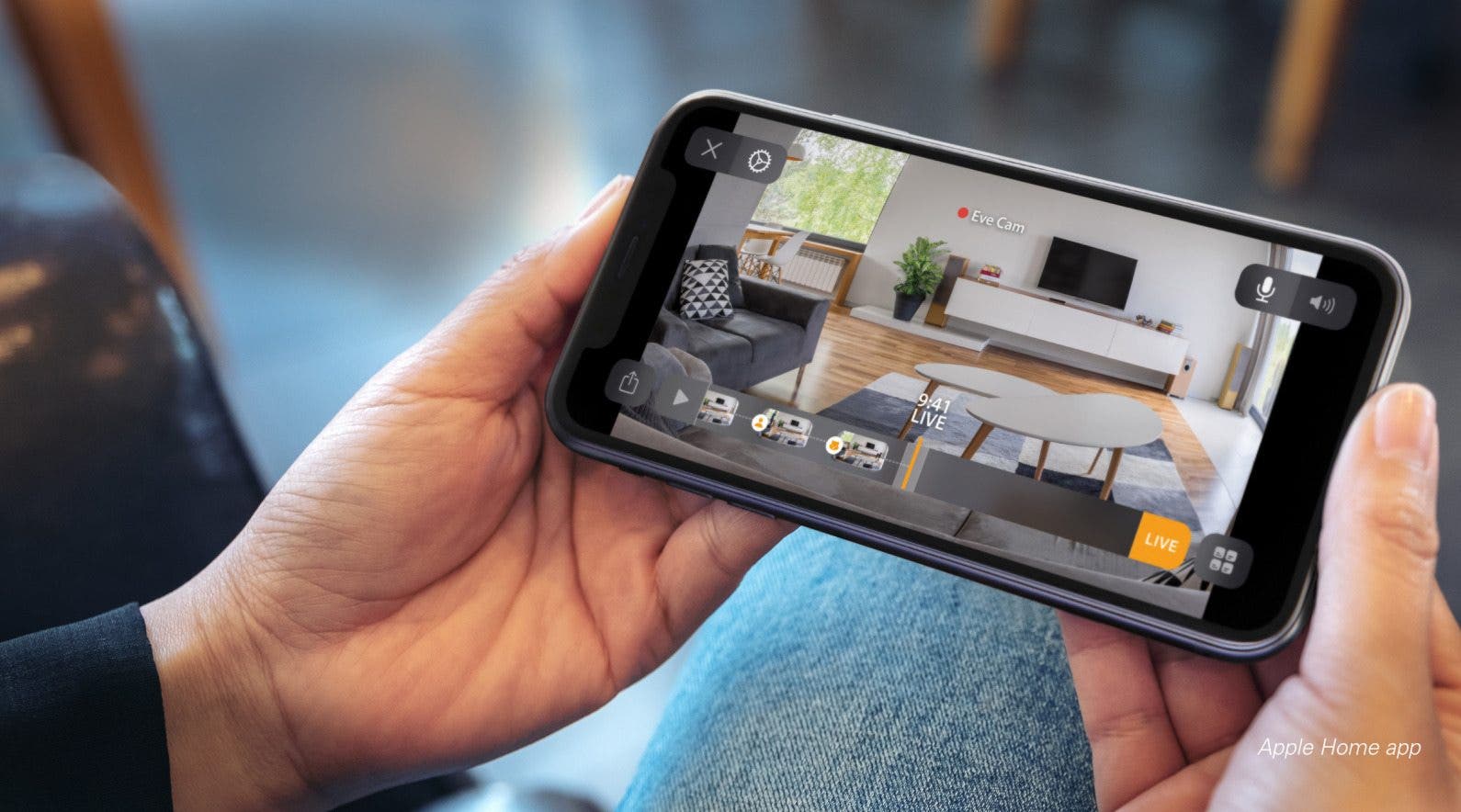 Pros
Ridiculously easy setup and operation
Ultra-secure video storage
Apple Home Scene integration
Cons
Unsightly microUSB cable power delivery
Fixed camera position
Final Verdict
The ideal customer for Eve Cam is one who has already invested almost exclusively into the Eve home automation product line.  The other optimal customer is one who is keenly seeking a highly secure and trustworthy cloud-based storage solution that is part of the Apple privacy ethos and ecosystem. Lastly, it's for the person who doesn't want to deal with the hassles of network integration and yet another account creation and proprietary app. Eve Cam *just works*.