By

Cullen Thomas
Updated 08/26/2020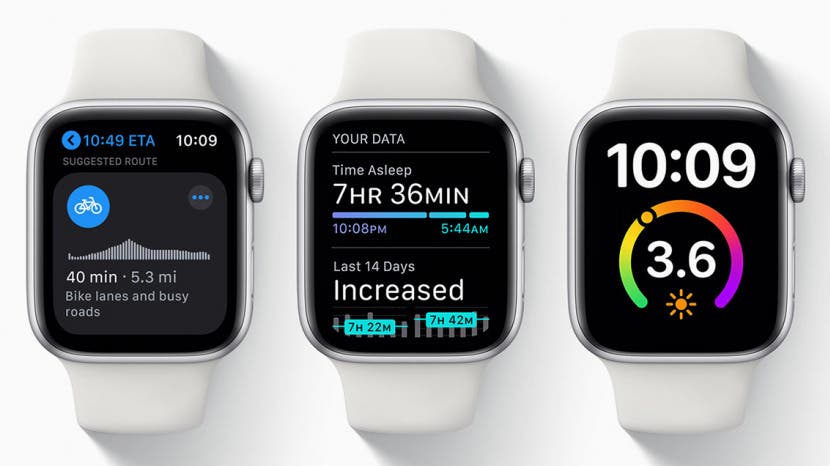 The Apple Watch Series 6 is on the way, with the fall Apple event confirmed for September 15, with insiders and fans speculating its announcement at Apple's September event. Rumors are circulating online of improvements expected and hoped for in the Series 6, like blood oxygen level monitoring, yoga improvements, and a better wireless antenna. Read on for our roundup of rumors, ordered from most to least likely.
Related: iPhone 12 Rumor Roundup
Mental Health & Blood Oxygen Level Monitoring
An upgrade to the Apple Watch could allow it to monitor the wearer's blood oxygen levels, a metric that would permit it to detect incoming panic attacks. This feature has been rumored for some time, starting on twitter but later reinforced in a Geared Up podcast in May with leaker Jon Prosser. This one is looking reasonably likely. According to 9to5 Mac, which claim to have found small amounts of the code behind the feature, Apple Watch users who experience a panic attack while driving would receive a warning from their watch and instructions to pull over, and then instructions for breathing techniques. I, for one, welcome my nanny watch.
Antenna Behind the Screen
The Apple Watch Series 6 may sport an upgraded wireless antenna, created by spreading the antenna's surface out behind the watch's screen. A patent filed by Apple in 2018 and published in January of 2020, initially spotted by Apple Insider, details the new antenna design. As always, the patent doesn't necessarily mean that Apple will go ahead with the new design, but if they do, it will be a step toward increasing the wireless reliability of the Apple Watch. What does this mean in terms of daily use? Well, it might make it easier to leave your iPhone behind when you go for a jog. We hope so!
Improved Electrocardiogram (ECG)
The Apple Watch Series 6 may have improved ECG reliability. Earlier series can take an ECG reading through the watch crown, but if the user's heart rate is elevated, the results come back as inconclusive. Widely reported rumors continue to circulate that updates in hardware or software with the new series will improve on this capacity. If it's true, it could make the ECG more reliable and effective at higher heart rates, but nobody knows if this is a hardware or a software update or could roll out to earlier series as well.
Yoga Fitness 
The WatchOS 7 rolled out improvements to the Dance workout type, and a patent filing suggests we might expect to see similar improvements to the accuracy of the Yoga fitness. Originally spotted by Patently Apple, the patent details methods to increase the accuracy of predictions about how many calories are being burned in a Yoga session.
New Batteries
The new series could come with a new set of batteries. We're careful not to say better batteries because this may only mean that the rest of the hardware is more efficient and so Apple can get away with using smaller ones. Mysmartprice spotted a series of regulatory filings that revealed the new battery arrangement.
Kid Mode
It may soon become possible to pair a second apple watch to the same iPhone, a feature intended for use with a parent's iPhone granting their child their own Apple Watch, reports Apple Insider. While this would technically be a feature of the Watch app on the iPhone, it would open up a world of WatchOS functionality aimed at kids.
Apple Watch Series 6 Release Date & Pricing Rumors
Apple usually announces its new lineup in September, and while early rumors pegged the likely date as September 8, there have been some rumored delays because of supply chain issues, as reported by Business Insider, related to the COVID-19 pandemic. Apple has now confirmed the event will take place on September 15. That said, rumor has it the Apple Watch Series 6 development has been going 'smoothly,' so here's hoping we won't see any more delays!
As to price, we have no rumors to go on. The current lineup features models in 40 mm and 44 mm, with a variety of case options ranging from the default aluminum to stainless steel, ceramic, and titanium. The current series ranges from $399 to over $1000, depending on your case and watch-band choices. We expect the Series 6 to be similar, though a cheaper plastic option would be welcome.