By

Becca Ludlum
Sun, 01/04/2015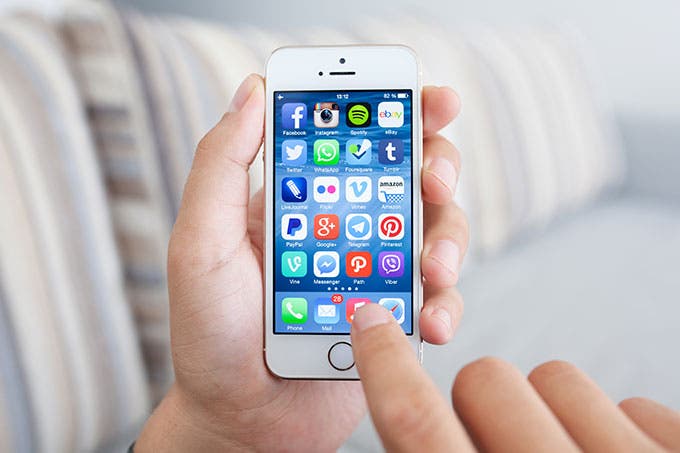 Some people say that Pinterest is the new Google. People head to Pinterest to search for project ideas, recipes, and news about their favorite topics. Using the Follow Interest tool, you can easily find new pins about your favorite topics without following other pinners one at a time. Pinterest will find the most popular pins from all of of the users who are posting about the topics you love and display them in your Pinterest feed. I've used this feature to find new pinners to follow and find more great pins about my favorite topics: health & fitness, technology, and DIY. 
1. To begin following your Interests on Pinterest, open the Pinterest app and tap the search icon on the bottom toolbar: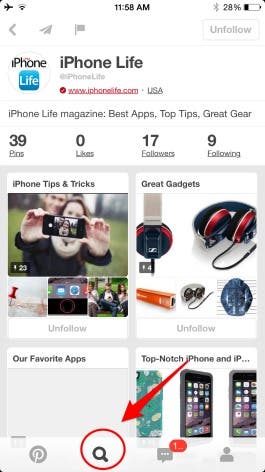 2. You'll see a list of Pinterest's top categories. If you've explored the feature before like I have, you'll see the last five categories you've explored on top. Click any of these interest categories to begin.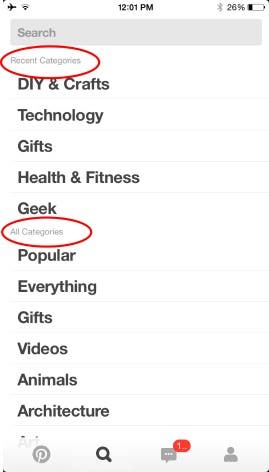 3. I tapped the Technology category. I can see pins from that category and on the top of my screen I can see sub-categories. Swipe through the options, then tap to choose a sub-category that you'd like to see more of in your Pinterest feed.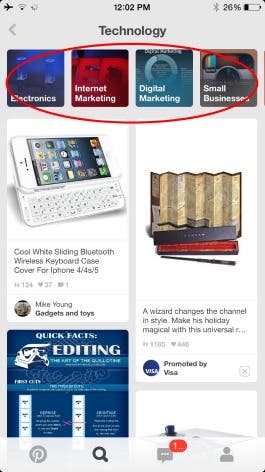 4. I chose the Technology News category. Tap "follow" to follow this category and see the best (most re-pinned and highest quality) pins in your Pinterest feed, chosen by the Pinterest algorithm. You can go back and unfollow this category anytime. 
Sometimes I search the Pinterest categories specifically looking for new boards and pinners to follow. This is one way to branch out a little and not just follow people you know, and it's a great way to connect with new users! 
Top image credit: Denys Prykhodov / Shutterstock.com