By

Olena Kagui
Updated 02/23/2021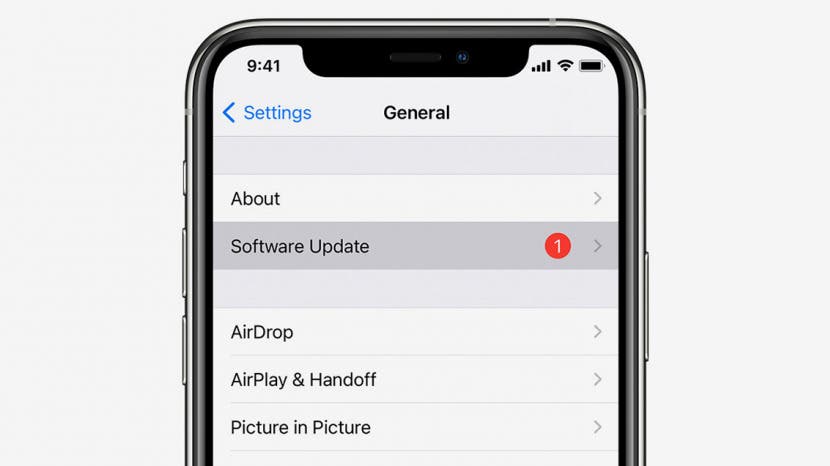 iPhone updates are a double-edged sword. On the one hand, we can expect exciting new features and bug fixes. On the other, it takes time to install the update, which can disrupt your busy schedule. Some updates will also come with a lot of changes to learn. Despite the inconveniences, it is crucial to keep your device up to date.
Related: How to Check Your iPhone's Battery Health
Jump To:
iPhones are known for being secure, which is essential because they contain sensitive information. iOS security updates are the number one reason you should always make sure your iPhone is up to date. Updates can fix bugs and also offer security fixes that range from minor issues to more severe threats. Apple even has a page dedicated to listing the various updates and their security impacts. 

Discover your iPhone's hidden features
Get one daily tip each day (with screenshots and clear instructions) so you can master your iPhone in just one minute a day.
The recent iPhone security breach is an excellent example of why updates are so important. The iOS 14 update came with many new features, including unprecedented customization in the form of Widgets. However, Apple became aware of a security issue, so it created the iOS 14.4 update to protect iPhone users. While Apple is still investigating the original problem, the update should help protect users who install it. To learn more about iPhone security, sign up for our free Tip of the Day newsletter.
Developers are continually working on making apps better. Keeping your apps up to date has apparent benefits such as improved functionality. However, sometimes the best upgrades to your favorite apps necessitate a full iPhone update. The latest operating system is often required for you to take advantage of the newest features.
Some people worry that updating their iPhone will slow down their phones. While this is a legitimate concern, it is important to understand what happens during and after an update. The purpose of an iPhone update is to make the phone safer, faster, and fix bugs that may cause problems. Depending on the update, there could also be some exciting new features.
While the update's installation only takes a few minutes, background tasks will run continue to perform the necessary indexing and housekeeping tasks. These tasks can take even longer if you have many apps or content, including photos on your iPhone. For this reason, users may experience a temporary slow down or drop in performance right after an update. 
It can help to keep your device plugged in and connected to the internet overnight. That way, your phone can continue updating while you're not using it. It can be a good idea to do this for a few days after an update.
While you can expect a post-update slowdown with all devices, older iPhone models have additional concerns. Not all new software is compatible with older hardware. New apps and features can be difficult for older phones to handle. For a new update to function well on an older phone, Apple may slow down certain functions to prevent blackouts and optimize performance.
To see if your older model may be affected by a new update, it is a good idea to check on your iPhone's Battery Health. It is perfectly normal for your battery's maximum capacity to drop to 90% in the first year. After that, the degradation will slow down. But eventually, you will need to replace the battery. 
You should consider a battery replacement if your iPhone's maximum battery capacity has dropped below 80%. A battery replacement is free with AppleCare+ or if your device is still under warranty. Otherwise, it costs $69 for the newer models and $49 for older models. Find out more about the process on Apple's website.
Not only do iPhone updates come with new features, but they also remove outdated ones. Plus, updating your iPhone can help protect it from security threats. New updates can fix bugs, protect your iPhone's battery life, and optimize your overall smartphone experience.