You have a few different options if you want to use your iPhone as a webcam for your Mac. Here are the possibilities and which is best for you.
By

Amy Spitzfaden–Both
Mon, 02/08/2021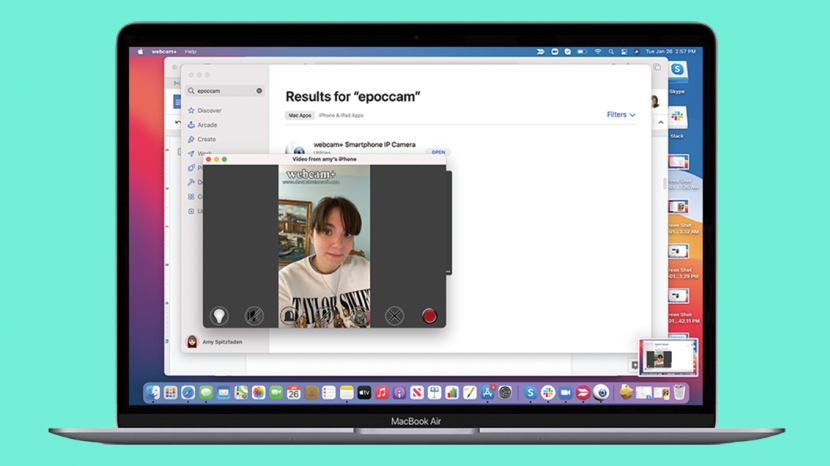 As more work goes virtual, you want to make sure you have a good webcam for all of your meetings. Webcams can be expensive, so it's natural to wonder if you could just use your iPhone as one, in addition to everything else it does. Turns out, the answer is yes! Using an iPhone as a webcam for your Mac can be a little complicated, but it is doable. Here's how.
Jump to:
How to Use Your iPhone as a Webcam
If you want to use your iPhone as a webcam, the best thing to do is to download an app like Webcam+. There are other programs available, but I had the best luck getting Webcam+ to work on both my Mac and iPhone; plus, it's free, so this is what we'll be using for this example. For more tips on how to synchronize your Mac and iPhone, check out our free Tip of the Day! 
Download the Webcam+ app on both your Mac and your iPhone (or iPad if that is what you'd rather use). Make sure they are both on the same wireless network or within Bluetooth range.


 
Launce Webcam+ on your Mac. You will see a window showing that it's searching for a compatible iOS or iPadOS device.


 
Open Webcam+ on your iPhone.


 
Your device should show up on your Mac. Click on it.


Your iPhone will turn into a webcam.


To use the webcam for video chat etc., you'll have to go into the video chat app or program's settings and choose Webcam+ as the webcam when the program is open and running. This is not a perfect method, though, as not every app or program will recognize the app's camera as an option.
Which brings us to our next point.
Related: Buyer's Guide 2020: Mac Gear
Use Apps That Allow You to Use Your iPhone
Although using your iPhone as an external camera when you're on your Mac can be very useful, but the options are imperfect and can get expensive. So, whenever you can, I recommend using your iPhone or iPad for the calls or programs you need a webcam for. This may be frustrating if you need to take notes, but you'd have to prop your phone up separately from your Mac anyway, so it's really not much different than using it as an external webcam, except you'd have to look to the side to see your screen instead of at your computer. You can also set up your iPad like a laptop, giving you the option of the iPad webcam and a better work setup.