By

Olena Kagui
Updated 11/07/2023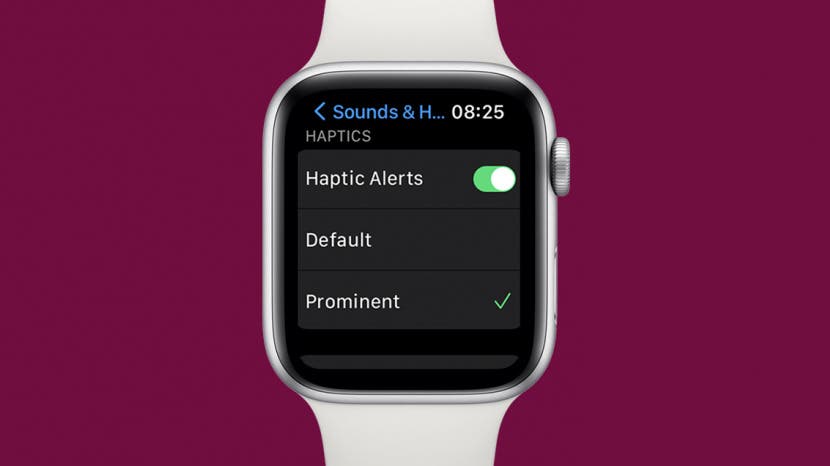 I was late to work twice in one week because my once-trusty Apple Watch alarm wasn't going off. I decided to investigate and discovered many potential reasons for the Apple Watch alarm not working that I'll share with you today! I'll also teach you how to set your Apple Watch alarm correctly so you can sleep worry-free.
What's In This Article:
Why Is My Alarm Not Going Off: 4 Common Reasons
Before we jump into how to correctly set your Apple Watch alarm, I'd like to explain a few reasons why the alarm might not be going off. There are different fixes for each of these common reasons for your alarm not sounding. If you are only here to learn the setup steps, skip to the section below.
1. Make Sure Your iPhone Is within Bluetooth Range of Your Apple Watch
If your alarm is set on your iPhone and you have a GPS-only Apple Watch that doesn't have cellular, your Apple Watch alarm won't ring if your phone is off or out of range. This means that if you leave your phone 30 or more feet away, the alarm will only go off on your phone and not your watch. This was the culprit in my case, so I just stopped charging my phone in a different room than where I sleep or work. If you have a GPS-only Apple Watch, it is a good idea to always keep your iPhone nearby and on for everything to work as it should. You can check by opening the Control Center on your Apple Watch by swiping up from your Home screen. 

Discover your iPhone's hidden features
Get a daily tip (with screenshots and clear instructions) so you can master your iPhone in just one minute a day.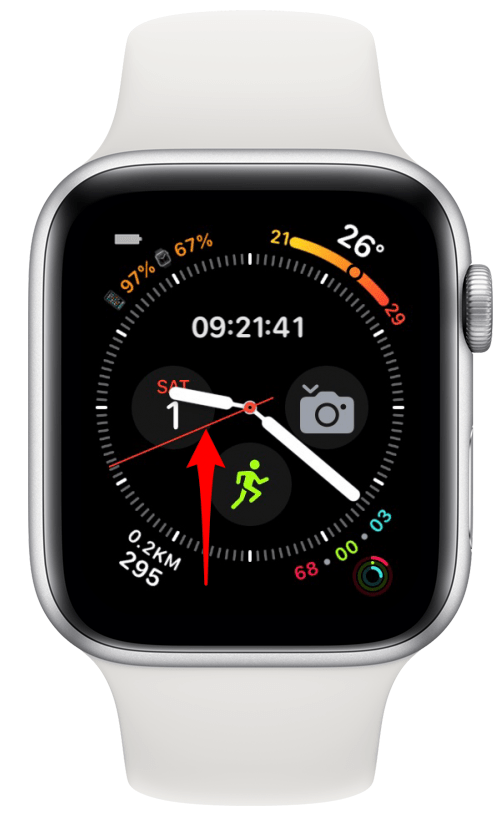 If you see a green phone icon at the top of your display, your iPhone is connected and within range.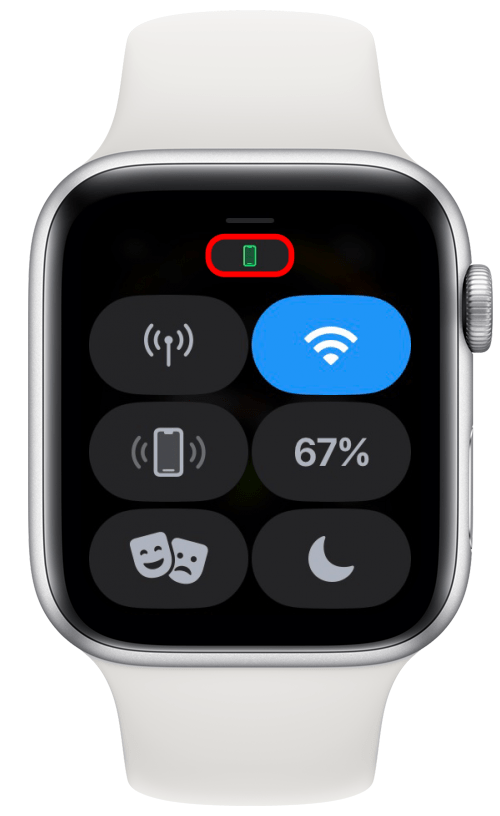 If it is red and has a red line through it, then your phone is not connected.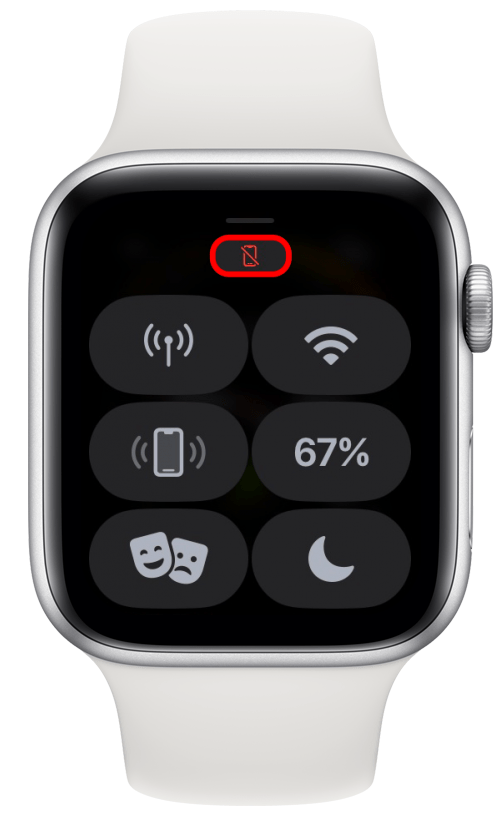 If you see the Wi-Fi symbol then your watch is connected to the Wi-Fi but not your iPhone.
To confirm that you aren't connected, try pinging your iPhone.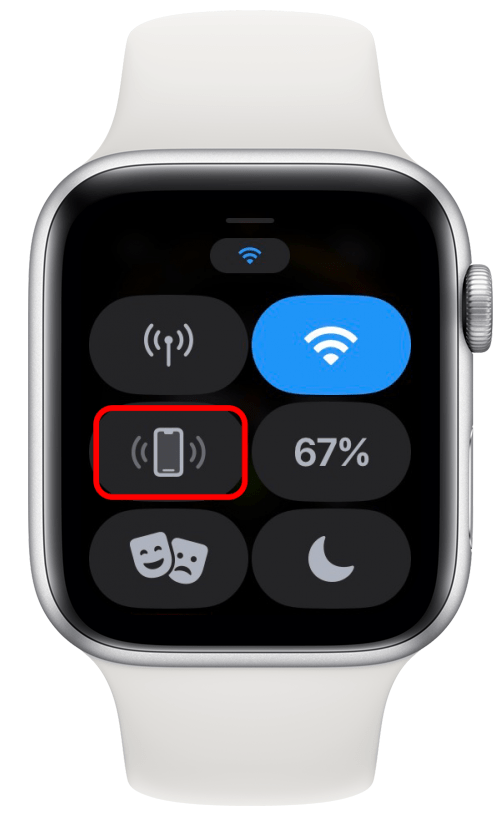 If it doesn't work and you see this screen, your phone is off or not in range.
2. If You Set Your Alarms Using Siri, Check for the Confirmation or Try It Manually
If you primarily set your alarm using Siri, then your virtual assistance could be the culprit. Although this has never happened to me, some users have reported Siri setting their alarms incorrectly or failing to set them at all! Try setting the alarm with Siri as you normally would and watch out for the confirmation: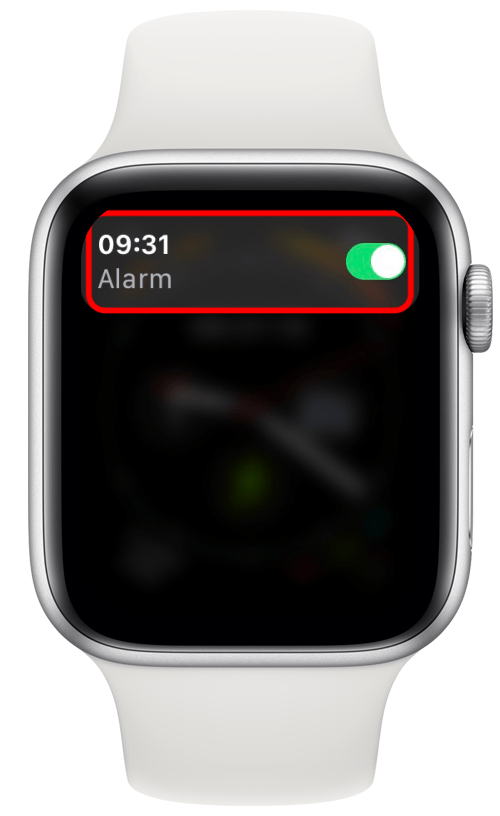 Sometimes a confirmation isn't enough, and the alarm is still not set. After you see the confirmation, open the Alarm app on your watch and make sure your alarm is listed.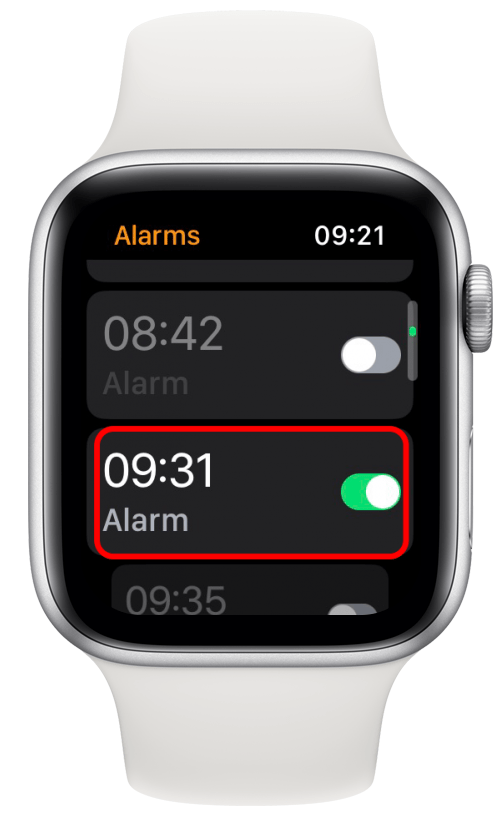 If it isn't and you have a GPS-only Apple Watch, try again but make sure that your iPhone is within Bluetooth range (30 feet) of your iPhone.
3. Turn Your Apple Watch Off, Then Back On to Fix Glitches/Bugs
While this may not seem like an effective way to fix anything, restarting a device can actually fix a lot of glitches or bugs. If the first two steps didn't help, turn your Apple Watch off by pressign and holding in the Side button, then tapping the off button.
Since there is no restart option, you'll have to turn it back on again by pressing in the Side button until you see the Apple logo appear.
4. Update Your Apple Watch to the Latest watchOS
If the previous three steps didn't work, you might be experiencing a known issue that has been fixed in a software update. This doesn't have to be a huge update like the one from watchOS 8 to watchOS 9; it could even be a small update such as 9.1 or 9.2. It is always a good idea to keep your devices up to date; if you are worried about the many myths floating around about updates, read this. For step-by-step instructions on updating your watch, read this.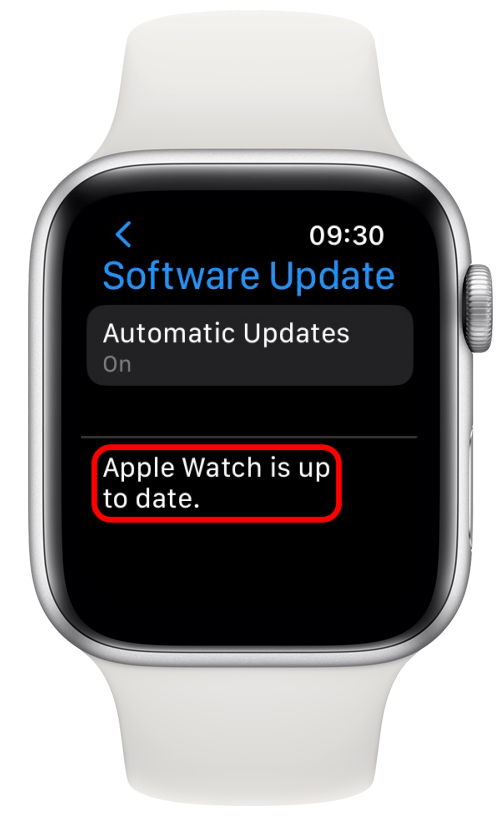 If none of these steps worked, there might be a more serious issue with your Apple Watch. Before contacting Apple support, I suggest you follow the steps below to set up your Apple Watch alarm correctly. This ensures that your alarm is set and the volume and haptics are at the right level to guarantee that you wake up when you need to! To master your Apple Watch, make sure to sign up for our free Tip of the Day Newsletter.
The Guide to Setting Alarm on Apple Watch Correctly
If you experience your Apple Watch not ringing, the issue may be an incorrect alarm set up. Here's how to set the alarm on your Apple Watch correctly. If your Bedtime alarm is the main concern, check steps 14 and onwards, although reviewing all these steps may be necessary to get to the bottom of your alarm problems!
Press the Home button located on the Digital Crown to see all your apps, and tap Alarms.


Here you'll see previously set alarms. To create a new one, scroll to the bottom.



Tap Add Alarm.


You will see a green square around the hours. Use the crown to adjust the hours. Roll up to increase, roll down to decrease.



Tap the minutes next; you will see the green square around them. Use the crown to adjust the minutes. Roll up to increase, roll down to decrease.


Tap the green check mark to confirm the time of your alarm.



Scroll through your existing alarms to confirm that it is there and that it is toggled on. If the toggle has a green background, it is on. If it has a gray background, it is off; you can tap it to toggle it on.


You can tap it to make edits, such as changing the time, setting it to repeat on certain days of the week, labeling the alarm, enabling or disabling snooze, or deleting the alarm.



Now that you've set your alarm, return to your apps screen and tap Settings.



Here you can change the alert volume. Tap the volume up button to increase and the volume down to decrease. You will hear the volume as you adjust it so that you can decide what works best. I like to turn it up to the maximum because I sleep in earplugs and need my alarm to be loud to actually wake me up.


Next, make sure that Silent Mode is toggled on. If it is on, setting your Apple Watch to Silent mode will not silence alarms or timers. If it is off, Silent mode will silence your alarms and timers. Tap it to change change it between on (green) and off (gray).



Keep scrolling down to Haptics. Haptics are the vibrations that you feel on your wrist. If you set up an alarm via Bedtime in the Health app, you can customize the haptics for the alarm. The changes you make in the settings will affect all your haptics, not just your alarm-related ones. I like to toggle these on (green) and select Prominent to make the haptics more powerful. You can tap between Default and Prominent to feel the difference.


If you've set up a sleep alarm via Bedtime in the Health app, you can double-check your settings by tapping Sleep in your apps list.



Tap your schedule to make edits or check the settings.


Review the time.



Make sure your alarm is toggled on (green).


Then, tap Sounds & Haptics.



Here you can review which combo of sounds and vibrations works best to wake you up. I recommend switching it up every once in a while because, after a while, I find that I get used to my alarm, and it doesn't wake me up anymore, even if it goes off correctly. If you have multiple schedules, you'll have to tap Full Schedule and go through steps 15 - 19 for each one.


I recommend setting either your regular or Bedtime/Sleep alarm in a few minutes; then you can test to see if it goes off as it should. If, after all this, you still experience problems, it may be time to contact Apple support.
Will My Alarm Go Off in Do Not Disturb Mode, Silent Mode & Airplane Mode?
Many people wonder if setting your alarm to certain modes will keep it from going off. If you follow the steps above and toggle on Silent Mode in step 11, it will still go off when your watch is set to Silent mode. It will also still go off if it is set to Do Not Disturb or another Focus mode. Your alarm will also go off if your watch is in Airplane mode, which is a popular way to silence your device if you don't wish to be disturbed. Learn more about setting a vibrating alarm on your Apple Watch.
I hope this article helps alleviate all of your alarm-related concerns and have you sleeping peacefully and waking up on time without worry! Next, read our iPhone Alarm Not Going Off article to make sure all your alarm problems are fixed!