By

Nicholas Naioti
Tue, 05/17/2022
In October of 2021, Apple unveiled the new HomePod mini, a thoughtful update on the cult favorite HomePod (which is now discontinued). But how does the HomePod mini stack up to the competition at the same price point? I'll break down the advantages and drawbacks of the HomePod mini compared to the Google Nest Audio and the fourth-generation Amazon Echo.
Related: How to Clean iPhone Speakers & Get Water Out of Speakers (iOS 15 Update)
Jump To:
The HomePod mini comes out on top in terms of sound quality. Honestly, I wasn't expecting much from the small, canvas-covered globe as I unpacked it and set it up. The bass response is stronger than expected, and the computational audio makes the most of whatever space you put it in. Even at loud volumes, the sound quality is cleaner and crisper than the competition, plus you can pair two minis in stereo configuration to double the sound quality and volume.

Discover your iPhone's hidden features
Get one daily tip each day (with screenshots and clear instructions) so you can master your iPhone in just one minute a day.
The design is just as smart and stylish as we've come to expect from Apple, and features a variety of modern colors. The speaker's top has a nebulous glow with touchscreen functionality to invoke Siri, adjust the volume, and skip tracks. Though the physical controls have a slight learning curve, it's intuitive and works the way you'd expect. One drawback to the design is the power cable; it's hardwired to the speaker and can't be removed.
The HomePod mini comes with full Siri capability, amplifying its usefulness dramatically if you're an iPhone user. In my testing, I found that Siri had the fastest response time to questions and commands, and the responses tended to be more relevant to my request. You can place calls, send text messages, manage your reminders and edit calendar dates, all via Siri. There's even an intercom function for communicating with different parts of the house.
As a smart home controller, the HomePod mini is the worst of the three due to limited compatibility. The HomePod mini only works with HomeKit accessories, meaning if you buy non-HomeKit devices or you happen to have an Android user in your household, the process of setting up and using your smart home will be severely limited.
On the topic of compatibility issues, the HomePod mini doesn't play well with most music services outside of Apple Music. You can't set Spotify as your default music service and Siri won't allow you to verbally request songs on any service other than Apple Music or Apple Podcasts. This is a convenience barrier that I found especially annoying as a Spotify subscriber.
By far, my favorite function is that you can start music playing on your iPhone and move it over to the HomePod mini just by holding your phone close to it—so awesome!
The fourth-generation Amazon Echo has been pleasantly redesigned from previous models to a globe-like shape with LEDs along the base instead of the top. While this speaker has a nice bass response for its size, the treble feels tinny and abrasive at higher volumes. Unlike the HomePod mini, the EQ can be adjusted via the Amazon Alexa app, allowing you to tweak the sound to your taste.
The voice control largely works as you'd expect, but I find Alexa the worst of the virtual assistants despite the fact that it technically has more skills. Frequently I find myself angrily shouting my requests over and over with slight changes to the syntax in the hopes that she'll understand me. Asking Alexa to play a song rarely works as it should, and my questions frequently beget hilariously incoherent responses with little or no relation to the topic. As far as I can tell, Alexa cannot shuffle a playlist via a verbal command.
Assuming Alexa can understand you, the Echo should serve as a decent smart home controller with wider compatibility for accessories than the HomePod mini. Additionally, the Echo is the only speaker of the three that includes an auxiliary input, allowing you to connect a device physically or use the Echo as an add-on to a sound system. It's worth noting that the Echo does not work with AirPlay, which is a non-starter if you're hoping for multi-room playback from your iPhone.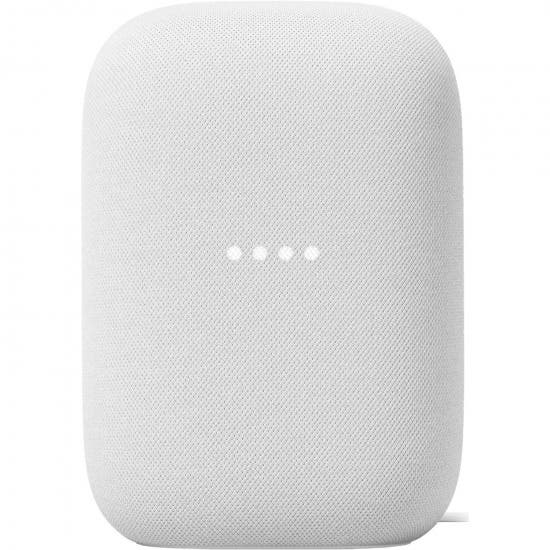 While I wouldn't say that the Google Nest Audio sounds bad, it decidedly has the worst audio quality of these three smart speakers. This speaker is the loudest of the bunch, but the bass response is weaker than I prefer, and the audio often sounds compressed and distorted. That said, you can adjust the bass and treble to your taste using the Google Home app. One unique and more traditional trait is that this speaker is directional, meaning it doesn't offer 360-degree sound like its competition. This is arguably preferable in situations where you want the speaker placed against a wall.
I found the virtual assistant to be easy to use, though it did struggle to play one of my Spotify playlists. One area where Google outperforms the competition is smart home control. The Google Nest Audio works easily with smart home devices and has the best compatibility with accessories of the bunch.
I did find the physical volume controls to be very frustrating; there's no symbol on the speaker's exterior to demarcate volume up and down. You have to wave your hand in front of the device, and then two LEDs illuminate, telling you where to tap to adjust the volume. While I appreciate the clean, minimal look, it's not apparent which is volume up and which is down, and it bothers me when you can't tell that something is a button.
One thing I do admire about the design is the physical switch that disables the microphone. If you have privacy concerns with an active microphone in your space, this switch is a thoughtful choice by Google.
Final Verdict
In conclusion, all three of these speakers have good quality sound for the cost, and each speaker is good for a specific demographic. If everyone in your family has an iPhone, you can't do better than the HomePod mini. The sound quality and integration with Siri are unparalleled. If there's an Android user in your home, it's worth considering a different option, especially if you're interested in smart home control. I was frustrated by the fact that Apple deliberately makes it inconvenient to use any services other than Apple Music and Apple Podcasts with the HomePod mini. Comparatively, it was surprising to see how easy it was to link outside services with Amazon and Google's speakers. If Apple chose to allow more third-party support for the HomePod mini, it would be the unconditional winner of this showdown!