By

Rachel Needell
Updated 04/05/2022
Launchpad is an easy way to access all the applications installed on your MacBook or iMac. But over time, Launchpad may become cluttered, making it a chore to find the apps you're looking for. We'll go through all the steps to help you learn how to delete applications from Launchpad, how to add an app to Launchpad on Mac, and more.
Related: How to Force Quit on a Mac
Jump To:
Launchpad is an application launcher that shows all the apps you have downloaded to your Mac. It is native to your Mac, meaning Apple designed it for your computer to help you organize your desktop. While the Dock is a great feature and adding app icons to your desktop is always a nice option to get to the apps you love the most, Launchpad is a way to see and organize all your apps that can be closed away, almost like shutting a drawer. This helps keep your desktop orderly and uncluttered while also keeping your apps in an easily accessible place.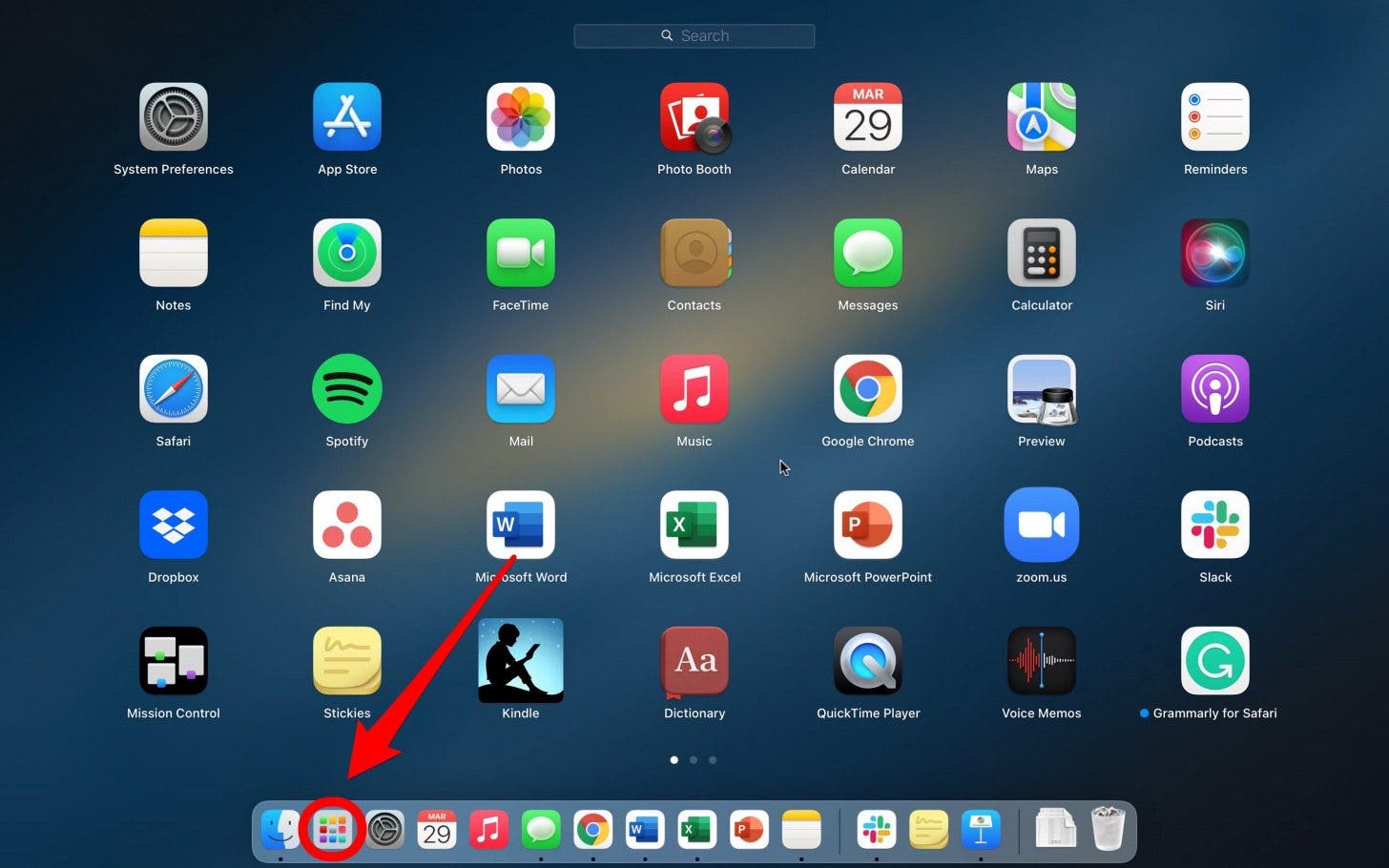 Discover your iPhone's hidden features
Get a daily tip (with screenshots and clear instructions) so you can master your iPhone in just one minute a day.
The Launchpad is usually located on the Mac Dock at the bottom of your desktop display. However, it may have gotten moved somewhere else over time. You can always find the Launchpad this way:
Open Finder.


Select Applications in the side navigation.



Scroll until you find the Launchpad app icon.


If your Launchpad app icon has seemingly disappeared from your Mac Dock, don't panic. It's a relatively simple fix if you'd like to show the Launchpad on your Dock.
Open Finder.


Select Applications in the side navigation.



Scroll until you find the Launchpad app icon.


Click and drag the Launchpad icon to your Dock. The other apps will shift to make room.


Changing the order of the apps within the Launchpad is very similar to rearranging the apps on your iPhone or iPad.
To do so, click and hold the app you want to move with the mouse.


Now, you can drag the app to a new location.


Some apps you can delete directly from Launchpad. To do this:
Click and hold the app you want to delete. 
Sometimes, a small white "x" will pop up in the corner. Click the "x" and confirm Delete to remove the app from Launchpad.


Other times, you need to go into your Applications folder to remove an app from the Launchpad.
Open Finder.


Select Applications in the side navigation.



Scroll until you find the app you want to delete. 
Click and drag the app to the Trashcan. 


Adding an app to your Launchpad is as simple as downloading an app from the App Store or a third-party download. Launchpad reflects the applications in your Applications folder.
Once you have opened Launchpad, it can be a bit confusing to figure out how to close it. It's actually super simple and can be done a few different ways.
Once Launchpad is open, click anywhere that isn't an app and the Launchpad will close.


Press ESC on your keyboard and Launchpad will close.



Click on any of the apps in the Dock, and Launchpad will close in order to open that app.


The Mac Launchpad is a really great staple feature and, if you put a bit of time into organizing it to your taste, you can really make the most of this convenient feature. Stick around to learn more about how to make the most of other features on your Apple computer like
the Mac Dock
. To keep learning even more about your Mac, sign up for our
Tip of the Day
!