Do you have trouble reading text on your iPad? Want to enlarge the font size? Learn how to adjust the screen settings on your iPad.
By

Amy Spitzfaden-Both
Updated 11/30/2022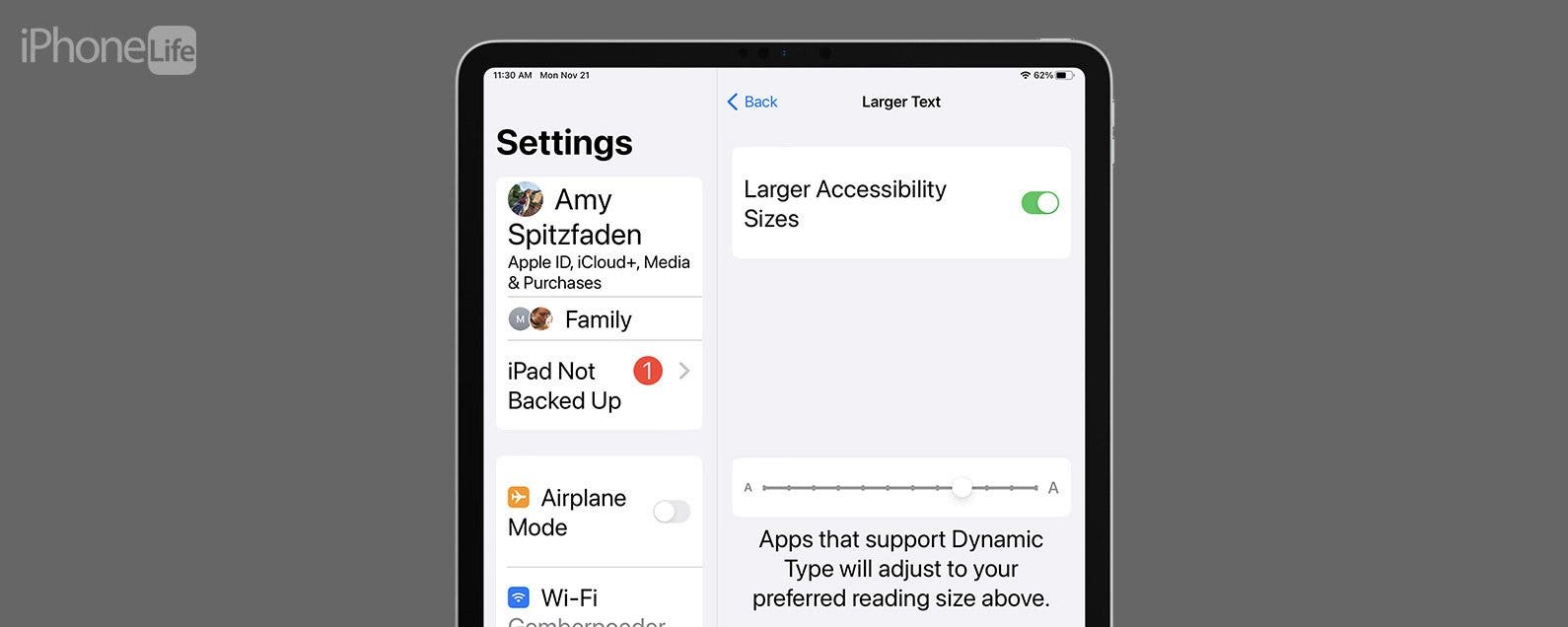 * This post is part of iPhone Life's Tip of the Day newsletter. Sign Up. *
While the bigger screens of our iPads can be good for visibility, you might still be wondering how to increase the font size on your iPad. Fortunately, your iPad screen is very customizable. Learn how to quickly change your iPad font size, so you can read and browse with maximum comfort.
Why You'll Love This Tip
Adjust your iPad font size for easier iPad reading.
Learn how quickly to access the setting so you can make changes any time you want.
How to Change iPad Font Size
If you want your iPad font to be bigger, all you have to do is go into your Accessibility settings and adjust the font size from there. It takes just a couple of taps to get there, and you can easily set and change your iPad font size as many times as you want. For more tips on getting your Apple devices just the way you like them, check out our Tip of the Day. To change your screen settings on your iPad:
Open your Settings app on your iPad. Changing your settings on your iPhone will not show up on your iPad.


Tap Accessibility.



Tap Display & Text Size.


From here, you have several customization options. To adjust the font size on your iPad, tap Larger Text.



Move the slider to adjust the text size in apps that support Dynamic Type, such as Apple's native apps.


Toggle on Larger Accessibility Sizes to enable even larger text sizes.



Move the slider on the bottom to adjust your text size to your preferred setting.


This is what text will look like when you have the larger accessibility text sizes enabled.



Tap Display & Text Size at the top to return to that menu.


Back in the Display Text & Size menu, you can toggle on Bold Text if you want the text on your screen to be bolded.


And there you have it! Now you can easily change the font size on your iPad to suit your needs and preferences.