When setting up your new iPad, you have the option to either restore from a previous iPad or start brand new! We'll walk you through all the steps.
By

Leanne Hays
Updated 11/21/2022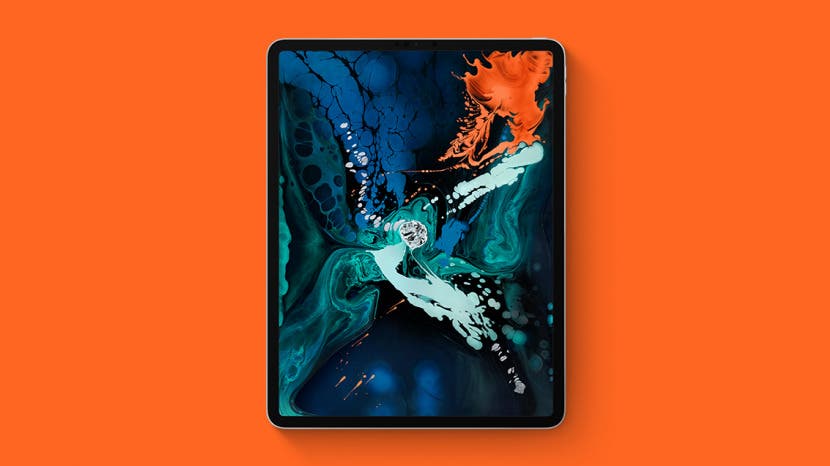 Whether you've just purchased your very first iPad or are excited to pick up where you left up with a brand new iPad, setting up a fresh iPad is always equal parts exciting and stressful. But don't worry, we'll be covering how to transfer your data from iPad to iPad as well as setting up a new iPad. You also have the option to set up the iPad as new even if you've had an iPad in the past. Additionally, we'll go over how to restore an iPad from a backup from iCloud and iTunes. Let's get started!
Jump To:
How to Set Up New iPad
If you've just purchased your very first tablet, setup is fairly straightforward. If you have a cellular-enabled iPad, you'll need to have a SIM card inserted in your iPad. If you like tips like this about how to use your Apple devices, be sure to sign up for our free Tip of the Day!
Turn on your iPad; whether you have the newest iPad Pro or an older iPad, press the On/Off, Sleep/Wake button on the upper-right edge of your iPad until the Apple logo appears. If the screen stays black, you may need to charge your device and try again in a few minutes.


Once your iPad is turned on for the first time, it will begin walking you through the setup process. When you see "Hello" in several different languages, just swipe up or press your iPad's Home button if you have an older model.


Tap the language you'd like to use on your iPad, then tap the country or region you're in.
Next, you'll arrive at the Quick Start page, where you can choose to transfer content and data from an old device to your new iPad, or tap Set Up Manually to continue through the process as directed by your iPad. If you want to Set Up Manually, continue to the next step. Otherwise, you can jump to the Quick Start method below.


If you chose Set Up Manually, select a Wi-Fi network and enter the password to join or, if your iPad has cellular capabilities, tap Use Cellular Connection if you'd rather use your cellular data plan. 
Depending on which iPad you have, you'll be asked to set up Touch ID or Face ID, and to create a six-digit password.


Next, you'll be given the option to move and restore data from a backup or to set up your device as a new iPad without transferring data. If you don't have any data to transfer from an older iPad or non-Apple tablet, tap on Set Up as New iPad.


Now, sign in with your Apple ID and password. If you can't remember your password or don't have an Apple ID yet, tap Forgot password or don't have an Apple ID? 


After signing in, you'll be walked through the setup of various features and services, including Siri, Screen Time, Automatic Updates, and more. 


Once you're finished setting up, tap Get Started, and begin using your new iPad!


Related: How to Set Up iCloud Drive
How to Transfer iPad to iPad
If you've owned an iPad before and would like to transfer your data to your new device, you have up to three options for accomplishing this. Let's jump into those choices below:
Quick Start
You can use the Quick Start method if the device you're transferring from is an iPad or iPhone running iOS 11 or iPadOS 13 or later. If you haven't backed up your device recently, back up your old iPad to iCloud first. 
Hold your old iPad (turned on and with Bluetooth turned on) over your new iPad. The Quick Start screen will pop up on your old iPad and offer you the option to use the Apple ID associated with your old iPad to set up your new one.


Keep holding your old iPad over the new one, framing the display of your new iPad in the viewfinder of your old one. A message will pop up on your old iPad that says Finish on New; tap this, or tap Authenticate Manually if the Finish on New option doesn't appear or if your old iPad's camera isn't working.
Now you'll be prompted to enter your old iPad's passcode on your new iPad; set up Touch or Face ID; then upload apps, data, and Settings to your new iPad from your old iPad's iCloud backup. 


Keep your two iPads close to each other, and keep your new iPad charging and connected to Wi-Fi to make sure all your content uploads to your new iPad from iCloud.  
Restore iPad from Backup: iCloud & iTunes
If you have an iPad that's too old to update to a sufficiently advanced operating system, you can still transfer your data, settings, and apps to your new iPad using an iCloud or iTunes backup. To begin, make sure you've recently backed up your old iPad to iCloud or iTunes.
Set Up Your iPad from an iCloud Backup
To set up your iPad from an iCloud backup, first, make sure your new iPad is plugged in and charging, and you've followed all the steps above until you get to step 7.
Tap Restore from iCloud Backup on the Apps & Data screen.


Tap Use iCloud to sign in to iCloud on your new iPad with your Apple ID and password. 


You'll be directed to choose a backup; select your most recent one.
If you've used more than one Apple ID to purchase content that you'd like to transfer to your new iPad, you'll need to sign in to all of those accounts.
Your iPad will direct you through the rest of the setup; be sure to keep your iPad charging and logged in to your Wi-Fi network to make sure all your content downloads from iCloud.
Set Up Your iPad from an iTunes Backup
If you usually back up your iPad to iTunes rather than iCloud (I recommend doing both), you can set up your new iPad from an iTunes backup, instead. Once again, be sure to follow all the steps in the How to Set Up New iPad section above until you get to step 7.
Tap Restore from iTunes Backup on the Apps & Data screen. 


After you've connected your new iPad to the computer that you used to back up your old iPad, open iTunes on your computer and click on your new iPad.
Now, click on Restore Backup and choose the backup you just made from your old iPad by finding it in your list of options, clicking it, then clicking Continue.


Once iTunes finishes restoring your data, apps, and settings, you can complete the setup process on your new iPad and start using it! Getting a new iPad is one of my favorite things, and I hope I've made the setup process a little bit easier. Good luck, and congrats on your new device!