By

Dig Om
Updated 01/09/2020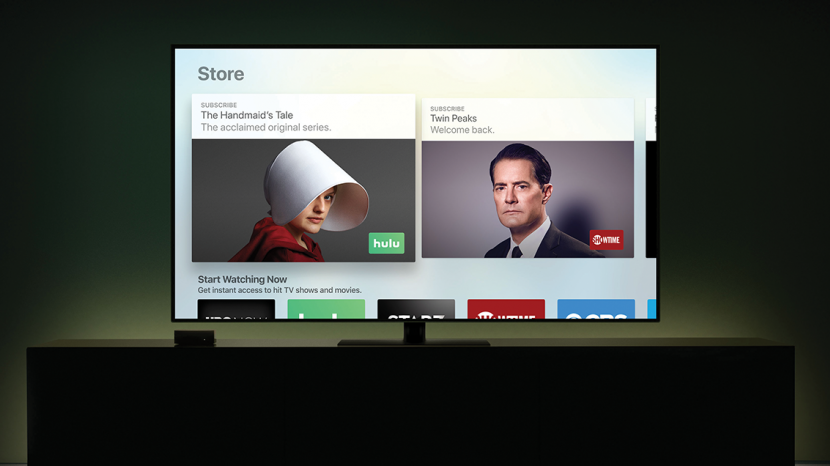 We already know the Apple TV offers not only live-streaming but also app-based tv and movie viewing. As well, the Apple TV has a wide range of apps for everything from games, to shopping. Here's our 2018 roundup of the best tv, movie, music, gaming, and shopping apps for your Apple TV.
Related: Virtual Reality Apps: See Your Everyday World in a Whole New Way
Movie & TV
Whether you'd like to binge-watch an entire season of your favorite show, revisit a classic movie favorite, or catch a live-streamed game or event, Apple TV has you covered. Here are our top picks for Apple TV movie and TV apps for 2018.
Crackle is a completely free streaming service that delivers interesting original content featuring big-name talent (such as Breaking Bad's Bryan Cranston and Game of Thrones' Sean Bean) alongside a slew of popular TV shows and movies. Crackle is ad-supported, and you never have to pay for anything or even create an account. However, if you set up an account and log in, you'll see fewer ads and will be able to resume episodes where you left off across multiple devices.
Pluto TV is a cord-cutters delight! It's completely free of charge and is the closest thing to a general cable TV subscription service I've found on the Apple TV. Pluto TV has thousands of hit movies and over a hundred live (yes, live!) channels, including CBS News, Food TV, CNET, and NBC, to name few. Pluto TV is the perfect solution for anyone who doesn't want to spend a lot of time searching for shows and would rather just have live options at their disposal.
YouTube (Free, Subscription Optional)
YouTube is my go-to app for just about everything. If I want to learn about the earth's rotation with my four-year-old, I go to YouTube and find an abundance of short, age-appropriate videos. If I want vlogs on any topic or concerts from a staggering array of artists, YouTube is my destination. While watching content is free, you can pay $9.99/month for perks like ad-free and offline viewing.
Netflix (Subscription Required)
Netflix is one of my most-used apps on the Apple TV. It has an award-winning lineup of original content along with a continually revolving door of box-office and indie hits. You'll find movies and TV shows in just about every genre you can think of, and thanks to the app's smart learning capabilities, the more you watch, the better Netflix becomes at recommending shows for you to watch. The app is free to download, but a subscription will cost you $10.99/month for a single-stream plan or $13.99/month for a family plan.
Included with every Amazon Prime subscription (which costs $99/year), Amazon Prime Video is similar to Netflix in many ways. Both streaming services have a wide selection of great original content and both host an ever-changing selection of blockbusters and classic films. Amazon differs from Netflix, however, in one significant way. With Amazon, you also have the option of purchasing movies or television series not included with your Prime membership or subscribing to premium channels like HBO, Starz, or Showtime.
Music
Pandora Music (Free, Subscription Optional)
Pandora is a music streaming service that is available as a totally free service or with a paid subscription, which gets rid of ads, allows unlimited skips, and lets you download music for offline enjoyment. The basic Pandora Plus subscription is $4.99/month, while Pandora Premium starts at $12.99/month and allows you to search for and play songs on demand, create specific playlists from any song, and also allows you to download unlimited music.
Gaming
Note: When gaming on the Apple TV, you may be wondering where the controllers are! The answer is that you can use the included remote to control all games on the Apple TV, or you can connect up to two third-party controllers (I recommend checking out options from SteelSeries.)
In the spirit of the '80s arcade classic Frogger, Crossy Road is a fast-paced, obstacle-laden infinite runner. Your goal is to see how far you can make it as you hop across ever-busier streets, train tracks, and rushing rivers. Its retro graphics are simple and whimsical, and gameplay is easy enough for beginners to quickly pick up but challenging enough to keep experienced pros engaged. This is a great game that the whole family can enjoy and take turns playing.
Asphalt 8 is a high-octane, adrenaline-fueled car racer with an emphasis on aerial acrobatics. The graphics of this game are spectacular, although you'll have little time to admire the scenic landscapes surrounding you as you strive to keep pace with some stiff competition. Asphalt 8 lets you race online against other players from around the world, so be prepared for some blisteringly fast opponents! Asphalt 8 is my personal favorite of the auto racing simulators available for the Apple TV.
Badland is a dark, slightly disturbing platformer set in a dreamlike world that borders on the nightmarish. Badland's graphics are comprised of eerie, watercolor-esque landscapes behind simple black silhouettes (which represent your character as well as the myriad of obstacles you will face.) On each level, you are tasked with navigating your way through ever-more-challenging obstacle courses of grinders, circular saws, and psychedelic enhancements that make you larger or smaller, faster or slower.
In this high-speed, stunt-filled racing adventure, you take on the role of a futuristic hydrojet rider. You speed through courses at breakneck speeds, performing death-defying stunts, avoiding the police, and catching crazy air over surging waves. Riptide offers interactive environments, dynamic obstacles, and an online racing mode that lets you compete live against eight other racers. Each race will be different, since the surface that you're racing on changes constantly.
In the tradition of the classic 3D Zelda games, Oceanhorn is an enchanting, story-driven platformer with adorable characters, lots of action, puzzles and riddles to solve, big secrets to uncover, and a poignant storyline that will inspire you to keep exploring and persevering. If you enjoy an action fantasy game that you can sink your teeth into, be sure to try out Oceanhorn: Monster of Uncharted Seas.
Shopping
The Amazon App is the best way to go online shopping from the comfort of your Apple TV. While the app is free, you'll need an Amazon Prime membership to order directly from your TV. This app is basically identical to what so many of us are already accustomed to using on our iPhone or iPad. Browse the massive inventory of goods available in the Amazon stores on the large screen, where it's easy for other people to view items together with you.