By

Conner Carey
Updated 03/07/2023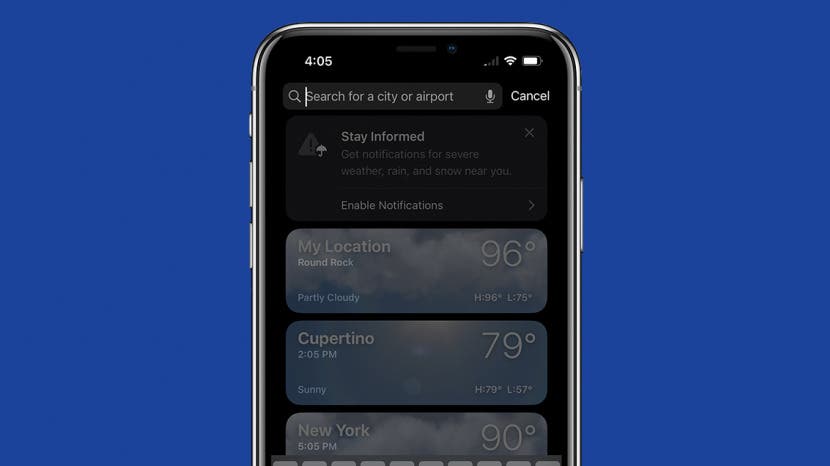 * This post is part of iPhone Life's Tip of the Day newsletter. Sign Up. *
Is your iPad or iPhone weather widget channel showing the wrong location? Unfortunately, many Apple Weather app users often experience this and wonder, "Why can't I see the weather in my current location?" I'll teach you how to customize your iPhone Weather app settings and everything else you need to know to fix it!
Jump To:
Change Your iPad & iPhone Weather App Settings: Location Services
Location Tracking by the native Apple Weather app and the Weather widget can take a toll on your iPhone's battery life. Don't worry, though; a couple of tweaks can improve your iPhone's performance and battery life without sacrificing the convenience of the Weather app and widget. 

Discover your iPhone's hidden features
Get a daily tip (with screenshots and clear instructions) so you can master your iPhone in just one minute a day.
To rescue your battery life from your iPhone's Weather app and Weather widget, you'll need to disable Location Tracking, then pick a default location, a city to permanently display inside the Weather app and widget. 
How to Turn Off Location Services for Weather on iPhone & iPad 
Open the Settings app.


Select Privacy & Security.



Tap Location Services.


Scroll down and tap Weather.



Select Never under Allow Location Access.


Pro tip: For more Location Services settings tips and tricks, read this article. 
How to Turn On Location Services for Weather on iPad & iPhone
If you are not concerned with battery life and experience issues with your native Weather app or ​​My Weather channel app not working, you may consider turning your Location Services back on. If you've turned your Location Services off, don't forget to change your weather location by adding the correct city and removing any incorrect cities that may be causing problems. Follow the steps above and select Always or While Using the App or Widgets under step 5, as you prefer.
Related: iPad Won't Download Apps? How to Download iPad Apps Correctly
How to Set a Default Location of Weather: Add or Remove Your City
Now that your Location Services are toggled off, we'll select a permanent location to always display inside the Weather app. These steps will allow you to know the weather and temperature at your location without pesky power and performance drains.
How to Add City to Weather App on iPhone & iPad
Tap the Weather app.


If a location pops up, select the menu icon in the lower right corner.



If all your locations pop up, tap the magnifying glass icon.


Type your desired default location in the Search bar. Locate the correct location in the search results and tap that location to continue.



Tap Add.


Your default location will be added to your list of locations at the bottom.


Pro Tip: If you experience your Apple Watch Weather app not updating, you should try restarting your Apple Watch after changing the settings on your phone. If this doesn't do the trick, you may need to reinstall the Weather app or re-pair your watch and phone.
How to Delete Weather Location on iPhone
The wrong location may be showing up in your Weather app or widget. This may be happening because your Location Services are off, and you have the wrong city selected as your default location. This is how to remove cities from Weather App:
Open the Weather app.


Tap the menu icon on the bottom right.



Locate the city you wish to delete and swipe left over it.


Tap the trash icon to delete it.


How to Change the Default Location in the Weather Widget
Your weather location might not change automatically if you have a Weather widget, but it's easy to set a default location.  Here we'll show you how, and for more great ideas about how to use widgets, check out our free Tip of the Day.
To change the default location in the Weather widget, long press the Weather widget.


Tap Edit Widget in the menu that pops up.



Tap the location that's highlighted in blue.


Enter the default location you want in the Search bar, or tap it in the list that appears as you begin typing.



Your chosen default location will now be displayed next to Location and in your Weather widget.


Pro Tip: Are you wondering where your Weather app widget is? If you don't have it on your Home screen or in the Today View, or if it suddenly disappeared, you can follow these steps to re-add this useful widget.
Now you know how to set a default location in your iPad or iPhone Weather app and Weather widget!