By

Todd Bernhard
Updated 11/17/2021
Ever since Apple dropped the HDMI port from the MacBook Pro, I've had to carry an adapter around, and leave some at home and work. Not only is it expensive, it's also a hassle. Moshi has an answer. The company sent me a USB-C to HDMI Adapter ($44.95) to try. This adapter is small, about the size of a box of matches, and it plugs in directly to your device's USB-C port, essentially becoming an extension of your MacBook, iPad Pro, or other USB-C device. It makes it easier for the adapter to come with you and your device, so you don't need to leave adapters in multiple places. Or if you do need to bring it separately, it's compact and easy to carry.
The adapter has an integrated USB-C plug and works with MacBook, iPad Pro, and non-Apple USB-C devices like those from Samsung and Huawei, and Microsoft's Surface. Despite the compact size, it puts out 4K@60 Hz and has support for HDR video. There is also a USB-C port for power delivery up to 60 watts, so if your MacBook or iPad Pro only has one port, you can still power it while driving HDMI video. Because it is designed to mount flush with the device, thick cases might interfere with flush mount.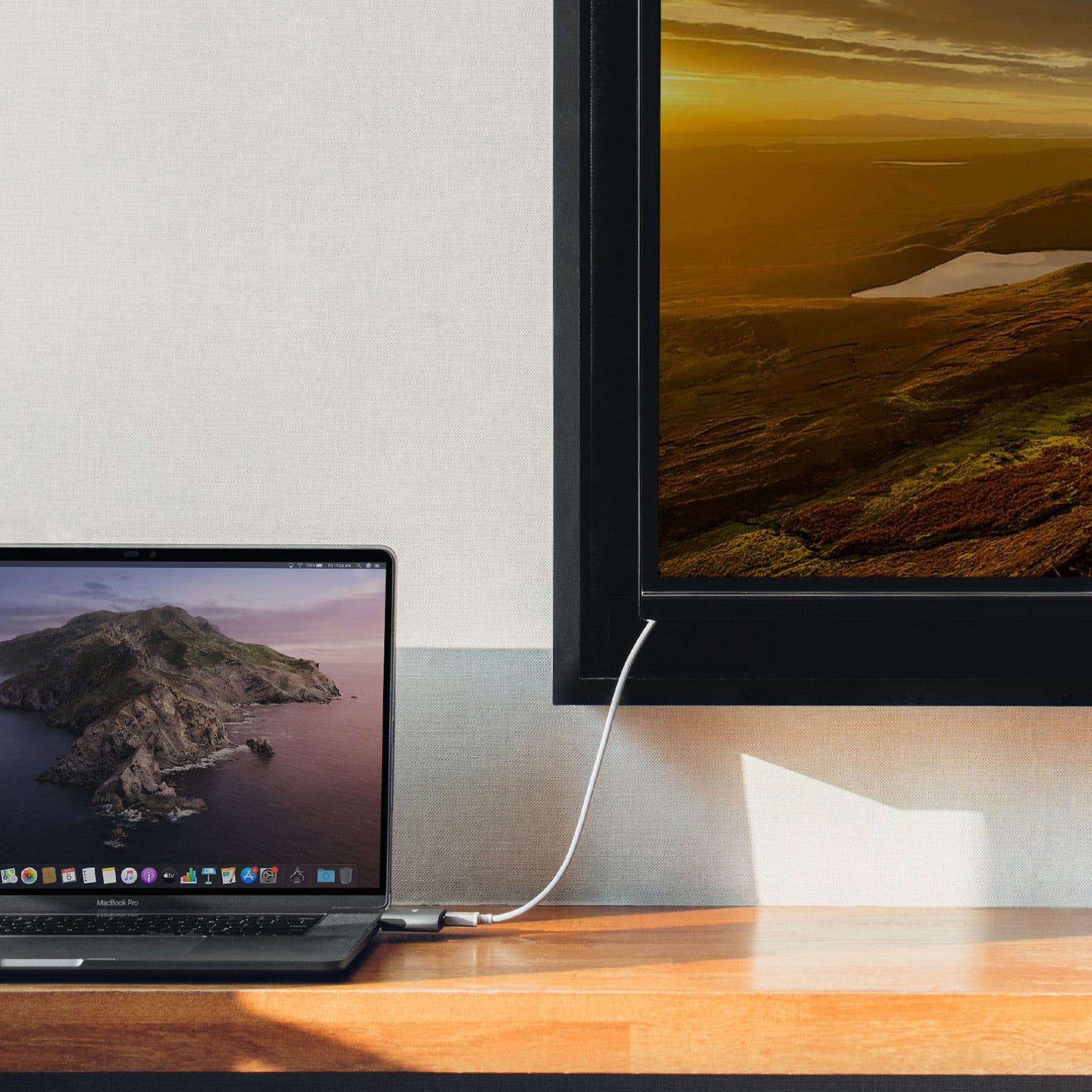 Pros
Compact with integrated USB-C Plug
Works with MacBook, iPad Pro, and non-Apple USB-C devices
4K @ 60 Hz and HDR video support
USB-C port for Power Delivery up to 60 watts
Flush mount to plug directly into device without an extension cable
Cons
Thick cases might interfere with flush mount
Only one color, Titanium Gray
Final Verdict
Moshi's USB-C to HDMI Adapter mounts flush with many devices making it easy to bring with your device.

Discover your iPhone's hidden features
Get one daily tip each day (with screenshots and clear instructions) so you can master your iPhone in just one minute a day.