By

Donna Schill
Updated 05/27/2020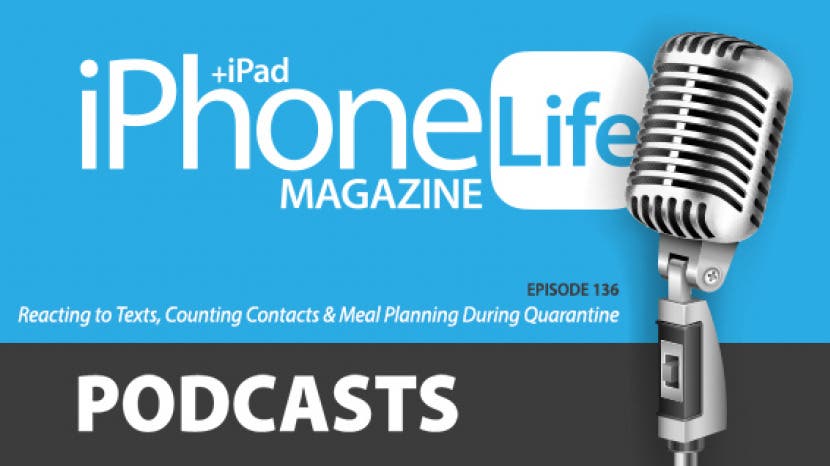 In the 136th episode, David and I teach you how to laugh at, love, or thumbs down a text using Apple's Message Reactions. Ever wondered how many contacts you have on your phone? We'll show you how to find that out too. Stick around for a new batch of shows to check out during quarantine!
Click here to listen and subscribe. If you like what you hear, be sure to leave a review. And remember to tune in every other week to hear our editors share with you the latest Apple news, best apps, iPhone tricks, and coolest accessories.
This episode was brought to you by Matias. When Apple discontinued its wired keyboard, Matias stepped in to provide a one of equal value and arguably better quality. The built-in hub with multiple ports is great for connecting your wired mouse and other devices. The Mac-friendly function keys make it easy to transition. And if you're using legacy software on older systems, this keyboard is designed to be compatible for you too. Get the keyboard you know and love from Matias; order yours today.
Question of the week:
How many contacts do you have in your Phone app? Email podcast@iphonelife.com with your count!
Articles referred to in this episode:
Apps & gear referred to in this episode:
David & Donna's favorite content for quarantine:
Useful links:
Episode 136 transcript:
- Hello and welcome to the iPhone Life Podcast. I'm Donna Cleveland, Editor in Chief at iPhone Life.
- I'm David Averbach, CEO and Publisher.
- Each episode we bring to you, the best apps, top tips and great gear in the iOS world, even when we're recording from home.
- As we continue to do our Spring and Summer series from home at iPhone Life.
- Fourth episode, I think, From home. You all get to appreciate my stepson's pizza drawing behind me still.
- Yup. So, let's start off the episode by talking about our sponsor.
- So today's sponsor is, Matias. Matias. I love these sponsors that focus on one thing and just make them great. And that's Matias. They have keyboards and they have a really great range of keyboards. They have a wired keyboard. Apple actually stopped making wired keyboards now, but a lot of people, including me, love them. I actually have a Matias Wired Keyboard I'm using right now. And I like it, cause it doesn't ever have any connectivity issues. And I have it in my home office, which my partner and I share, so we don't have to deal with Bluetooth. We just plug it in. They also have a really excellent wireless option as well. A Bluetooth option. And what they do that's really great about their wireless Bluetooth option. A few things. First of all, it's backlit. What they did, that was smart, is they have a separate battery for the backlighting, as opposed to the actual keyboard. So the keyboard will last, the battery will last a year, cause it's so frustrating when you have a keyboard where the battery dies on you. So the battery lasts a year and then the backlighting has its own battery. So if you are able, charge it regular, you can regularly have backlighting. It also syncs with four devices. So you can have the buttons on the keyboard, so you don't have that problem. If you have a shared keyboard, you just can have, like, my computer can be button one, my partner's can be button two. You can have iPads. It works with iPads, it works with iPhone. Check out their whole range. Matias is spelled, M-A-T-I-A-S. And you can go to, matias.ca or we'll link to it in the short note, at iphonelife.com/podcast.
- Awesome, thanks David. Next I want to tell you about our daily tips newsletter. We have a free daily newsletter that teaches you something cool you could do with your iPhone, in less than one minute a day. This is a really fast freeway to start your iPhone mastery and iPad mastery as well. And you can go to iphonelife.com/daily tips, to sign up. It's a great deal. Completely free as I mentioned. So I highly recommend doing that. And I want to tell you about a recent tip, that we ran in our daily tips newsletter. And that's how to... Sorry, How to laugh at a text using iPhone message reactions. So message reactions, is a feature that Apple, kind of slipped into its operating system a couple of years ago and I think a lot of people have caught onto it, but not everyone. And you may see it sometimes or not know exactly what it is. And so I just wanted to go over with you, how to use this feature. If you have your messages app open and a text thread going. If someone says something, in this case that you think is funny, you can just tap and hold on that text bubble and some options will pop up. If you hold it for like two seconds and you'll have the option to laugh. It'll be like "haha" as an option. You can do exclamation points, if it's something, like, surprising or you wanna emphasize. And you can also do a heart or a thumbs up, or a thumbs down. And so, I use this feature all the time now. It's a great way to acknowledge a message that's come in and let someone know that you've seen it, even if you don't have the time to write a long response or you don't really have much to say about it. And so, I think, it's definitely something that's good to know about. And I think a lot of people with features where you have to press and hold to get there, it's easy just for it to completely pass you by without ever knowing about it.
- Yeah, a couple of thoughts on this. First of all, I agree with you that, like, it's been out for a couple years now, but it seems like only recently that it's become the norm to use it.
- Yeah.
- So it's definitely good to know about. I find it really useful, especially, I think the two scenarios that I use of a lot, are: Number one, if it's a group conversation and you don't want every person to comment on every single thing, it's nice just to, like, give it a thumbs up or a "haha." So you know... So they know you saw it. The other one, that I tend to use a lot on, is if I'm having a conversation where I have like several threads of conversation going at the same time, I can, you know, you don't always have a response to every single thing you're saying or the other person is saying. So I find it really useful there too. To just acknowledge that you saw it while you're carrying on the conversation in a different direction. A third thing that I do wanna mention is that, it mostly works over iMessage. So the functionality works really well if everybody has an iPhone. If somebody on the thread has an Android, they will get a text notification that says, David laughed at the message, as opposed to the little visual cue that iMessage has, where you just see little "haha" on the top right corner of the text. So it still works, they'll still know that you responded. But it's a pretty weird work around that Apple has come up with for Android, where they get an extra text message, saying that I laughed, which is... I don't know if I like that.
- I hate it.
- I tend to only use it if I'm talking to iPhone... People with iPhones.
- I know I have a group chat. Like most of my really close friends have iPhones and then one does not.
- Oh, yeah
- And so, we're always, like, giving her the hardest time cause we all use message reactions a lot and, like, the text message thing gets really annoying. I think one of the ways that I use it the most, is to react to photos. Like--
- yeah. My best friend had a baby and she's, like, sending, you know, daily photo updates of him and so we all like to love it or like laugh if it's something funny and I think that's a really nice feature for that. But I did want to also just chat really fast about, like, in polite ways to use message reactions.
- Cause I was gonna say, sometimes I can feel kind of like dismissed if I wrote like a long thoughtful text and then someone just, like, does a thumbs up.
- I agree.
- It feels like a really pathetic effort.
- I agree.
- Like, can't you come up with something more than a thumbs up?
- It's the same thing with, like, the thumbs up emoji, which can also be really useful in conversation. But sometimes I haven't seen where I'll write a really long thoughtful thing and the person will just be like, thumbs up and it's just, like, rude. Like, if I'm writing you a lot then take the time to respond.
- Yeah, I still think it beats not responding at all.
- Yes.
- You know, and like, I definitely can sometimes be guilty of. I'll be like, Oh, I wanna wait and write a long thoughtful response and then I forget. And so then I'm even more rude. So I don't really have any moral high ground here, but I did just want to put up there, that sometimes I've found myself feeling slighted.
- By message reactions, as opposed to a longer response.
- I think it's a good warning to use carefully. I do also want to add. This is a feature that's really high up on my wishlist for iOS 14, is that, and I will be shocked if it happens. But the Android and Apple learned to play nice so that iPhones and Androids have a shared message system, where you can have things like that that still work out. So you can still name group conversations. You can have like, a response that works across both platforms. I would really love that. I hope they can, you know, get along well enough to make that work, cause it will be so convenient for all of us.
- That's a great point. All right, so that is our tip for you this week. Now I wanted to take a moment to talk about our premium educational platform. iPhone Life Insider. A lot of you listening already have heard of it before, but you might not be totally sure how it works. So our tip of the day newsletter, that's our free offering. And if you upgrade for a low price every month, you can get video versions of those daily tips. So it makes it really easy to follow along on your iPhone or iPad as you watch a one minute video. You also get access to our full library of in-depth video guides. We recently came out. we just came out with yesterday actually our FaceTime guide. And that walks you through everything you need to know about this app and lets you do group video calls, learn like all the roadblocks that might be standing in your way and how to get around them. We also have iOS guides. So upcoming later this year, we'll be having iOS 14 coming out and we'll teach you all of the new features. So you're able to, like, be ahead of all of your friends and know how to take advantage of all the new stuff and you get a digital archive of iPhone Life magazine. We have more than 30 back issues and you can read that on your iPhone or iPad, or a desktop device. We also have, Ask An Editor, which is a feature that you can send in your tech questions to us and we'll personally answer those for you. So you get to have, you know, personal access to our experts to help guide you through problems. Lastly, you get an ad free version of this podcast with exclusive content just for you guys too. So you got a special Insider feed for your podcasts. So if you go to iphonelife.com/podcast discount, we always offer discounts to our podcast listeners. But right now we're actually offering, 50% off our insider subscription. Because of the coronavirus pandemic, we wanted to offer an even better deal to make insider more accessible, and we knew it's a great time to sign up too, because people are spending more time at home using their devices. And on top of that, if you are a veteran service personnel, senior or health professional and senior, that's 60 plus, you get an extra 10% off your subscription. So you yes. 60% off total and you can apply that checkout, when you go to iphonelife.com/podcast discount. Sign up while the deal lasts. It's an awesome deal. We have our video editor, Colin Thomas, is recently taken over our Insider questions and he shared with me a recent, question he answered that I thought that our listeners... Podcast listeners could benefit from. So I'm gonna read that for you guys now. Hi there. Is there a way to tell how many contacts I have in my contact folder on the iPhone 10 with iOS 13? Thank you, I love being an Insider member. This is a great service with great staff. Keep up the good work. Sincerely, many friends.
- I had to include the, like, the compliment to us
- you have to.
- Yeah. And this is a great question. I've never wondered that before. I know--
- No never.
- I have tons of contacts but, so this is kind of an interesting one and I'm curious to see what Colin had to say. How do you many friends, the contacts app has squirreled away the answer to your question, but finding it is easy once you know where to look, scroll all the way to the bottom of your contacts list and you'll see a number telling you how many you have in the list. We should follow along David and find out how many .
- Yeah, I'm gonna do, I was just going to say the same thing. I'm on it.
- This works in the iPhone. Sorry, this works in the phone app too. Just tap the phone app. Then the contacts tab at the bottom of your screen. Scroll all the way to the bottom. And if you want to scroll faster, you can swipe along the alphabet on the right side of the screen, to get to where you want to go.
- And there's actually, under the alphabet, there's a number. So you can just tap the number sign and it'll take you right to it.
- Uh-huh.
- And one kind of bonus tip, is if you ever scrolled really far on something and you want to easily get to the top of the page, if you just touch the very top of your screen, that kind of black bar, it instantly takes you back to the top of any page. If you scroll too far. All right Donna, I'm ready. What do you got?
- Cool. I have, it's like all ones, 1,111.
- Wow. Never make another friend. What about you?
- I win, I have, 1,429.
- Wow. I like--
- I don't wanna brag or anything, but I have never lost my phone. So I have like a continuity of people in my phone, from, like, when I was 13 years old, all the way to present. And so I have, like, a lot of them I probably should clear out, cause they're old and don't work anymore. But I have a lot. Yeah. I'm trying to figure out, like, why I would have that many contacts and, like, I definitely don't have that many friends, but--
- They get added automatically, I think cause I'm looking right now.
- Like Facebook and, like.
- Well also they sync with your mail app. And so there's some that get added that are just, like, people you've emailed.
- Oh, okay. That makes sense.
- Yeah.
- Yeah, that's a fun. That's a fun little tip from an Insider. That was a good question.
- Yeah. Let's make this. I don't know if this should be our official question of the day. But is anybody beating 1400? Let us know. Send us an email podcast.
- Yes.
- At iphonelife.com.
- That's a good one. Now let's share our apps and gear for the week. What apps and accessories have you been using?
- Okay, so I mentioned this. I mentioned this a couple of weeks ago, or I guess it was, my gosh, maybe a month ago now. I went and had to resubscribe to cable, because I've been really enjoying, this Michael Jordan show and it's on ESPN, the shows called The Last Dance. And so it's the first time that I've had cable in about a year or so. And I used to just do satellite through dish, but I cut the cord. And so now I'm using sling TV for the first time. I find it interesting. Because I find Sling TV to be... I used to use YouTube TV, which I liked the interface a lot more. Sling TV kinda has a pretty limited interface. That's kind of clunky, but almost every app or almost every channel now has their own app. So I'm pretty much only using it to be able to log into third party apps like ESPN, I'm watching. It also has local shows or local channels, which I find to be really nice, cause I do a lot of sports. It's the cheapest one, which is why I did it. I'm paying like 25 bucks a month for cable, which is pretty crazy. And I can just watch it through my Apple TV. Sling has an Apple TV app, or like I was saying, mostly what I do, is it gives me access to all these other apps that I can watch, like, NBC or ESPN or anybody that has an app. Most channels have apps now.
- Cool, Yeah. Tyler has been loving The Last Dance too.
- It's great.
- He's like obsessed.
- Okay. Apps that I've been using. Mealime is an app that I've rediscovered. I probably talked about this at some point on the podcast, but I kind of... You know how you go through with cycles with certain apps except maps. Some apps are constants, like Spotify is daily. But with, in general with cooking I go through, like, weird phases where sometimes I just, like, cook pasta all the time, really don't even want to bother with the recipe.
- Yeah.
- And then other times I'm feeling more inspired. So Mealime, is a meal planning app and recipe app that is really good if you're wanting to get into more of, like, a healthy routine, where you are not only, like, eating at home more but like cooking nutritious meals. So it's the highlights of this app. Like there's so many recipe apps out there, but what makes this one different, is that it allows you to use its meal planning features for free, which most other apps I've looked at, like, you are forced to pay for that. So you can choose whether you want to do... You can choose, customize what your dietary restrictions are. So I'm mostly vegetarian, so I would set it that way. And then it'll let you choose three meals for the week, for free. Then you can, like, create a grocery list. So you can do your weekly grocery run or delivery or whatever you're doing during this time and plan out which days you wanna make your meals. It also lets you select, like, food allergies you might have or, like, if you were doing low carb or something like that, you can do that too. And so it's nice, like, with the food allergy feature, it's great if you actually have an allergy. But also, let's say you just happened to hate tomatoes, you can select that as a food you're allergic to and it will eliminate any recipes that have tomatoes. So I've been enjoying that. This app, again, also the recipes, it's like 20 to 30 minutes to make each meal and there, it's usually not like over the top complicated but also like fancy enough that it's, like, exciting.
- I'll have to check it out. Cause definitely now is the time to, like, get up to speed on cooking again, right? Cause we're all at home.
- Yeah. My partner is allergic to nightshades, which is kind of an unusual allergy. It's tomatoes, peppers, potatoes, egg plant. And so, I have a hard. I used to love these, like, meal services and these sort of recipe things. We've had a hard time because a lot of apps don't have that. So I have to see if they have that as an allergy, cause that I've largely gotten away from it, but also we get a little bit in rut because it's a pretty limiting factor. It's amazing how many things have nitrates in them.
- Yeah, I mean you could even go in and, like, individually choose each night shade as an allergy if you had to, right?
- I think so. I'll have to try it, see if they have all the options for me.
- Yeah, yeah. You'll have to let me know how it goes.
- Yeah.
- The other accessory I wanted to bring up, and this is what I may have mentioned in the past too, but it's also been a while and also is, like, seems to be seasonal. And one that I've rediscovered, is I've got this Belkin, running our band case.
- Mm-hmm. That is really great to, I've been like trying to get back into jogging. I would love to do a five K later this year if that's... I'm not sure whether that's going to be in the cards or not, but, anyway, I'm trying to jog outside more and enjoy the beautiful weather and stay physically fit and I really find listening to music makes such a difference in being able to keep myself going. So this case is really easy. It makes it really easier can just pop my phone into it. You do have to take... I have to take off my usual iPhone case to stick it in here. But it's nice. I like it better than some of these arm sleeves that have, like, a big plastic thing you dump your phone into.
- Yeah.
- Because, then it's really, even if they claim that it lets you use your touch screen, it's really hard to.
- It is.
- And I like to, like, change the song or mess around with my phone and this makes it easy to do that. And yeah, like, I could just use a playlist on my Apple Watch, but I also kind of like to be able to stream my Spotify playlist.
- Okay.
- From my phone because I get sick of my, just same old playlist.
- I was getting ready to ask that. So you're Spotify user still?
- Yeah.
- For a long time Spotify did not allow you to download music onto your Apple Watch. I believe that's still true, isn't it?
- It's still true. So my point is more, just that if I wanted to put music on my Apple Watch, I'd have to, I guess like, either be an Apple Music subscriber or like, buy some songs.
- Mm-hmm.
- I could, like, buy some songs off iTunes and then have it transferred to my Apple Watch as a playlist. But then I'd be, like, stuck with just those songs and I don't really want to do that.
- Yeah, no, I'm right there with you. To me this is like one of my largest complaints for Apple Watch and I don't know if it's Apple's fault or Shopify's. Sorry, I get Shopify and Spotify mix off my head. If it's Spotify is fault or Apple's fault, but you cannot download music on the Spotify app on your Apple Watch. And so, it's so frustrating because I have AirPods, I have an Apple Watch. I shouldn't need to strap a phone to my arm in order to make it work. But I do because I can't listen to music otherwise unless I'm an Apple Music subscriber, which I'm not. And so yeah, I have the, like, large plastic bag solution. I mean it's like a generic one I bought on the Amazon, but that Belkin one looks nice, but I just wish that, I wish that Spotify let me download playlist, cause it would be so much nicer.
- Yeah, I agree. I don't know Like, if that's just something from Spotify side that's the problem or if Apple is like holding up.
- I don't know.
- Yeah, I'm curious what the deal is with that. Other thing that I've noticed a lot of people using lately is yoga pants that have like little side pockets. And I think like men and women both have styles, that do that. Like, you know, maybe like running short. Men have some running shorts that are, like, either have a zipper pocket. Like, you could put your phone in there. But I haven't really, for some reason that just hasn't seemed like it would be secure enough. Like, it's going to still fly out or something. So I haven't tried that.
- I have a pair of shorts with zipper pockets, but then it's like, it's secure. But it's like every step I take, my phone, like, bounces against my leg and I hate it.
- Yeah. I actually have a new pair of yoga pants that do have like the side, are like a side pocket thing that's like on the side of your thigh. So I could give that a try. But for now I'm just going to stick with my Belkin. I like it.
- All right. So we've talked about apps and gear that we're enjoying right now, but we wanted to continue on with the content for quarantine section.
- Content on quarantine--
- Where we share with you--
- I like that.
- The, you know, movies, TV shows, podcasts, music, whatever it is that we are using right now to entertain us during this time or spending more time in doors. And you know, we asked you last episode how you're enjoying it and to, whether you have content, suggest to us. I would like to continue on with that question and email, podcasts@iphonelife.com. So let us know what content you're listening to or watching. Alright, David, what contents have you been enjoying the past couple of weeks?
- Okay, I've got a couple of them. The first one is a show I just finished. It's called Kim's Convenience. Have you ever watched it?
- No.
- Oh, it's great. I really recommend it. It's about a Korean family in Canada and it's just really light. There's, what I... It's a sitcom. One of the things annoyes the sitcoms is when they get a little bit too dramatic, sort of like the Ross and Rachel, will they, won't they? And you're just trying to have some entertainment and then all of a sudden, it's like this big, like everybody in episode is fighting and crying and all that. So this is not that.
- It's like, really light. Every episode is entertaining, but not dramatic and the characters are just really rich. I feel like sitcoms these days are hard, because kind of the old school model for sitcoms, people find cheesy these days.
- Yeah.
- And I really enjoyed that.
- Somehow, Schitts Creek, like, got around that even though it is cheesy.
- Yeah.
- Like, people still love it.
- Schitts Creek. I really love too. And I would put this in a similar vein as Schitts Creek. It's like very character driven. The characters are rich. And I... It's very light, easy to watch. It's the third season. I just finished it. All three seasons were excellent.
- Mm-hmm. That's exciting. I have so many good show recommendations from you.
- I know I'm enjoying this section. I don't know, we're still waiting to get the feedback from our listeners, but I'm finding a lot of things to enjoy.
- Me too. Yeah, the movie that I wanted to recommend this week is, Peanut Butter Falcon.
- Oh, yeah.
- It is so good.
- Yes.
- It's so good. It's like a really great feelgood movie. I feel, I don't know, I just feel like, you know, some movies you watch and you're just like, that was, like, perfect. That's I feel like, that's how I felt about this movie and it's different than anything I'd watched before. And it was cool too, because the main character has down syndrome and they actually cast someone with downs syndrome, which I thought was a cool choice. A good choice. And it was, yeah, it's good. I just recommend, I don't want to give spoilers. That's the hard thing about this. I was like, what else do I say?
- I actually watched that based on your recommendation and really enjoyed it. And one of the things I liked about it, like you were saying, not only did the main character have down syndrome, but I really enjoy movies and television where somebody has a disability like that and they don't make fun of it. You know, it wasn't... They weren't making fun of it. They also weren't glorifying it. It just was like, that was just a feature of the character. And it was really enjoyable. It was really fun.
- Yeah. No, I think that's a good... I hadn't like fully verbalized the way they portrayed having that disability, but I agree.
- Yeah.
- Did you ever... I thought I saw on the list that you had another--
- I do.
- Recommendation.
- I have one more. I struggled to call it a recommendation. Cause it's more like, I watched it and I mixed experienced about it. It was the... It's a mini series on Netflix called Hollywood. Have you seen it?
- Nope.
- It was really interesting. It's light and enjoyable. You can tell from my tone, from all of these recommendations. What I'm looking for personally right now, is sort of escapism because, the pandemic is just stressful for me. And so I like shows that where I can just sort of escape from it. So it fits that bill. It's about kind of, like, 1930s Hollywood, 1940s Hollywood. It's really entertaining. It's light, enjoyable, but it's unusual in that it's about... It's about this sort of film that got made that broke all of these, kind of barriers at the time where they cast, an African American in the lead, had an African American writer, had openly gay cast, but it's fictional. And so it didn't happen. And none of that happened in the 1940s. And so it's this weird feeling where you're like, this feel good thing, but then you have to like keep remembering that this didn't really happen and that it was actually a very difficult time for all of these minorities.
- It also was just sort of like... So that I thought was a very controversial choice. The other thing was, it felt like it wasn't, it was okay in it's writing quality. Like, it was still worth watching, cause it was entertaining. But I felt like the writing quality, sometimes was a little bit below . Like, some of these really amazing shows, that are out there today, are. So I think it's worth watching if you enjoy that type of thing. It had a good cast, it was entertaining, but it just like, it felt like it sort of fell flat for me, but I still wanted to mention it probably, cause it's very popular right now. And so, I thought it was worth mentioning. And also, I was curious to hear what other people thought about this. The choice of having a fictionalized thing. Cause I love those movies where somebody breaks some racial barrier or some barrier. I love that, but I like them when they're based on true stories.
- Yeah, I was gonna say that. kind of like, inspirational historical feel. That's actually a big pet peeve of mine. Like movies, they kind of trick you into feeling like that and then you're like, wait, but that didn't happen.
- Yeah.
- So, what am I supposed to be feeling about this? Like, I don't know. That's not my favorite.
- And it was unusual too cause they also, like, base it somewhat on historical figures. Like, they have Rock Hudson in the movie. Who, in the movie or in the show, he's openly gay. In real life he was rumored to be closeted. And so it's weird, like, it's just unusual to have a real life character, but it's fictionalized.
- Yeah, I suppose, like, there's some interesting choice there of like, what could have been.
- Yeah, yeah.
- sort of, I guess. Which is. Seems to be kind of like a newer... I've seen a few shows that seem to be doing that now. Like, that... What's that Amazon show? I feel like you might have been the one who recommended it to me.
- Man in the High Castle.
- The Man in the High Castle. Where it's like an alternate history. And that was kind of cool. I was like, what happened? What would have happened, if we hadn't won World War II?
- Yeah, I did see that. I thought it was so. But I actually did watch another show with an alternate history that I really did enjoy. And that was called Plot Against America. Have you seen it?
- No. I feel terrible. Like, I've just been watching Homeland nonstop and so I'm like, nope, haven't seen anything else.
- See, I'm feeling embarrassed. The opposite. I've watched so much TV. But it because I have shows I watch with my partner, shows I watch by myself and then shows I watch with my seven year old. And all three of those, don't overlap at all. So, Plot Against America, I watch with my partner. It is definitely not kid friendly. But it's the alternate history of basically what happens. And well, I guess I don't want to do spoilers, but it's an alternate history around World War II. And if we never got into World War II. But it has a lot of undertones of antisemitism. It's really fascinating. It's got really rich characters. It's a mini series. So I think it's only eight episodes. I'd recommend it. I really enjoyed it. It was intense, though. I'm Jewish, so it was particularly intense for me.
- Mm-hmm.
- But it was really well done. So that didn't bother me. But I think it's, the reverse bothers me. When you pretend like, we were better than we were at that time. That really bothers me.
- Yeah, I could see that. The Plot Against America and Hollywood, you're like not recommending basically.
- I think, I'm curious. It was enjoyable, but it was weird. So I think I'd be curious to see what other people say. Plot against America, I definitely recommend Kim's Convenience is excellent.
- Okay, cool.
- And Peanut Butter Falcon from you.
- Yes, Peanut Butter Falcon is great.
- Okay.
- So thus, we have a short episode this week.
- Yes.
- This is all we have for you. Right, in the upcoming, either, in the next couple of episodes, we gonna to do a main theme, focusing on iOS 14 rumors and iPadOS 14 rumors as well. And so stay tuned for that because WWDC is coming up fast. It's gonna be June 22nd, that's Apple's Worldwide Developers Conference. Where Apple unveils the next version of operating systems for our iPhone, iPad, Apple Watch, and potentially, probably Apple TV. So that is gonna to be an exciting event. We gonna to be, you know, featuring a lot of content on our website and through our podcast to help you all stay on top of it and be in the know. So thanks so much for joining us for another episode and I hope you're all staying safe.
- Thanks everyone. And if you're an Insider, stick around, we've got some bonus content for you.
- That's right. All right. Hello Insiders. Thank you for sticking around for our exclusive content just for members. And I have to say, I'm full of complaints this week. What about you?
- I've got a hybrid. I've been enjoying my hybrid where I have some learning and some complaints, a little bit of everything.
- Yeah, it's nice to have some learning in there so we can, like, impart some wisdom to listeners.
- Yeah.
- Instead of just complaining at you guys.
- But I'll start with the complaints so we can get that out of the way.
- Okay.
- And maybe you'll have, like, work around for this, but I've just noticed, in Apple Maps especially, but this happens in Google Maps sometimes too. Is that, if I'm, like, in a new city and I'm searching for a specific chain store, like, for instance, I was in Florida over the winter and I kept on searching for Trader Joe's. And it wouldn't necessarily, like, often times would not bring up the closest Trader Joe's to me.
- Mm-hmm.
- Like, you'll search and it'll tell you one that's far away when there's one that's, like, 10 minute drive from you. And I guess just in general I've noticed like searching for a store name. Like, it'll sometimes even randomly show me one, like, we live five hours from Chicago and it'll like show me one in Chicago, or is at, like, across the country instead of finding ones that are nearest to you. And that just seems so bad. Especially, I've noticed it since getting CarPlay, cause it's harder to like do the digging to get to what you're looking for. So if you're just looking for nearby stuff and it doesn't tell you what's actually nearby, that gets very frustrating.
- Yeah, no, I definitely have that same problem. I don't have a solution per se. I have a little bit of a workaround of what I do, which is I just check it in a few locations. So I agree with you. I think Apple is particularly bad at it, so I tend to also check it in Google Maps and also a lot of times I'll just Google it. Somehow, If I Google it, I find even better things in Google Maps sometimes. So I tend to check like two or three places. But it is really frustrating when you ended up, it taking you to like a totally wrong thing.
- Yeah, I think that's what ended up working for me the best is I, like, opened up Safari and Googled, Trader Joe's near me.
- Yeah but it's so silly.
- And then I found... And that got me better results, than, like, looking in the Maps app. But that seems, I guess it comes down to like search functions. We talked about this last episode, how Apple just improved its Messages' search and now, like, that works really well, but you don't want to use Messages' search on your Mac. I guess, like, navigation apps don't have that good of search.
- I think that in particular you're pinpointing a deficiency in Apple, where Google is of course really great at searching and it's not always perfect, but I think they consistently outperform Apple, both, you know, for example, another area where search I think is really bad for Apple is in the Mail app. It's terrible.
- Terrible
- Where searching in Gmail is great.
- Yeah
- And I literally have the Gmail app on my phone explicitly to search. So I use it, I open it up whenever I need to search anything in my Gmail, otherwise I'll use the Mail app.
- But yeah, like Google Maps definitely still has big issues with finding like for instance, restaurants along my route.
- Yeah.
- I mean.
- Along the route is bad.
- Apple maps is worse, is way worse.
- Yeah, yeah.
- But Google Maps is surprisingly bad too.
- Yeah, I think you're right. I have another, you reminded me of another Apple Maps complaint that just drives me nuts. Apple will, I don't know, I'll be curious if this happens to you. Apple will seems like it will change my route sometimes. So we live in Iowa, where in general, Apple maps and Google Maps doesn't always do a great job finding you the best route because sometimes it takes you what seems to be a shorter route, but it's taking you on a back road and back roads in Iowa sometimes, like, aren't even paved. Like, it'll get a lot slower. So I'm very particular with selecting my map, my route and Apple maps in particular. If I go to Des Moines, there's like a much faster way of going, but Apple will go and change my route without me noticing even though I've already selected a different route and I don't know why that happens to me and it really drives me nuts. Does that ever happen to you?
- I have not noticed that happen actually. I'll have to pay closer attention though. I mean, I definitely haven't had the experience of like randomly being taken onto like a gravel road or something, I was just thinking for people listening in cities, they're like probably like, are they Amish?
- Yeah. well.
- They don't have big roads,
- I think that part of the problem, is Apple of course is in San Francisco and this is just not a problem you would have in San Francisco. But like for us, two routes that on a map seemingly look like equal distance can be really wildly different.
- Yes, this is definitely true. There's definitely the good route and the bad route a lot of times. So switching it up on you is not cool.
- Yeah, okay. Now for my actual complaint and learning. So, it's actually related to my Sling TV subscription. Apple has added this functionality, which, this is the good part of it. Which is you, in your settings, you can put in who your cable subscriber is and then you can... It'll automatically log you in to any app that requires a cable subscription. So, for example, if put in Sling TV, I log in in my settings and then I download ESPN or I download a history channel or whatever and it'll automatically log me in and give me access to that content because I have a paid subscription. So that was new for me because when I was a cable subscriber, that was not the case. I'd always have to go to, like, espn.com/activate and like, type in that code and do all that. You know what I mean?
- Yeah, which sucks.
- Yeah, and so, that was a really nice learning. The thing that's driving me nuts, though, is, Apple is not syncing that across all of my devices for some reason. And so I have two Apple TVs in my home. I have an iPad and I have an iPhone and I watch on all of those devices. And I handy go into each one and go into settings and set this up a one by one, whereas, it should have just synced across all of them.
- Yeah, that's a weird.
- Yeah, And I don't--
- I wonder why.
- I don't know why. It was really frustrating. So that was both a way to go. Apple having one login for cable subscribers and also, why are you not syncing that?
- Yeah, that seems very strange. You'd think as long as you were logged in with the same Apple ID, it'll sync--
- yeah, and I am.
- Like all the other Apple services are, yeah.
- Yeah.
- David, you're sure you don't have, like, multiple Apple IDs. How ironic, how hypocritical would it have be?
- wouldn't that be funny?
- My partner and I, share two different Apple ID. Like, dude, this is the biggest thing that David will be like, to tell people to never do.
- Yeah.
- No, I'm very sure.
- Yeah, okay, good. Yeah, if you find a solution, you'll have to let Insiders know.
- Yeah, I won't find a solution to this because I've now systematically logged into every single device I have. So if there was something I was doing wrong, I'll just never know.
- All right. Well, this wraps up our 136th episode of the iPhone Life Podcast. I know-- I know. I remember episode one--
- Yeah, those were the days.
- Back in the day.
- Yeah, I really do, though. And we were all nervous about like, ever messing up, that we thought we had to start over from beginning.
- Yeah.
- Now we just mess up all the time and don't care.
- Yeah, we don't even care.
- But also, always do this thing, where we'd start giggling in the beginning of each episode and have to start over. We don't giggle anymore. No. For better or worse.
- Yeah. Oh, man.
- Or if we do, we just leave it in.
- Yeah. Well, anyways, thanks for listening everybody, and for, you know, supporting and listening to our podcast all these years now.
- Yeah.
- And we'll be back in a couple of weeks to tell you more about the upcoming exciting Apple events and news.
- Thanks so much, Insiders.
- Bye.
- Bye.