Turn on Speaker on your iPhone to talk hands-free, include a third person on a conversation, or wait on hold without having to hold your phone.
By

Elisabeth Garry
Updated 08/17/2021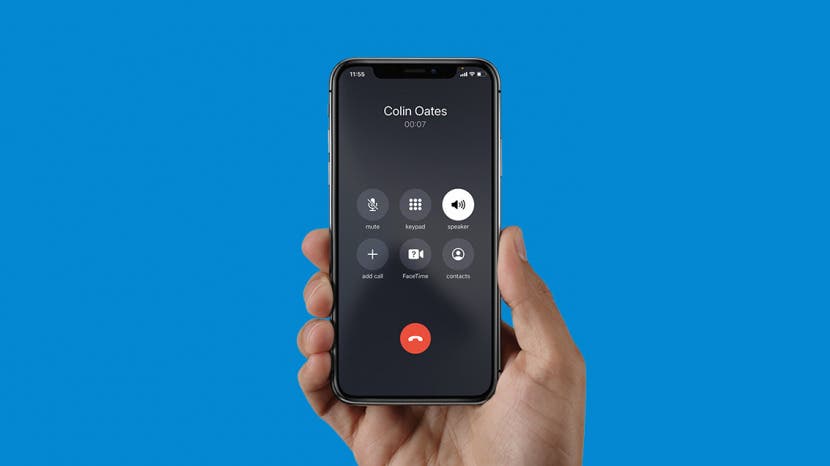 Using speakerphone on your iPhone is a great way to talk hands-free, multitask while you're on hold, or include a third person in a phone conversation. Putting your iPhone on speakerphone is also extremely easy! We'll show you how to make a call on speaker phone, and answer a call on speaker phone.
Related: How to Know If Someone Blocked Your Number on iPhone
How to Make a Call Using Speakerphone
When you make a call, you'll be able to select speakerphone after you've placed the call, and either before or after the recipient picks up the phone. To learn more about different ways to use your phone, sign up for our Tip of the Day newsletter.
Here's how to use speakerphone on an iPhone while making a call:
Open the Phone app.


 
Dial a number straight from the Keypad, or find who you'd like to call from Favorites, Recents, Contacts, or Voicemail.


 
Tap the Phone icon to dial.


 
Tap Speaker.


How to Answer a Call with Speakerphone
The steps to use speakerphone on an incoming call are even simpler. Here's how to enable speakerphone on an iPhone for an incoming call:
Swipe to the right or tap the green Accept button to answer your phone, depending on which option is available when the call comes in.


 
Tap Speaker.


Now you're on speakerphone! Keep in mind that speakerphone allows the person on the other end of the phone to hear what's going on around you as well, so excess ambient noise or chatter will be included on the call, along with any comments made by people sitting near you.