By

Daniel Rasmus
Wed, 04/22/2015
There is nothing like the post-Consumer Electronics Show fulfillment of promise, as things that were just demos in January start to ship. I spent the last month reviewing a wide variety of headphones, earbuds, and other audio devices. Here are my thoughts on a dozen ways to bring audio into your life, categorized by type: mono earbuds, stereo earbuds, on-the-ear headphones and over-the-ear headphones.
As a general comment, all of the fancier headphones with hidden features need bigger type and better instructions. Many of these came in way too much packaging that was often not labeled for recycling. Kudos to Velodyne for simplicity of design leading to a simple card that told you all you needed to know and to Plantronics for packaging the Voyager Edge in a simple brown cardboard box.
Note: star ratings are within categories, not across them (i.e., 4 stars on earbuds is not the same as 4 stars on a high-end over-the-ear product).
Mono: Single-ear
Tough-tested Driver ($39.99)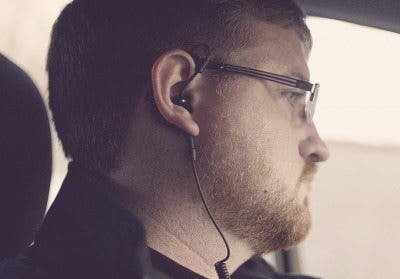 This isn't really a headphone, but you can listen to music on it. I include it here as an example of an alternative to Bluetooth headsets. You want one of these as a travel companion if you own or rent cars without Bluetooth. This headset is rugged and ready to hang out in the car driven by even the most teenage of teenage boys. Best with memory foam eartip.
Pros: Solid construction and good mono sound.
Cons: Really none, as it does what it is designed to do very well.
Plantronics Voyager Edge UC ($199.95)
4 out of 5 stars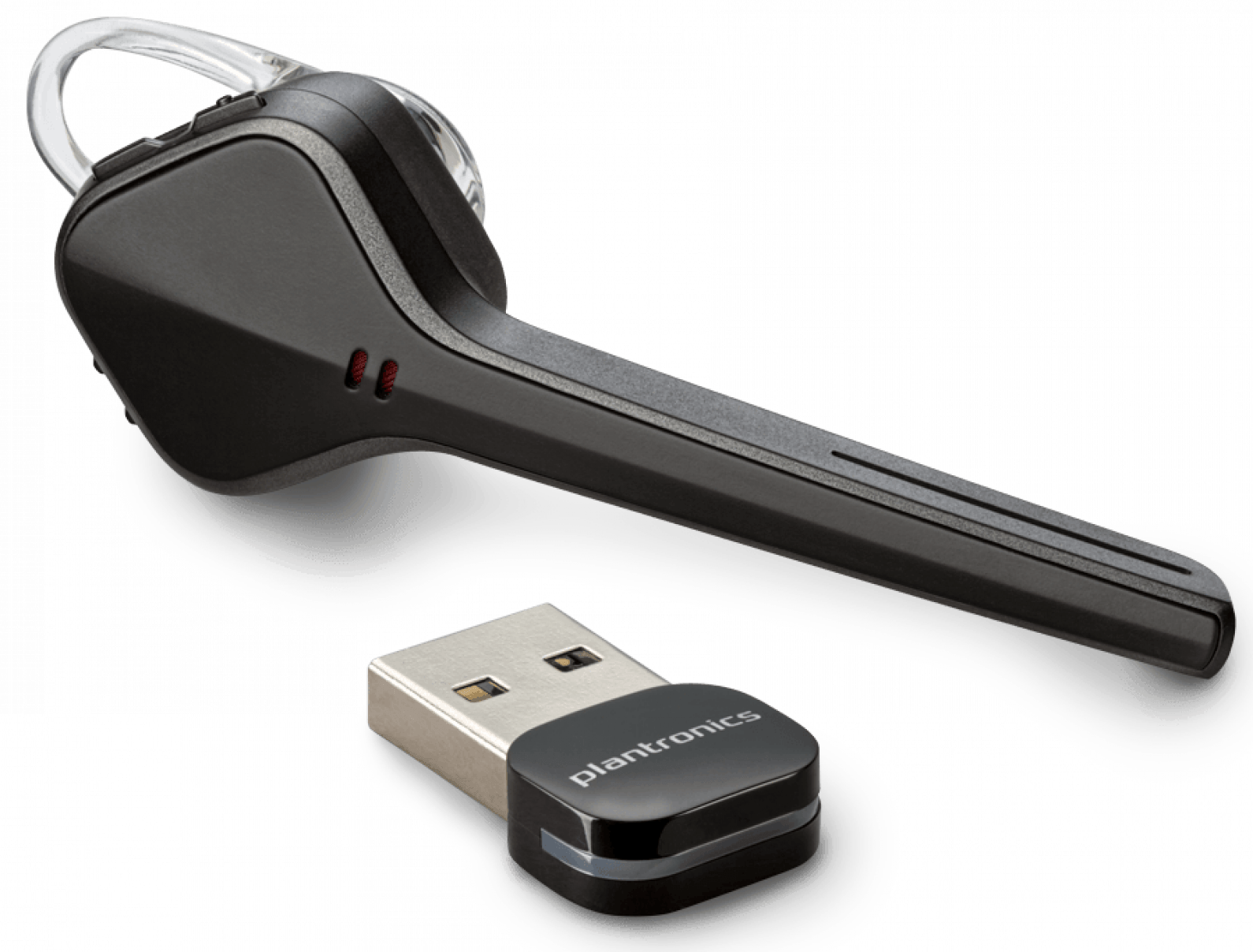 If you do want a Bluetooth headset, you might as well get a good one. The Voyager Edge UC isn't just meant for talking on your phone, but also for talking on the computer. This headset can be controlled via apps on iOS or OS X, and used for Unified Communications via Microsoft Lync, Skype and other UC clients. The Voyager Edge ships with a special, pre-paired USB Bluetooth adapter for PC or Mac, which is designed to make pairing easier, and to improve performance. I had some issues with getting sound to the headset until I selected the option to auto-detect sound. Now I can easily switch between this headset and other options. Comes with its own carrying case/charger that also has a battery for charging while on the road. Sleek with a Sci-Fi vibe.
Pros: Multi-device connection. Great for looking professional while on a VoIP call.
Cons: Sound is subpar for anything but voice, despite "HD" mode.
Earbuds
Tough-tested Marine ($79.99)
3 out of 5 stars
If you spend time at sea, plan to go fishing, or regularly off-road on a bike or other open vehicle, these may well be the headphones for you. Very good sound, with yellow and black styling to riff on their toughness. The package includes a variety of ear inserts including memory foam. IP67 rated for water and dust. Also rates at 26 decibels of noise reduction, so the outboard engine is less likely to leave you with ringing ears when wearing these.
Pros: Solid sound in a no-guesses design. The big controller makes it easy to figure out volume and call answering. The bigger module also makes for a better microphone.
Cons: These are compact, but not as compact as others. Nothing subtle. These aren't the headphones for  someone who wants to hide...but if you're surfing, you;re not really hiding, are you?  No case. Prone to tangles at headphone end (not audio jack end, which includes a coiled cord.) Package requires tools to open and isn't labeled for recycling.
Etymotic Isolator mk5 Earphones ($59)
2 out of 5 stars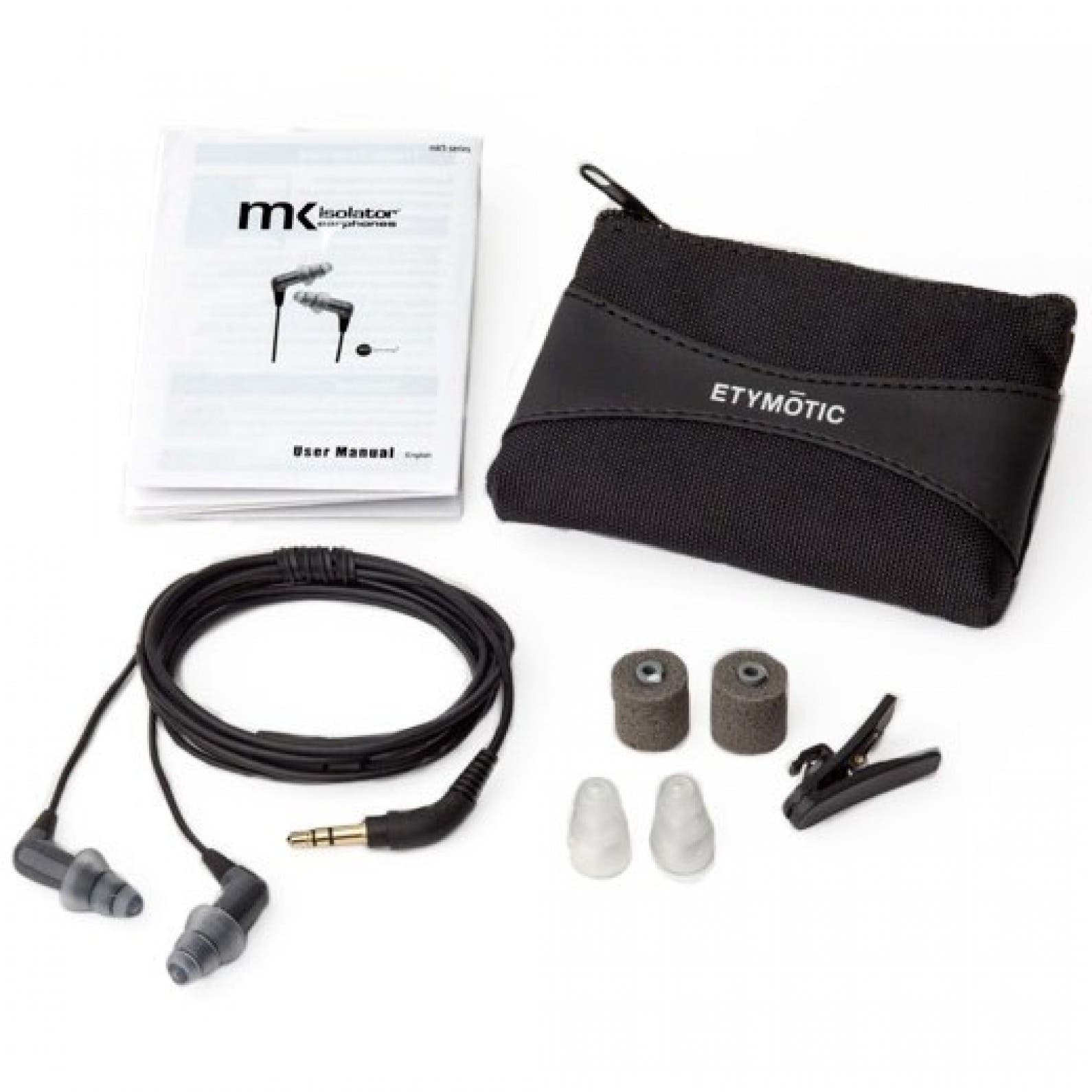 These are the least expensive of the headphones in this review, and overall they feel like the least expensive. But that isn't necessarily a bad thing. Etymotic didn't over engineer these headphones, it just made some good headphones aimed at noise reduction. Unfortunately, the headphones have poor bass performance.
Pros: Compact and inexpensive. Good sound isolation. Includes a case.
Cons:  More treble than bass. No audio controls or microphone.
Moshi Keramo ($119.95)
4 out of 5 stars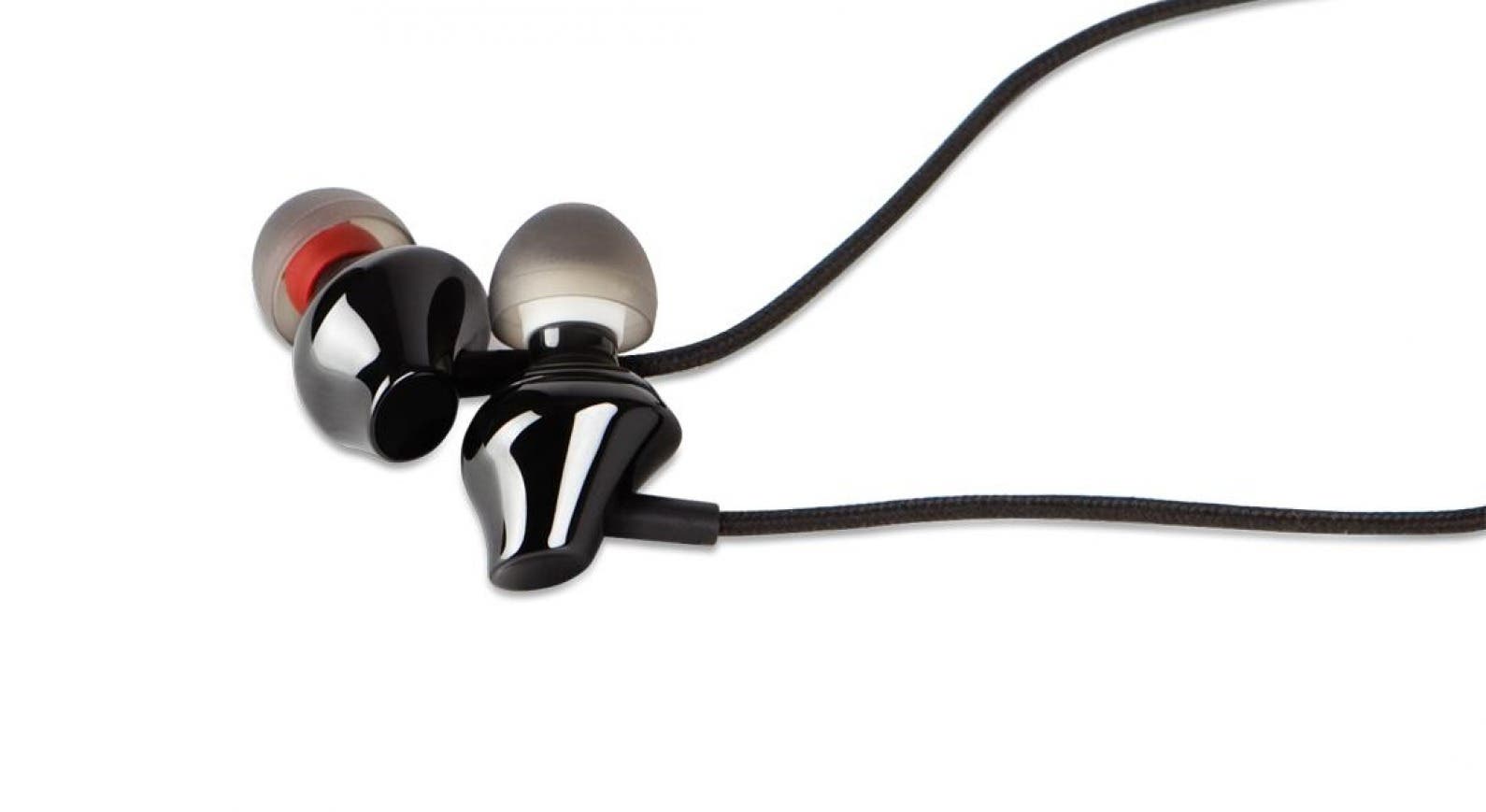 Classy and shinny. These are earbuds built  for adults. The ceramic construction makes them heavier, but also gives them a generally more substantial feel. The ceramic housing seems to add to the Keramo's mellow tones. The fabric cord also feels richer. These earbuds really are best used in combination with Miles Davis and single malt scotch. Custom case, wide variety of silicon tips, built-in microphone and phone answering button on cable. Unique burn in app to get the drivers moving.
Pros: Beautiful and solid construction. Great sound. Made for adults.
Cons: A bit heavier than other earbuds.
Soul Run Free Pro ($129)
As a science fiction fan, the single audio headsets like the Plantronics Voyager Edge should be my indicator that the future is here, but I think these stereo headsets feel more futuristic. The two-toned design and reasonable "ear locking" system look fashion forward. They sound great, due to Bluetooth v 4.0 connectivity, which also helps manage battery life on a device you would be hard pressed to figure out where they put the battery (the eight-hour playtime battery). Water resistant. Includes a case and additional ear tips.
Pros: Great sound. Styled for the now and the tomorrow. 
Cons: In this class, with this tech, there aren't any.
SMS BioSport ($149.99)
4 out of 5 stars
Good sound and stylish look. IPX4 rated for sweat and water. Running and squirt guns are OK, snorkeling, not so much. The real gem here is the built-in heart monitor that draws power from the connection. It took me a while to figure out how to get it to work, but once I did, it consistently reported my heart rate while walking and, well, while walking. It uses Intel-based technology to shine a light through your skin to detect your pulse. Also includes microphone and audio controls. Nice case for headphones and extra inserts.
Pros: Built-in Heart monitor with no extra power requirements.
Cons: Heart monitor only works with RunKeeper app. Needs better instructions for turning on monitor awareness in app. Flat cable not as tangle free as you might like.
On-the-ear
A-Audio Lyric ($199)
4 out of 5 stars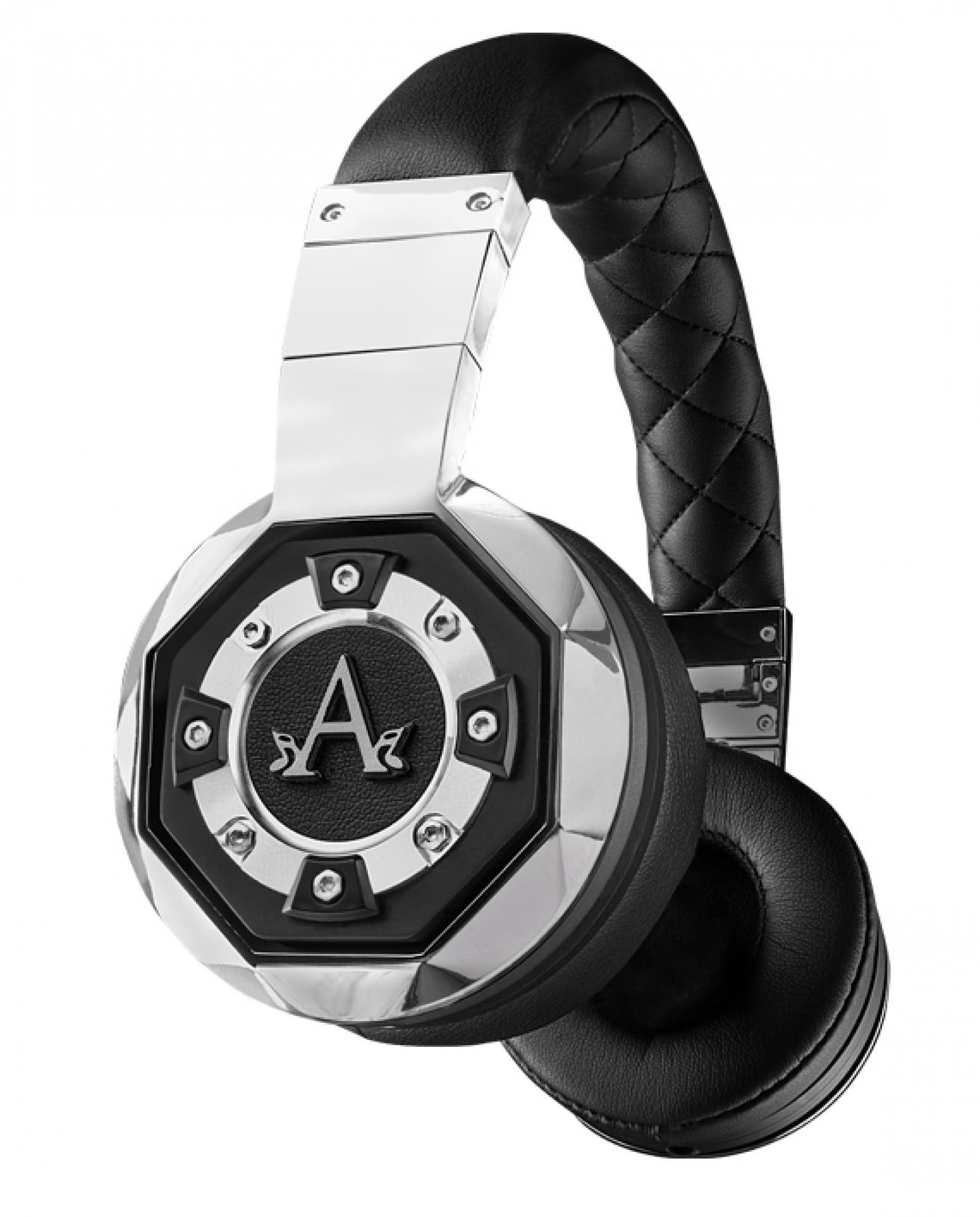 These on-the-ear headphones sound really good, especially if you like bass. They are smaller and lighter to the wireless Icons below, and more compact, but with the same sharp styling and actual sharp edges. Supports daisy chaining, which is a cool feature for the backseat of a car or on an airplane. Audio cable can be plugged in to either earcup. Comes with two audio cables and a nice black case.
Pros: Less expensive than their Bluetooth cousins and just as urban chic. 
Cons: Same design issues as Icon (see below).
Over-ear
Kingston HyperX Cloud II ($149.99)

These are gamer headphones. And they are fun. I feel like I should be talking to Han as we battle Tie Fighters (oh, I guess I can do that if I download the right game). The removable microphone can be subject to misplacement, but it makes for a more balanced feel to remove it when switching to music from game play or video conferencing. The HyperX Cloud II runs just fine as a big pair of cans for an iPhone or iPad, but the box also includes a USB connection with USB powered audio processor on the cable, this boots into simulated Surround 7.1 with a flick of a button. Unlike some unwieldy gamer headsets with cables all about, this one is sleek. The USB terminates at the controller and a simple insertion of the audio jack is all that is required. Unplug from the audio controller and place into an iPhone, iPod or iPad and you have mobility. Great sound, but optimized more for the interface with their USB sound feature than for mobile devices. Carrying bag for extra ear cups and adapters. 
Pros: A perfect mix of PC/Mac and mobile. The sound is great and the design cool.
Cons: Big and they don't fold down to get smaller.
(Note, because the Kingston HyperX controller can connect to any headphone, I tested it with a few, including the A-Audio and Blue Microphone, and both sound pretty good coming through the Kingston card.)
Velodyne vQuiet Over-Ear Noise Cancelling Headphones ($299.99)
4 out of 5 stars
Of all the headphones in this review, this is the set that is going on the plane with me in a couple of weeks. The active noise canceling, while not the best feature for audio enhancement, works really well to take out background noise. A bit of a buzz emanates when nothing is playing, but I can't wait to not hear the engine rumble on my next flight. Compared to the Mo-Fi, which arguably has better drivers, and the A-Audio Icon, which has good sound and more stuff, these are nearly as good at audio reproduction at a fraction of the complexity of control or the complexity of design. They're rechargeable so you don't have to carry extra batteries. Basic pouch for storage and travel.
Pros: Simple and elegant. Rechargeable.
Cons: Ear cups could be a bit bigger. And for such nice headphones, I wish they came in with a better carrying bag.
Blue Mo-Fi Powered High-Fidelity Headphones ($349.98)
4 out of 5 stars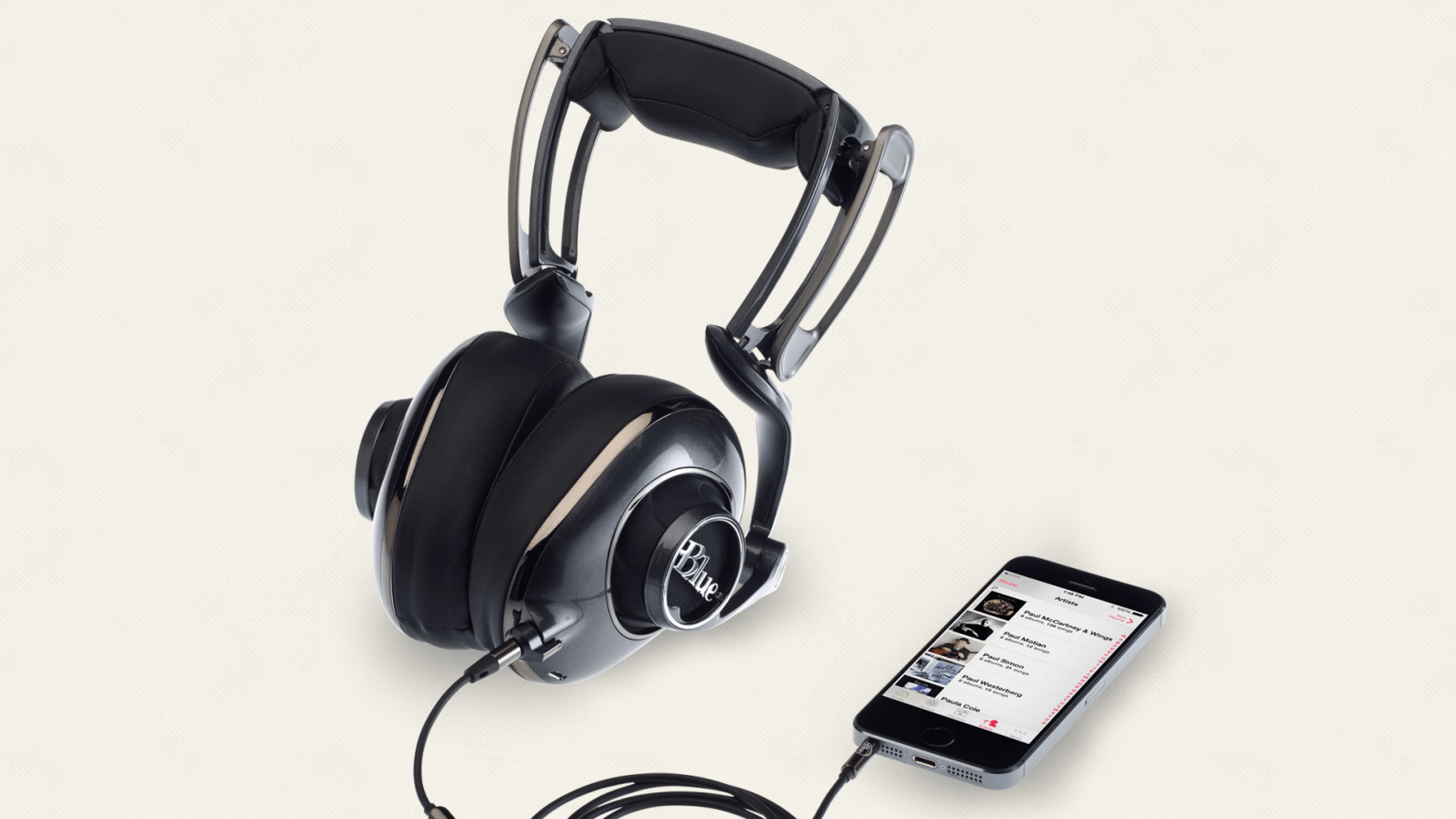 It isn't just the price that puts this pair of headphones into the next level. Blue Microphone has crafted an innovative set of headphones designed for audiophiles. This is their first foray into headphones and it is generally successful. The 50 mm drivers are outstanding. They produce a richness of sound not able to be matched on lesser sets. They are also designed with race cars and the human ears in mind, and I mean that from how they look and work, not how they sound. Sleek curves and mechanics designed for comfort. That said, the unique head adjustment takes some getting used to, and they are heavy compared to every other headphone in this, or most other, reviews I have done (the are comparable to the Logitech UE 9000 Bluetooth set from a couple of years ago). They are so innovative looking, and have such great sound, that its hard to complain about them. The Mo-Fi's support passive noise cancelation, not active, but the built-in amp makes the sound so intimate, and the ear cups do such a good job of masking out any ambient noise, that the listening experience ends up being superb. They feel old school while being really new school. Weight and design are more for home or office use that being ready to cart off on a trip.
Pros: Beautiful design, great sound with innovative, functional technology on multiple levels. The built-in amplifier may be a game changer in mobile audio headsets. Rechargeable.
Cons: A bit heavy and the head adjustment gizmo takes some getting used to.
A-Audio Icon ($379)
3 out of 5 stars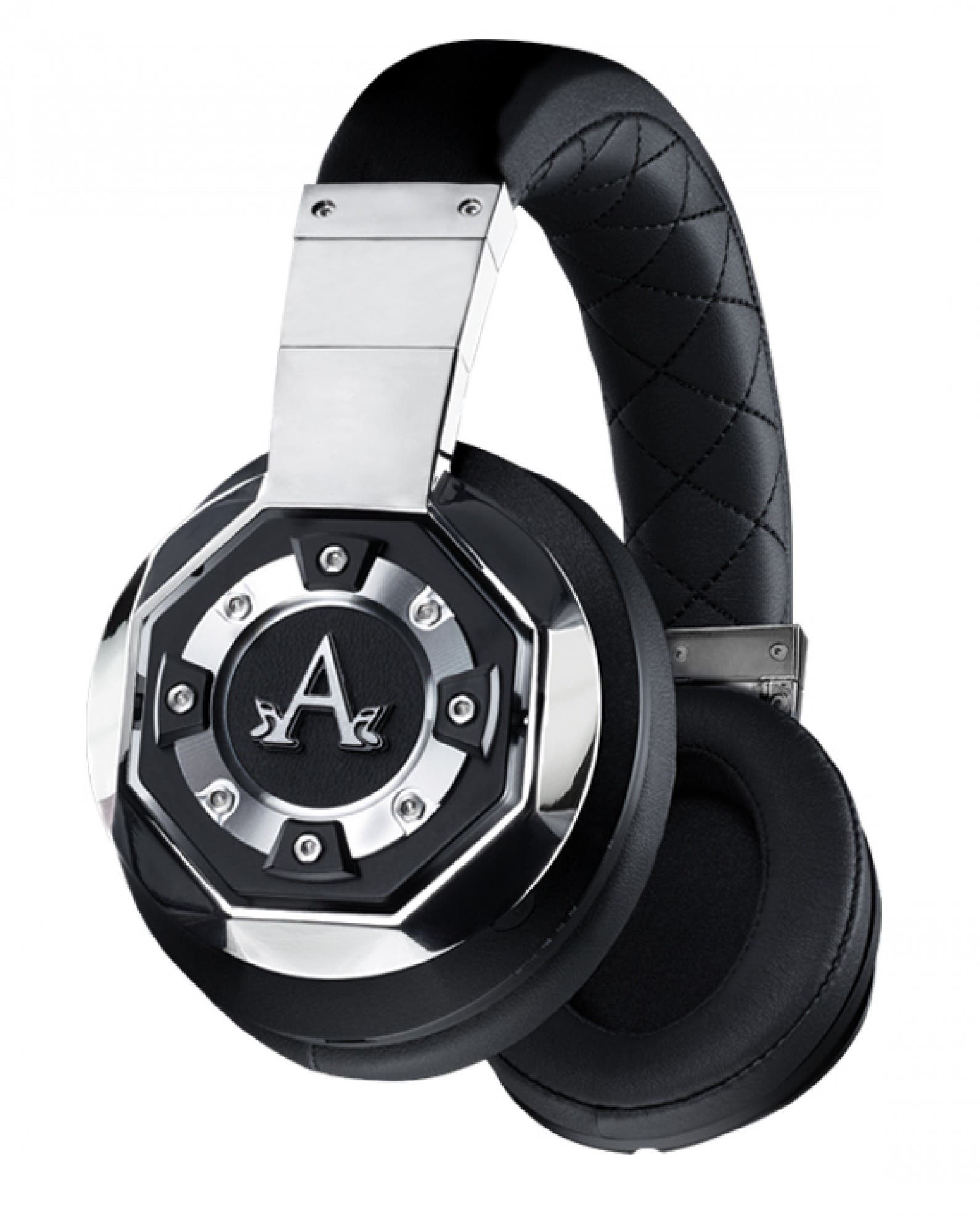 These are the most expensive headphones in this review, but they aren't the most refined.The Mo-Fi headphones equal or better the audio, and at least for me, they over blinged these cans. That is a completely subjective comment. The A-Audio headphones look more urban, more hip, but unfortunately under the chrome platting are some literally sharp edges. I could run the Mo-Fi's across a sweater and nothing much would snag. That can't be said for the A-Audio from the sharp edges of band where the headphone's hinges turn for storage. The ornate logo which also doubles-duty as the control center on the right ear cup also sports sharp edges. I've worked in metal shops, and these aren't rough or unfinished, just sharp. And that is how subjective analysis gets in the way of some pretty great sounding headphones. On the hardware front, A-Audio includes everything, even an external charging battery. Once you are listening, they want to make sure you keep listening. These headphones can be used in plug-in mode without electronics, they can be run as active noise canceling, and they can be base enhanced. the Sound is great and I know they are trying to distinguish themselves in a crowded market, but they should be able to keep their blinged-out design without poking owners with unnecessarily sharp details.
Pros: Sleek urban design and great sound.
Cons: Sharp edges on logos, button, headphone. Noise canceling not available when wired.
Test Comparisons for Stereo Earbuds and Headpones
| | | | | | |
| --- | --- | --- | --- | --- | --- |
| Product | Low Frequency | Treble Extension | Dynamic Range | Wiring | Binaural Test |
| A-Audio Icon | 10 Hz | 14 kHz | -66 dB | Clear L/R | Good. Much better wired that through Bluetooth. |
| | 10 Hz | 15 kHz | -72 dB | Clear L/R | Outstanding. You can actually hear "wood" moving on the knock test. |
| Etymotic Isolator mk5 Earphones | 50 Hz  | 14 kHz | -60 dB | Clear L/R | Good |
| Kingston HyperX Cloud II | 10 Hz | 15 kHz | -66 dB | Clear L/R | Outstanding |
| Moshi Keramo | 30 Hz | 14 kHz | -60 dB | Clear L/R | Good |
| SMS BioSport | 30 Hz | 14 kHz | -60 dB | Clear L/R | Good |
| Soul Run Free Pro | 10 Hz | 17 kHz | -66 dB | Clear L/R | Good. A bit of hiss. |
| Tough-tested Marine | 20 Hz | 15 kHz | -66 dB | Clear L/R | Good |
| | 10 Hz | 14K | -72 dB | Clear L/R | Very Good. |