By

Leanne Hays
Updated 01/07/2019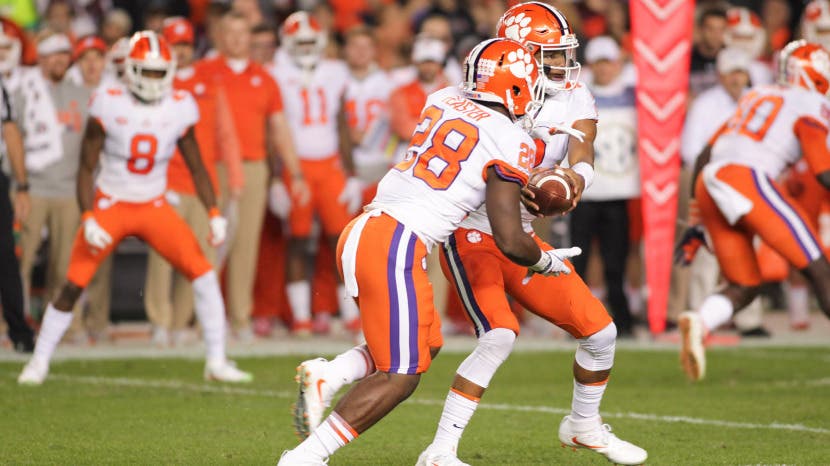 College football fans watch their favorite teams all season long in the hopes they'll make it to one of the dozens of bowl games in December and January. NCAA football fans enjoy three final games before the end of the NCAA football season ends with the CFP Final. This year college ball fans can look forward to the Clemson Tigers facing off against the Alabama Crimson Tide, and you can watch the ESPN live stream, without cable, on Apple TV. Let's go through your different options for streaming the College Football Playoff National Championship on Apple TV. We'll discuss how to watch NCAA games on your Apple TV through a variety of methods including streaming TV options, and even packages and perks offered by your cell phone provider. Let's get started learning how to watch college football on your Apple TV ahead of the big game!   
Related: How to Watch the NFL Games without Cable on Apple TV & Online 
Apple TV & College Football: Watching NCAA Football Without Cable
If you've cut cable out of your budget, you already know that it's a bit complicated to watch all the college football you'd like to online. With so many NCAA conferences and teams granting broadcasting rights to such a wide array of conference-owned channels, regional, and national broadcasters, it can be difficult to find the one method to rule them all when it comes to streaming college football. 
Fortunately, both the College Football Semifinals and College Football Playoff National Championship are broadcast by ESPN. Now we can rein in the scope of this article by focusing on which streaming options include ESPN, and there are quite a few!
Stream College Football With Sling TV 
Compatibility: fourth and fifth-generation Apple TV
Cost: Sling TV Orange Plan, $25 per month
Pros: Seven-day free trial period with no commitment. 
Con: Sling Orange can only be viewed on one device at a time.

Sling TV is an a la carte, streaming tv service that allows viewers to pay far less than a cable subscription would cost. Customers can choose Sling Orange, Sling Blue, or both. Sling Orange is the way to go for streaming the semifinals and playoff, as this option includes ESPN. Sling offers a seven-day free trial, and I'd suggest signing up in advance of the semifinals so you can make sure you're satisfied with the streaming quality. Chances are if you've been using your Apple TV with services like Netflix and Amazon your internet connection will be fast enough to handle Sling, but it's always nice to make sure you have a grip on a new app or service before a big game, especially if you're inviting friends over! As an added bonus, Sling offers a Cloud DVR option for $5 a month.  This way you can record the games and watch them later if you have work or family plans to accommodate. 
Here are step-by-step instructions to help you find and install the Sling TV app on your Apple TV. 
NCAA Football Streaming With DirecTV Now 
Compatibility: fourth and fifth-generation Apple TV  
Cost: $40 per month
Pros: Seven-day free trial period. Streaming included for AT+T Wireless Customers.
Cons: Pricier than Sling TV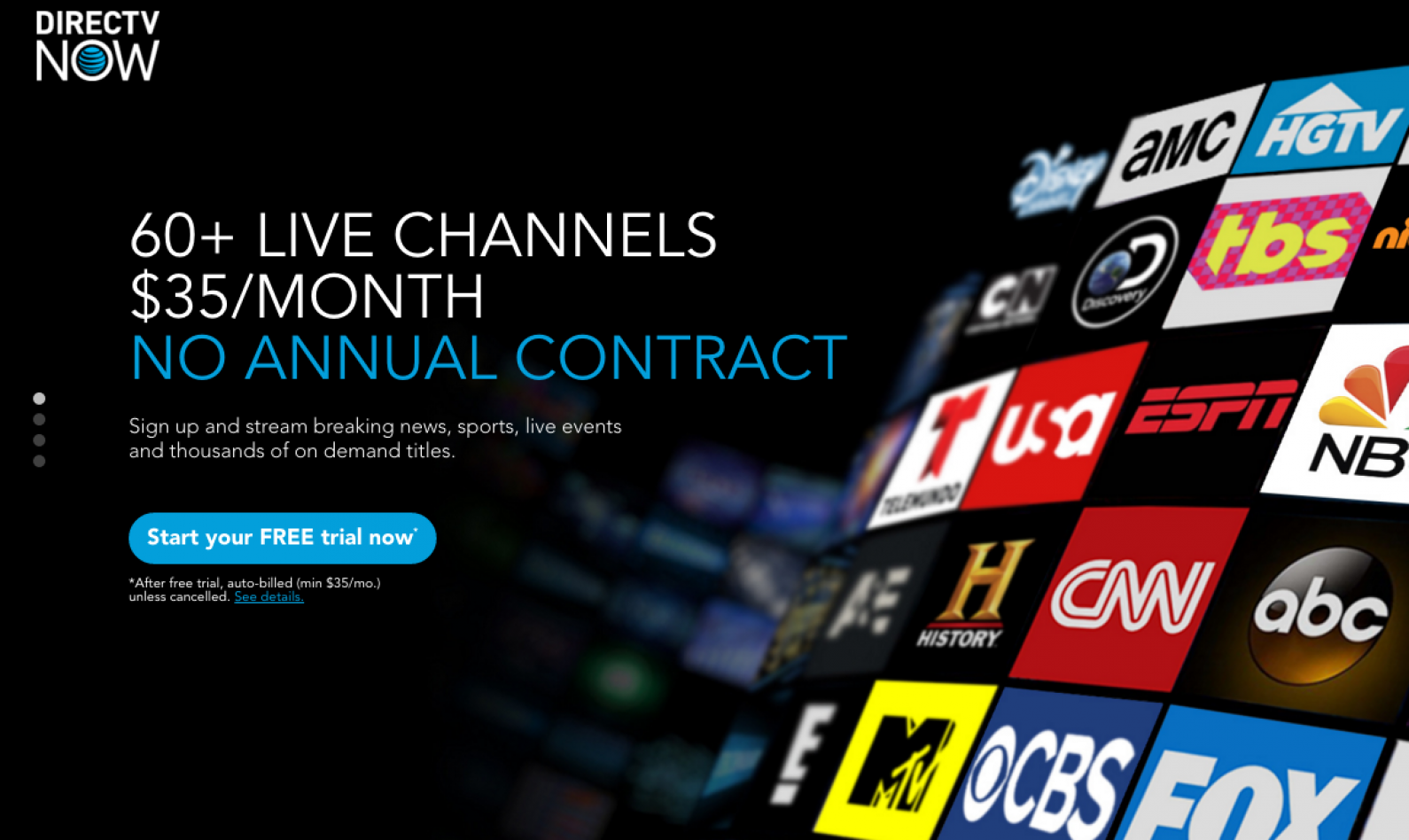 DirecTV Now is DirecTV's streaming offering, and their lowest cost plan includes ESPN, which means you'll be able to watch the big game! Like Sling TV, DirecTV Now offers a free, seven-day trial, but if you decide to keep your subscription, you'll be paying $40 per month. This rings in at $15 more a month than Sling, but then again you are getting more content, with more than double the channels offered by Sling Orange. DirecTV Now also offers simultaneous streaming on two devices, so if you're in the living room watching the playoffs on your Apple TV, football averse family members can still enjoy their movies and shows as well.
Here's a tutorial on how to set up DirecTV Now on your Apple TV.
Stream College Football on Apple TV with PlayStation Vue
Compatibility: fourth and fifth-generation Apple TV running tvOS 11.0 and up.
Cost: Five-day free trial, then $44.99 per month.
Pros: Stream on up to five devices at once. 
Cons: Some channels are restricted outside of your home network, not all games are available to view on your iPhone.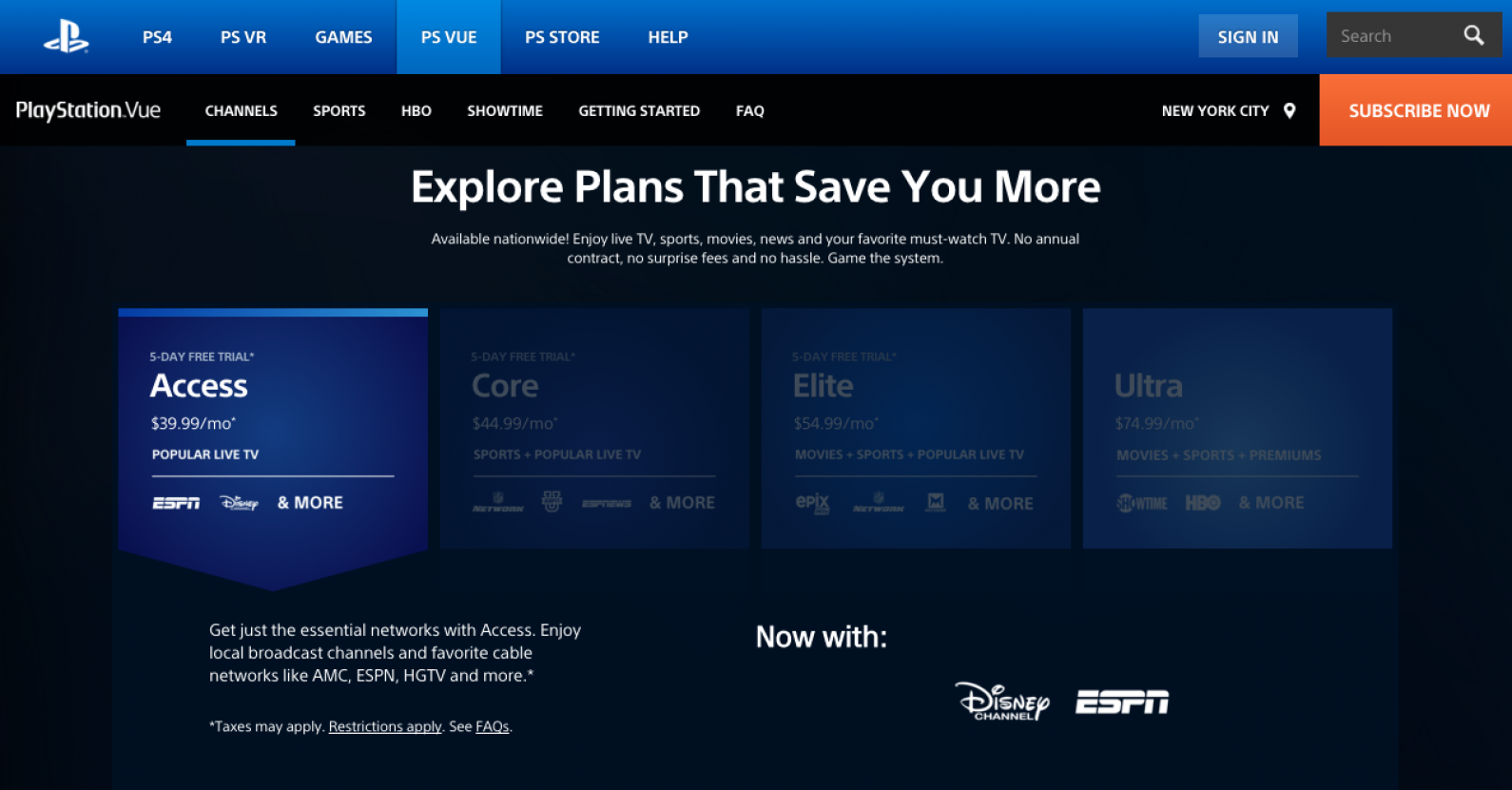 You don't need a PlayStation to subscribe to PlayStation Vue, a live-streaming TV service that includes cloud DVR and the ability to stream on five devices at once. The least expensive package, Access, includes ESPN and rings in at $44.99 a month. 
Click here to learn all about setting up PlayStation Vue on your Apple TV.
Watch College Football with Hulu Live on your Apple TV
Compatibility: fourth and fifth-generation Apple TV
Cost: seven-day free trial, then $39.99 a month
Pros: watch on two devices at once
Cons: Local sports subject to regional restrictions and blackouts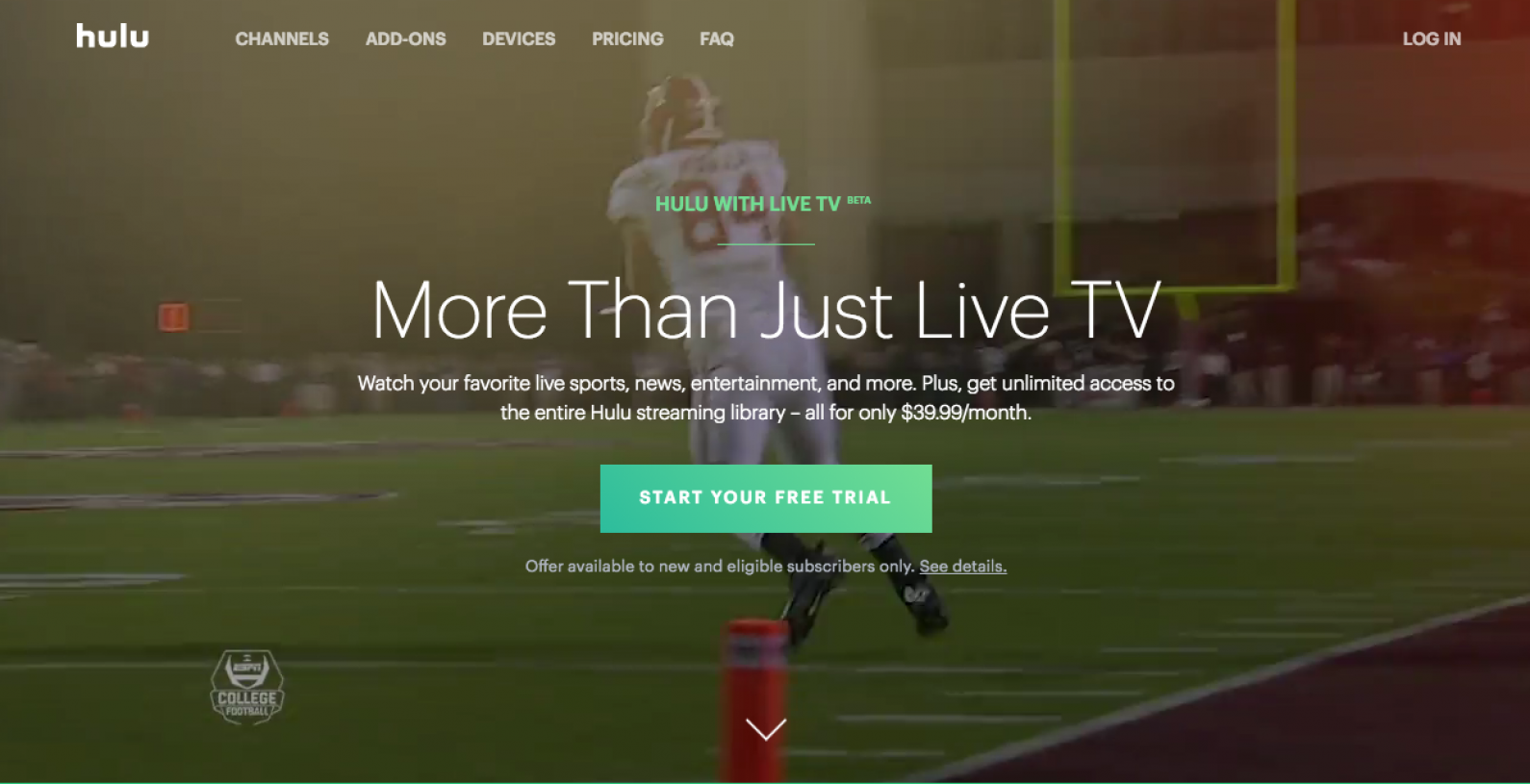 Hulu makes the jump and joins the live-streaming tv game with their Hulu Live offering, which includes access to the entire Hulu streaming library.
NCAA Football Finals on YouTube TV 
Compatibility: Apple TV fourth and fifth-generation
Cost: $40 a month
Pros: No contract, up to six accounts per household.
Cons: Not available nationwide.
YouTube TV launched in 2017, and with 40+ channels, including ESPN, it's another great option for college football fans. The tv streaming service includes cloud DVR with no storage limits so you can save your favorite shows and movies for later viewing at no extra cost. Unfortunately, it isn't available countrywide yet, as I learned when I typed in my Iowa zip code.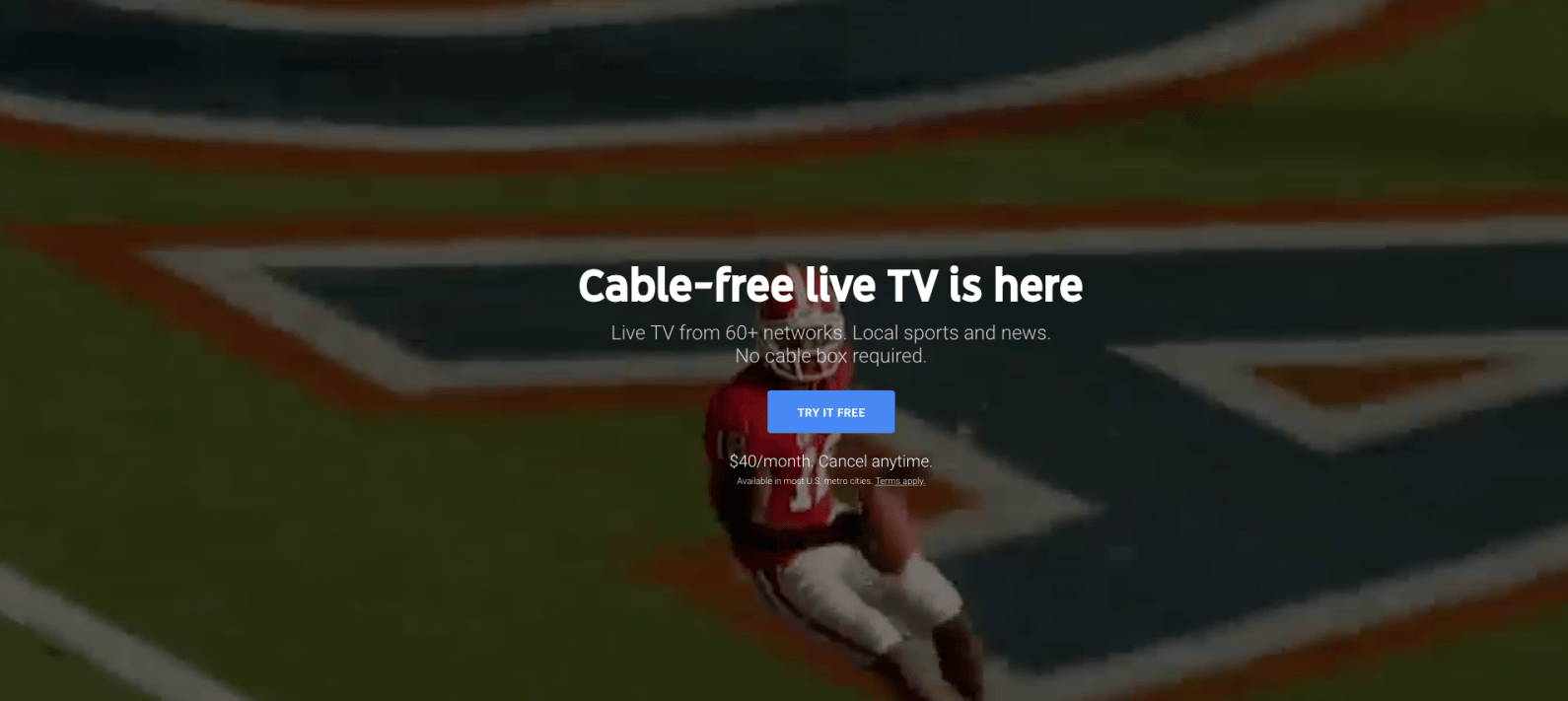 College Football Finals on the ESPN+ App 
Compatibility: Apple TV fourth and fifth-generation
Cost: seven-day free trial, then $4.99 a month
Pros: Up to five simultaneous streams
Cons: Blackout rules apply

The ESPN+ app is finally here, complete with college football offerings! The price is amazingly affordable and comes with the abilities to pause and rewind live games if you missed something, as well as on-demand replays of selected events.
Free College Football Live Stream from Your Cellphone Provider
It's worth checking in with your cell phone provider to see if they offer a package that streams ESPN games to your iPhone, which you can then push to your Apple TV with AirPlay. As mentioned earlier, AT+T has consolidated with DirecTV, so your streaming from DirecTV Now is included in your data plan. Sprint, T-Mobile, and Verizon also offer an ESPN and college football package, and there are various add-ons available like T-Mobile's Binge-On, which includes unlimited data overages for multiple popular networks including ESPN. 
I hope you've found at least one method for live streaming the NCAA Semifinals and National Championship games to your Apple TV that works well for you. May you have good snacks, great beer, and a Happy New Year! ​