Got a new Apple TV? Learn how to install Apple TV to enjoy on your television in a few simple steps!
By

Olena Kagui
Updated 06/30/2022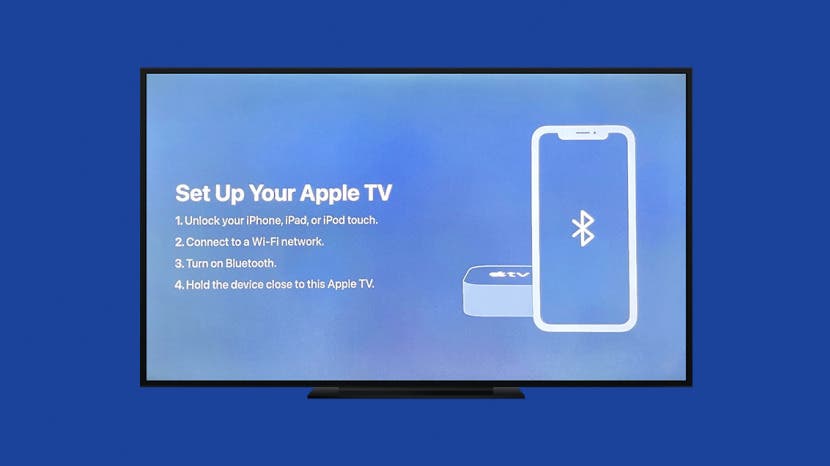 Are you wondering how to connect Apple TV to your TV? Apple TV setup is easier than it seems, and I'll walk you through the steps. You can follow these instructions regardless of your Apple TV model. Let's dive in!
Related: Watch Free Movies & TV: 7 Best Free Movie Apps for Your iPhone, iPad, Apple TV & Mac
Jump To:
What You Need to Set Up Apple TV
A 4K or high-definition TV with HDMI.
An HDMI cable.
Access to Wi-Fi or an Ethernet network and broadband internet.
An Apple ID.
Pro Tip: When you buy an Apple TV, it will not come with an HDMI cable. You will have the option to purchase one directly from Apple, however, you can use any functional HDMI cable for this. To learn more about your Apple TV, sign up for our free Tip of the Day newsletter.
How Do I Get Apple TV on My TV
Wondering how to connect Apple TV to my TV? Follow these steps:
Connect the HDMI cable to the ports in your Apple TV and your TV.
Connect the power cable to your Apple TV and plug it into a power outlet.
Turn on your TV.
Select the HDMI input that's connected to your Apple TV if your TV doesn't do this automatically.
Select your preferred language.


 
Select your region.


 
Click Continue to accept the Data & Privacy conditions. To learn more about them, click Learn More.


 
Click Set Up with iPhone. You can also Set Up Manually if you prefer, but this can be more time-consuming because you'll be typing your Apple ID and password using the Apple TV remote.


 
On your iPhone, tap Set Up.


 
Enter the authentication code that is displayed on your Apple TV.


 
Tap Done to use Remote on Your iPhone.


 
Next, you'll be asked if you have a TV Provider. If you do, click Sign In and follow the on-screen directions. If you don't, or if you want to set it up later, click Not Now.


 
Select the room that your TV is in. If your Home app isn't set up, there may be other on-screen directions to walk you through it. 


 
Click either Automatically Download or Not Now when asked if you want to see HD videos as your screensaver. If you select Not Now, you can always opt-in at a later time.


 
Select Continue if you want your Apple TV to copy the settings from your iPhone. You can click Customize Settings and follow the on-screen directions if you would like them to be different.


 
When you are asked if you want to help app developers, I urge you to select Share with App Developers. This helps them use data from your Apple TV to help fix bugs and app developers, and it is totally private. However, you can also select Don't Share.


 
Next, Agree to Terms and Conditions. If you select Disagree, you will not be able to use your Apple TV. You can read them carefully online at www.apple.com/legal.


 
Finally, you'll be able to help Improve Siri & Dictation by clicking Share Audio Recordings. Once again, I urge you to do this to help Apple collect data to make its services better for everyone. You can also select Not Now.


Pro tip: For the best experience, follow these steps to automatically adjust the color balance on an Apple TV set-top box using your iPhone. 
Now you know how to get Apple TV connected to a television and all set up! These steps work for all models of Apple TV, including the new Apple TV 4K. Learn more about
all the exciting features of the newest Apple TV here
 or learn
how to watch Apple TV on your computer
!