Add the Contacts widget to your iPhone's Home screen to easily send a message, call, or video chat with your favorite people.
By

Elisabeth Garry
Updated 11/16/2021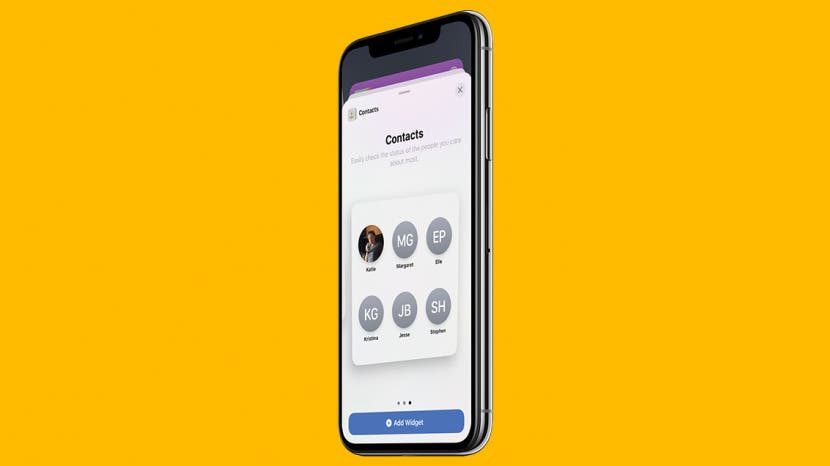 * This post is part of iPhone Life's Tip of the Day newsletter. Sign Up. *
iOS 15 has brought a lot of changes to your iPhone, and the new Contacts widget is one of the most useful of these. Learning how to make a widget on your iPhone Home screen is easy, and adding your most frequent contacts to your Home screen with the Contacts widget is no different. Let's learn how to save contacts to the iPhone Home screen!
Related: How to Hide Apps on iPhone
Why You'll Love This Tip
With the Contacts widget on your iPhone's Home screen, the people you call and text most are just a tap away.
You can add one, four, or six of your top contacts to the Home screen for easy access.
How to Add Your Favorite Contacts to Home Screen on iPhone
Before you add the Contacts widget to your iPhone Home screen, make sure you have updated to iOS 15. To learn more about other new iOS 15 features, check out our Tip of the Day newsletter. Contacts widget won't load contacts after trying these steps? We can help.
Long press on the Home screen until you see the app icons begin to wiggle.


 
Tap the + icon in the upper-left corner.


 

Scroll down or type "Contacts" in the search bar to find the Contacts widget.


 
Tap Contacts.


 

First, you'll see an option to add a single contact to your Home screen. Swipe to see options to add four or six contacts.


 
When you've decided how many of your favorite contacts you'd like to add to your Home screen, tap Add Widget.


Important: there is a known issue with this feature that is usually easy to fix. If your Contacts widget fails to load properly, try plugging the iPhone in, making sure it's connected to a stable Wi-Fi network, and leaving it alone for a few hours or overnight. More often than not, this fixes the issue. In rare circumstances, the widget will still fail to load properly. In this case you can either try removing and re-adding the widget, or simply wait for the next iOS update which should bring a fix for this software bug.
Now your top contacts (those you communicate with the most, not necessarily those marked as Favorites) have been added to your Home screen as the Contacts widget! You can long press and drag the widget to move it around or simply tap a blank space on your Home screen to exit Jiggle Mode.