By

Daniel Rasmus
Fri, 03/31/2017
Most of us wear watches they way we purchased them. Perhaps we swap out a band now and then. Some even come with a variety of band colors or styles. But if we own a good watch, such as a Citizen, an Omega, a Rolex, or a Movado, we wear the watch as purchased because of its overall design. Why pay all that money to cover up the cool watch you spent all that money on? The Apple Watch is different; but should it be? Although the Apple Watch is, in most cases, less expensive than the watch brands listed above, the market seems to want us to protect our Apple Watch from scratches and dings  with a rugged watch case or watch screen protector more so than its expensive brethern.
Perhaps this Apple Watch protection compulsion arrives because the Apple Watch connects to us in a way a regular watch doesn't. If it fails, we can't simply replace it with another device that does the same thing. It is a unique part of our personal electronic repertoire. Then again, it may just be that accessories makers know Apple buyers love the designs from Apple, but that when it comes to iPhone and Apple Watch cases, they have no real issue covering them up with all manner of plastic, polycarbonate, and of course, PU leather.
Some consumers don't feel the Apple Watch is in the same league as high-end designer watches, when it comes to, well, design. But I disagree. I bought my Apple Watch as much for its appearance as for what it does. So I don't want some watch case distracting from the clean lines of the Apple Watch. That said, since CES 2017, I have collected three different Apple Watch case add-ons designed to add various levels of protection to the Apple Watch experience. All offer protection. All disrupt Apple's clean lines. Consumers will need to decide what is more important: protection or purity of design.

Discover your iPhone's hidden features
Get a daily tip (with screenshots and clear instructions) so you can master your iPhone in just one minute a day.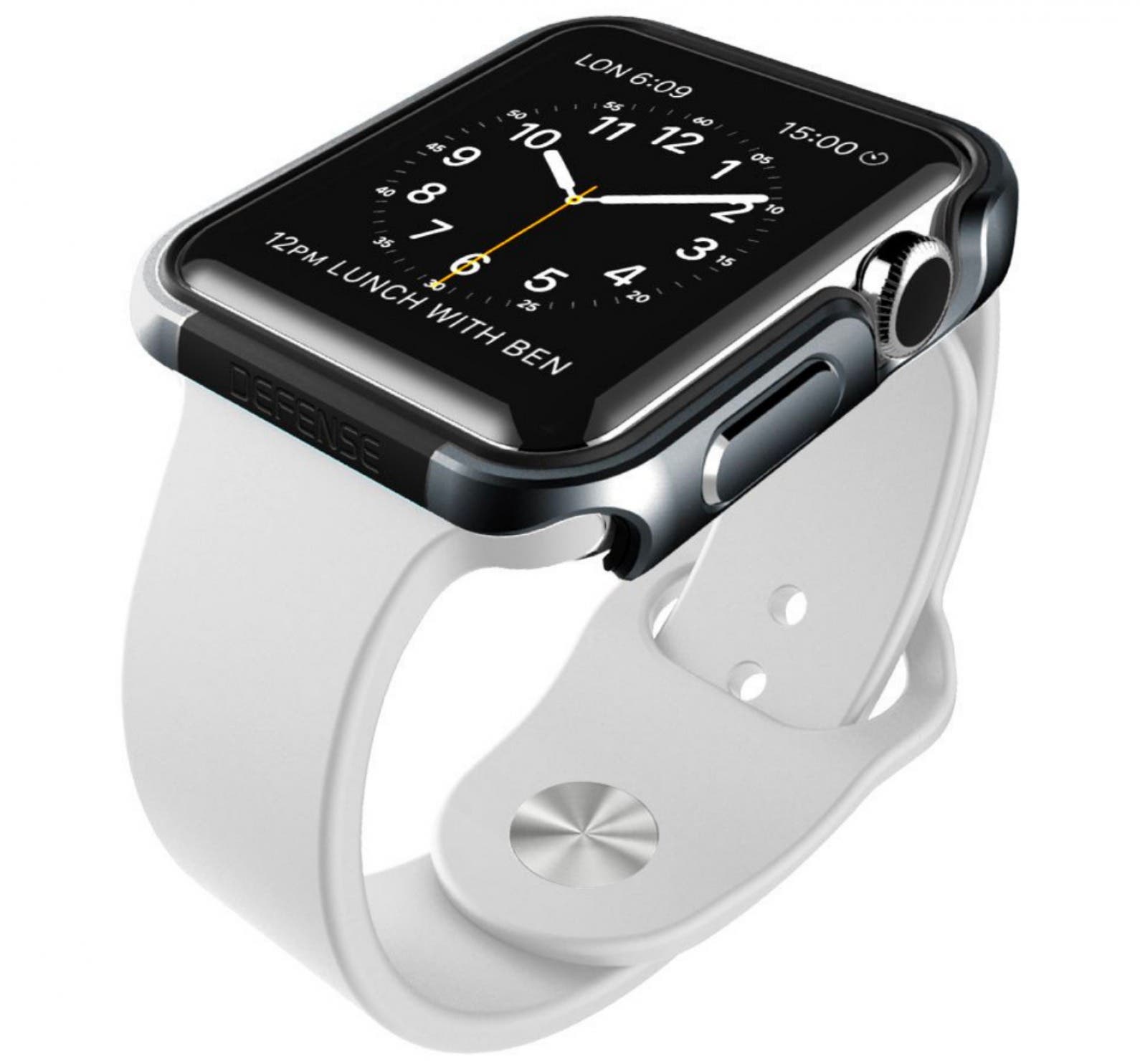 This is the most elegant of the protective solutions; and in daily use, the most functional. The simple but well-styled bumper protects the edge of the Apple Watch, not the face. It keeps the watch in pristine condition. Simply wrap the right edge under the crown and push the left edge down until it snaps into place. The button gets a cover, while the crown remains exposed on top. While the Defense Edge is the best looking of the Apple Watch protectors tested, it does change the Apple Watch profile, and it does make the crown stickier than without the case. I continue to use a Defense Edge that best matches my current band whenever I find myself, well, my watch, in a potentially threatening situation.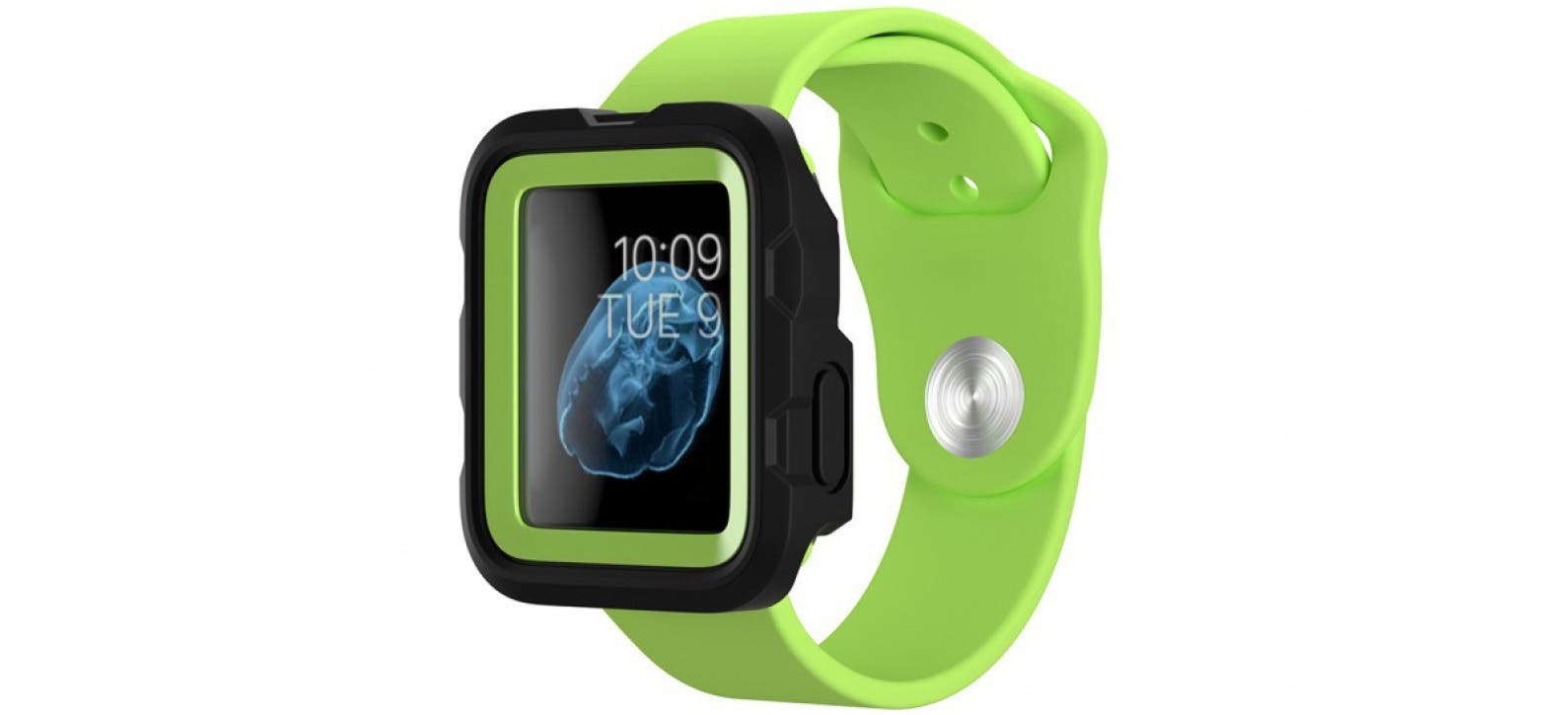 I wore the Giffiin Survivor for several weeks. It takes protection to the next level, adding a watch screen protector to augment edge protection. Like many Griffin products, it also offers cool color options designed as much as fashion statements as protective investments. The smooth edges of the Apple Watch give way to a black Apple Watch case with a colored interior ring that looks a bit like a miniature television. All of the buttons and the crown disappear under plastic. The crown remains accessible, but only from the bottom, which isn't as useful as being exposed on the top. I found myself lifting the watch up to use the crown, which didn't feel right. 
I stopped wearing the Survivor Tactical Case at Emerald City Comic-Con in Seattle when I found the watch case popping off as it rubbed up against my bag and jacket. Three times I had to locate it on the floor. Once I stepped on it before retrieving it. On the good side, 300 lbs of technology journalist didn't crush the cover. On the downside, it was under my foot and not on the watch. I also found the plastic faceplate cover wasn't as easy to keep clean as the watch's screen, and like anything that fits over glass, it can occasionally trap dust or hair between the screen and the plastic cover. This isn't a big deal, but it is another thing to deal with that isn't necessary with the Apple Watch in native mode.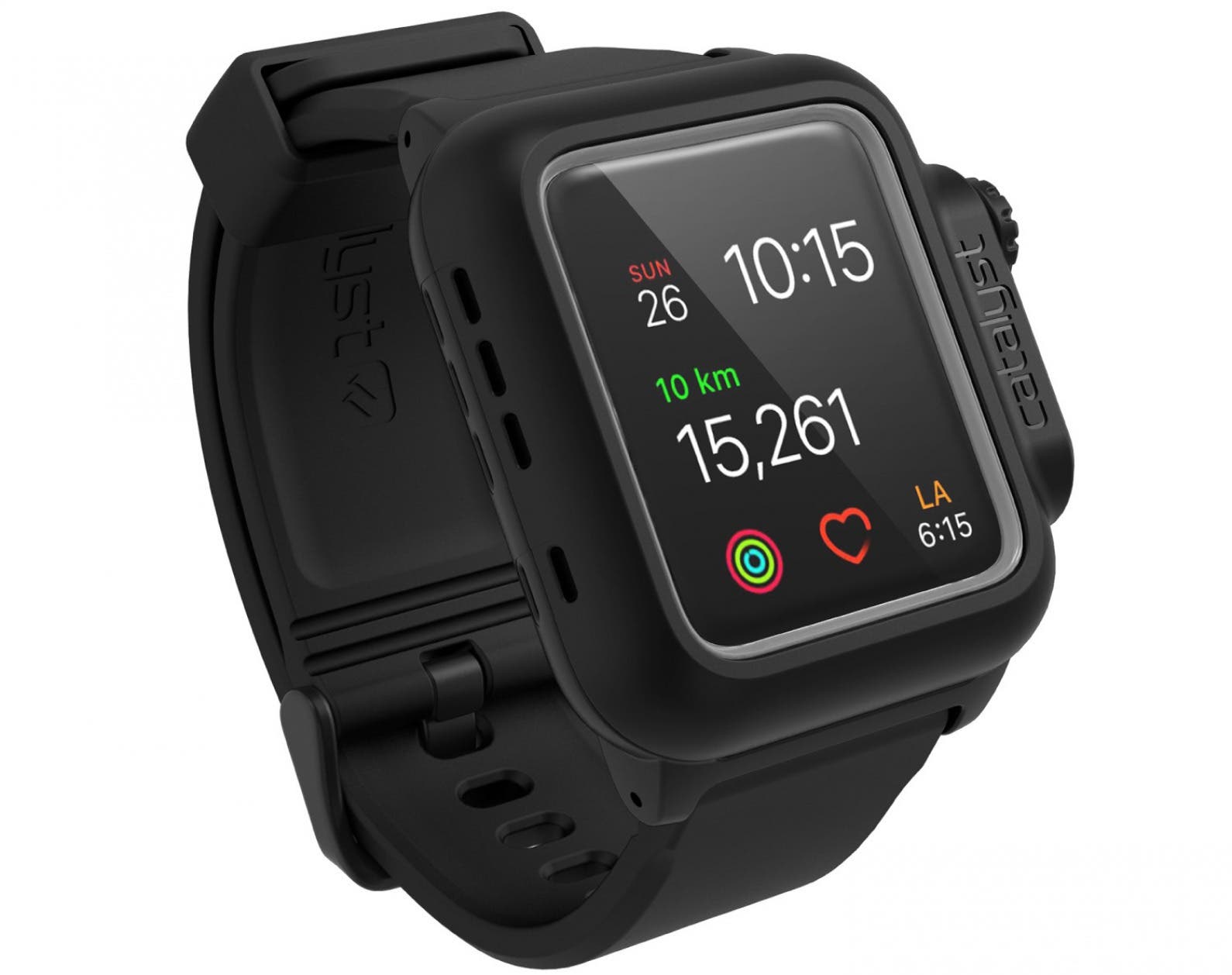 Unlike the other protective Apple Watch cases reviewed, the Catalytst essentially transforms the Apple Watch into something else, at least from the design standpoint. It is certainly the best rugged watch case I tested. After placing the Apple Watch into the Catalyst case and screwing down the case to ensure its water tight seal, it feels as though the watch has been readied for space travel. Gone are the replaceable bands (though the case accepts standard watch bands), and gone is Apple's design beneath the Catalyst vision. What do you gain? IP 68 Waterproofing to 100 meters (330 feet), MIL-STD 810G for drops and shocks up to 2 meters (6.6 feet) and a seal that protects against water, dust, dirt, and snow. I wore it for a few days, but it wasn't the look I bought when I bought the Apple Watch. If I ever disembark on a fishing trawler, go off-roading in the Mohave Desert, or stick cleated toes into the ancient granite of El Capitán I may want my Apple Watch in a protective rugged watch case, but for day-to-day use, this watch protector  kills Apple's design aesthetic even as it protects.
Final Verdict 
Does the Apple Watch need protection? No more than any other watch. A $20,000 Rolex would benefit from a plastic sheath to keep it clean and pristine, but it would no longer carry the grandeur and intent of the design. It you don't like the Apple Watch design, but like the functionality, these watch protectors may afford some control over style beyond watch band swapping. If you are just rough on your tech, then you should probably consider a level of protection commensurate with your potential level of damage, which may include a rugged watch case. If, however, you work in an office and the roughest part of your day involves bumping into people in an elevator, then save some money and let your Apple Watch live wild, naked, and unprotected.