By

Susan Misuraca
Updated 11/04/2021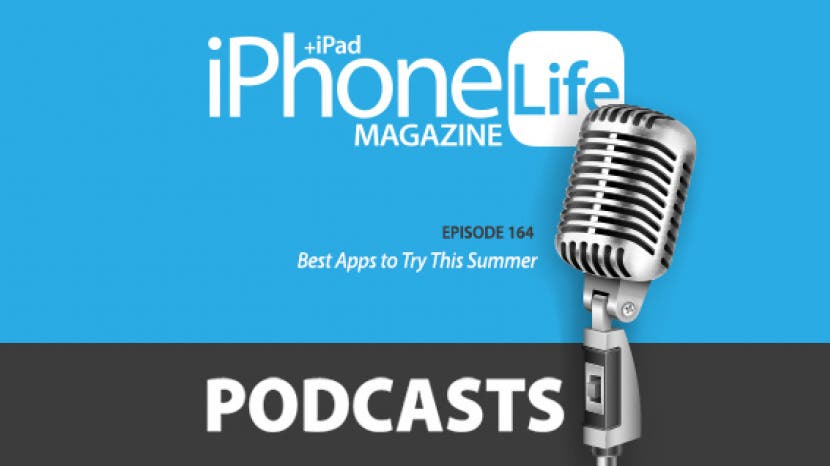 In the 164th episode of the iPhone Life Podcast, David and Donna share the best apps they've tried this summer, from recipe apps to secure messaging to reading and audiobooks. Other topics include how to clear RAM on your Mac to stop apps from slowing you down.
Click here to listen and subscribe. If you like what you hear, be sure to leave a review. And remember to tune in every other week to hear our editors share with you the latest Apple news, best apps, iPhone tricks, and coolest accessories.
Limited time offer! Claim 30% off your subscription to iPhone Life Insider when you visit iPhoneLife.com/PodcastDiscount.
This episode was brought to you by Eargo. One in eight people in the United States over the age of 12 suffer from hearing loss, but many shy away from bulky hearing aids. Eargo creates award-winning hearing aids that are comfortable and discreet, letting you say hello to a world of sound without shouting it from the rooftop. Eargo Hearing Aids have rechargeable batteries that power up in their case, just like AirPods. The iPhone-compatible app lets you personalize settings for different listening environments with the click of a button. Customers enjoy lifetime support from licensed hearing professionals, a 24-month warranty, and a 45-day money-back guarantee if you aren't 100 percent satisfied. Don't forget that you might be able to get help from your insurance to cover costs; otherwise, you can finance your Eargo Hearing Aids with affordable monthly payments. Request a free sample today to ensure a perfect fit and begin your journey to better.
Questions of the week:
What are your favorite apps & gear this summer? Why or why not? Email podcast@iphonelife.com and let us know. 
Articles referred to in this episode:
Apps mentioned in this episode:
Useful links: