By

Leanne Hays
Updated 01/18/2023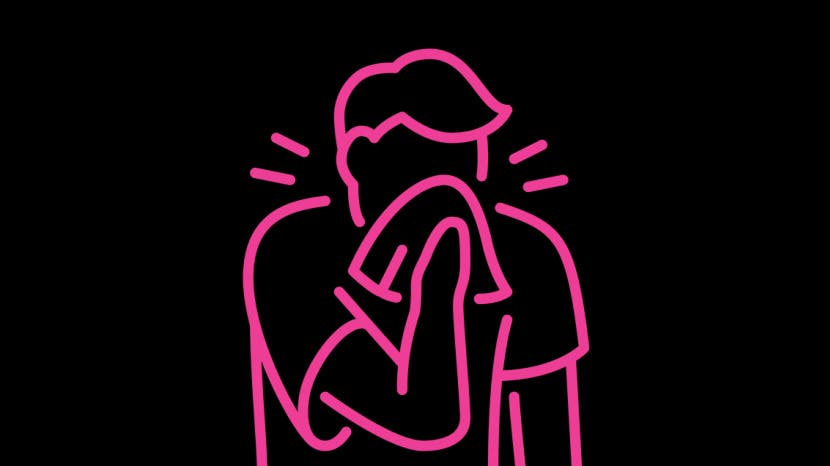 Avoiding allergens, taking preventive medication, and alerting others to allergic conditions are three ways that people with allergies can preserve their health and be prepared in the event of exposure. Luckily, app developers are here to help. Here are seven apps to help you avoid and manage your allergies, so you can spend less time sneezing and more time enjoying your day.
Related: How to Find Hidden Apps on iPhone
Jump To:
Allergic reactions can range from mild yet annoying to severe and potentially deadly, with symptoms running the gamut from sneezing, a runny nose, and itchy eyes to anaphylactic shock and death. According to the nonprofit Food Allergy Research & Education, one in ten adults and one in thirteen children have a food allergy, and 200,000 people per year in the US alone end up in the emergency room due to allergic reactions to food. The American Academy of Allergy, Asthma & Immunology reports that between 10 and 30 percent of the population worldwide experiences hay fever. If you suffer from allergies, the apps below may be able to help you manage them.

Discover your iPhone's hidden features
Get one daily tip each day (with screenshots and clear instructions) so you can master your iPhone in just one minute a day.
Air Quality: Plan Ahead & Avoid Seasonal Allergies
Those of us with seasonal allergies know that taking medication at the right time can make or break a day. The free My Pollen Forecast app helps you know what to expect from your environment, so you can take precautions. You'll see the current and next day's pollen type and count, as well as temperature, wind speed, and humidity, so you'll know whether or not to pop a daytime or nighttime antihistamine, or both! There's even a diary to track your symptoms: just enter how you feel day to day, along with the types of pollen present. You'll soon get a picture of your allergy triggers, which will help you plan for the future.
We all need to be mindful of air pollution, especially those of us with asthma and other lung diseases. Plume Labs: Air Quality app helps users avoid damaging pollution levels with a current conditions map and report, 72-hour air quality forecast, and smart notifications that include alerts and tips. This is especially important for folks in urban areas, but even folks in the country can experience poor air quality when it's time to spray or harvest crops.
The free WebMD Allergy app is one of the most comprehensive offerings I've found. It offers an allergy map and warnings for mold, dust, trees, grass, and ragweed. There's also a tracker for listing symptoms and treatments and a library of allergy facts and tips for reducing exposure. There are an annoying number of ads on the home page, but considering that it's a free app, I can overlook it.
Food Allergies: Avoid Triggering Ingredients
The Gluten Free Scanner app has been a great help to my sister and one of my daughters, who are both gluten intolerant. It's really easy to use! Just open the app and scan a bar code to see if the product contains gluten. You'll get an instant answer without having to read the ingredients list. The full version ($3.99) includes over 500,000 products, 80,000 of them gluten-free, and a searchable list of safe and unsafe ingredients.
While many apps cater to those who already know their dietary triggers, mySymptoms Food Diary helps users discover which substances are causing their allergies. Just fill out a diary each day with the food, drinks, medications, and supplements you've consumed, then add info about your sleep, energy levels, bowel health, exercise, mood, and other symptoms. Over time, this data helps the app use statistical methods to identify patterns between your symptoms and diet and pinpoint possible allergens. The app developer emphasizes that these conclusions aren't medical diagnoses and encourages users to print a PDF report of their diary to share with their doctor.
Eating out can be a complete minefield for people with food allergies. Will there be allergen-free choices? How can I be sure? The AllergyEats app helps users find restaurants in their area with safe menu items for various sensitivities. One downside I've noticed is that there are restaurants listed that closed more than a year ago; users will need to call ahead and verify that locations are still open.
Emergency Help
When worst comes to worst, and you or a loved one needs immediate medical attention, EMNet findERnow is here to help! If you set up the app to track your location while in use, it will immediately bring up the closest emergency room on a map and a list of nearby hospitals. If you need to find an ER in a different place, type the address into the search field. You can even tap Call 911 if you need an ambulance.
*Tip! How to Use the Emergency Medical Card on Your iPhone Lock Screen
Your iPhone can help first responders know your medical issues at a glance, including any drugs you're allergic to. For more cool tips like this, be sure to sign up for our free Tip of the Day! To set up an Emergency Medical Card on your iPhone:
Open the Health app.


Tap your profile icon at the top right of the screen.



Tap Medical ID.


Tap Edit.



Enter any information that first responders would need, including seasonal, food, and drug allergies, and whether you have pills, an inhaler, an EpiPen, or any other prescription medication for your allergies. You can also add emergency contacts at the bottom of the page.


Toggle on Show When Locked and Share During Emergency Call. They will be green when enabled,



Tap Done when you're finished.


How Are You Managing Your Allergies?
I hope these app suggestions will help you have more allergy-free days. Let me know which of the apps worked best for you and if you have any others you'd like to suggest to our readers by emailing me at leanne@iphonelife.com