By

Mike Riley
Thu, 05/02/2013
I've tried out Bluetooth wireless speakers of various shapes and sizes and can't recall any sounding so good as the Scosche BoomBOTTLE ($149.95). Shaped like a rubberized water bottle, the BoomBOTTLE fits perfectly in a standard-sized cup holder or bottle cage and has enough power to rock you and everyone else riding nearby!
Pairing the BoomBOTTLE with your iPhone or iPad is intuitively easy. I didn't even have to read the manual accompanying the product. When I held down the central power button, it emitted a tone and an English-speaking female voice informed me I was in pairing mode. Then without further interaction from me, the voice announced the pairing procedure was successful. After that, the music flowed from my phone to the BoomBOTTLE. 
Two high-quality 3 watt 40mm drivers sit on either end, providing discernible stereo separation. A passive subwoofer in the middle rounds out the range of sound. Each driver has an omni-directional sound diffuser to direct sound in all directions. Whether standing upright or on its side, the BoomBOTTLE's orientation didn't change the impressive sound quality pouring out of it.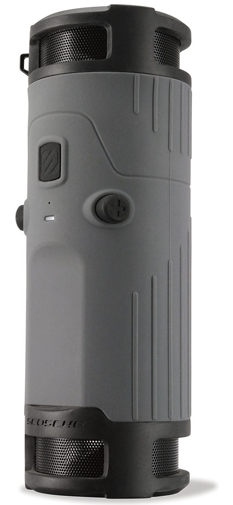 Besides containing great sound reproducing technology, the BoomBOTTLE is well sealed against the elements, wrapped in a weatherized protective layer of rubber with the appropriate switches and covers. While it might not survive full submersion in a swimming pool, it should have no trouble operating in an occasional sprinkle. It's also rugged enough to survive an accidental drop or two, thanks to its protective layer and the shock absorbing speaker caps on either end.
Enclosed in the canister is a rechargeable lithium polymer battery supplying nearly 10 hours of wireless sound. And unlike other rechargeable Bluetooth speakers I've reviewed, the BoomBOTTLE uses a USB to MicroUSB charging cable rather than the popular MiniUSB cable. When the charging port isn't in use, you can seal it with a large rubber lid that keepe water and dust out.
Play/pause and volume controls are located next to the power button and are also well sealed in a rubber cover, which provides easy access to start, stop playback and volume. I did have to tweak the volume on my phone to keep the broadcast sound from over modulating, but once I found the sweet spot, the music was crystal clear. And in those rare cases you don't have a Bluetooth-broadcasting media device handy, the BoomBOTTLE also features a 3.5mm auxiliary jack. But you'll need to bring your own cable, since that's not included in the package.
In addition to the fine wireless stereo sound (with a Bluetooth connection range over 30 feet), the BoomBOTTLE also has an integrated microphone to provide hands-free phone conversations. Granted, depending on how loud you set the BoomBOTTLE's volume to, everyone around you will hear your conversation, but if you're out on a long bike ride, it sure beats fiddling with a headset (especially when wearing a safety helmet).
Overall, the BoomBOTTLE is a top notch Bluetooth wireless stereo speaker packed in rugged housing that will have no trouble surviving biking and hiking on dusty trails. If you want high-quality, outdoor sport sound with the freedom of listening without headphones, the BoomBOTTLE is an ideal sonic solution for your open air listening needs.
Rating: 5 out of 5 stars