By

Mike Riley
Sun, 08/19/2012
I recently reviewed two new IK Multimedia hardware releases for iOS-loving musicians, and the ever prolificIK Mutlimedia has released yet another accessory for demanding audiophiles. The iRig PRE is an adapter for using the more prevalent XLR microphones with the iPhone or iPad. In addition to standard mics, the iRig PRE also supports phantom power for high-end XLR microphones as well. How does the PRE perform? Read on to find out.
The iRig PRE is intuitively simple to configure. Power the PRE with a 9V battery, then plug the host microphone into the XLR plug on the bottom of the PRE and the standard headphone output cable on the top of the PRE into the iPhone or iPad's headphone input plug. Then, fire up an audio capture program like IK Multimedia's
VocalLive
or a variety of other audio recording applications available from the App Store, press the record button and away you go.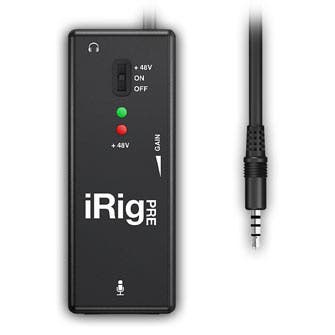 After performing several tests with different microphones under different recording conditions, I didn't find any significantly notable improvement in the audio quality using the PRE compared to a traditional digital microphone, including IK Multimedia's own
iRig MIC Cast
. So if you were hoping that the PRE would make your expensive studio mic sound like it's attached to an expensive studio audio capture and mixing board, the PRE might not match your expectations. From what I could tell (and heard), the PRE simply offers a convenient way for musicians and podcasters to be able to use an expensive microphone they may already own with their iPhone or iPad on the go. Of course, if you have a large gear bag to carrying around a high-end microphone, cables, PRE and an iOS device, it may be easier to opt for IK's more portable and just as good sounding iRig MIC Cast instead.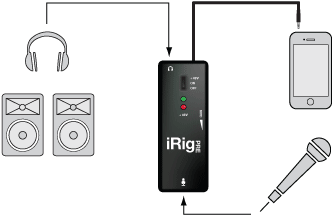 As a side note, I noticed a faint hiss with my recordings when I first tested the PRE. I followed up with IK Multimedia on this issue and Paul Hudson from IK Multimedia's tech support team suggested the following to help reduce any hiss when using the iRig PRE:
To reduce background noise in your recordings, adjust the iRig PRE's GAIN settings. If the GAIN is too  low, recordings will be too quiet, and when boosted within the apps they will become too noisy. If the GAIN is too high, recordings will be distorted.
Leave the app's volume control at 0dB (some apps such as GarageBand have it set at 0dB by default) and then use the knob on iRig PRE to control the levels.
Make sure the volume on your iPhone/iPad is not turned all the way up, especially when using speakers. This may overdrive the headphone amp on your iOS device.
If you experience noise, try setting Airplane Mode to ON. This may be causing interference noise in iRig Recorder or VocaLive. In your iPhone's Settings, you will see the setting for Airplane Mode. Set it to ON temporarily to see if it helps.
After trying these various suggestions, I discovered that the source of my hiss was the WiFi. Enabling Airplane mode fixed my problem.
Overall, I initially had high expectations for PRE, dreaming that it would make my expensive studio mics sound just as amazing when plugged into my iPad compared to plugged into my band's sound board. My expectations were re-calibrated when the audio wasn't as crystal clear and noise-free when plugged into the PRE as it is when using a sound board costing much, much more. That said, it's comforting to know that should I ever be in a situation when the only mics I have available for recording on my iPad are phantom powered XLR studio mics, the iRig PRE is one of the only iOS accessories available today that can make that connection happen as inexpensively and error-free as possible.
Price: $39.99
Rating: 4 out of 5 stars