By

Mike Riley
Thu, 01/12/2012
It's not often that a manufacturer attributes their product's design inspiration to an automobile spark plug, but that's the case with id America's Spark headphones. Do these headphones bring a spark of excitement to your audio or do they shock your ears with a blast of voltage? Read on to find out.
At first glance, the Spark headphones look like any other number of in-ear headphones on the market today. It isn't until you seat them in your ears that your realize how surprisingly lightweight they rest there. They're also small enough so they're not hanging down to your earlobes with a big advertisement to the world.  What is visible to others when wearing the headphones are a neat styling that looks classy without being too flashy.
Sonically, the Spark headphones sound really good. Yes, there are other in-ear headphones that sound better, but they're also three times more expensive. Both high and low-end sounds came through crystal clear and they didn't fail or crackle even when the volume was turned up to maximum.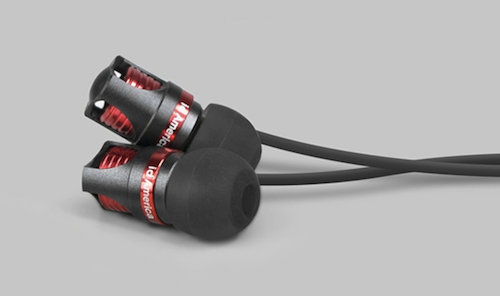 The in-line mic has one push button to control all iPad/iPhone/iPod Touch functions. One press plays and pauses the audio or answers an incoming call, two presses skips to the next track, three presses skips to the previous track and a long press brings up speech input. Mic audio quality is on par with other Apple-compatible in-line mic-enabled headsets. The headsets also come with a leather carrying case shaped like a canister that reminded me of a miniature wig carrying case. Regardless of design association, they do a good job at protecting your headset investment, although it's not something that fits comfortably in your pocket. Also included in the box are small, medium and large interchangeable ear tips, though the ones that were already mounted on the headset felt perfect in my ears.
Besides the minor headset case criticism, the only other concern I had about the Spark is the lack of any serious reinforcement where the headset wire meets the plug. I have had numerous headsets lose a left or right channel after a few months of use because the normal everyday stress on the wiring caused by using the headphones while exercising. I don't know if the Spark shares this same flaw, but the thin connection gives me pause. Headsets with thicker, longer rubberized protection around the headphone plug connection last much longer.
id America offers the Spark in nine different colors, all of which are attractive and accent the cylindrical housing of the headset electronics nicely. If you're in the market for a great sound pair of in-ear headphones that look great, feel great and are reasonably priced, the Spark is a worthy contender in the ever-expanding audio headset space.
Price: $59.95
Rating: 4/5 stars