By

Mike Riley
Thu, 09/05/2013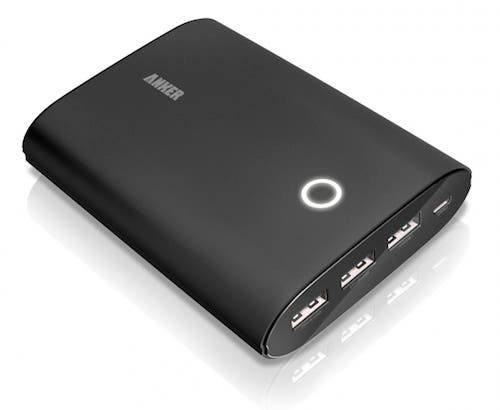 Numerous external batteries are available for the iOS family of devices, though most of them only allow you to charge one device at a time. But in today's world, many digital natives carry around multiple devices. Families traveling with their phones and tablets may find themselves passing around an external battery like a canteen running out of water. Battery accessory expert Anker offers a solution with its second-generation, high-power external battery that can recharge up to three devices simultaneously. How does Anker's 2nd generation Astro3 ($99.00) compare to other external iPhone and iPad compatible batteries? Read on to find out.
When it comes to evaluating external batteries, it might appear that not a lot of analysis is required. Either they work or they don't. But having used several external batteries in the past, I can say that effectiveness and customer satisfaction involves more than just recharge capacity. For example, if it takes 10 hours to recharge a battery that only provides 5 hours of recharge capacity, that's a downer. Another problem I've seen with external batteries is how quickly they lose their charge. Nothing is more frustrating than reaching for a battery you know was topped off a few days ago, only to discover that it has only a quarter of its charge remaining.
Fortunately, the Astro3 suffers from neither of these issues. Additionally, it has a smart USB port that can charge power-guzzling devices like iPads and other large-sized tablets, along with two Universal USB ports. This allows it to service up to three devices at once (though at a lower charging rate). Gone are the days of playing musical recharge with your devices. Anker's Astro3 delivers.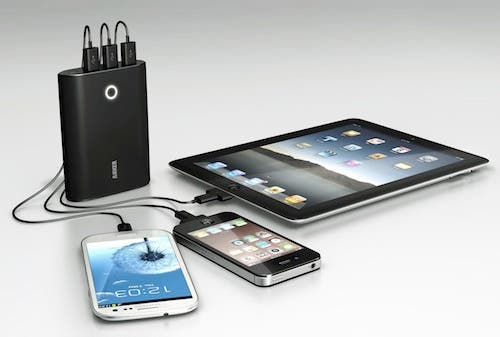 One innovation I haven't seen in other external batteries is the ability to shake the Astro3 to report the charge status. A round ring of LED's on the top of the battery shows the remaining charge. However, there's no switch to turn off the Smart LED shake status indicator, which could be a problem if you're carrying the battery in a travel bag that is getting jostled frequently. The LED is divided into 10 segments, each representing 10 percent of the remaining charge. While the circular design is aesthetically interesting, I would have preferred an exact numerical percentage LED readout.
The package includes a 12-inch USB-to-microUSB cable to recharge the Astro3, but no power adapter. It would take a very long time to recharge the battery via a standard computer USB port, so do what I do and use your iPad power adapter (with its USB adapter plug) to make the charging process go much faster. Also included is a 30-pin adapter for older iOS/iPod devices, but no lightning adapter or port. Just remember to pack a lighting cable if you're using the new iPads or iPhones. Also included is a mesh carrying case for the battery. While it's a nice addition, I would have liked the case to include a sleeve for the USB-to-microUSB charging cable so it doesn't scratch up the surface of the battery when they are packed together.
Because of its powerful recharging and multi-service capabilities, the Astro3 has become my new external battery of choice, displacing Just Mobile's Gum Max as my top product recommendation. While the Astro3 isn't perfect, it's price, performance, and feature set provide a unique combination that is hard to beat. I'll be looking forward to the third generation of this product to see if some of the issues are addressed. But even with those criticisms, if you're a multi-device iOS user with frequent recharge power needs, the Astro3 is the battery for you.