By

Susan Misuraca
Updated 11/04/2021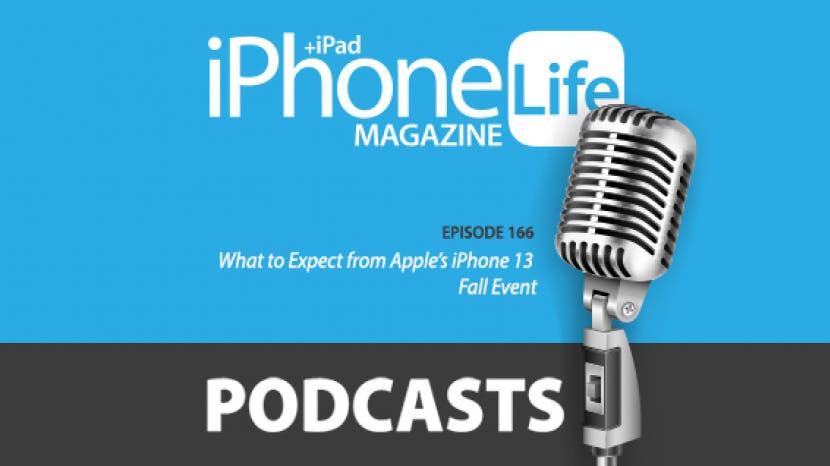 In the 166th episode, David and Donna unpack all the features we're expecting from the iPhone 13, Apple Watch Series 7, iPad mini 6, and M1X MacBook Pro. Get your fix of Apple rumors and find out when Apple's fall iPhone event will likely take place.
Click here to listen and subscribe. If you like what you hear, be sure to leave a review. And remember to tune in every other week to hear our editors share with you the latest Apple news, best apps, iPhone tricks, and coolest accessories.
Limited time offer! Claim 10% off your subscription to iPhone Life Insider when you visit iPhoneLife.com/PodcastDiscount.
This episode was brought to you by:
Matias Aluminum Wired Keyboard ($59)
The original Apple wired keyboard was a fan favorite for years. Now that Apple has gone wireless, Matias has stepped in with the wired keyboard that Apple should have made. If you prefer a wired option, you're going to love the Matias Wired Aluminum Keyboard, modeled after Apple's iconic aluminum keyboards. And, because it's wired, you never have to worry about running out of power while you type. The Wired Aluminum Keyboard mimics the smooth precision of Apple's vintage keyboard. Matias includes two USB ports to connect your mouse, flash drive, or other devices through the keyboard. You also get a full numeric pad and Mac-friendly function keys, so your shortcuts stay the same. Matias even added a volume dial, giving you precise control of your sound. Matias has beautifully picked up where Apple left off with the wired aluminum keyboard. Get plugged back in and never worry about battery life again with this classic design, only from Matias.
Questions of the week:
Do you love iOS 15's video montages like David does, or are you a hater like Donna? Email podcast@iphonelife.com and let us know. 
Articles mentioned in this episode: 
Useful links: