With Quick Note, you can quickly and easily save a screenshot to the Notes app in just a few short steps!
By

Rachel Needell
Updated 08/30/2022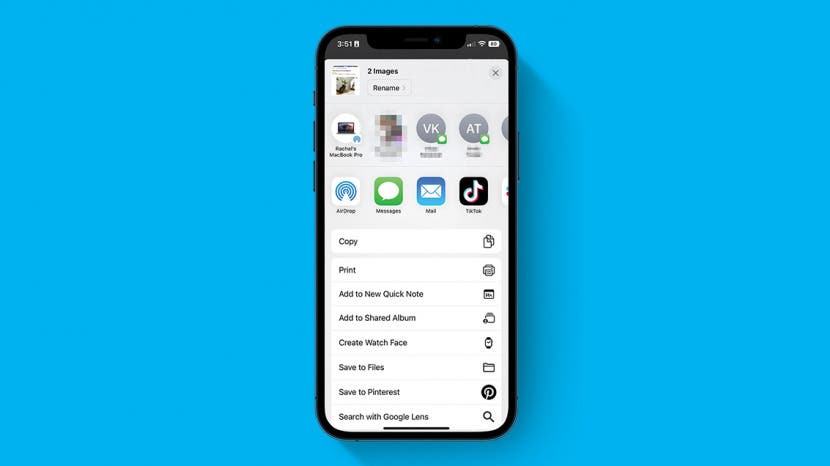 * This post is part of iPhone Life's Tip of the Day newsletter. Sign Up. *
Sometimes you may find yourself scrolling on your phone and come across something that you want to save. You can always take a screenshot, but that screenshot might get lost among your other photos when you need to find it again. A great solution for this problem is adding the screenshot to a Quick Note, which is a new iPhone feature in iOS 16. Now, the next time you happen to see the perfect chicken noodle soup recipe, you can save it directly to your notes in only a few quick steps!
Related: How to Create an iCloud Shared Photo Library in iOS 16 (2022)
Why You'll Love This Tip
Quickly save screenshots to the Notes app without closing out the app you're in.
Avoid losing track of your screenshots among all your photos in the Photos app by storing them in a Quick Note. 
Use Quick Notes on iPhone to Save a Screenshot
I often come across interior design inspiration, potential Christmas gifts for nieces and nephews, and so many other things that I would like to save for later viewing. The Notes app is my go-to Apple app for organization and list making, which is why I love this tip about saving screenshots directly to the Notes app with Quick Note. If you also love tips like this, be sure to sign up for our free Tip of the Day! Here's how to save a screenshot in a Quick Note. 
First, take a screenshot of something you'd like to save. Tap the thumbnail when it appears in the bottom-left corner to preview the screenshot.


Tap the Share icon in the top-right corner.


Scroll down and tap Add to New Quick Note.


Tap Save to save the note!


And that's all there is to it. I'm really excited about Quick Note finally being available on the iPhone with iOS 16. As an iPad user, Quick Note has been a feature I've really used and enjoyed. Hopefully, it will be helpful for you as well!