By

Amy Spitzfaden Both
Updated 01/10/2023
What to Know
Just because your iPad no longer has a Home button, doesn't mean it's difficult to navigate!
Simply swipe up from the bottom of the screen to return home.
The iPad has a few other buttons remaining; keep reading to learn what they do.
The first iPad without a Home button debuted on Halloween in 2018, and while change is always a little scary, losing the home button doesn't have to be a horror story. While it may be a bit of a shock at first, and you may find yourself asking Where is the Home button on my iPad?, most users find they adjust to the lack of the Home button rather quickly. If you've found yourself with an iPad sans button, we'll walk you through how to use it below.
Which iPads Don't Have a Home Button
Before we get started, if you want to find out what iPad you have, check out our article on how to identify Apple's different iPad models. The iPad models that do not have Home buttons are:
iPad Air (4th generation and later)
iPad Pro 11-inch
iPad Pro 12.9-inch (3rd generation and later)
iPad Mini (6th generation and later)
iPad (10th generation and later)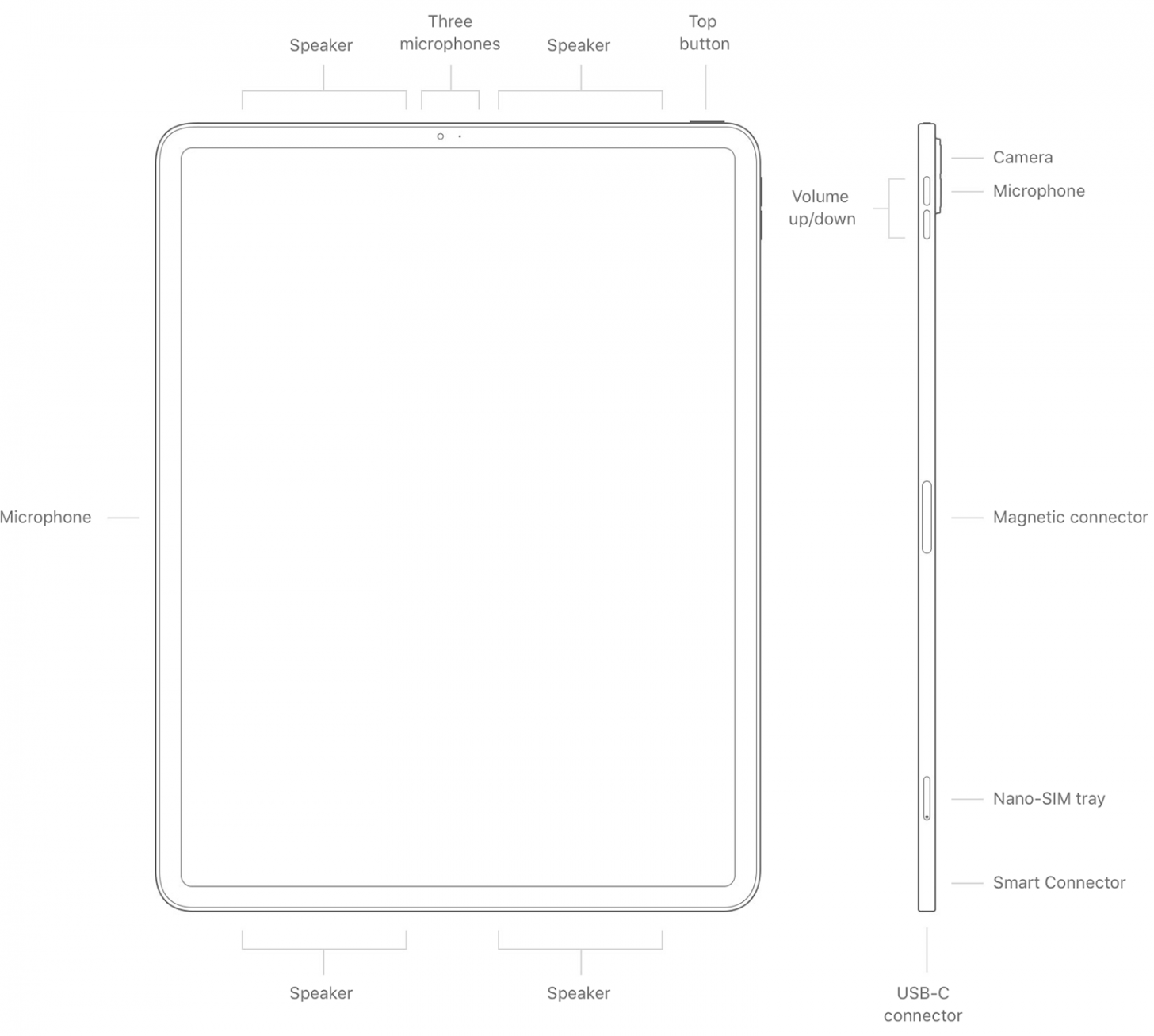 The gist of iPads and iPhones without a Home button is that swiping up from the bottom center replaces the function of the Home button. Swiping up from the bottom center of your screen is how you will return to the Home Screen on your iPad. You will see a thin line at the very bottom across all apps that indicates this gesture. But here's a quick refresher on the iPad's anatomy.

Discover your iPhone's hidden features
Get one daily tip each day (with screenshots and clear instructions) so you can master your iPhone in just one minute a day.
1. Top Button: Sleep/Wake


At the top right of your iPad, you'll find the Sleep/Wake button. Pressing and holding this button activates Siri. When your device is on and awake, pressing this button puts your iPad back to sleep. When idle, pressing it wakes your device. You can also toggle on Lock/ Unlock, which allows you to wake your iPad when you open your iPad cover. You can also press the Sleep/Wake button to send incoming calls to Voicemail.
For iPad Air 4th generation and later and iPad Mini 6th generation and later, this button is your Touch ID. For other models, you will be using Face ID. If you have Face ID or Touch ID enabled, then to unlock your device, you simply wake your iPad and look at the screen. The lock icon along the top should unlock once you are recognized, indicating that you can start using the device. Swipe up from the bottom of the screen to go to your Home Screen. To lock your iPad once again, press the Top button. If you don't have Face ID or Touch ID enabled, then to unlock your device, you must wake your iPad, swipe up from the bottom of the screen, and then enter your passcode.
2. Volume Buttons


Along the right side of your tablet, near the top, you'll find the volume buttons, which can control the volume when you play videos and music as well as your ringer and alerts. You can customize what the buttons control by going to Settings > Sounds. If you toggle on Change with Buttons, you'll be able to control your ringer and alert levels with the volume buttons. I prefer to mute all alerts on my iPad and use the volume buttons just to control video and music playback. For more iPad customization options, check out our Tip of the Day.
3. USB-C Connector


This port is located on the bottom of your device in portrait orientation and is where you plug your iPad into the USB-C charger included with your purchase. This is what you use to charge your iPad.
4. Smart Connector


You'll find three small metal dots along the bottom of your device when it's in portrait orientation called the Smart Connector. The Smart Connector lets you attach keyboards without Bluetooth pairing.
5. Magnetic Connector


The Magnetic Connector is located along the right side of the iPad, underneath the volume buttons. This is where you can charge your 2nd Generation Apple Pencil and the side that magnetic keyboards will click on to.
And that's how to use iPads with no Home button! Don't be scared of this change. Personally, I was very worried I wouldn't like missing the Home button, but I honestly don't miss it at all. I love that my iPad has a bigger screen, and, looking back, I'm not sure why I ever wanted a Home button on my iPad at all. Cheers to progress, even when it's painful!
Top image credit: TripleP Studio / Shutterstock.com