By

Anonymous (not verified)
Updated 05/27/2021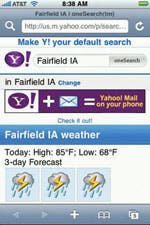 If you want to get a more detailed weather forecast for the days ahead in the Weather application, tap on the Yahoo (Y!) icon in the lower left corner of the screen. A Yahoo Weather page will open in Safari showing you a three-day forecast, local news, and other content.
If you have other locations entered into Weather (tap the "i" icon in the lower right corner to add/delete a location), you can switch between them by either swiping your finger left or right or tapping the dots on the bottom of the screen. Your current position on the dots is indicated in white—tap left or right of the white dot to move between locations.

Tapping the Y! icon in Weather will open a three-day forecast in Safari.