By

Becca Ludlum
Tue, 09/12/2017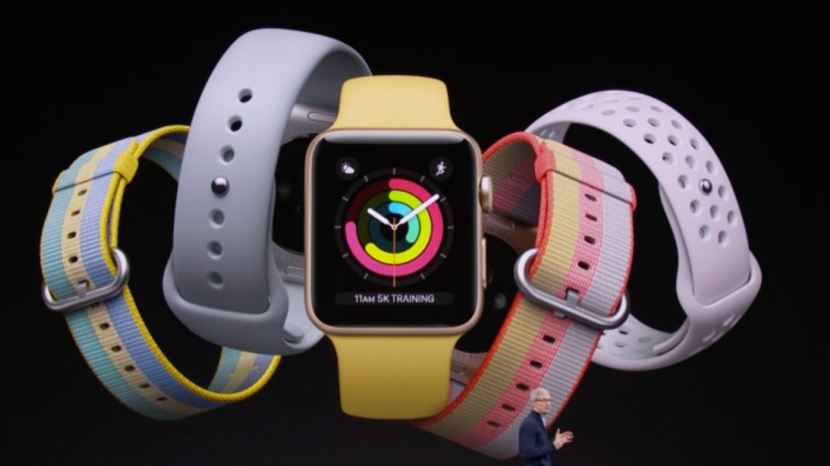 The Apple Watch Series 3 might have been pushed aside a bit because of the huge iPhone announcements, but the news about the Watch is just as exciting—I promise! Here's everything you need to know about the new cellular Apple Watch and watchOS 4, including the price of the new Apple Watch, the watchOS 4 and Apple Watch 3 release dates, and more.
Related: The Apple Watch Series 3 Is Here & It's Cellular Capable
New Apple Watch Series 3 Updates & Features
It's no secret that we've come to expect big things from the September Apple Event. This year, the Apple Watch 3 was unveiled, and it's packed with new features. 
Watch OS4
Apple watchOS 4 boasts new activity coaching, a redesigned workout app with HIIT (high intensity interval training) options, an updated Pool Swim workout that tracks sets and rests for you, along with pace and distance and stroke type—it's a gold mine for swimmers! GymKit allows your watch to sync with some of the machines at your gym: Techogym, Matrix, LifeFitness, Cybex, Star Trac, StairMaster, and Schwinn as of today.  
The QuickSwitch feature allows you to use back-to-back workouts of different types to train. Whether you're training for a triathalon or a doing a Crossfit workout, you can easily switch from one type of workout to another during your training session. Additionally, beginning a workout automatically enables Do Not Disturb, so you don't get sidetracked while in your zone. 
Did someone say Music? You're able to stream over 40 million songs with your new cellular Series 3 beginning next month. And never again will you be stuck listening to the same 15 songs that you've downloaded to your watch, because the automatic sync feature allows select Apple curated playlists to sync automatically to your Apple Watch. 
Siri loves to help, and she is going above and beyond with watchOS 4. She proactively displays information about your day and helps push you to your Activity goals. 
You can also now use Apple Pay right from the Watch Messages app...There's no reason not to split the bill now. 

At the core of the Apple Watch, allowing these amazing features, is the Apple Heart Rate Sensor. You'll see new features in the Heart Rate app with Watch OS4: Resting Heart Rate, Recovery Heart Rate, and alerts that can help alert you and your doctor to a dangerous behavior such as changes in your heart rate or rhythm that can signal an arrhythmia.
Apple Heart Rate App Gets a Huge Upgrade
Tim made us cry a little when he played a video that was created by people who have written to Apple and expressed not only love with their Apple Watch, but shared that it saved their life or helped to make it better. The Watch Series 3 is packed with technology that can help you live your best and healthiest life ever, including tracking your resting heart rate, recovery heart rate, and even alert you when your heart rate is being unpredictable–which can help you recognize a heart condition that could have previously gone unnoticed. 
Apple Watch Series 3
The newest series of the Apple Watch has built in cellular; are you as excited as I am about this? There is no reason to be tied to your phone for streaming music, texts, or phone calls with the Series 3. Your Apple Watch knows when to automatically switch your location in Find My Friends, as well. Take your Watch on a bike ride, run, or to the beach—no need for your phone, too. The Series 3 version with cellular (yes, there is one without!) features an LTE and UMTS cellular radio that switches automatically when away from your phone. Of course, the watch will have the same phone number as your iPhone. 
The Apple website updated after the Event saying that participating carriers are offering special introductory pricing on cellular plans when the Series 3 officially launches, so we now know that the Series 3 does in fact require an additional plan with your wireless carrier. We were able to confirm with Verizon, that the carrier will be offering cellular Apple Watch plans that start at $5 per month.
Just like Series 2, the Series 3 is water resistant to 50 meters. It also includes a barometric altimeter to measure elevation during workouts. 
The Apple Watch Series 3 comes in two models–one has GPS and cellular and one with only GPS. Both watches include a faster dual core processor and a new W2 wireless chip that allows the Watch to run faster with better power efficiency when connecting via Bluetooth and WiFi.
The specs for the Apple Watch Series 3 are that the dual core processor is 70 percent faster than the Series 2 Watch, Siri is faster and can talk on the watch, and the W2 chip inside is a custom wireless chip that provides faster and more energy efficient power for Bluetooth and WiFi connections.
The display is where the multi-frequency antanna is located, the SIM card is crazy small to fit within the watch face, and you'll get all of this with a case that is the same exact size as Series 2.  
Apple Watch Series 3 Price & Release Dates
Apple Watch Series 3 (GPS+Cellular) starts at $399
Apple Watch Series 3 (GPS) starts at $329
Apple Watch Series 1 starts at $249.
Apple Watch Series 3 is available in gold aluminium, silver, or space black stainless steel
Apple Watch Edition available in dark gray ceramic in addition to white and gray ceramic
The Series 3 will be available in stores starting Friday, September 22.