By

Ashleigh Page
Wed, 04/14/2021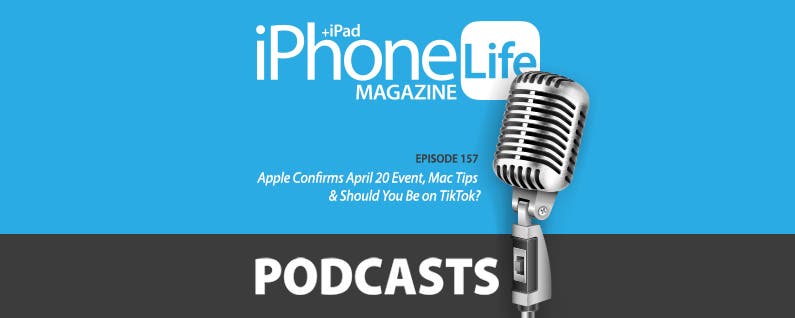 In the 157th episode, David and Donna recap all of the products you can expect from Apple's newly confirmed April 20 event. Other topics include rumors of an Apple TV and HomePod hybrid, how old is too old for TikTok, and how to unlock your Mac and iPhone using just your Apple Watch.
Click here to listen and subscribe. If you like what you hear, be sure to leave a review. And remember to tune in every other week to hear our editors share with you the latest Apple news, best apps, iPhone tricks, and coolest accessories.
Claim 10% off your subscription to iPhone Life Insider when you visit iPhoneLife.com/PodcastDiscount.
Withings Body Cardio Wi-Fi Smart Scale ($149.95, Withings.com) 
Measuring your overall fitness has never been easier. The Withings Body Cardio Wi-Fi Smart Scale pairs with the free Health Mate app to monitor your weight, BMI, body fat, water percentage, muscle mass, bone mass, standing heart rate, and vascular age to help tackle your health goals. Experience unprecedented accuracy of Withings' most premium scale that syncs data instantly via Wi-Fi to the Health Mate app so you can track your health trends over time directly on your iPhone.
Questions of the week:
Do you use your Apple Watch to unlock your Mac? If so, does it work well? Do you use Live Photos to create long exposure photography? Are you on TikTok? Is it just for tweens, or can all ages enjoy it? Email podcast@iphonelife.com and let us know. 
Articles referred to in this episode:
​Useful links:
​Episode 157 transcript:
- Hi and welcome to the 157th episode of the iPhone Life podcast. I'm Donna Cleveland, editor in chief at iPhone Life.
- And I'm David, CEO and publisher.
- Each episode we bring to you the best apps, top tips, and great gear in the iOS world. Today we've got a great episode for you, and we have an interesting update, which is that Siri is now telling us that we have an April 20th spring Apple event. Each episode, we keep telling you different dates, ''cause it's just... We're telling you as it's unfolding. There's nothing official out from Apple yet, so we don't know 100% if it's true or not, but we'll talk about this a little bit more in our news section of today's show. What do you think, David, is it real?
- I think yes, but, okay, well, if we're going to get into it, then let's get into it. So what, okay, let's get into it and then we'll get the sponsor So Siri, if you ask Siri, when the next Apple event is it tells you that it's April 20th is that what what's happening?
- Yes and it'll say it says the next event is April 20th go to the Apple website to learn more. And then you go to the Apple website that links to it with Siri and the website says nothing. It gives you like the lineup of recent events, not the new one. So I figure like any minute now Apple either have the information about the new event ''cause this is just as of today, this is happening. So maybe Apple just hasn't updated their page yet and they will later today or they're punking us.
- I mean, this is one of those frustrating things where by the time you all are listening to it you will probably know the answer and we do not. And because it's today like Apple always gives you a week notice. So by the end of today they will either have given us notice that they're having an announcement or we will find out that Apple was punking us or maybe there's a miscommunication I don't know
- Yeah I mean the only thing that made me think that it could be some sort of hoax is just what you were telling me last episode which is that Apple had like fired someone recently for leaking Apple events and that may be apples trying to throw people off their tracks more lately. So that would fit into that narrative But I feel like most likely we'll find out very soon that there is an April 20th event.
- I'm gonna go on record and say that I think that there is an April 20th event and we will find out by the end of the day. ''Cause I think that Apple has a lot of products coming out. Like we heard so many rumors and Apple traditionally has a spring event. They're late to the spring event. If they wait much longer they're gonna be really up close to WWDC. So I'm gonna go on record and say I think that there is a spring event, but you all listening at home will probably know if I'm right or wrong.
- Yeah, it's true All right, so now David, you can tell about today's sponsor
- Okay, so today's sponsor is Withings. You know, we go out of our way to find sponsors that not only have great products, but that we love and use ourselves and that we can feel good about recommending and Withings is one of those companies. They just have great products, great smart health products. I use their smart scale, but today I'm gonna tell you about the blood pressure cuff. It's called the BPM connect and it's really sleek, it's easy to use, it syncs with your phone so that you can track over time. It gives you immediate results and it is a great overall product, It's also super affordable, it's only $99. So make sure you go check it out if you are somebody who is actively trying to stay on top of your blood pressure, it is a really great product. Go to withings.com we'll link to it in the show notes.
- Next up, I wanna tell you about our free newsletter. It's called tip of the day. If you sign up at iPhonelife.com/dailytips we'll send you a one-minute tip that teaches you something cool you can do with your iPhone or other Apple devices but mostly we focus on the iPhone and I really think that this is an amazing service that we provide not to talk us up too much but it's just a great way to brush up on your skills and make sure you're keeping up with all of the new features on your devices without really having to invest much energy and no money into it. So iPhonelife.com/dailytips is where you can go to get in on it. And I have a tip I want to talk about today. And that's one that I've just set up on my devices. And that's how to unlock your Mac book or Mac with your Apple Watch. And David, is this a feature that you use?
- Okay, yeah, I think it is set up but like I never noticed it working for me and so I don't know what to say about it. Like I still have to use my fingerprint every time but I thought I had it enabled. So actually as you walk me through it I will confirm that it is in fact enabled
- Okay, yeah, I was hoping you'd been setting it up and using it. 'Cause I enabled it this morning when I was putting together the show notes for this podcast and I think it's a great tip but I also don't have the real world experience with it. So we'll have to rely on hopefully our readers can let us know. I'll walk you through it and then I'll include this as one of our questions of this week. So if you have a, let me first let you know what device you have to have in order for this to work, you need a Mac book, iMac or Mac mini that's a 2013 or later. And this is something you set up on your Mac You don't need to set it up on your watch it's watchOS three-year later on the watch that you need to have. So you go to your system preferences, you go to security and privacy general, and then you'll see a little checkbox that says use your Apple Watch to unlock apps on your Mac. So you'll want to enable that and you need to have your iPhone out unlocked and your Apple Watch unlocked while you're setting this up in order for it to allow you to check this box off. So that is all you need to do to set up the feature, but what I wanna ask all of you about is using this feature and day to day life does it work well? So email podcast@iphonelifecom to let us know, do you unlock your Mac with your Apple Watch and how well does it work for you?
- And I..
- I think it's a great feature, it seems like a cool feature. I know there's now the ability to do it with your iPhone which is amazing especially with masks these days trying to unlock your phone with face ID is tricky. So doing it with your Apple Watch makes more sense. So I want to be excited about this feature but being full disclosure I have not, I just set it up today.
- And I'm going to report back immediately and say that somehow it was not enabled I'd enabled it a long time ago it must have been when I upgraded operating systems that got checked off by default. So I will also report back to you next podcast let me know how that went. And while we're at it..
- That makes me feel better, David though too that 'cause you saying it wasn't working it sounds like it was just that you didn't have it enabled.
- Yeah, apparently I'll I am excited to see how it goes too. ''Cause it is one of those little things that every time you open up your computer, you have to unlock it and it takes a couple minutes and yeah, Apple should know that it's me because I have an Apple Watch. So why we're at it though? Can we talk about how to do that on the iPhone? How to make sure that that's enabled on the iPhone?
- Yes I'll have to pull up
- Yeah I'm probably putting you on the spot and I don't really know off the top of my head. I'm assuming it's insecurity
- I think honestly that this is a feature that's just in beta right now still.
- Okay, I knew it was coming soon.
- Yeah I think it is still in beta but let me confirm that right now if you'll just bear with me. I know that we have some people on the team Who've tried this feature face masks are essential. ♪ Blah, blah, blah ♪ Now with iOS 14.5 and watchOS 74 you can unlock your iPhone using your Apple Watch. Let's see, but you can check your software by going to settings general software update and see what you have there. So yeah, I have iOS 144 and it's up to date. So this is not available to the public yet.
- Okay.
- We should be getting it.
- ''Cause I haven't experienced it either. And I was like, why am I feeling that this really cool feature that I somehow haven't enabled anywhere. Okay, good. So..
- This is a good reason and it's not a public beta either. It's the developer beta so really most people don't have it but that's gonna be a nice feature. And I think it should. It's like as soon as the pandemic's over this feature will come up.
- Yeah, sadly, I think we'll be wearing masks in public for quite some time. But it gives you one more reason to buy an Apple Watch because as you all know by now Don and I love our Apple Watches.
- Yeah I've been doing a fitness challenge this week and so it's been good at getting me to wear my Apple Watch every day ''cause I want to get credit for it.
- Okay, talk to me about this, 'Cause my sister was saying she does this too. This in your Apple fitness app.
- Yeah, so you set it up in the fitness app on your iPhone I am competing against my nephew he just got a cellular the Apple Watch SE.
- Okay.
- And he's at all excited about it. And I actually forgot to wear my watch one day of this it's a seven day challenge. And it basically just calculates how many points that you've earned. So like how many move points that you've earned over that time? So I think he landed somewhere like 2,500 and I was at twos about 2000. So if I had worn it that extra day I probably it would have been very close and I may have beat him so I was really annoyed at myself. I'll just have to challenge him again this week.
- There you go. There you go. We should maybe sometime do a challenge for iPhone Life that would be fun
- I would be into that yeah. It's a nice little, extra incentive both to work out and to wear your watch 'cause sometimes I'll get into like phases where I just forget to wear it.
- My sister is obsessed with it. She's in a group of doctors that's the competitive group. And then she's always like trying to track everything she's doing. She's like going for like a five minute walk and she has a turned on to make sure she gets credit for it and all this, but it's cool. It's a good way to keep people motivated to stay in shape and people seem really into it.
- Is it just me? I feel like my Apple Watch sends me notifications about your workouts way more than anyone else's? Do you have that where you feel like that activity sharing turned on for some people but it like only tells you about some of them?
- No, but I was wondering, 'cause I feel like I don't get notifications for anyone else's workouts but then I'm always getting congratulated on my workouts. So then I don't know
- Yeah, some of this stuff is still a mystery to me anyways. Back to our tip of the day, how to unlock your Mac with your Apple Watch again, I just wanted to say go to iPhonelife.com/dailytips, and you'll get fast really useful information like this every day in your inbox. So that's just my last plug for the daily tip newsletter And moving on I wanna tell you about our premium subscription which is called iPhone Life insider. And it's our educational platform that offers so many more features than our newsletter does. You get video guides that walk you through different features, you get unlimited access to our live online courses and workshops. So every month we hold live workshops that you can join and ask your expert instructors questions live and you can join our weekly, are courses that have weekly lessons that you can sign up for. Just later this month we have our iPhone fundamentals course coming up and it's tailored for people, whether you are new to the iPhone or you just want to make sure that you shore up your skills with your iPhone, even if you had it for years. This is a great course to attend. And when you sign up for insider you get unlimited access and you can just pop into classes whenever you want, which is really amazing. So you get that plus you get a premium version of this podcast with exclusive content and no ads. You get a digital subscription to iPhone Life magazine and our ask feature which allows you to ask your questions to us and an expert will get back to you promptly and help you solve your issue, your tech issue So go to iPhonelife.com/podcast discount and you'll get 10% off your subscription for being a podcast listener. And did I forget anything, David?
- Probably we have a lot of features but that's okay. We just came out with a new issue of our magazine, which is included, so..
- Yeah, that's our summer how to guide.
- Yeah I think it comes out any day now or is it out?
- It came out last night, yeah.
- There you go.
- Yeah, so good timing with that. So one of our features, which I mentioned is ask an expert. We had an insider ask, wow, I can't talk today. We had an insider ask us a question recently that I wanted to share with you because I thought it might be helpful to some of you at home This insider says I'm locked out of my Mac and I forgot my passcode, I can't open my computer. What do I do? So in this situation, there's a feature that some of you may not know about called a recovery mode and that's what you're going to need to get into on your Mac. And when I first heard that when you hear recovery mode, you think, Oh am I having to like wipe my whole Mac in order to do this? And no recovery mode lets you do a lot of different things. Once you're in it, you can wipe your Mac or you can do things like reset a forgotten passcode which is what your issue is here. So you get into this different ways depending on what Mac you have. Let's see if your Mac has an Intel processor so that's gonna be one that came out before 2020. You'll press and hold command R and you'll press the power button and you'll just keep on holding until you see a progress bar pop up on your display. If you have an M1 Mac, which is the 2020 max or later you'll need to turn off your computer, press and hold the power button until you're presented with an options button you'll click that and select Recovery. Once you're in recovery, there'll be a utilities menu and in the terminal and you will type reset password as one word without quotes and press return. From there you'll then find the reset password tool follow the prompts and you'll be able to get back into your computer. So another more of this story is set a password that you'll remember and use a password manager so that you don't forget it, just lost an air pod.
- Lost air pod.
- So there's a bit of a pain, 'cause it's a bit of a pain but it's not that big of a deal, it is something that you, there is a solution for that does not involve wiping your computer. Have you ever had use this?
- Yes but not on my computer I think I was helping my parents out. But I think it is an interesting point. There's sort of two types of passwords. There's the passwords that like you can not have to remember because you just have a password manager and then there's a few passwords that you really should set that you need to remember. The ones I would put in that camp are your computer password, clearly your pass code for your iPhone and then your password for your password manager if you have that. And then Apple ID. I think those four, you should set in a as something you can remember and then everything else just use a password manager for it. But I think sometimes people, it happens a lot, I see people forget the password to really critical things. It's a real hassle to reset and the there's just a few of them. So most of them you wanna have really secure passwords for the easy one to have secure, but also memorable.
- I'd say for people who ask me tech questions in person this is the thing that I get the most, is people forgetting their passwords whether it's to their Apple ID or to their Mac or something like this and not knowing what to do. And it can feel like a really frustrating dead-end if you get into that situation. What about like, I feel like the other people a lot of times have photo management questions and stuff like that, but that's the one I get the most what about you?
- Yeah, well, and it also is the one where whenever I'm trying to solve something it turns out to be the problem. Like, I can't tell you how many people just straight up stop trying to download apps because they don't remember their password and don't wanna reset it. And I'm like, you're you have a phone and you're not even gonna download an app.
- I know, yeah, definitely my parents and in-laws have been in that situation. Well, my parents, I mean my mom. My dad is very tech savvy. All right. So we have some comments from listeners from last episode that I wanted to read out. And I just want to say for all of you listening, I love it when you write in, it's really nice to like know who's out there listening to the podcast and to hear what's going on with all of you and your with your iPhone and other devices. So make sure to keep writing in, at podcasts@iphonelife.com. We had one about pro rock because as you remember for those of you who listened, we had our resident iPhone expert ran on last episode to talk about iPhone photography and how the iPhone 12 pro has ProRAW. So Richard Rodin says, I keep the default for ProRAW on because I believe all photos need some editing. The trade-off for me is losing the live photo feature. That's something that Ryan pointed out that I didn't know before, which is that if you have ProRAW turned on, you can't use live photos. And that's a real bummer to me too, because I pretty much always keep live photo on.
- Yeah, I love live photos.
- So..
- And there's so many times where like I'll take a photo and then I'll go and choose a different spot in my life photo that would have been better.
- Yeah, like constantly too. Yeah, so Richard says if I do see something that I would think would benefit from a long exposure, such as water waves, moving lights, et cetera, then the ProRAW is off and live photo goes on. I do use Lightroom mobile for my RAW editor although I'm researching afinity mobile. So that's interesting. I actually don't quite understand this point about the long exposure, I mean, live photos captures three seconds, but it's not a long exposure in the traditional sense of the word where you're capturing motion or like you don't need a tripod or anything like that, like you would with like a low light photo, for instance which exposes for a longer period of time. So I think what he means by long exposure here is just wanting to use live photos to..
- No well there's two options. Okay, so first of all, you have, like when you go to edit a live photo it gives you options to turn it into a gift but it also gives you an option to turn it into a long exposure. So live photo in editing gives you that option. Also I'm pretty sure there's a long exposure mode I'm just confirming that that is correct. 'Cause I never really use it. No, there is not. Oh yeah time-lapse but that's a little bit different I think, okay.
- Time-lapse but night mode definitely it allows you to tailor how many seconds you're exposing for.
- Yeah.
- So that's the closest thing I would say to that you can get to long exposure, but it only shows up when you're in a low light situation as an option even.
- Yeah, but if you do live photo
- kind of a weird choice on Apple's part to not let like night mode be something you can enable on it by yourself.
- Yeah I don't. I think have you ever had an experience where you're like, oh, I wish night mode were available to me because I feel like I haven't I feel like if like if I needed it to there.
- Yeah I guess you're right. The only thing with that is that I wouldn't say that I have, like, after talking to Ryan I want to use night mode more. I'd found it a bit frustrating 'cause I didn't really see how you could manually adjust it until she showed us how last episode. I'm really plugging last episode for people who didn't listen. 'Cause she goes over that, which is really helpful. So she's really was saying that she uses night mode and loves it way more than she even likes portrait mode, which I was surprised by.
- I love night mode. I mean, in those situations where it's like low light but not so low light that you can't, 'cause if it's too low light night mode can only do so much. But there's so many situations where it's low light but night mode makes it a usable photo where it wouldn't have been. I'm curious though, if people are using long exposure, 'cause I never do, like, I never find a situation where I go into live photos and change it to long exposure. He was saying like sometimes on the beach like I'll try it and it never looks good for me. So I'm curious, what are the use cases here? What are people using that long exposure for that looks good. Send us an email at podcast@iphonelife.com
- Yeah, he says water waves, moving lights. It all sounds great. But part of it is I think you need to tripod or a really steady hand to get a good shot of that. 'Cause most of the time when I in a live photo swipe up to see those options, like you said, the GIF option and the long exposure, my long exposure option just looks like really blurry and like nothing cool. And I feel like for long exposures to be cool you need to have something moving but everything else to be super still in the image or else it's just all a blur and what's cool about that.
- Yeah, that's true.
- All right, moving on to our news. We did have one more comment from listeners. Sorry I forgot Donna wrote in It's nice to say have a fellow Donna writing in? She says you were correct. You can have a max of 500 browser tabs open in Safari. So that was something that came up a couple episodes ago because we asked people to let us know how many tabs they had open and we got more than one response that said 500 and David you were like, that's fishy, that must be the max. So I guess you're right. And then she says, "FYI, at that point you can use a hyperlink to open another tab but can't use the plus button at the bottom of Safari to do so." So she's really tested this out. However, for people with serious problems like me you can switch to private browsing mode and open more tabs there, another 500.
- Yeah I'm gonna agree with you, Donna that you've got a serious problem there. Like why do you need 500? Like are you actually going to navigate all 500 of your tabs? It's like a digital hoarder or something I'm sorry, Donna I shouldn't be. Especially 'cause you sent a really informative comment but like just clear it out, start over, it'll be okay.
- What's funny about it is that she's not the only one that we had multiple readers with 500 open so.
- I know. I just have strong opinions about it because I sit next to somebody who hoards tabs on his browser and he has like hundreds and he can never find them. So I'm directing that anger at you Donna, I'm sorry. Not you Donna, the Donna that wrote this.
- My dad does the same thing. He has like multiple browsers open on his computer with so many tabs. You can like barely even click on them.
- Yeah.
- 'Cause it's so..
- Yeah.
- But everyone just has different setups on their computers I guess.
- Each to their own, and that's where bookmarks come in. If you really wanna save something, you can always bookmark it.
- Yeah, all right. So moving on to our new section let's loop back to this Siri event and then also David, you found some interesting rumors about an intriguing Apple TV HomePod combo.
- Yeah.
- But yeah, first let's talk about the event. Really it would be unusual, very unusual for Apple to not hold a spring event and to wait until the worldwide developers conference in June but it was starting to look like that's what they were going to do unless this April 20th event proves to be real. So just to recap for everyone according to Siri now we're getting an April 20th event. And the products that we are expecting in the spring would be AirTags those Bluetooth trackers that has been in the rumor mill for years now that can let you track things like your wallet, purse and things like that through the find by app on your phone. Also new AirPods, both pros and the regular version are expected to be upgraded Also new iPad lines with the new iPad Pro and potentially a new iMac So those, I think if we do get an April 20th event those would all be possibilities as new devices we could be getting as soon as in a week. So that's pretty exciting.
- That would be really cool. As we are sitting here talking, I'm like browsing the web to see if they'd announced anything and they have not yet. So..
- Yeah, but then of course by the time this gets published later today or early tomorrow, it might be a different story. So..
- Yeah.
- But we do our best to keep you up to date. So David, why don't you talk about this interesting Apple TV HomePod rumor.
- Yeah, I've got two HomePod rumors actually. And I'm excited about them both. So the first one is that, so Apple TV hasn't been updated I think since like 2018, maybe it's been a long time. And so the rumors are that they're gonna have an updated version of Apple TV that has HomePod built in. So you could say, hey Siri to your Apple TV and it would respond. And it's going to have a camera built in so that you can do video calls and FaceTime calls. Both of these things I'm really excited about it. How about you?
- Yeah, I think he could be pretty amazing. I like the idea, especially of being able to do FaceTime calls actually from your Apple TV. I've been noticing lately with FaceTime I really hate like having to hold my phone up for a long conversation I mean, I know I can do it on my Mac or iPad too, but having like, and if you had a living room set up where you can sort of feel like you're hanging out in your living room with people and it's has a nice speaker system and all of that, that sounds much more pleasant to me than the way I've been using FaceTime.
- Yeah Well, and I've actually a few times done this like in a hacked way where I'll use like all use Airstream, what's it called? Tila or like AirPlay..
- AirPlay.
- To put it on my TV, because..
- Airstream the RVs Davis.
- And I know but I thought that I knew AirPlay was audio but I thought there was a video version I don't know, yeah. I did know that Airstream was an RV. But it's nice if you're doing a FaceTime calls with a family. Like 'cause we've called other families. And then we're all just like if you're all huddled around a phone, it's really obnoxious but on a TV it's like a much nicer experience. So yeah, I'm excited about both these things I think FaceTime calls is a great use case. I like the idea, I liked that Apple is starting to think about the Apple TV, not just for watching TV but as sort of a smart home hub where like both of these features sort of point to that being a smart home hub. Because the TV is usually like in the center of your house or in a room that's high traffic and so both using that for phone calls is great, conference calls as well would be interesting But also I'm not particularly, I don't use Siri very much to navigate my Apple TV I don't know about you. Do you ever use Siri to navigate your Apple TV?
- Yeah, I do actually
- Oh really?
- Yeah, I use it a lot. It's just fine smiling because my husband Tyler who's walking around here he hates it just because a lot of times it doesn't work and it'll, or I don't know actually why he doesn't like it, I feel like it's great.
- I don't like it either. I just find a tech for whatever reason it just tends to be slower than just opening up what I like going to. 'Cause there's very few things I'm trying to do. Like I'm going to Netflix or I'm going to like Amazon or a few others and I just find that the Siri doesn't work very well. But here's the point I was coming to. I love having my HomePod in my room and being able to control my smart home from my HomePod. And so having another, like I've been asking for this for a while to have more access to Siri so that like when I'm around my house, I can just talk to Siri like I would, if I were in the room with my HomePod. And Amazon does a really great job with this. Amazon has built Alexa into so many things that you end up having them all over your house. Like my thermostat has an Alexa built in. I can ask my thermostat what the weather is or to unlock my door or any random thing. But yet as those who listen to podcasts for a long time, know, I like the HomePod experience better because everything's built into Apple for me, it's much cleaner integration and I find series a little bit easier to use. And so having that same experience where I have access to Siri in a much more ubiquitous way around my house, I'm excited for. So the last thing I'm excited for too is in the last podcast that I was on, we were talking about how we were sad that Apple's discontinuing the larger HomePod. And so I'm glad to see that they're not giving up on the HomePod technology in general. 'Cause I think it'll be good. Which brings me to my second rumor. The remote would be working on a HomePod with a screen on it. Did he read this?
- No, I didn't read that.
- Yeah.
- That sounds intriguing.
- So Amazon has this product, it's basically like, it's kind of almost like a smart alarm clock, right? Like it has a little screen on it and you can talk to it or maybe like a dumb iPad, I don't know. But it's basically has a small screen that you can access. And I know one of our writers, Colin who does the classes has that Amazon Alexa with the screen and he loves it. I'm not sure yet if I would need a screen on mine, it feels then it's like almost like at that point I might as well just get out my iPhone, but I don't know what do you think?
- Yeah, no, that sounds like a little bit like strange actually to me. I don't know if I would want that or not. I mean, it sounds kind of cool but in terms of when I'm thinking about my use case for it, I'm like what, you know what would I be using that for, the screen for?
- I could see it. You know, I think the example I gave is a good one. If you think of it as a smart alarm clock, as opposed to the life iPad.
- Yeah.
- Like if you have it by your bed you can ask him what the weather is, not only does it tell you, but you can actually see it on the screen or you could like then tap on it to see like the weather for tomorrow. It gives you an easy way to interact with it in addition to voice. But it does feel weird..
- Yeah.
- Because Siri's already built into iPhones, that like I don't know why I need another screen that has Siri in it because I don't know about you but my iPhone is never very far from me.
- Yeah, I think that's kind of where I'm coming from, is like what would it be better for than just having my iPhone? But then when I think about, I mean CarPlay has a very specific benefit for like safe use while you're driving.
- Yeah. But it is an example of an operating system. That's just a really pared down version of what you get on the iPhone that has things that are useful in that case. And maybe the HomePod could be like that too like it would have a few of the apps available that you would want to use on like a smart alarm clock type deal.
- Yeah.
- Yeah, so it'd be interesting to see. But both of these rumors or at least the first one, it was sort of like Apple may be doing this at some point in the future. And none of this is like, Oh we'll be seeing this this year or anything like that, right?
- Yeah, certainly we won't be seeing it in April. We would see it in September. But yeah, it seemed like it was early stages of this product so,..
- Right, cool. So let's move on to our apps and gear for this week unless you had anything else you wanted to add to that.
- NO.
- All right, cool So apps and gears for this week. I have a new app I wanted to share with you all. And that's an app called the Movement. It's by this trainer Erin Stutland. And I've just basically through the pandemic have been trying out different like working out from home solutions. I found that, especially when working from home I need to split up the day by getting out of the house and like moving my body or else I start getting very stir-crazy and grumpy. So I've been like needing to rotate and things like this. I've been using Apple Fitness Plus a lot. Some of that is because I'm doing a fitness challenge right now but I also mixed in this app and it has, it's like it sounds a little bit cheesy, but I actually enjoyed it. They have these soul walks they're called or whatever, and so I was getting up in the morning and doing like a half hour walk and it has just kind of like positive affirmations and sort of and a music and stuff like that. And I tried it out to see basically if it would help start my day out right in a positive frame of mind. And I do feel like it was good. And I think it was nice for people who had some concerns about Apple Fitness Plus, and the scalability of it. This is something you're just walking you can run and listen to it if you want to but it's pretty accessible to any fitness level and also has the side benefit of helping you be more positive and you know so work on your mental and physical health. It does have a paid subscription though and so I give something like 1995 a month or something. So really a little more expensive than I was expecting. So you get a week free trial. So it's one of those things if you try and love it, it's worth it. If you're going to use it regularly but otherwise it might be something that you would just use for a little bit, for a little while and give up on.
- So, okay, question. Is it just for walking, it's like a guided walk or are there other workouts there too?
- It has a few different options in it. Let me pull it up. The only ones that I used were the walks, but now I'm wanting to make sure that that is right. Well, while I'm backing that up. I was going to say, you can tell me about your app.
- Oh, sure. I was just going to comment $19 for guided walk does sound expensive. Have you tried the AppleWatch guided walks? I haven't yet, but I've been seeing them.
- They only have a few, I have not used them but it's just a totally different thing. It's interesting, it almost seems like they're doing audio story, or storytelling with the Apple Fitness Plus walk, it's people like Dolly Parton telling you about their life while you walk. So it's sort of a different type of thing. But they are both like you get to listen to something while you walk. So they have that in common
- Gotcha. I $20, isn't that much of an actually motivates you to walk more and if it starts your day off well every day then yeah, but that does seem expensive?
- Okay, so no, it does have videos to that with workouts Just one of the main features that seems to be the most popular and that's what I had read about online and made me want to try it was these sort of guided walks but there are also workouts like Erin Stutland is a coach and trainer and so she has workout videos as well.
- Gotcha.
- And it does seem to be very tailored towards women.
- But anyone could use it.
- I don't know. I could use some inspiration each morning. Yeah.
- So mine's a little bit of a silly one because everybody's heard of it. But I finally got on Tik TOK. Are you on Tik TOK, Donna?
- Now I understand the memes you've been sending me. Like I actually, couldn't why I had to create a Tik TOK account to watch it.
- Oh really? 'Cause I was getting ready to say I thought you could watch it without a Tik TOK account. And I was getting ready to say, I liked that feature. So I inspired you..
- So on my Mac I was able to watch it without an account But on my phone, when I tried to open up from messages it was trying to get me to create an account.
- Oh, this is so this is so funny. So I actually inspired you to sign up for Tik TOK because I've been sending you Tik TOKs, is that correct?
- Wait, you've been sending me Tik TOKs, well.
- So I actually inspired you to sign up for Tik TOKs because I've been sending them to you. You did, yeah.
- Okay, well that's so funny. Have you been using it? Do you like it?
- I have not been using it besides to look at the few things you sent me were funny.
- Yeah, so , okay..
- I still feel like I have no idea how to use Tik TOK.
- Yeah I resisted Tik TOK for a really long time which is why I'm laughing that I'm talking about it now. 'Cause it's clearly not like a new trend it's been around for a while. But I was just like do I really need another social media app in my life? And the answer is probably not, but it is, I get the appeal to it now. So I'll describe it to those of you who don't know, Tik TOK is another social media app. It's basically, it seems like kind of the natural, like the next step of that. If you remember that app Vine from way back in the day the little six second videos. So it's under that. It's like short video clips. And you just sit there and like browse it. But one of the things that's cool about it is that it has really good algorithms. Like everybody talks about their algorithms. They really good at like over time really learning what you like and curating these videos to what you like. And it's a very simple interface where you don't like, there's almost nothing to do. You just sit there and you watch a video and if you like it, you heard it and if you don't, you just skip to the next one and then you can also just send it to people. So I'm always like sending little Tik TOK videos that are funny to people. But it's a nice little like passive way to like unwind. I find it like, and it's fun. Like almost the videos are funny so it's like a little bit less serious than say what my Facebook feed is now which is basically all news and serious think pieces and things like that. So I've been enjoying it more than I thought I would but I still have this resistance to embracing Tik TOK. I don't know
- I know it feels like, I mean I just smiling too because my niece who's 12 is always on Tik talk and I don't know it feels like it's just for like younger people than me. But I mean, I know a lot of people may enter it now using Tik TOK. I feel like that's how a lot of platforms start is that it like younger people are using it and then everybody starts using it.
- That was one of the main reasons I held out. It was like Tik TOK felt like one of the first apps where, like I remember when Snapchat came out and like it was just for young people, but I was younger then, so it felt like it was still for me. But Tik TOK was one of the first apps where I just felt like I was too old for Tik TOK. I know.
- So that's why I'm laughing that I'm on it. But it is fun and I think there's no reason why it's for young people. It's for like, it's entertaining for all ages, except for there's so many like Tik TOK culture like there's so many will beams that I don't get but I'm, I'm learning. I'm curious to hear
- And I do you feel like it's, yeah, I would be curious to hear our audience too. 'Cause like in general I think sort of excluding yourself from something that could be beneficial because of age is silly.
- Yeah.
- And sort of if you kind of choose to not get it then you're not gonna get it. Our founder who is older was the one telling us we should be putting some of our daily tips on Tik TOK. So he's on Tik TOK.
- There you go, we should.
- Yeah, so email us at podcast @iphonelife.com to let us know are you on Tik TOK and what do you think about Tik TOK?
- We've so many questions this week but I'm sincerely curious to hear if you all are on Tik TOK and enjoying it and should we be on Tik TOK? I think the answer's no. I don't think we should be on Tik TOK. I don't think anybody needs us on Tik TOK.
- Yeah.
- One funny thing just to share what I was sending Donna yesterday. There was this really funny clip of somebody who wore a full green, like a what are those suits called? The like spandex suits
- I have no idea
- Okay, well it was like a spandex suit that was green. So that on a green screen the person could walk behind their partner while they were on a Zoom call and not be seen and so I sent it to Donna saying that her husband should wear it. 'Cause he was walking behind the
- I know, I might buy him one.
- Mh-hmm, yeah, well, the funny part of the video was it didn't work very well. So I think we're out of luck on that one.
- No, you still saw his face floating around in the background too. It's so funny.
- Oh, well.
- All right
- Well this wraps up the 150 seventh episode of the iPhone Life podcast Thank you all for tuning in and we'll be back in a couple of weeks with a fresh new episode for you. Thanks so much as usual for listening and supporting iPhone Life.
- Thank you everyone. And just to recap our many questions this week do you use Tik TOK? Do you use live photos for long exposures? And then there was a third one, what was our third question?
- Do you unlock your Mac with an Apple Watch? And does it work for you?
- Yeah, yes.
- Podcasts@iphonelife.com Thanks everyone
- Thanks everyone
- All right, we have a special section for insiders as usual, our complaints and learning. I have a couple that I can choose from this week but I'll let you go first.
- Okay, I have a complaint and that is that it actually I was talking to you about this earlier or last week. I am feeling frustrated by Apple's password management. My feeling is that Apple really needs to just like because I love using keychain I find it so convenient I have Safari on my phone, on my computer and so it's saving all my passwords. But then whenever I need to access a password it's buried really deep in my settings and it's kind of hard to manage my passwords. Like if I change my password sometimes iCloud keychain doesn't recognize it, and then I have to like go into my settings to change it. And I think that Apple needs to have a dedicated passwords app. And also they need it for not only because of the reasons I was explained, but also like for people who use Chrome, but have Safari on their phones you want to be able to have an extension for them or people who have windows computers, but use iPhones you want them to be able to have an app for those people. And so it's been rumored for a long time that was gonna come out with it, and I'm ready for it to happen. I'm hoping it's gonna be pretty high on my wishlist for WWDC, for iOS 15, did they have that? Because it feels like Apple is really close to being able to like be my full scale password manager but I still am paying for secondary password management solution because Apple's just a little bit too half-baked for me. And so I'm ready and I want them to do it and that's my complaint this week.
- Yeah I was just looking this up because I remember hearing a while ago that, I mean I completely agree with you that Apple needs a passwords app either way but I had read that there was a Chrome extension for Safari passwords and it was announced in January, but it's saying that, oh the extension is called iCloud passwords available now in the Chrome web store. So it's like that part of it is out. Details of the functionality were prematurely revealed last week in an update for the iCloud windows app. That's weird So yeah, that is a thing now. iCloud passwords is available on Chrome.
- Oh, okay, well there you go. I love when a complaint turns into a learning. But yeah just 'cause it's funny to ties into one thing we were talking about earlier which is like really common questions that people have for me when they want me to help them troubleshoot. And one of them is password management and like, I just went through this with my mom I was trying to talk her through it all and it's really hard for people to understand where their passwords are being stored and therefore what they need to use. Like she was using Chrome on her computer but she's using a Mac and she felt like it should save it and it does, but it's not saving it in the right place. So then she had to use Chrome on her phone but she kept using Safari. And so it gets really confusing in terms of understanding where your passwords are being stored and how, what you need to do in order to be able to use passwords universally. And because Apple doesn't have a universal app, you can't just kind of use it no matter what. You have to kind of like, I actually switched from Chrome to Safari in order to be able to use my passwords across all my platforms. And so it's like, it shouldn't be that you have to change your user behavior that much just to manage your passwords.
- I agree. Yeah, I switched over entirely the Safari in order to use this. I actually am going to try out the iCloud passwords extension for Chrome because I prefer, I like using Safari on my iPhone but I'd prefer to use Chrome on my computer And so if I can have do that and be able to use my passwords across both, that would be great. 'Cause I really like being able to just log into all my accounts using the same password management no matter what device I'm on and browser I'm in. Okay, I feel like we should be able to do that. I think that's a really good complaint for this week, David.
- Oh, thank you. I'm so good at complaining. I will say though that despite this, I don't think I'm gonna go back to Chrome. I'm pretty happy with Safari. I'm think I'm gonna stick with Safari.
- Really?
- Yeah.
- Some reason that surprises me. I guess Safari okay. In general, I feel like Google maps is way, way, way better than Apple maps but I guess I don't feel as strongly about Chrome being better than Safari at this point.
- So, yeah.
- Yeah well, we heard about your whole Google maps thing last week, Donna.
- Yeah, okay. So I have a new complaint.
- Okay, let's hear it.
- I have noticed that, you know, like a few years ago Apple released the like app store for the messages app. Like there was certain default ones built in and images is the one for gifts. Like you can send gifts in your text messages..
- Yeah. Like so have you noticed that all of the gifts through the images search suck?
- No, but I do sometimes struggle to find what I'm looking for and then switched to Giphy. I do have both and I'd go back and forth.
- So yeah. So what I was gonna say is that I think that Giphy is way better.
- Giphy is better.
- And I think that in general images, I was kind of surprised I feel like all the things I search, I a lot of times see the same gifts over and over again.
- Yeah.
- They're not that good. Like birthday seems like one that you should have a ton for it. I feel like the options were really not good and not many And so I was gonna say in general and like the sticker trend I don't understand like are people really using sticker is that much.
- I'm not into stickers.
- So I kind of feel, I don't know some of the default options that Apple has are not amazing. But Giphy I think has a lot better gift options. So I just wanted to give< it's a complaint and a learning.
- Yeah, I know, I agree. It's a good recommendation for people.
- Yeah, and then I actually, I see that you have a note here for a complaint that I just wanted to chime in on as well about AirPods.
- Yeah, no, I was going to save that for a future podcast I've gotten a whole backlog because I have to like hoard them.
- Well, now that I brought it up, so I feel like we have to talk about it.
- Aah, now you're using my good complaint that I was going to use the next time.. Okay Donna, go ahead
- Okay, well, so yours complaint sounds worse than mine, just as a little hint for years but I found like I wear my AirPods all the time now for working remote and they are really irritating my ears.
- Mh-hmm!
- Like I feel like my ears are sort of like hurting and in general they're the most comfortable earbuds I've ever used. So I don't know, this is like a new development. I think it's just this amount of wearing them is too much. But for you, they're making your ears bleed.
- They aren't actually not making my ears bleed, they're making my wife's ears bleed. So okay, but it turns out is like a thing I discovered. So it's AirPods Pro. The AirPods Pro is something about the tips are like, if you use them for too long, for some people, they make your ears bleed. And my wife had this experience and then Sarah also had this exact same experience. And she went online and found like whole forums of people struggling with their ears bleeding from AirPods Pro.
- Oh my God, that's terrible.
- But I have a solution Thanks to Sarah. I need to give credit where credit's due because she researched this. I was just like laughing at my wife and called it a day. But Sarah went and actually found ear tips that they're like third party tips for your AirPods Pro that she claims no longer make your ears bleed. So it was the tips that are the problem. So let me tell you what they're called I'm just looking them up in my notes here. Shoot I don't have them. I will have to link to them in the show notes because the third party, they're called like comfy tips or something, but let me actually find them. But yeah, that was the problem that she was encountering. Oh, okay, they're called comply. I don't know why that's a really weird name. But C O M P L Y foam tips. And they are for people who are having this problem or anybody who just wants a little bit more comfortable at air tips or AirPods tips and they're only $25. So they're not that crazy.
- Interesting, yeah I'll have to ask. My husband has AirPods Pro so I'll have to ask him how his ears are doing. I don't think he wears them as frequently though, but yeah, I feel like I've noticed with the AirPods that my ears have been a little itchy too wearing them. And so I think just cleaning them frequently is important as well. Like if you use like a soft cloth or something like that, and like, you know, you don't wanna get them wet or anything like that. But I do feel like that that's part of the problem too, is just cleaning them frequently if you're gonna wear them all the time.
- Yeah, I once lent my AirPods to my step son and they came back a lot of your wax on them.
- Yo.
- Well, you leaned into the cleaning of the AirPods conversation. So here we are, Donna.
- I didn't mention the earwax word.
- It was implied. But can I tell you what is really uncomfortable?
- Yeah.
- I don't know if you've had this experience. But if you have headphones and a mask on it hurts my ears so much, have you had this experience?
- No.
- I think it was mostly my over, I was using over ear headphones and a face mask and like the face mask was sort of tugging my ears this way and the headphones were pushing them back. And it was just like, it really was awful.
- I have had the situation now like being in Florida where it's sunny. Where I'm wearing like a hat sunglasses and my mask and I'm like, I feel like it's just all, there's all this stuff going on behind my ears, like it's just a lot to manage. So adding headphones to that is too too much.
- Yeah. No, exactly I look forward to the day where I don't have to wear a mask anymore. For sure.
- Yeah, me too.
- Okay, that was a lot of complaining for one day.
- Yeah, thanks everyone. We'll let you go, but make sure to check out the new issue of the magazine log-in to your insider account We've got our summer, how to guide. We have a lot of fun ideas for things you can do this summer including traveling with an Airstream or camping and how to use your Apple devices to make the most out of that experience. We've got tips for all of your devices, including max. We have Mac tips now. And make sure that you attend our upcoming iPhone fundamentals course.
- Yeah. That's April 28th is the start date for it. If you log into your insider account and go to courses you'll see the details there. And that's where you'll find a link once, we're closer to the course time that lets you join the Zoom calls. And I would just say, go ahead and add this to your calendar. Sessions are going to be weekly starting April 28th for a whole month. So that's Wednesdays and Thursdays at 4:00 p.m. Eastern time Wednesdays is when we have the actual live lesson with instructors and then Thursdays, we have a group discussion and answer any questions you have about that week. And it's just a great way to make sure that you have your iPhone set up the way that you want it. You have your home screen the way you want it. You know, all of Apple's main apps and how to use them and just that you have like mastery over your iPhone. So I think whether you're new or you have used your iPhone for a while and want to make sure you have it set up correctly and the best, most efficient way then this course is really great for you.
- And yeah, I'm so excited for this course. If you haven't attended any of our courses yet there're one of our most popular things. People love them 'cause there's so much fun. They're not only really informative and we're able to go really in depth, but they're a really fun way of learning because you're learning with your peers, that's a lot of live interactions, we take phone calls, answer questions. And last time we offered this course, it was $350 course. Now it's included in your subscription. So definitely check it out, tune in and hang out with us.
- Yeah, Colin's going to be teaching it with us too. And so if you've taken..
- Yeah.
- A course before a lot of you will remember him and he's great too. So it'll be a lot of fun. All right, everybody, we'll see you in a couple weeks Bye.
- Bye. Thanks everyone
- Bye, David.
- Bye, Donna.
- All right.