By

Mike Riley
Updated 12/29/2011
In addition to cases, stands for iOS devices represent a very crowded market. There are many configurations and designs to chose from. In order to be seen above the ocean of products, a designer has to hit a sweet spot that satisfies what others have not. Has Satechi's R1 tablet stand hit that spot? Read on to find out.
The R1 stand arrives trifled into its compact, travel-friendly state and can be expanded via its rubberized multi-hinged brackets into a variety of configurations that best match your desktop placement needs. Unlike stands specifically constructed for holding the iPad, the R1 is universal enough to hold both 7-inch devices like Kindle Fires and 10-inch iPads without loosing any of the R1's seated stability.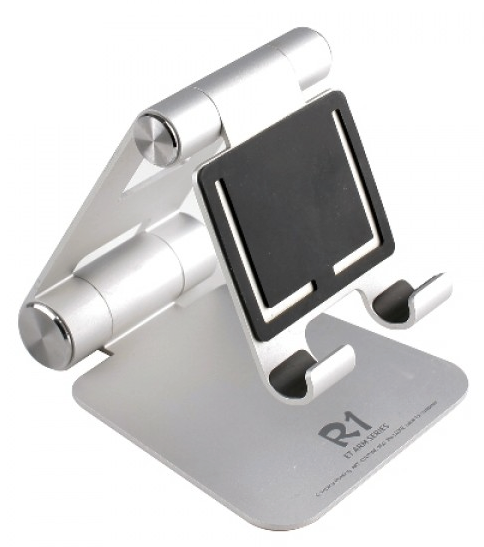 The R1's construction is solid aluminum with rubberized grips that succeed at doing their intended job of preventing the tablet or its angled presentation from slipping. Because of the flexible multifold approach, the stand can be used to angle the iPad nearly 180 degrees if desired. It works just as well holding the iPad or 7" e-reading devices in either portrait or landscape mode. 
The stand thankfully comes with a black pouch to keep the aluminum edges from scratching whatever materials may be resting against the stand in transit. When folded into its compact travel state, the R1 only takes up a few inches of space in a laptop or gadget bag. As such, the R1 makes it easy to bring along with an iPad when on the road.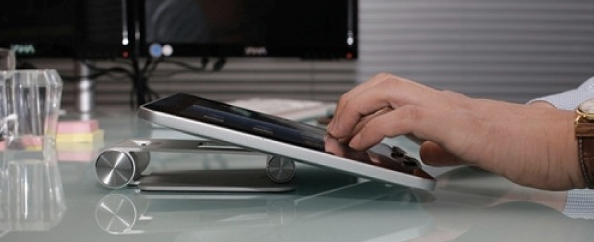 Satechi has a winning product with the R1. It's flexible, sturdy design serves the needs of any tablet owner. Its compact construction makes it easy to carry along in a travel bag and its attractive design makes it worth keeping on your desk when you arrive at your destination. If you're in the market for an iPad stand, the Satechi R1 is definitely a worthy product to consider.
Price: $49.99
Rating: 5/5 stars